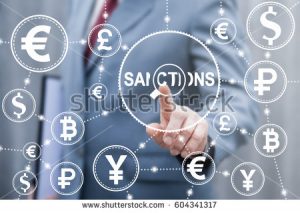 Voice of America reported the following:
Russia Slams 'Hypocrisy' of New Western Sanctions
March 16, 2019
MOSCOW — Russia on Saturday slammed the "hypocrisy" of new Western sanctions against its officials over their role in a naval confrontation with Ukraine last year, and vowed to respond to the "unfriendly" move.

The United States, Canada and the European Union Friday slapped new sanctions on more than a dozen Russian officials and businesses in response to Moscow's "continued aggression in Ukraine."

"The pretext for including our countrymen in the illegitimate sanctions list of the EU astounds with hypocrisy and cynicism," the Russian foreign ministry said.

In a previous statement late on Friday, it said Russia "will not leave the unfriendly act of the EU without a response" and accused Brussels of siding with Kyiv on the eve of its presidential election due on March 31.

"It cannot be ignored that the decision came not long before the presidential election in Ukraine," it said.

It also accused Washington and Ottawa of "Russophobia" and said the sanctions will "not lead to the results the U.S. and Canada want".

A U.S. Treasury statement Friday said six Russian officials, six defense firms and two energy and construction firms had been targeted, either over the seizure of Ukrainian vessels in the Kerch Straight last November, or for their activities in Russian-annexed Crimea or separatist eastern Ukraine.

The U.S. sanctions freeze all property and interests in property belonging to the designated individuals and entities, and prohibit U.S. persons from transacting with them.

Four of the individuals are border guard or coast guard officials, singled out for their role in a November 25, 2018, naval confrontation, in which Russian ships fired on and seized three Ukrainian vessels in the narrow Kerch Strait the two countries share.

The four were targeted jointly with the EU and Canada according to the State Department.

Twenty-four Ukrainian crew members were detained in the naval incident.

In the statement on Saturday, Russia said its border guards were "bravely fulfilling their duty to defend the state borders of our country" and that the confrontation was the result of a "provocation" by the Ukrainian side.

It said Moscow was acting "within the norms of international law" in arresting the Ukrainians.

Russia has said the sailors will go on trial for violating its maritime borders. They face up to six years in prison for illegally crossing Russian borders, lawyers have said. https://www.voanews.com/a/russia-reacts-to-new-western-sanctions/4833957.html
Russia has apparently expected this as the following from two days ago indicates:
14 March 2019

Leading Russian banks are working on plans to help each other retain at least short-term access to the global financial system in the event that they are hit by fresh U.S. sanctions, sources familiar with the matter told Reuters.

Sberbank, VTB, Gazprombank and others are examining how they can provide each other with access to U.S. dollars or other major foreign currencies by using so-called correspondent accounts, the sources said.

Banks access financial services in different jurisdictions and provide cross-border payment services to customers in various currencies through correspondent banking relationships.

The new scheme, which banks started to draft with Russia's finance ministry and the Central Bank last year, would be unlikely to work indefinitely but could help avoid a panic if one or several big banks are cut off from dollar transactions. https://www.themoscowtimes.com/2019/03/14/russias-top-banks-plot-temporary-sanctions-workaround-a64812
The Russians also have their own alternative to SWIFT in place now.
Last Fall, Russia encouraged foreign banks to use it:
Russia welcomes foreign banks to join its money transfer alternative to SWIFT

October 19, 2018

Foreign banks will soon be able to become part of Russia's money transfer network which serves as an alternative to the traditional SWIFT (Society for Worldwide Interbank Financial Telecommunication) system.

"Non-residents will start connecting to us this year. People are already turning to us," said First Deputy Governor of the Central Bank of Russia Olga Skorobogatova. Earlier, the official said that by using the alternative payment system foreign firms would be able to do business with sanctioned Russian companies.

As of September, 416 Russian companies have joined the System for Transfer of Financial Messages (SPFS), including the Russian Federal Treasury and large state corporations including Gazprom Neft, Rosneft, and others, the Central Bank said.

The potential exclusion of Russia from SWIFT worried the country's banks in 2014, when the EU and the US introduced the first round of international sanctions against Moscow over alleged involvement in the Ukraine crisis and the reunification with Crimea. SWIFT has said it remains neutral in the political conflict.

There have been reports that despite such claims, the US has enough power to block transactions through SWIFT. …

SWIFT is a financial network that provides high-value cross-border transfers for members across the world. It is based in Belgium, but its board includes executives from US banks with US federal law allowing the administration to act against banks and regulators across the globe. https://www.rt.com/business/441733-russia-swift-alternative-foreign-banks/
Notice also that the Europeans are also working on an alternative to SWIFT:
The internationally acknowledged banking center has joined the voices from across Europe about creating an independent analog for the Society for Worldwide Interbank Financial Telecommunication (SWIFT) amid US anti-Iran sanctions. Russia, which has already created its own system, voiced readiness to cooperate within a "euro-SWIFT" system.

Swiss Ambassador to Moscow Yves Rossier has affirmed that his country can join other states in setting up an independent alternative the Society for Worldwide Interbank Financial Telecommunication (SWIFT).

"If there are any new developments in the financial sector, we will closely monitor them, but this is clearly a matter for reflection in the EU, not in Switzerland… But if a new payment system appears, every country will take part in it, including us, of course, why not," the diplomat told Sputnik. …

The German government is working together with the EEAS and European Commission, as well as France and the United Kingdom, on maintaining financial payment channels with Iran," the spokesperson noted, adding, "The negotiations on this are intensive and ongoing. There are different models under consideration," cited by Politico.

Russia Ready to Join

Russian Finance Minister Anton Siluanov, commenting on the recent statements, has expressed Moscow's readiness to cooperate within some kind of euro-SWIFT system to process operations among European banks and financial institutions, including oil and other resources payments.

«We are ready to join such offers. That's why it seems to me that this would be a way-out and response to these restrictions the US is imposing on companies and financial institutions, using dollars for settlements," he told the Russian broadcaster Rossiya 24.

The Brussels-based international interbank payment system SWIFT, created in the 70s, is now used by nearly 11,000 organizations in more than 200 countries. Criticized for sharing some information with the US government following the 9/11 attacks, the system in 2014 stated that it's been put under pressure by some countries, insisting on its joining the sanctions against Russia. 10/05/18 https://sputniknews.com/business/201810051068629556-switzerland-eu-swift-alternative/
Brussels and European Union states seem ready to stage a battle with Washington over an obscure but important financial-service network—against Europe's own interests.

The looming brouhaha concerns Swift …

Swift is particularly prone to U.S. pressure because the American financial system looms so large in the world. Swift's board includes representatives of European and American banks, and many messages across its network travel to or from the U.S. Some Europeans believe Washington wields too much influence over a network they think should operate on a multilateral consensus like a financial EU. 10/17/18 https://www.wsj.com/articles/europes-not-so-swift-diplomacy-1539730896
Notice also two headlines from a while back:
Germany urges SWIFT end to US payments dominance

08/27/18 https://www.dw.com/en/germany-urges-swift-end-to-us-payments-dominance/a-45242528
EU Looking to Sidestep U.S. Sanctions With Payments System Plan

https://www.bloomberg.com/news/articles/2018-08-27/eu-looking-to-sidestep-u-s-sanctions-with-payments-system-plan
Currently, the USA benefits from most international trade as most of the time nations use US dollars for trade. Every time a nation stops doing that, or reduces doing that, it has a negative effect on the economy of the USA.
As I have written before, there is a price to pay for US sanctions and they do affect the dollar.
World events continue to confirm items posted here as well as in our videos. Here are two such videos:
A recent headline was "Is Trump Pushing Germany to Russia?" There have been comments by German and Russian leaders that they have aligned interests that Donald Trump opposes and need to take financial, military, and other steps to assist Europe. Russia and the EU (European Union) still support the Iran nuclear deal, Paris Climate accords, and the World Trade Organization, despite Donald Trump's actions against them. Have there been comments to replace the USA's SWIFT system by the Russians and Germans? What is Russia's MIR payment system? What about talks for the EU to have trade and other arrangements with the EAEU (Eurasian Economic Union)? Did the old Radio Church of God foretell of the development of a Russian and German plan to eliminate the USA? Has Russia indicated that it wants Alaska back? Is the giving of USA territories to Russia by a coming European leader consistent with a prophecy in the Book of Daniel? Here is a link to our video: Is Donald Trump pushing Europe to Russia?
Russian Prime Minister Dmitry Medvedev said new US sanctions would be a declaration of economic war. Iran, North Korea, China, Europe, and Turkey are also upset about USA sanctions and tariffs. A Turk asserted "Somebody must find a solution and stop the USA." The BRICS nations see US sanctions and tariffs as helpful to their objectives to trade without the USA. Are "unintended consequences" of USA policies threatening the current Anglo-American world order and leading to a New World Order? What has 'Lord' Jacob Rothschild and Russian President Vladimir Putin stated? Does Bible prophecy show that a confederation of Turks, Arabs, and Europeans pose a real threat to the USA and UK? Is the final time of the Gentiles coming? Will it be worse than people imagine? Dr. Thiel addresses these issues and more.

Here is a link to our video:

US Sanctions and Tariffs leading to New World Order?
Furthermore, China also has been trying to come up with systems, including with gold backing, to avoid the US dollar (watch US Dollar being challenged by Gold-Petro-Yuan).
The USA has been pushing countries away from its currency.
And while the Europeans joined in these sanctions, many in Europe do not like this and believe that the US has pushed them into sanctions against Russia (and Iran).
USA sanctions are pushing the Gentile nations to come up with something that the USA will not like.
The Russians called US actions hypocritical.
The Bible tells of destruction coming to "an  hypocritical nation" (Isaiah 10:6, KJV).
The USA does not seem to realize that it is undermining its position as the world's primary reserve currency through its sanctions and other policies.
This is an unintended consequence of US sanctions policies.
The Bible points to the end coming to the USA (cf. Daniel 11:39).
Some items of possibly related interest may include:
The End of US Dollar Dominance Is the USA losing its economic status? What about the petro-gold-yuan? A related video is also available: US Dollar being challenged by Gold-Petro-Yuan.
19 items to prophetically watch in 2019 Much is happening. Dr. Thiel points to 19 items to watch (cf. Mark 13:37), plus another, in this article. Here is a link to a related sermon: 19 items to watch in 2019.
Asia in Prophecy What is Ahead for Asia? Who are the "Kings of the East"? What will happen to nearly all the Chinese, Russians, Indians, and others of Asia? China in prophecy, where? Who has the 200,000,000 man army related to Armageddon? A YouTube video of interest may be Is China THE Threat to the United States of America?
Is Russia the King of the North? Some claim it is. But what does the Bible teach? Here is a link to a video, also titled Is Russia the King of the North?
Ezekiel 38: For Russia & Iran in Our Day? Is Ezekiel 38 about to be fulfilled? A related video is available titled Ezekiel 38: For Russia, Ukraine, & Iran Now? Another could be Russia, Iran, Syria, & the Bible (Code).
Russia and Ukraine: Their Origins and Prophesied Future Russia in prophecy. Where do the Russians come from? What about those in the Ukraine? What is prophesied for Russia and its allies? What will they do to the Europeans that supported the Beast in the end? There is also a video sermon available: Russia in the Bible and in Prophecy and a video sermonette available: Ukraine in Prophecy?
Teachings Unique to the Philadelphia Church of God Simply calling oneself 'Philadelphia' does not make one so (see Revelation 3:7-9), nor does Gerald Flurry calling himself "that prophet" make it so. This article provides many quotes from this group which tries to look faithful.
Europa, the Beast, and Revelation Where did Europe get its name? What might Europe have to do with the Book of Revelation? What about "the Beast"? Is an emerging European power "the daughter of Babylon"? What is ahead for Europe? Here is a link to a video titled: Can You Prove that the Beast to Come is European?
European Technology and the Beast of Revelation Will the coming European Beast power would use and develop technology that will result in the taking over of the USA and its Anglo-Saxon allies? Is this possible? What does the Bible teach? Here is a related YouTube video: Military Technology and the Beast of Revelation.
Who is the King of the North? Is there one? Do biblical and Roman Catholic prophecies for the Great Monarch point to the same leader? Should he be followed? Who will be the King of the North discussed in Daniel 11? Is a nuclear attack prophesied to happen to the English-speaking peoples of the United States, Great Britain, Canada, Australia, and New Zealand? When do the 1335 days, 1290 days, and 1260 days (the time, times, and half a time) of Daniel 12 begin? When does the Bible show that economic collapse will affect the United States? Here is a link to a video titled: The Future King of the North.
Can You Prove that the Beast to Come is European? The Book of Revelation tells of a beast power that will rise up. Some think that this must be Russia or could be Islamic, while others say that this power is European. The Book of Daniel tells of the rise of an end time King of the North that some think must be referring to a Russian leader, while others say that this power is European. How can you be sure? This YouTube video has all the scriptural proofs that you should need to prove that this power must be a European one.
USA in Prophecy: The Strongest Fortresses Can you point to scriptures, like Daniel 11:39, that point to the USA in the 21st century? This article does. A related sermon is titled: Do these 7 prophesies point to the end of the USA?
Who is the King of the West? Why is there no Final End-Time King of the West in Bible Prophecy? Is the United States the King of the West? Here is a version in the Spanish language: ¿Quién es el Rey del Occidente? ¿Por qué no hay un Rey del Occidente en la profecía del tiempo del fin?
Who is the King of the North? Is there one? Do biblical and Roman Catholic prophecies for the Great Monarch point to the same leader? Should he be followed? Who will be the King of the North discussed in Daniel 11? Is a nuclear attack prophesied to happen to the English-speaking peoples of the United States, Great Britain, Canada, Australia, and New Zealand? When do the 1335 days, 1290 days, and 1260 days (the time, times, and half a time) of Daniel 12 begin? When does the Bible show that economic collapse will affect the United States? In the Spanish language check out ¿Quién es el Rey del Norte? Here is a link to a video titled: The Future King of the North.
The Great Monarch: Biblical and Catholic Prophecies Is the 'Great Monarch' of Catholic prophecies endorsed or condemned by the Bible? Two sermons of related interest are also available: Great Monarch: Messiah or False Christ? and Great Monarch in 50+ Beast Prophecies.
The Gospel of the Kingdom of God This free online pdf booklet has answers many questions people have about the Gospel of the Kingdom of God and explains why it is the solution to the issues the world is facing. Here are links to three related sermons: The World's False Gospel, The Gospel of the Kingdom: From the New and Old Testaments, and The Kingdom of God is the Solution.
Did The Early Church Teach Millenarianism? Was the millennium (sometimes called chiliasm) taught by early Christians? Who condemned it? Will Jesus literally reign for 1000 years on the earth? Is this time near? Two related sermons are available Millennial Utopia and The Millennium.
Does God Have a 6,000 Year Plan? What Year Does the 6,000 Years End? Was a 6000 year time allowed for humans to rule followed by a literal thousand year reign of Christ on Earth taught by the early Christians? Does God have 7,000 year plan? What year may the six thousand years of human rule end? When will Jesus return? 2027 or 20xx? There is also a video titled 6000 Years: When will God's Kingdom Come? Here is a link to the article in Spanish: ¿Tiene Dios un plan de 6,000 años?
When Will the Great Tribulation Begin? 2019, 2020, or 2021? Can the Great Tribulation begin today? What happens before the Great Tribulation in the "beginning of sorrows"? What happens in the Great Tribulation and the Day of the Lord? Is this the time of the Gentiles? When is the earliest that the Great Tribulation can begin? What is the Day of the Lord? Who are the 144,000? Here is a version of the article in the Spanish language: ¿Puede comenzar la Gran Tribulación en 2018 o 2019? ¿Es el Tiempo de los Gentiles? You can also see the English language sermon videos: The Great Tribulation from the Mount of Olives and Can the Great Tribulation begin before 2020? A shorter and newer video is: Might the Great Tribulation start in 2019?
The Times of the Gentiles Has there been more than one time of the Gentiles? Are we in it now or in the time of Anglo-America? What will the final time of the Gentiles be like? A related sermon is available and is titled: The Times of the Gentiles.
Armageddon Who is involved and when will this gathering happen? Here is also a video from Dr. Thiel, from Tel Megiddo in Israel: Armageddon. Other videos include: Armageddon Will it come on Trump's watch?, Iraq, Armageddon, & Prophecy, Freemasonry, Armageddon, and Rome, Is China paving roads to Armageddon?, and Jordan, Petra, and Armageddon.
Donald Trump in Prophecy Prophecy, Donald Trump? Are there prophecies that Donald Trump may fulfill? Are there any prophecies that he has already helped fulfill? Is a Donald Trump presidency proving to be apocalyptic? Two related videos are available: Donald: 'Trump of God' or Apocalyptic? and Donald Trump's Prophetic Presidency.
Trump Presidency Magic 8 Ball or Bible Prophecy? BBC reported that one might as well use a 'Magic Eight-Ball' to try to predict what will happen in the remaining time of Donald Trump's presidency. What is a 'Magic Eight-Ball'? Dr. Thiel not only explains that, but also briefly goes over 10 biblically-based warnings he wrote would happen if Donald Trump were elected that have already began to come to pass. He also goes over something he wrote back in 2008 that the Trump presidency is also helping lead to fulfillment. Should you trust Bible prophecy or not? Dr. Thiel says that Bible prophecy can be trusted, despite the view of skeptics and others that either overlook or despise the Bible. This is a video.