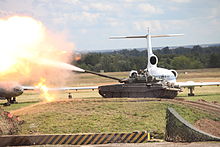 Russian T-90A Main Battle Tank
Russia sent out a warning to the West today:
Russia Warns West of 'Big Catastrophe' Over Ukraine

January 29, 2015
Moscow's envoy to European security watchdog OSCE urged the United States and Europe on Thursday to stop supporting the "party of war'" in Ukraine and warned a "big catastrophe" could lie ahead, according to Russia's Foreign Ministry.

"I would like to appeal to the representatives of countries that have influence on Ukraine's leadership, most of all to Washington: It's time to stop indulging Ukraine's 'party of war,'" said Russia's envoy to the Organization for Security and Cooperation in Europe, Andrei Kelin, at a meeting of the group in Vienna.

"Only a big catastrophe can result from this if developments continue to evolve in [the current] direction," Kelin is quoted as saying, according to a text of his speech published on the Foreign Ministry's website. He did not elaborate.

Moscow has been accusing Kyiv of waging a war against Russian-speakers and ethnic Russians in eastern Ukraine, while Kyiv and the West maintain Moscow created the conflict artificially with the aim of destabilizing Ukraine in retribution for its pro-Western course.

According to Ukraine and its Western allies, Russia is providing weapons and manpower, including regular Russian troops, for rebels battling government forces in Ukraine's eastern Donetsk and Luhansk regions, a charge Moscow denies.

To date, the conflict has claimed more than 5,000 lives.

Poroshenko calls for consultations

Ukrainian President Petro Poroshenko has called on members of a trilateral contact group to immediately conduct consultations with the signatories of a peace agreement reached in September in Minsk, Belarus, with the aim of deescalating the crisis in eastern Ukraine, according to a statement on his website.

Poroshenko issued the call during a meeting Thursday in Kyiv with OSCE Special Representative Heidi Tagliavini, Russian Ambassador to Ukraine Mikhail Zurabov and former Ukrainian president Leonid Kuchma, who has been acting as mediator between Kyiv, Moscow and pro-Russia separatist rebels in eastern Ukraine. …

The contact group comprising the OSCE, Russia and Ukraine will reportedly meet Friday in Minsk.

Frontline tense, more casualties

Meanwhile, the frontline remains tense in eastern Ukraine, where fighting between government and rebel forces has killed five Ukrainian soldiers and three civilians within the last 24 hours, Ukraine' military reported.

Separatists have shelled Ukrainian army positions in more than 100 separate attacks in the past day, said military spokesman Andriy Lysenko in a televised briefing Thursday.

On the other side, rebels are reporting that Ukrainian forces had attacked their positions near Donetsk airport and Debaltseve, a strategic town, ten times since Wednesday, separatist-run DAN news agency reported. http://www.voanews.com/content/russia-warns-west-of-big-catastrophe-over-ukraine/2618331.html
What will Russia do?
The following might contain some clues:
28 January 2015

On January 23, Putin met with permanent Security Council members. He chairs Russia's key national security, defense and foreign relations body. …

Putin said the following in part:

"We are witnessing a dramatic deterioration of the situation in southeastern Ukraine, in Donetsk People's Republic and Lugansk People's Republic."

"(A) week ago…I sent a letter to the president of Ukraine. (A) written proposal to withdraw heavy weapons."

(T)o such a distance from which it would be impossible to fire at populated areas." Complying with "agreements reached in Minsk…"

"(T)his proposal almost completely coincided with the requirements of the official Kiev…So we suggested that weapons and heavy equipment be withdrawn to the line that Kiev authorities themselves consider fair and corresponding to" Minsk.

"Unfortunately, we received no clear answer to our proposal; in fact, we also saw the reverse action, namely the Kiev government has given an official order to launch large-scale combat operations along almost the entire perimeter of contact between the opposing sides."

"The result: dozens of dead and wounded, and not only among servicemen on both sides, but, even more tragically, there has been loss of life among the civilian population, including children, the elderly and women."

"The artillery, multiple rocket launchers and aircraft are firing indiscriminately, directly at densely populated areas."

"All of this is happening to the accompaniment of propaganda slogans about the quest for peace and the search for those responsible."

"The responsibility is borne by those who issue such criminal orders."

"The people who do this should know that there is no other way to solve such conflicts but through peace negotiations and political means."

"We often hear…this is their preferred method of addressing issues, but the reality is quite different."

http://www.globalresearch.ca/putins-message-to-obama-on-ukraine/5427517#sthash.cvRl4ZWJ.dpuf
Notice that the report says that Vladimir Putin referred to the Donetsk People's Republic and the Lugansk People's Republic.  The Kiev government and the West do not wish to consider that those areas are possibly independent republics, but territories of Ukraine.
Vladimir Putin's statements suggest that he does not see them as part of Ukraine (at least not part of a Ukraine that is completely independent from Russia).
At minimum, I believe Vladimir Putin wants Donetsk and Lugansk as members of his Eurasian Union.  At most, he probably wants to annex them to be permanently part of Russia.  I do not believe that Vladimir Putin considers either of those outcomes to be a 'big catastrophe.'
Several commentators have concluded that Vladimir Putin feels that just trying to stop sanctions is a no-win proposition at this stage, so military intervention is getting more likely.
It seems that Vladimir Putin and other Russian leaders are getting the Russian people prepared for more direct military conflict in eastern Ukraine.  The 'big catastrophe' would likely be a reference to the number of people who will be killed if Russia does not get its way.
Europe is heavily involved with trying to resolve the situation between Russia and Ukraine. Europe wants Ukraine as part of its European Union, while it also wants to get along with Russia and lift sanctions.  The USA wants Ukraine part of the European Un.  But many simply do not realize how bad Vladimir Putin wants Ukraine.
The Bible shows, that for a time, there will be cooperation between Russia and Europe (cf. Revelation 13:4,8), but that will end.
The Bible also shows that the time will come when the "kings of the Medes" will get together and that ultimately that Russia will turn against Europe (Daniel 11:44-45; Jeremiah 50:41-43; 51:11; Isaiah 13:1-8).  Medes were in the areas of Russia and Ukraine.
For now, we are seeing some 'sorting out' in that part of the world.  Those in all the Ukrainian region need our prayers–the situation is tense, and more are likely to die.
Neither the European Union nor the Eurasian Union are the real answer, though they could, for a time, end direct conflict.  What is needed is the return of Jesus Christ and the establishment of the kingdom of God.
Some items of possibly related interest may include:
Russia and Ukraine: Origins and Prophesied Future Where do the Russians come from? What about those in the Ukraine? What is prophesied for Russia and its allies? What will they do to the Europeans that supported the Beast in the end? You can also watch the short video Ukraine in Prophecy?
Russia in the Bible and in Prophecy Is Russia mentioned in the Bible? It it is where is it? Is there any evidence of a people moving to the land that the Russians now occupy? What do Catholic and other prophecies say about Russia? What does the Bible teach? How are Protestants often in error on this? Is there more in biblical prophecy for Russia than war? Does God have a plan to save Russia and her allies? Does Russia have a history involving Sabbath keepers? Does scripture tie Russia in with Armageddon? Will Russia help defeat the end time Babylonian power? What did the Apostle John, and the prophets Isaiah, Jeremiah, and Daniel, write about Russia? This is a sermon-length video.
Ezekiel 38: For Russia & Iran in Our Day? Is Ezekiel 38 about to be fufilled? A related video is available titled Ezekiel 38: For Russia, Ukraine, & Iran Now?
Bible News Prophecy July-Sept. 2014: The Coming Eurasian Union Here is the latest magazine from the Continuing Church of God. The cover of which shows Vladimir Putin and features an article about the coming Eurasian Union.
Europa, the Beast, and Revelation Where did Europe get its name? What might Europe have to do with the Book of Revelation? What about "the Beast"? Is an emerging European power "the daughter of Babylon"? What is ahead for Europe? Here is a link to a video titled: Can You Prove that the Beast to Come is European?
European Technology and the Beast of Revelation Will the coming European Beast power would use and develop technology that will result in the taking over of the USA and its Anglo-Saxon allies? Is this possible? What does the Bible teach? Here is a related YouTube video: Military Technology and the Beast of Revelation.
Must the Ten Kings of Revelation 17:12 Rule over Ten Currently Existing Nations? Some claim that these passages refer to a gathering of 10 currently existing nations together, while one group teaches that this is referring to 11 nations getting together. Is that what Revelation 17:12-13 refers to? The ramifications of misunderstanding this are enormous.
World War III: Steps in Progress Are there surprising actions going on now that are leading to WWIII? Might a nuclear attack be expected? Does the Bible promise protection to all or only some Christians? How can you be part of those that will be protected? A related video would be Is World War III About to Begin? Can You Escape?
Wars, rumors of wars, and the Apocalypse Jesus foretold a time before the end where there would be wars and rumors of wars. The Apocalypse (the Book of Revelation) warns of the red horseman of war. Now, even secular writers, like Larry Edelson, are worried that wars and rumors of war are the most menacing problem that now haunts the earth? Are they right? What is the solution? This is a sermonette-length video.
Is Russia the King of the North? Some claim it is. But what does the Bible teach? Here is a link to a video, also titled Is Russia the King of the North?
The Eurasian Union, the Kings of the East, and Bible Prophecy Is there a Eurasian union that will be formed? Is one being formed right now? Are any leaders working on that in the 21st century? Does the Bible teach that there will be a Eurasian union? If some type of Eurasian union is formed, who might it benefit and who will it destroy? A related video would be Is The Eurasian Union Rising?
Who is the King of the North? Is there one? Do biblical and Roman Catholic prophecies for the Great Monarch point to the same leader? Should he be followed? Who will be the King of the North discussed in Daniel 11? Is a nuclear attack prophesied to happen to the English-speaking peoples of the United States, Great Britain, Canada, Australia, and New Zealand? When do the 1335 days, 1290 days, and 1260 days (the time, times, and half a time) of Daniel 12 begin? When does the Bible show that economic collapse will affect the United States? In the Spanish language check out ¿Quién es el Rey del Norte? Here is a link to a video titled: The Future King of the North.
Germany's Assyrian Roots Throughout History Are the Germanic peoples descended from Asshur of the Bible? Have there been real Christians in Germanic history? What about the "Holy Roman Empire"? There is also a You-Tube video sermon on this titled Germany's Biblical Origins.
Germany in Biblical and Catholic Prophecy Does Assyria in the Bible equate to an end time power inhabiting the area of the old Roman Empire? What does prophecy say Germany will do and what does it say will happen to most of the German people? Here is a link to a video Is the USA Pushing Germany to Start WWIII?
Barack Obama, Prophecy, and the Destruction of the United States-Second Edition for Second Obama Term This is a 160 page book for people truly interested in prophecies related to Barack Obama and the United States, including learning about many that have already been fulfilled (which the book documents in detail) and those that will be fulfilled in the future. It also has a chapter about a Republican choice. This book is available to order at www.barackobamaprophecy.com. The physical book can also be purchased at Amazon from the following link: Barack Obama, Prophecy, and the Destruction of the United States: Is Barack Obama Fulfilling Biblical, Islamic Catholic, Kenyan, and other America-Related Prophecies? What About Republican Leaders? Second Edition for Second Obama Term.
Barack Obama, Prophecy, and the Destruction of the United States-Second Term-Amazon Kindle edition. This electronic version is available for only US$2.99. And you do not need an actual Kindle device to read it. Why? Amazon will allow you to download it to almost any device: Please click HERE to download one of Amazon s Free Reader Apps. After you go to for your free Kindle reader and then go to Barack Obama, Prophecy, and the Destruction of the United States-Second Term-Amazon Kindle edition.