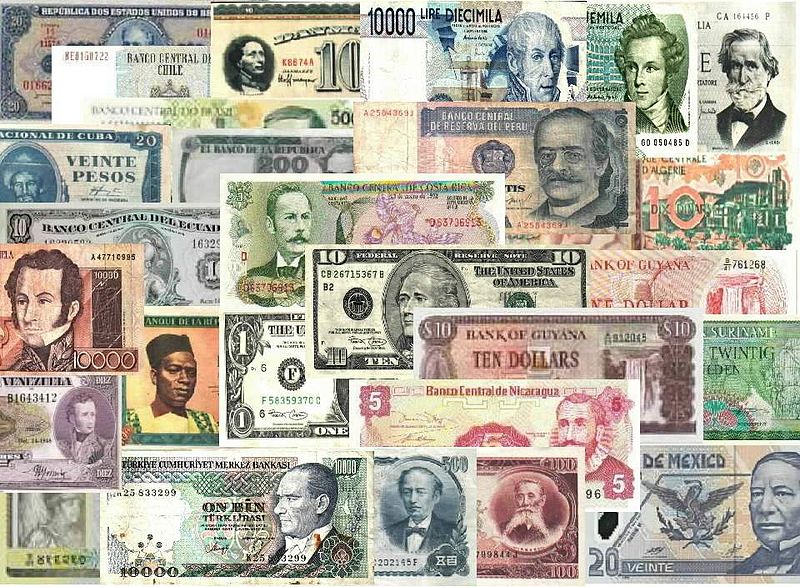 A global stock sell off and other forms of 'financial carnage' are in the news today which is being called 'Black Monday':
New day of carnage for financial markets amid global sell-off

August 24, 2015

Global markets entered a new day of carnage Monday amid a continuing worldwide sell-off, extending last week's meltdown and stoking new fears over how far financial markets will drop.

The Dow Jones industrial average plummeted more than 1,000 points, or more than 6 percent, at its 9:30 a.m. open, its worst start since the global financial crisis, before recovering to a 600-point loss around 10 a.m. The biggest drop for the Dow, an index of 30 large companies, was 777 points in September 2008.

The dismal opening marked a steep continuation of last week's free fall. The blue-chip index plunged more than 500 points on Friday, capping its worst week since 2011 and entering what Wall Street calls a correction, having fallen 10 percent from its May peak.

The sell-off touched every industry, wiping out gains in rapid order after a year of mostly steady trading. Some of America's biggest companies have shed tens of billions of dollars in market value in only a few days, with no signs of when the bleeding could stop.

[World markets lose ground amid 'Black Monday' for Shanghai index]

The Standard & Poor's 500, a broader look at the market, fell 4 percent, to 1,895. S&P 500 companies lost more than $1 trillion in market value last week.  http://www.washingtonpost.com/news/business/wp/2015/08/24/new-day-of-carnage-for-financial-markets-amid-global-selloff/
Problems in and with China are part of this:
August 24, 2015

The stock drop was fueled by what China's state media is already calling "Black Monday," in which markets there recorded their biggest one-day plunge in eight years amid growing fears over an economic slowdown.

On Friday, China reported its worst manufacturing results since the global financial crisis, a new sign of woe for the world's second-largest economy, which surprised investors earlier this month by announcing it would devalue its currency. China's benchmark Shanghai Composite index has fallen by nearly 40 percent since June, after soaring more than 140 percent last year.  http://www.washingtonpost.com/news/business/wp/2015/08/24/new-day-of-carnage-for-financial-markets-amid-global-selloff/

August 24, 2015

 Dow drops 1000 points at the open

World stocks and oil prices plunged Monday as a global sell off accelerated on fears about the health of China's huge economy.

China stocks crashed and all Asian markets suffered major losses. Europe's markets were bleeding heavily by late afternoon — down between 5% and 7% — after Wall Street was crushed at the open.

Worries that the world's second biggest economy is stumbling also trashed commodities. Oil slumped more than 4% to a new six-year low below $39 a barrel.

China's benchmark Shanghai Composite index declined 8.5%, wiping out all gains made this year. Many companies, including some large state-owned firms, fell by the maximum daily limit of 10%. The index is now down 38% since its June peak.

Related: China's stock crash … in 2 minutes

In Japan, the Nikkei closed down 4.6%. Stocks in India suffered their biggest fall in more than seven years.

Germany's DAX shed nearly 6%, while French stocks lost 7%. The FTSE 100 in London fared a little better, trading down 5%.

The losses went beyond stocks and commodity markets. Many emerging market currencies — including Russia's ruble — were tumbling against the U.S. dollar.

Three factors have investors on the run:

1. Concerns that China's economy is slowing faster than analysts had anticipated.

2. Uncertainty over when the U.S. Federal Reserve will raise interest rates for the first time in nearly a decade.

3. The effect of exceedingly cheap oil, which slams exporting countries as well as drilling companies.  http://money.cnn.com/2015/08/23/investing/world-stock-markets/
How is any of what is happening today prophetic?  Well, financial turbulence will impact the world.  It often leads to policy changes.
For a time today, the Euro rose against the US dollar (Yen at 3-month high vs dollar, euro eyes $1.15).  I believe it is likely the Euro will drop again for a time, but ultimately, Europe will arise.
In a sermon on July 7, 1984, the late Herbert W. Armstrong stated:
And I can see now, the event that is going to trigger the formation of the reunification in Europe; the resurrection of the medieval Holy Roman Empire that we've been looking forward to that is prophesied to come…

But I believe that some event is going to happen suddenly just like out a blue sky that is going to shock the whole world and is going to cause the nations in Europe to realize they must unite! … Well now I think I can see what may be the very event that is going to trigger…that is the economic situation in the world…

The whole banking structure in the United States is a network all jointed together. But not only that, one nation has to deal with other nations and imports and exports. And so they have to have a means of transforming money from one nation to another. And so the banking structure is international and interwoven…

Now when the financial structure breaks down, all civilization is going to break down…
Today's financial crisis and melt-down are only a drop in the bucket compared to what will happen in the financial markets.  And as far as the US dollar is concerned, the debt of the USA, which was not mentioned in the CNN report above will contribute to its ultimate destruction.  Today's events, which may reverse, are only a small peek of what will happen.
The Bible shows that USA will be hit by more of the 'sorrows' that Jesus prophesied in Matthew 24:4-8 BEFORE the start of the Great Tribulation (Matthew 24:21). This will weaken the USA economically enough, that sorrows (Matthew 24:4-8) plus debt (Habakkuk 2:6-8) plus the rise of European military technology (Revelation 13:4; see also European Technology and the Beast of Revelation) will lead to the end of the USA (Daniel 11:39) and lead to world economic dominance by the Europeans for a time (Revelation 13:16-18; 18:15).
Problems in China help show that China is not going to be the power that will lead the world after the USA is gone.  While the Bible also shows that Europe will have problems (Daniel 2:41-43), the Bible also shows it will reorganize (Revelation 17:12-13) and rise up for a time and to dominate the world's financial system (cg. Revelation 18).
As far as 2015 goes, consider watching the videos Project Prophecy: Economic Collapse Starting in 2015?, Market Collapse then New World Order in 2015?, Alternative to the US Dollar in the Fall of 2015?, and The 'Harbinger' and September 2015.
Some items of possibly related interest may include:
Europa, the Beast, and Revelation Where did Europe get its name? What might Europe have to do with the Book of Revelation? What about "the Beast"? Is an emerging European power "the daughter of Babylon"? What is ahead for Europe? Here is a link to a video titled: Can You Prove that the Beast to Come is European?
European Technology and the Beast of Revelation Will the coming European Beast power would use and develop technology that will result in the taking over of the USA and its Anglo-Saxon allies? Is this possible? What does the Bible teach? Here is a related YouTube video: Military Technology and the Beast of Revelation.
When Will the Great Tribulation Begin? 2015, 2016, or 2017? Can the Great Tribulation begin today? What happens before the Great Tribulation in the "beginning of sorrows"? What happens in the Great Tribulation and the Day of the Lord? Is this the time of the Gentiles? When is the earliest that the Great Tribulation can begin? What is the Day of the Lord? Who are the 144,000? Here is a version of the article in the Spanish language: ¿Puede comenzar la Gran Tribulación en 2014 o 2015? ¿Es el Tiempo de los Gentiles? You can also see the English language sermon video: The Great Tribulation from the Mount of Olives.
Two Horned Beast of Revelation and 666 Who is 666? This article explains how the COG views this, and compares this to Ellen White. Here is a link to a prophetic video Six Financial Steps Leading to 666?
The Mark of Antichrist What is the mark of Antichrist? What have various ones claimed? Here is a link to a related sermon What is the 'Mark of Antichrist'?
Mark of the Beast What is the mark of the Beast? Who is the Beast? What have various ones claimed the mark is? What is the 'Mark of the Beast'?
Must the Ten Kings of Revelation 17:12 Rule over Ten Currently Existing Nations? Some claim that these passages refer to a gathering of 10 currently existing nations together, while one group teaches that this is referring to 11 nations getting together. Is that what Revelation 17:12-13 refers to? The ramifications of misunderstanding this are enormous. A related sermon is titled Ten Kings of Revelation and the Great Tribulation.
World War III: Steps in Progress Are there surprising actions going on now that are leading to WWIII? Might a nuclear attack be expected? What about WWIV? Does the Bible promise protection to all or only some Christians? How can you be part of those that will be protected? A related video would be Is World War III About to Begin? Can You Escape?
China, Its Biblical Past and Future, Part 1: Genesis and Chinese Characters Where did the Chinese people come from? This article provides information showing that the Chinese peoples must have known about various accounts in the Book of Genesis up until their dispersion after the Tower of Babel. Here is a link to a version of this article in Spanish: ¿Prueban los caracteres chinos la exactitud de la Biblia?
China, Its Biblical Past and Future, Part 2: The Sabbath and Some of God's Witness in China When did Christianity first come to China? And is there early evidence that they observed the seventh day sabbath?
Asia in Prophecy What is Ahead for Asia? Who are the "Kings of the East"? What will happen to nearly all the Chinese, Russians, Indians, and others of Asia? China in prophecy, where? Who has the 200,000,000 man army related to Armageddon? A YouTube video of interest may be Is China THE Threat to the United States of America?
Does God Have a 6,000 Year Plan? What Year Does the 6,000 Years End? Was a 6000 year time allowed for humans to rule followed by a literal thousand year reign of Christ on Earth taught by the early Christians? Does God have 7,000 year plan? What year may the six thousand years of human rule end? When will Jesus return? 2021 or 20xx? There is also a video titled The 6000 Year Plan: Is the end of humanity's reign almost up?
The Snowden Leaks are Leading to the Destruction of the USA Can what happened with the leaks of what the NSA has done help the USA to be taken over? What does the Bible teach that seems to be related to this? Here is a related YouTube video titled Are the Snowden NSA leaks leading to the destruction of the USA?
Project Prophecy: Economic Collapse Starting in 2015? Jim Rickards once worked for the CIA and also was once part of a a USA government program called called 'Project Prophecy.' He has a video were he claims that starting in 2015, the USA may have economic collapse resulting in a 25-Year Great Depression. He mainly cites debt figures and claims advises alternatives to the USA dollar which he says will collapse? What did Rand Paul state? Can the USA dollar collapse?
Market Collapse then New World Order in 2015? A long-time financial adviser named Harvey Organ claims that claims that because of insufficient gold in the central banks of USA and UK, that Shanghai would bring about exposing this and that this would lead to a massive, overnight, rise in the price of gold and silver, diminished value of their currencies. He states a market collapse will occur before the end of 2014, that the petroyuan will replace the petrodollar, and that a Chinese led New World Order will be in place for 2015. Is this possible? Where does the leader of the 'New World Order' come from? What does the Bible teach?
The Plain Truth About Gold in Prophecy. How Should a Christian View Gold? What do economists and the Bible teach about gold? Gold and silver may drop in value. Inflation/deflation? What do Christians need to know about gold?
Anglo – America in Prophecy & the Lost Tribes of Israel Are the Americans, Canadians, English, Scottish, Welsh, Australians, Anglo-Saxon (non-Dutch) Southern Africans, and New Zealanders descendants of Joseph? Where are the lost ten-tribes of Israel? Who are the lost tribes of Israel? What will happen to Jerusalem and the Jews in Israel? Will God punish the U.S.A., Canada, United Kingdom, and other Anglo-Saxon nations? Why might God allow them to be punished first? Here is a link to the Spanish version of this article: Anglo-América & las Tribus Perdidas de Israel. Information is also in the YouTube sermons titled Where are the Ten Lost Tribes? Why does it matter? and British are the Covenant People. A short YouTube of prophetic interest may be Barack Obama and the State of the Apocalypse.
Just What Do You Mean — Repentance? Do you know what repentance is? Have you truly repented? Repented of what? Herbert W. Armstrong wrote this as a booklet on this important subject.
When You Sin: Do You Really Repent? This is an article by Charles F. Hunting. A related sermon is Confess to God and truly repent.
The Gospel of the Kingdom of God was the Emphasis of Jesus and the Early Church Did you know that? Do you even know what the gospel of the kingdom is all about? True religion should be based upon the true gospel.
Did The Early Church Teach Millenarianism? Was the millennium (sometimes called chiliasm) taught by early Christians? Who condemned it? Will Jesus literally reign for 1000 years on the earth? Is this time near? A related sermon is titled The Millennium.
Barack Obama, Prophecy, and the Destruction of the United States-Second Edition for Second Obama Term This is a 160 page book for people truly interested in prophecies related to Barack Obama and the United States, including learning about many that have already been fulfilled (which the book documents in detail) and those that will be fulfilled in the future. It also has a chapter about a Republican choice. This book is available to order at www.barackobamaprophecy.com. The physical book can also be purchased at Amazon from the following link: Barack Obama, Prophecy, and the Destruction of the United States: Is Barack Obama Fulfilling Biblical, Islamic Catholic, Kenyan, and other America-Related Prophecies? What About Republican Leaders? Second Edition for Second Obama Term.
Barack Obama, Prophecy, and the Destruction of the United States-Second Term-Amazon Kindle edition. This electronic version is available for only US$2.99. And you do not need an actual Kindle device to read it. Why? Amazon will allow you to download it to almost any device: Please click HERE to download one of Amazon s Free Reader Apps. After you go to for your free Kindle reader and then go to Barack Obama, Prophecy, and the Destruction of the United States-Second Term-Amazon Kindle edition.