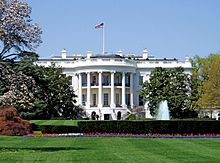 With Ebola is now in the USA, some are claiming that the USA is not handling it correctly, while the White House disagrees:
White House pushes back against Ebola response critics

October 4, 2014

By any measure, the Ebola outbreak is the worst ever recorded.

The World Health Organization reports that the death toll now tops 3,400 out of just under 7,500 cases, nearly all in West Africa.

The White House came under fire Friday from critics who said the president has not addressed the Ebola threat enough.

By any measure, the Ebola outbreak is the worst ever recorded.

The World Health Organization reports that the death toll now tops 3,400 out of just under 7,500 cases, nearly all in West Africa.

The White House came under fire Friday from critics who said the president has not addressed the Ebola threat enough.

In the wake of growing fears, the government announced tougher screenings for passengers arriving on international flights and stricter guidelines as well as expanded training for local health professionals.

"The system that's in place with our health care infrastructure would make it extraordinarily unlikely that we would have an outbreak," said Dr. Anthony Fauci, infectious diseases chief at the National Institutes of Health.  http://www.cbsnews.com/news/ebola-outbreak-response-from-obama-under-fire-by-critics/

October 4, 2014

Ebola is not an airborne illness, it is spread through direct contact with the bodily fluids of a sick person — but also the handling of the situation by local, state and federal officials. http://www.nytimes.com/2014/10/04/us/ebola-crisis-brings-an-abundance-of-caution-into-a-dallas-community.html?_r=0

Ebola virus in the United States has raised concerns about whether the U.S. should restrict travel from affected West African nations.The State Department says when it comes to granting visas, the safety and security of the United States is the top priority.

Spokeswoman Jen Psaki said it actually would be counterproductive to limit visas for people traveling from the West African countries affected by Ebola …

That policy, however, is being questioned by Mark Krikorian, the head of the Center for Immigration Studies, a group that has been critical of U.S. immigration policy.

In particular, he said, a visa should not have been granted to Thomas Duncan, a Liberian national who is now being treated in the U.S. for Ebola.

"A single, unemployed man from a high overstay country that is actually experiencing an outbreak of disease, which would induce people not to return, who also have many relatives here, is almost the test case for a visa overstayer," said Krikorian.

He says travel from the affected West Africa region to the U.S. should be restricted temporarily.

"I don't even understand why we are debating this.  It should have been one of the first things that this administration did," said Krikorian.

Psaki said the U.S. is focusing on other measures to help stop the spread of the epidemic.  http://www.voanews.com/content/us-ebola-case-raises-travel-concerns/2472328.html
Forbes had a couple of stories that readers may find of interest:
October 3, 2014

Ebola officially arrived in America on Tuesday.

The CDC — and nearly every mainstream health care journalist — told Americans not to panic.

So naturally, Americans did. . . .

Officials stressed the Ebola epidemic in Africa was going to be contained. Then it mushroomed to the worst Ebola outbreak in history, and jumped an ocean as a Liberian man named Thomas E. Duncan brought the disease to Texas this week.

The CDC then vowed that they would "stop Ebola in its tracks." But starting on Tuesday, U.S. officials began contradicting themselves. First they said that Duncan had potentially exposed 18 other people, before revising that estimate to nearly 80 people, before revising it again to 100 people (as of Thursday night).

The contradictory responses don't inspire confidence. Nor do the challenges at the Texas hospital that initially received Duncan but sent him home for four days because staff didn't realize he'd been in Liberia.

Even ZMapp — the Ebola-fighting wonder drug that may have helped save the lives of several Ebola patients who were treated at Emory this summer — indirectly shows the failures of the U.S. health system.  http://www.forbes.com/sites/dandiamond/2014/10/03/yes-ebola-is-scary-but-its-also-beatable-heres-why/

Ebola – It's Far, Far Worse Than You Thought

Ebola could kill a million people by the end of January, disaster planners warned this week as experts said the disease might become endemic and clinics started turning away victims. …

Some experts fear that the outbreak, now six months old, may not be brought under control in the foreseeable future, but that the disease could instead become endemic. …

"The current epidemiologic outlook is bleak," said the authors of a study in the New England Journal of Medicine. "For the medium term, at least, we must therefore face the possibility that [Ebola] will become endemic among the human population of West Africa, a prospect that has never previously been contemplated."

America's Centres for Disease Control and Prevention said there could be 1.4 million infections in Liberia and Sierra Leone by the end of January. http://www.forbes.com/sites/paulrodgers/2014/09/25/ebola-its-far-far-worse-than-you-thought/
Nearly 2000 years ago, on the Mount of Olives just outside of Jerusalem, Jesus warned that pestilences and problems were expected:
4 And Jesus answered and said to them: "Take heed that no one deceives you. 5 For many will come in My name, saying, 'I am the Christ,' and will deceive many. 6 And you will hear of wars and rumors of wars. See that you are not troubled; for all these things must come to pass, but the end is not yet. 7 For nation will rise against nation, and kingdom against kingdom. And there will be famines, pestilences, and earthquakes in various places. 8 All these are the beginning of sorrows. (Matthew 24:4-8)
There are risks from Ebola.
Moses sung the following warning:
18 Of the Rock who begot you, you are unmindful,
And have forgotten the God who fathered you.

19 "And when the Lord saw it, He spurned them,
Because of the provocation of His sons and His daughters.
20 And He said: 'I will hide My face from them,
I will see what their end will be,
For they are a perverse generation,
Children in whom is no faith.
21 They have provoked Me to jealousy by what is not God;
They have moved Me to anger by their foolish idols.
But I will provoke them to jealousy by those who are not a nation;
I will move them to anger by a foolish nation.
22 For a fire is kindled in My anger,
And shall burn to the lowest hell;
It shall consume the earth with her increase,
And set on fire the foundations of the mountains.

23 'I will heap disasters on them;
I will spend My arrows on them.

24 They shall be wasted with hunger, Devoured by pestilence and bitter destruction; I will also send against them the teeth of beasts, With the poison of serpents of the dust. 25 The sword shall destroy outside; There shall be terror within For the young man and virgin,The nursing child with the man of gray hairs. 26 I would have said, "I will dash them in pieces, I will make the memory of them to cease from among men," 27 Had I not feared the wrath of the enemy, Lest their adversaries should misunderstand, Lest they should say, "Our hand is high; And it is not the Lord who has done all this."'
28 "For they are a nation void of counsel, Nor is there any understanding in them. 29 Oh, that they were wise, that they understood this, That they would consider their latter end! 30 How could one chase a thousand, And two put ten thousand to flight, Unless their Rock had sold them, And the Lord had surrendered them? 31 For their rock is not like our Rock, Even our enemies themselves being judges. 32 For their vine is of the vine of Sodom And of the fields of Gomorrah; Their grapes are grapes of gall, Their clusters are bitter. (Deuteronomy 32:18-32)
Notice in the above, pestilences and terror will come to a perverse generation that has similarities to Sodom and Gomorrah–two ancient cities that were destroyed for sexual immorality, including their acceptance of homosexuality.  The New Testament also warns against those that condone lesbianism, homosexuality, and other forms of sexual immorality (Romans 1:18-32).
Ebola should serve as a warning, as a precursor, of worse pestilences and other problems to come (watch also Ebola, Pestilence, and 2016?).
Some items of possibly related interest may include:
Ebola, Pestilence, and 2016? The World Health Organization says the Ebola epidemic is the most severe acute public health emergency seen in modern times and kills 71% who contract it. What does the United Nations say? Is Ebola a pestilence related to the four horsemen of the apocalypse? Is a questionable prediction that all humans will die from infection in 2016 possible?
Fourth Horseman of the Apocalypse What is the pale horse of death and pestilences? What will it bring and when? Spanish: El cuarto jinete de Apocalipsis, el caballo pálido de muerte y pestilencia.
Four Horsemen of the Apocalypse What do each of the four horseman of the Apocalypse represent? Have they began their ride? Did Jesus discuss the any of this? Might their rides coincide with the "beginning of sorrows? Do they start their ride prior to the Great Tribulation? Did Nostradamus or any other 'private prophets' write predictions that may mislead people so that they may not understand the truth of one or more of the four horseman? There is also a related YouTube video titled The Four Horsemen of the Apocalypse.
The Bible Condemns Homosexuality "Same-sex marriage" for "gays" and lesbians is becoming more acceptable to many. What does the Bible teach about homosexuality?  Can homosexuals change?
Pornography: A scourge on society Is pornography harmless fun? Does the Bible teach anything about it? What are the views of some involved with it? Here is a link to a YouTube video Pornography: Harmless Fun or a Scourge on Society?
British and American Moral Decay Public nudity is becoming more prevalent in the Anglo-Saxon lands. What are some of the consequences?
When Will the Great Tribulation Begin? 2014, 2015, or 2016? Can the Great Tribulation begin today? What happens before the Great Tribulation in the "beginning of sorrows"? What happens in the Great Tribulation and the Day of the Lord? Is this the time of the Gentiles? When is the earliest that the Great Tribulation can begin? What is the Day of the Lord? Who are the 144,000? Here is a version of the article in the Spanish language: ¿Puede comenzar la Gran Tribulación en 2013 o 2014? ¿Es el Tiempo de los Gentiles? You can also see the English language sermon video: The Great Tribulation from the Mount of Olives.
Anglo – America in Prophecy & the Lost Tribes of Israel Are the Americans, Canadians, English, Scottish, Welsh, Australians, Anglo-Saxon (non-Dutch) Southern Africans, and New Zealanders descendants of Joseph? Where are the lost ten-tribes of Israel? Who are the lost tribes of Israel? What will happen to Jerusalem and the Jews in Israel? Will God punish the U.S.A., Canada, United Kingdom, and other Anglo-Saxon nations? Why might God allow them to be punished first? Here is a link to the Spanish version of this article: Anglo-América & las Tribus Perdidas de Israel. Information is also in the YouTube sermons titled Where are the Ten Lost Tribes? Why does it matter? and British are the Covenant People. A short YouTube of prophetic interest may be Barack Obama and the State of the Apocalypse.
Africa: Its Biblical Past and Prophesied Future What does the Bible teach about Africa and its future? Did the early Church reach Africa? Will God call all the Africans?
United Nations: Humankind's Last Hope or New World Order? Is the UN the last hope for humanity? Or might its goals end up with sinister results? A related video would be United Nations and Vatican Are Planning the New World Order.
Prophecies of Barack Obama? Reasons why Barack Obama is apocalyptic and reasons why Barack Obama is not the Antichrist. This article includes many biblical and non-biblical prophecies, from around the world, that seem to discuss Barack Obama. Did Nostradamus predict Barack Obama dealing with the Antichrist?  Might Barack Obama set the stage for the kings of the North and South as at least one Shiite prophecy suggests?  Read it and decide for yourself if President Obama seems to be fulfilling various prophecies. Watch also the YouTube Barack Obama and the State of the Apocalypse.