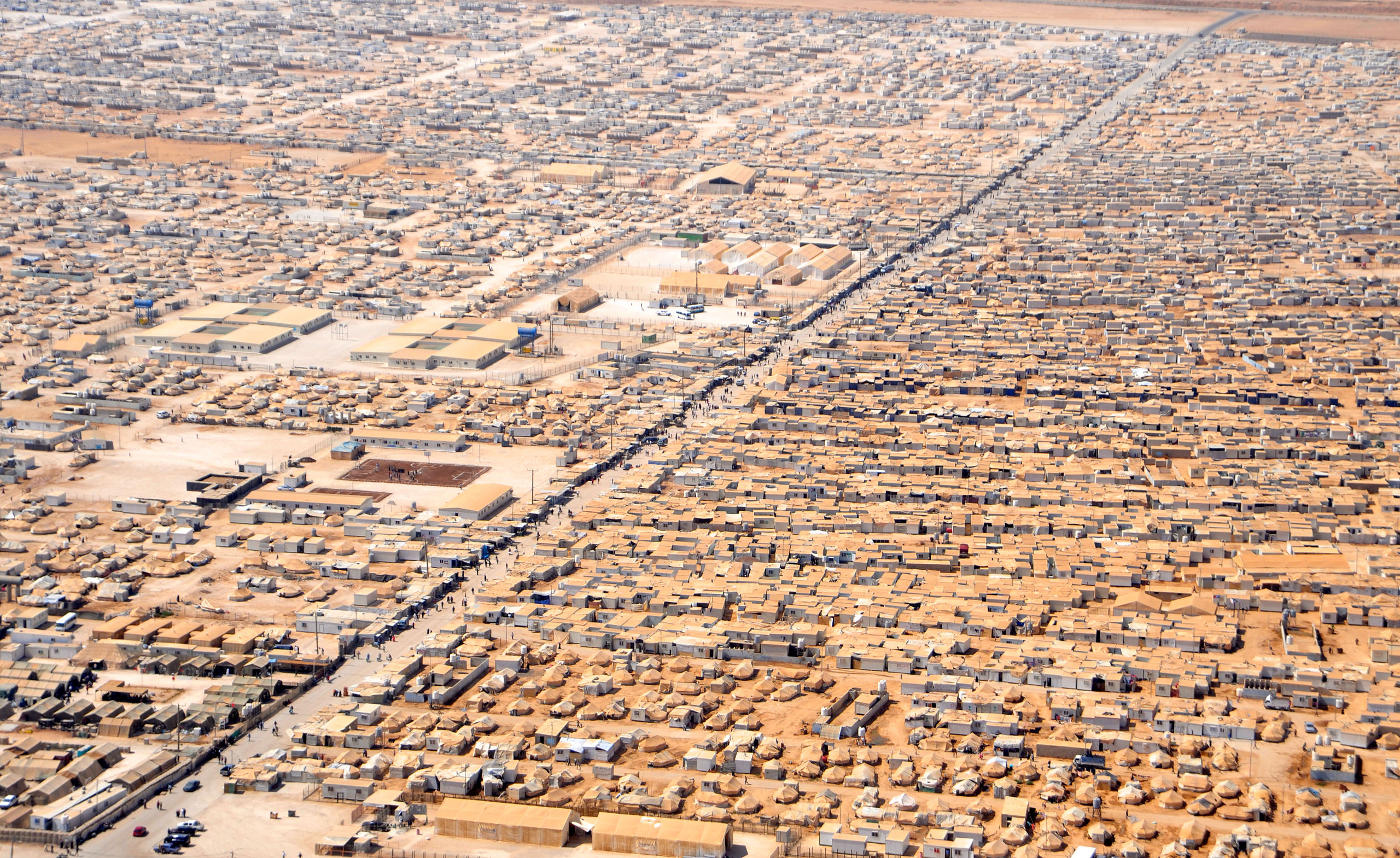 Massive Camp of Refugees from Syria in Za'atri, Jordan
There have been multiple millions of refugees from Ukraine in the past several months.
And there are other refugees fleeing from various problems around the world.
June 20th has been designated as World Refugee Day:
Each June 20, the globe comes together to honor World Refugee Day. The United Nations General Assembly launched the holiday in 2000, and since then, the worldwide community has spent the day focused on ways to improve the lives of refugees. Most of us know that refugees are forced to leave their homes due to war, terror, or other crises—but fleeing their home country is often just the beginning of a difficult journey. Many refugees find themselves living in camps until they are resettled—some of which are dangerous or not well-equipped for long term living. Refugees don't always have a say in which country they are ultimately relocated to, and the bureaucratic process involved in finding their new home can take years. Worldwide refugee crises have taken center stage in the news in recent years, so it's more important than ever to share support and to celebrate World Refugee Day. https://nationaltoday.com/world-refugee-day/

June 20, 2021

Sunday is World Refugee Day. June 20 is a day designated by the United Nations to honor and celebrate the world's refugees.

UNCHR, the U.N.'s refugee agency, says World Refugee Day is "an occasion to build empathy and understanding" for the plight of refugees and to recognize their resilience in rebuilding their lives.

U.S. President Joe Biden said in a statement Sunday, "Today, I join people around the globe in commemorating World Refugee Day, a day when we recognize the courage and humanity of the millions forced to flee violence, persecution, and war."

Biden also said, "On this day, we reaffirm our sacred commitment to alleviate suffering through humanitarian relief, and redouble our efforts to achieve lasting solutions for refugees—including through resettlement. We also recommit to engaging in diplomatic efforts to bring an end to the ongoing conflicts that compel refugees to seek safety elsewhere."

There are more refugees today than there have ever been, UNHCR reports, despite the restrictions and closures imposed on people and countries because of the COVID-19 pandemic.

UNHCR said in a statement that, "the number of people fleeing wars, violence, persecution and human rights violations in 2020 rose to nearly 82.4 million," a number representing a "4% increase on top of the already record-high 79.5 million at the end of 2019."

"And what is quite shocking," UNHCR Assistant High Commissioner Gillian Triggs told VOA's Laurel Bowman, "is that over the last 10 years the numbers of people who are refugees or forcibly displaced has more than doubled. Something like 48% are children or youths, so we really have generations of children who are separated from their countries of origin."

UNHCR urges the world to remember that "Behind each number is a person forced from their home and a story of displacement, dispossession and suffering. They merit our attention and support not just with humanitarian aid, but in finding solutions to their plight." https://www.voanews.com/africa/june-20-world-refugee-day
The primary causes of the refugee situations around the world include war, political considerations, religious persecution, and economics.
After the millennial Kingdom of God is established, the time will come when every one will have their own home (cf. 1 Kings 4:25, Micah 4:4) and wars will cease:
1 Now it shall come to pass in the latter days
That the mountain of the Lord's house
Shall be established on the top of the mountains,
And shall be exalted above the hills;
And peoples shall flow to it.
2 Many nations shall come and say,
"Come, and let us go up to the mountain of the Lord,
To the house of the God of Jacob;
He will teach us His ways,
And we shall walk in His paths."
For out of Zion the law shall go forth,
And the word of the Lord from Jerusalem.
3 He shall judge between many peoples,
And rebuke strong nations afar off;
They shall beat their swords into plowshares,
And their spears into pruning hooks;
Nation shall not lift up sword against nation,
Neither shall they learn war anymore.

4 But everyone shall sit under his vine and under his fig tree,
And no one shall make them afraid;
For the mouth of the Lord of hosts has spoken.
5 For all people walk each in the name of his god,
But we will walk in the name of the Lord our God
Forever and ever. (Micah 4:1-5)
However, before then, there will come another time when all real Christians will be subject to intense persecution (see also Persecutions by Church and State).
But this will come in stages. First, mainly the faithful Philadelphia Christians will be affected:
25 He shall speak pompous words against the Most High, Shall persecute the saints of the Most High, And shall intend to change times and law. (Daniel 7:25a)

33 And those of the people who understand shall instruct many; yet for many days they shall fall by sword and flame, by captivity and plundering. 34 Now when they fall, they shall be aided with a little help; but many shall join with them by intrigue. 35 And some of those of understanding shall fall, to refine them, purify them, and make them white, until the time of the end; because it is still for the appointed time. (Dan 11:33-35)

13 Now when the dragon saw that he had been cast to the earth, he persecuted the woman who gave birth to the male Child. (Rev 12:13)
The Philadelphia Christians who survive will then be protected:
7 "And to the angel of the church in Philadelphia write,

'These things says He who is holy, He who is true, "He who has the key of David, He who opens and no one shuts, and shuts and no one opens": 8 "I know your works. See, I have set before you an open door, and no one can shut it; for you have a little strength, have kept My word, and have not denied My name. 9 Indeed I will make those of the synagogue of Satan, who say they are Jews and are not, but lie — indeed I will make them come and worship before your feet, and to know that I have loved you. 10 Because you have kept My command to persevere, I also will keep you from the hour of trial which shall come upon the whole world, to test those who dwell on the earth. (Revelation 3:7-10)
The Philadelphia Christians flee to become refugees in a place in the wilderness:
14 But the woman was given two wings of a great eagle, that she might fly into the wilderness to her place, where she is nourished for a time and times and half a time, from the presence of the serpent. 15 So the serpent spewed water out of his mouth like a flood after the woman, that he might cause her to be carried away by the flood. 16 But the earth helped the woman, and the earth opened its mouth and swallowed up the flood which the dragon had spewed out of his mouth. (Revelation 12:14-16)
Some believe that this place in the wilderness will be in or near Petra in Jordan (see also There is a Place of Safety for the Philadelphians. Why it May Be Petra).
Prophecy scholars tend to recognize that the expression "time and times and half a time" equates to 3 1/2 years. The fleeing to the wilderness happens just after the Philadelphians have successfully preached the Gospel of the Kingdom to the world as a witness (Matthew 24:14) and just prior to the start of the Great Tribulation (Matthew 24:15-21).
Jesus said to watch and pray to be accounted worthy to escape, indicating that not all Christians would be accounted worthy:
34 "But take heed to yourselves, lest your hearts be weighed down with carousing, drunkenness, and cares of this life, and that Day come on you unexpectedly. 35 For it will come as a snare on all those who dwell on the face of the whole earth. 36 Watch therefore, and pray always that you may be counted worthy to escape all these things that will come to pass, and to stand before the Son of Man." (Luke 21:34-36)
So, what about the rest of the Christians in those days?
The Bible shows that they will be subject to death and persecution:
17 And the dragon was enraged with the woman, and he went to make war with the rest of her offspring, who keep the commandments of God and have the testimony of Jesus Christ. (Revelation 12:17)

25…Then the saints shall be given into his hand For a time and times and half a time. (Daniel 7:25b)
So, this second period of persecution for those who do not flee to the wilderness lasts 3 1/2 years as well. Those subject to the persecution from the Beast power are mainly Laodicean, Sardisian, and Thyatiran Christians (though some of the Thyatiran remnant may be protected per Revelation 2:22-24). Those Christians would be those that failed to heed various parts of the Bible as they should and will ignore the warnings in Zephaniah 2:1-3 to gather together prior to the time to flee (watch also the video Zephaniah's 'Gather Together' Prophecy).
While we Christians go through our day to day lives, the Bible is clear that those who live long enough are going to be subject to intense persecution and becoming refugees.
Basically ALL end time Christians will be refugees or at least subject to terrible persecution.
Did you know what seems to be the second most looked up verse in the Bible is?
The first is John 3:16, but the second is found in Jeremiah. Here are three translations of it:
11 For I know the plans I have for you," declares the LORD, "plans to prosper you and not to harm you, plans to give you hope and a future. (Jeremiah 29:11, NIV)

11 For I know the thoughts that I think towards you, saith the Lord, thoughts of peace, and not of affliction, to give you an end and patience. (Jeremiah 29:11, Douay-Rheims)

11 For I know the plans I have for you," says the LORD. "They are plans for good and not for disaster, to give you a future and a hope. (Jeremiah 29:11, New Living Translation)
Some quote Jeremiah 29:11 as proof that God has a plan for them. And while God does have a plan for all, many tend to not consider the verse in context.
Notice what the Bible teaches:
11 For I know the thoughts that I think toward you, says the Lord, thoughts of peace and not of evil, to give you a future and a hope. 12 Then you will call upon Me and go and pray to Me, and I will listen to you. 13 And you will seek Me and find Me, when you search for Me with all your heart. 14 I will be found by you, says the Lord, and I will bring you back from your captivity; I will gather you from all the nations and from all the places where I have driven you, says the Lord, and I will bring you to the place from which I cause you to be carried away captive. (Jeremiah 29:11-14)
Notice that the plan was exile. To be a sojourner, to be a refugee.
So as you consider the plight of the millions of refugees on the Earth, you may also consider that if you are truly a Christian, that you will be subject to intense persecution and even being a refugee yourself.
Some items of possibly related interest may include:
There is a Place of Safety for the Philadelphians. Why it May Be Petra This article discusses a biblical 'place of safety' and includes quotes from the Bible and Herbert W. Armstrong on this subject–thus, there is a biblically supported alternative to the rapture theory. There is also a video on the subject: Might Petra be the Place of Safety? Here is something related in the Spanish language: Hay un lugar de seguridad para los Filadelfinos. ¿Puede ser Petra?
This is PETRA! This is a 1962 Good News article by the late Dr. Hoeh.
Zephaniah's 'Gather Together' Prophecy Is it safe to be 'independent' or in a non-Philadelphian Church of God? What did God inspire Zephaniah to write?
Persecutions by Church and State This article documents some that have occurred against those associated with the COGs and some prophesied to occur. Will those with the cross be the persecutors or the persecuted–this article has the shocking answer. There is also a YouTube video sermon you can watch: The Coming Persecution of the Church. Here is information in the Spanish language: Persecuciones de la Iglesia y el Estado.
The Gospel of the Kingdom of God was the Emphasis of Jesus and the Early Church Did you know that? Do you even know what the gospel of the kingdom is all about? You can also see a YouTube video sermon The Gospel of the Kingdom.
Does God Have a 6,000 Year Plan? What Year Does the 6,000 Years End? Was a 6000 year time allowed for humans to rule followed by a literal thousand year reign of Christ on Earth taught by the early Christians? Does God have 7,000 year plan? What year may the six thousand years of human rule end? When will Jesus return? 2031 or 20xx? There is also a video titled 6000 Years: When will God's Kingdom Come? Here is a link to the article in Spanish: ¿Tiene Dios un plan de 6,000 años?
Might the U.S.A. Be Gone by 2028? Are there prophetic reasons to believe that the USA will not last two complete presidential terms? Yes. There is a tradition attributed to the Hebrew prophet Elijah that humanity had 6,000 years to live before being replaced by God's Kingdom. There are scriptures, writings in the Talmud, early Christian teachings that support this. Also, even certain Hindu writings support it. Here is a link to a related video: Is the USA prophesied to be destroyed by 2028? In Spanish: Seran los Estados Unidos Destruidos en el 2028?
The Great Tribulation: What Happens First? What events have happened? What are some events that are now happening? And what events need to happen for the Great Tribulation to start? Here is a link to a related sermon video: Counting Down to the Great Tribulation. Here is a video in the Spanish language: Contando los eventos y el inicio de la Gran Tribulación.
When Will the Great Tribulation Begin? 2022, 2023, or 2024? Can the Great Tribulation begin today? What happens before the Great Tribulation in the "beginning of sorrows"? What happens in the Great Tribulation and the Day of the Lord? Is this the time of the Gentiles? When is the earliest that the Great Tribulation can begin? What is the Day of the Lord? Who are the 144,000? Here is a version of the article in the Spanish language: ¿Puede la Gran Tribulación comenzar en el 2020 o 2021? ¿Es el Tiempo de los Gentiles? A related video is: Great Tribulation: 2026 or 2027? A shorter video is: Can the Great Tribulation start in 2022 or 2023? Here is a video in the Spanish language: Es El 2021 el año  de La Gran Tribulación o el Grande Reseteo Financiero.
Is a Great Reset Coming? Klaus Schwab of the World Economic Forum has proposed a societal change that has been basically endorsed by the Vatican and many world leaders. Does the Bible prophesy a major reset? Here is a link to a related video: Will there be a "Great Reset"?
The Times of the Gentiles Has there been more than one time of the Gentiles? Are we in it now or in the time of Anglo-America? What will the final time of the Gentiles be like? A related sermon is available and is titled: The Times of the Gentiles.
Armageddon Who is involved and when will this gathering happen? Here is also a video from Dr. Thiel, from Tel Megiddo in Israel: Armageddon. Other videos include: Armageddon Will it come on Trump's watch?, Iraq, Armageddon, & Prophecy, Freemasonry, Armageddon, and Rome, Is China paving roads to Armageddon?, and Jordan, Petra, and Armageddon.
Where is the True Christian Church Today? This free online pdf booklet answers that question and includes 18 proofs, clues, and signs to identify the true vs. false Christian church. Plus 7 proofs, clues, and signs to help identify Laodicean churches. A related sermon is also available: Where is the True Christian Church? Here is a link to the booklet in the Spanish language: ¿Dónde está la verdadera Iglesia cristiana de hoy? Here is a link in the German language: WO IST DIE WAHRE CHRISTLICHE KIRCHE HEUTE? Here is a link in the French language: Où est la vraie Église Chrétienne aujourd'hui?
Continuing History of the Church of God This pdf booklet is a historical overview of the true Church of God and some of its main opponents from Acts 2 to the 21st century. Related sermon links include Continuing History of the Church of God: c. 31 to c. 300 A.D. and Continuing History of the Church of God: 4th-16th Centuries and Continuing History of the Church of God: 17th-20th Centuries. The booklet is available in Spanish: Continuación de la Historia de la Iglesia de Dios, German: Kontinuierliche Geschichte der Kirche Gottes, French: L Histoire Continue de l Église de Dieu and Ekegusii Omogano Bw'ekanisa Ya Nyasae Egendererete.
Hope of Salvation: How the Continuing Church of God Differs from Protestantism The CCOG is NOT Protestant. This free online book explains how the real Church of God differs from mainstream/traditional Protestants. Several sermons related to the free book are also available: Protestant, Baptist, and CCOG History; The First Protestant, God's Command, Grace, & Character; The New Testament, Martin Luther, and the Canon; Eucharist, Passover, and Easter; Views of Jews, Lost Tribes, Warfare, & Baptism; Scripture vs. Tradition, Sabbath vs. Sunday; Church Services, Sunday, Heaven, and God's Plan; Seventh Day Baptists/Adventists/Messianics: Protestant or COG?; Millennial Kingdom of God and God's Plan of Salvation; Crosses, Trees, Tithes, and Unclean Meats; The Godhead and the Trinity; Fleeing or Rapture?; and Ecumenism, Rome, and CCOG Differences.
4. The Thyatira Church Era was predominant circa 1050 A.D. to circa 1600 A.D. The Church during the Inquisition. It claimed succession from the apostles. Here is a link toa related sermon: Thyatira, Succession, and Jezebel.
5. The Sardis Church Era was predominant circa 1600 A.D. to circa 1933 A.D. Discusses some early history of the Seventh Day Baptists, Seventh-day Adventists, CG7-Salem, Jerusalem 7DCG, and COG-7th Day-Denver. Here are two historical sermons: Sardis Church Era: Beginnings, Doctrines, and Leaders and Sardis: SDBs, SDAs, & CG7s.
6. The Philadelphia Church Era was predominant circa 1933 A.D. to 1986 A.D. The old Radio Church of God and old Worldwide Church of God, now the remnant of that era is basically the most faithful in the Church of God, like who hold to the beliefs and practices of the Continuing Church of God.
7. The Laodicean Church Era has been predominant circa 1986 A.D. to present. The Laodiceans are non-Philadelphians who mainly descended from the old WCG or its offshoots.  They do not properly understand the work or biblical prophecies and will face the Great Tribulation if they do not repent. One video of related interest is 50+ Laodicean Prophetic Errors. See also Do You Hold to Any of These Laodicean Prophetic Errors?
CCOG.ORG Continuing Church of God The group striving to be most faithful amongst all real Christian groups to the word of God.
Preaching the Gospel in Over 100 Languages Which languages are being used to fulfill Matthew 24:14?