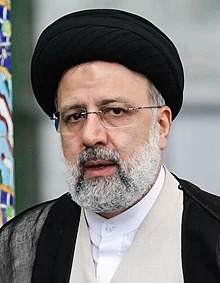 Iranian President Ebrahim Raisi
(Photo by Mehr News Agency)

Iranian President Ebrahim Raisi and the nuclear deal are concerns for many:
Iran's election unsettles Biden's hope for a nuclear deal

June 22, 2021

Biden administration officials are insisting that the election of a hard-liner as Iran's president won't affect prospects for reviving the faltering 2015 nuclear deal with Tehran. But there are already signs that their goal of locking in a deal just got tougher.

Optimism that a deal was imminent faded as the latest talks ended Sunday without tangible indications of significant progress. And on Monday, in his first public comments since the vote, incoming Iranian President Ebrahim Raisi rejected a key Biden goal of expanding on the nuclear deal if negotiators are able to salvage the old one.

At the same time, Raisi is likely to raise Iran's demands for sanctions relief in return for Iranian compliance with the deal, as he himself is already subject to U.S. human rights penalties. …

Despite Raisi's impending presidency, Biden administration officials insist prospects for reaching an agreement are unaltered. https://apnews.com/article/donald-trump-joe-biden-middle-east-iran-government-and-politics-8d8f70767a80decd8a12eb0c54241ccf

Iran's President-elect: Tehran's Ballistic Missile Program 'Nonnegotiable'

June 22, 2021

Iran's new hard-line President-elect, Ebrahim Raisi, said Monday he would not negotiate over limiting Tehran's ballistic missile program or its support for regional militia proxy forces.

In addition, Raisi told reporters in Tehran that he would not meet with U.S. President Joe Biden as the United States attempts to rejoin the 2015 international pact to restrain Iran from developing a nuclear weapon.

Later, the White House dismissed any concern about not having a Raisi-Biden meeting. …

Raisi, a protégé of Khamenei, took a defiant stance against Washington, saying, "The U.S. is obliged to lift all oppressive sanctions against Iran."

As the U.S. and five other international powers negotiate new terms of the nuclear pact with Tehran, Raisi said any discussions about its ballistic missile program and its support of regional militias were "nonnegotiable."…

Raisi called sanctions relief "central to our foreign policy" and demanded that the U.S. "return and implement your commitments" in the deal. https://www.voanews.com/middle-east/irans-president-elect-tehrans-ballistic-missile-program-nonnegotiable
While the Biden-Harris Administration is publicly optimistic about a nuclear deal with Iran, not all in the USA are as NewsMax reports in the following:
John Bolton to Newsmax: Iran Nuke Deal Based on 'a Fantasy'

The Biden administration is seeking to restore the Joint Comprehensive Plan of Action (JCPOA) – Obama's Iran nuclear deal – but the connected administrations have "no idea how flawed the deal is," according to former National Security Adviser John Bolton on Newsmax. …

"Although they don't like to say it publicly, it rests on the assumption that if they could just calm the Ayatollahs down and convince them that they don't need to worry about the United States and Israel, they can solve the nuclear program, Iran will behave like a normal nation, and sweetness and light will break out in the Middle East.

"It really is a fantasy, and it's a dangerous fantasy."

President Joe Biden's pushing to resume JCPOA talks – after former President Donald Trump decertified it – is an "extraordinarily dangerous" way to stem nuclear proliferation, Bolton added to host John Bachman.

"They think it was working, and they're just completely wrong on that," Bolton said. "They have no idea how flawed the deal is, and they see it as something that can be a model really for their nonproliferation efforts around the world, and it's extraordinarily dangerous.

"Israel sees it. The gulf Arab states see it. They do not." https://www.newsmax.com/newsmax-tv/john-bolton-secretary-of-state-jcpoa-nuclear/2021/06/21/id/1025862/
Iran is aware that the Biden-Harris Administration wants a deal.
However, the Biden-Harris Administration is likely a lot more concerned about Iran's new president and delays in getting a possible deal are likely.
Consider the following as well:
US Secretary of State Antony Blinken told NBC News that the administration hopes to negotiate a "longer and stronger" deal, but only after Iran returns to compliance.

At the same time, Tehran is telling the White House that it must drop the Trump-era sanctions first. 02/01/21 https://www.zerohedge.com/geopolitical/iran-launches-new-satellite-carrying-rocket-biden-plan-restore-nuclear-deal-falters
Iran is trying to show the USA that it needs to drop sanctions now in order to get Iran to talk about halting (or slowing down) its nuclear program, yet the USA has said that is unacceptable.
So  while the Biden-Harris Administration believes it has pressure to act, its position and Iran's is still at odds.
Now, notice something from my book Biden-Harris: Prophecies and Destruction related to Iran: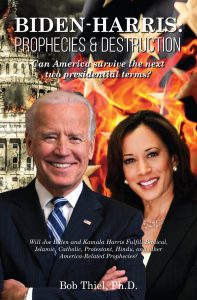 Despite its posturing and relative military strength, Iran will be somehow effectively neutralized (cf. Ezekiel 32:24). This could perhaps be from an attack involving Israel and/or internal civil unrest — this could also include electromagnetic (EMP) or similar weapons used against Iran (Jeremiah 49:34-39).

It is of prophetic interest to note that the small nation of Israel is prophesied to one day be attacked by some that seem to have connection to Iran and its ally Syria (Isaiah 22:1-14). …

Iran may decide to strike out against Israel, and likely Jerusalem (cf. Isaiah 22:7-8) if it determines that it should. If it is frustrated with the Biden-Harris Administration policies or delays, that may very well be a factor in it taking prophesied military action.

Iran has weapons that can cause damage. Furthermore, the U.S.A. itself, as well as the State of Israel, are vulnerable to EMP type attacks and even items such as biological weapons, chemical weapons, terrorism, nuclear weapons, dirty bombs, etc. because of a conflict involving Iran, Syria, and/or others.

But should this attack occur, this would NOT be the final destruction of the U.S.A. Prophetically, Iran would not end up faring well (cf. Ezekiel 32:24-25). (Thiel B. Biden-Harris: Prophecies and Destruction. Nazarene Books, January 2021)
So, with Iran getting a new president who has publicly taken a 'hard line,' it looks like there will be delays.
Enough delays may lead Iran to conclude that a regional war is the best way to deal with domestic and international pressures.
Such a war is consistent with prophesies such as are in Isaiah 22–and may be a factor leading to the 'peace deal' of Daniel 9:27.
We may be in the early stages of the ride of the second horseman of the Apocalypse–that is the horseman that takes peace from the earth.
Talks and/or lack thereof may be interpreted by Iran or Israel as reasons to attack militarily against one another.
A regional war will come to the Middle East and it could be relatively soon.
UPDATE: At 9:44 pm on June 22, 2021, Voice of America reported the following:
The U.S. Justice Department on Tuesday seized nearly three dozen Iran-linked news websites, which it accused of spreading disinformation.

"Today, pursuant to court orders, the United States seized 33 websites used by the Iranian Islamic Radio and Television Union (IRTVU) and three websites operated by Kata'ib Hizballah (KH), in violation of U.S. sanctions," a DOJ statement said.

Iranian media confirmed that several state-linked news websites appeared "seized" by the U.S. government without any clear reason or explanation.

Among the sites abruptly taken offline were state television's English-language Press TV, its Arabic channel Al-Alam, and Yemeni Houthi rebels' Al-Masirah satellite news channel.

The message on the websites said the seizures had been "in accordance with a seizure warrant," and it appeared with the seals of the FBI and the Commerce Department's Bureau of Industry and Security.

Al-Masirah released a statement acknowledging its seizure, saying it would continue its mission of "confronting the American and Israeli acts of piracy against our nation, by any means." https://www.voanews.com/middle-east/us-seizes-iranian-state-news-sites
This will NOT endear the Biden-Harris Administration to the new Iranian presidency. This act may further encourage the Iranians to conclude that they will not get what they want from the Americans. Violent conflict is something Iran must be considering.
Some items of possibly related interest may include:
Biden-Harris: Prophecies and Destruction Can the USA survive two full presidential terms? In what ways are Joe Biden and Kamala Harris apocalyptic? This book has hundreds of prophecies and scriptures to provide details. A Kindle version is also available and you do not need an actual Kindle device to read it. Why? Amazon will allow you to download it to almost any device: Please click HERE to download one of Amazon s Free Reader Apps. After you go to your free Kindle reader app (or if you already have one or a Kindle), you can go to: Biden-Harris: Prophecies and Destruction (Kindle) to get the book in seconds.
The 'Peace Deal' of Daniel 9:27 This prophecy could give up to 3 1/2 years advance notice of the coming Great Tribulation. Will most ignore or misunderstand its fulfillment? Here is a link to a related sermon video Daniel 9:27 and the Start of the Great Tribulation. A short video is also available titled Trump's Deal of the Century and Daniel 9 27? Here is a link to something related in the Spanish language: Estados Árabes emiratos unidos y el tratado de paz en el medio este.
Does God Have a 6,000 Year Plan? What Year Does the 6,000 Years End? Was a 6000 year time allowed for humans to rule followed by a literal thousand year reign of Christ on Earth taught by the early Christians? Does God have 7,000 year plan? What year may the six thousand years of human rule end? When will Jesus return? 2028 or or 2031 or 20xx? There is also a video titled 6000 Years: When will God's Kingdom Come? Here is a link to the article in Spanish: ¿Tiene Dios un plan de 6,000 años?
Might the U.S.A. Be Gone by 2028? Are there prophetic reasons to believe that the USA will not last two complete presidential terms? Yes. There is a tradition attributed to the Hebrew prophet Elijah that humanity had 6,000 years to live before being replaced by God's Kingdom. There are scriptures, writings in the Talmud, early Christian teachings that support this. Also, even certain Hindu writings support it. Here is a link to a related video: Is the USA prophesied to be destroyed by 2028?
The Great Tribulation: What Happens First? What events have happened? What are some events that are now happening? And what events need to happen for the Great Tribulation to start? Here is a link to a related sermon video: Counting Down to the Great Tribulation.
When Will the Great Tribulation Begin? 2021, 2022, or 2023? Can the Great Tribulation begin today? What happens before the Great Tribulation in the "beginning of sorrows"? What happens in the Great Tribulation and the Day of the Lord? Is this the time of the Gentiles? When is the earliest that the Great Tribulation can begin? What is the Day of the Lord? Who are the 144,000? Here is a version of the article in the Spanish language: ¿Puede la Gran Tribulación comenzar en el 2020 o 2021? ¿Es el Tiempo de los Gentiles? A related video is: 2021: The Great Tribulation or the Great Reset?
USA in Prophecy: The Strongest Fortresses Can you point to scriptures, like Daniel 11:39, that point to the USA in the 21st century? This article does. Two related sermon are available: Identifying the USA and its Destruction in Prophecy and Do these 7 prophesies point to the end of the USA?
Who is the King of the West? Why is there no Final End-Time King of the West in Bible Prophecy? Is the United States the King of the West? Here is a version in the Spanish language: ¿Quién es el Rey del Occidente? ¿Por qué no hay un Rey del Occidente en la profecía del tiempo del fin? A related sermon is also available: The Bible, the USA, and the King of the West.
Who is the King of the North? Is there one? Do biblical and Roman Catholic prophecies for the Great Monarch point to the same leader? Should he be followed? Who will be the King of the North discussed in Daniel 11? Is a nuclear attack prophesied to happen to the English-speaking peoples of the United States, Great Britain, Canada, Australia, and New Zealand? When do the 1335 days, 1290 days, and 1260 days (the time, times, and half a time) of Daniel 12 begin? When does the Bible show that economic collapse will affect the United States? In the Spanish language check out ¿Quién es el Rey del Norte? Here are links to two related videos: The King of the North is Alive: What to Look Out For and The Future King of the North.
The Great Monarch: Biblical and Catholic Prophecies Is the 'Great Monarch' of Catholic prophecies endorsed or condemned by the Bible? Two sermons of related interest are also available: Great Monarch: Messiah or False Christ? and Great Monarch in 50+ Beast Prophecies.
Jesus Returning, David's Throne, and the Stone of Destiny Will Jesus return to the throne of David? What about the Stone of Scone? Here is a link to a related video: Stone of Destiny and Jesus' Return.
Is the Future King of the South Rising Up? Some no longer believe there needs to be a future King of the South. Might Egypt, Islam, Iran, Arabs, or Ethiopia be involved? Might this King be called the Mahdi or Caliph? What does the Bible say? A YouTube video of related interest may be: The Future King of the South is Rising. Here is a version the Spanish language: ¿Esta Surgiendo el Rey Del Sur?
Iran in Prophecy Is Iran in Bible prophecy? If so, what does the Bible teach? What names, other than Persia, may be used to describe Iran? There is also a related YouTube video titled Iran In Prophecy.