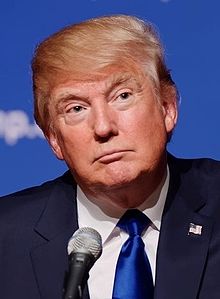 Donald Trump

The election of Donald Trump has resulted in world events aligning with at least four predictive warnings that were made at the COGwriter. com website.
Notice some items posted on this news page:
Should he actually become President of the United States, his flamboyance and brashness are bound to offend the Europeans, and ultimately that will not turn out well for the USA (cf. Daniel 11:39). (Thiel B. Can Donald Trump make America great again? COGwriter, December 20, 2015)

Donald Trump will take steps to upset the Europeans. (Thiel B. Savage claims Obama would trash the economy if Trump wins; German press sees USA becoming more rotten. COGwriter, May 3, 2016)
Has he?
Well the news today says that he has:
January 16, 2017

BRUSSELS — European leaders on Monday took a tough line on President-elect Donald Trump's comments that the European Union is bound for breakup and NATO is obsolete, raising the prospect of an unprecedented breach of transatlantic relations once Trump comes to office.

Trump said in a weekend interview with the Times of London and Germany's Bild newspaper that the 28-nation European Union was a vehicle for German interests and said that he was indifferent to its fate. He also said he was committed to European defense even as he expressed skepticism about NATO's current configuration.

Trump's attitudes have raised alarm bells across Europe, which is facing a wave of elections this year in which anti-immigrant, euro-skeptic leaders could gain in power. Most mainstream leaders had committed to working with Trump after Jan. 20, even as they expressed hope he would moderate his views once he came to office.

The full ramifications of a breakdown in transatlantic relations are so extensive they are difficult to total. …

"The best response is European unity," said French Foreign Minister Jean-Marc Ayrault. "As with the case of Brexit, the best way to defend Europe is to remain united. This is a bit of an invitation that we are making to Mr. Trump. To remain a bloc. Not to forget that the force of Europeans is in their unity." (Birnbaum M. Europe leaders shocked as Trump slams NATO, E.U. raising fears of transatlantic split. Washington Post, January 16, 2017. https://www.washingtonpost.com/world/europe-leaders-shocked-as-trump-slams-nato-eu-raising-fears-of-transatlantic-split/2017/01/16/82047072-dbe6-11e6-b2cf-b67fe3285cbc_story.html?utm_term=.efe0a69a8d83)

16 January 2017

A statement by US President-elect Donald Trump that Nato is "obsolete" has caused "worry" in the alliance, Germany's foreign minister has said.

Frank-Walter Steinmeier said it was a contradiction of comments made days ago by Mr Trump's incoming defence chief.

In an interview in New York, Mr Trump also said Germany's Angela Merkel made "a catastrophic mistake" by admitting more than one million migrants.

And he threatened German car makers with high import tariffs.  …

Donald Trump's comments have caused dismay, concern – but perhaps not surprise – in Berlin. Few expected the new transatlantic relationship to echo the warm and trusting alliance nurtured by Angela Merkel and Barack Obama, who was a vocal supporter of Mrs Merkel's refugee policy.

There is anger, too. Germany's outspoken Vice-Chancellor Sigmar Gabriel retorted that the migrant crisis was the result of "faulty, interventionist American policies in the Mediterranean and Middle East". (Trump worries Nato with 'obsolete' comment. BBC, January 16, 2017)
Donald Trump clearly has upset the Europeans. That is one of at least four warnings I wrote and posted at COGwriter.com that have already taken place since Donald Trump's election .
It is interesting to note that the "best response' to Donald Trump, according to the French Foreign Minister is European unity. That too, was warned about on the COGwriter.com news page. On February 28, 2016, my son Brian and I put out a video where I warned that Donald Trump's rise would lead the Europeans to take steps to further unite (Could Donald Trump be Apocalyptic?) and a link was posted on this page on that date in the article Hillary Clinton and Donald Trump front runners: Who does Vladimir Putin reportedly prefer and why?
Related to that, on September 6, 2016, I posted related to Donald Trump:
Some of his statements may be leading to the rise of the prophesied King of the North, who is to be the final leader of the Beast of Revelation (Revelation 13:1). (Thiel B.Rabbi calls Donald Trump 'America's messiah,' but is he?  COGwriter, September 6, 2016)
Some additional European unity will be needed for that to occur (cf. Revelation 17:12-13) and Donald Trump has already been a motivator for this.
The day AFTER the election, EU Commission President Jean-Claude Juncker sent out a tweet over Twitter:
Trump wins … Wake up call for Europe to further unite & take charge of its own destiny (11/09/16)
How did I know this?
The Bible shows that Europe will rise up again (Revelation 13:1-10), have a great army (Daniel 11:25), and will one day defeat the USA (Daniel 11:39). Because of where we are in God's 6000/7000 year plan, the timing of Donald Trump and Europe's disdain for him fit.
Here is something I warned here in September 2016:
For years I have warned that more civil unrest was coming to the USA.  We have already seen a re-emergence of civil unrest already in 2015 and 2016.

That does not mean that I agree that globalists will necessarily trigger it etc. But the media certainly has fanned the flames in the past and I expect them to do more such fanning in the future if Donald Trump were to win. (Thiel B. 'Chaos will erupt across America in less than 100 days… no matter who wins the election'. COGwriter, September 5, 2016)
And that happened with tens of thousands protesting (Thiel B. 'Is A Real Civil War Possible?'. COGwriter, November 13, 2016). The media will help fan the flames for more of this.
On November 7, 2016 (the day before his election), I posted:
If Donald Trump is elected, the Germans will see this as proof that they cannot rely on the USA for their defense, etc. Germany will push for a European army. Some in Europe actually want Donald Trump to win for this basic reason (see 'Why Europe Secretly Roots For Donald Trump'?). (Thiel B. Germans opposed to Donald Trump, but not too optimistic about Hillary Clinton. COGwriter, November 7, 2016)
Was this fourth warning confirmed?
Yes.
By November 11, 2016, German leaders did so, with at least one doing so publicly (see Thiel B. As foretold here, more calls for a European army! Guttenberg: 'There will be a terrible awakening for Europe'. COGwriter, November 11, 2016). In addition, a survey in late December 2016 found that the majority of Germans want to build a formidable European army. (Thiel B. Majority of Germans want a European army. COGwriter, December 30, 2017)  In 2017, German Chancellor Angela Merkel said it was naïve of Europe to think that the USA would always aid Europe and that the EU needed to build its defenses. (Thiel B.  Germany's Merkel warns Europe on security in the age of Donald Trump. COGwriter, January 13, 2017)
The Europeans will take more steps to separate themselves from the USA. This does not mean that NATO must be abandoned. I have felt for decades that the Europeans would likely attack the USA deceptively under the guise of a NATO or similar exercise, and probably will have ground assistance from Mexico, a nation that Donald Trump has repeatedly offended during his campaign.
Since Donald Trump's election, the Europeans have intensified their desire to arm themselves. The time will come when Europe will turn to a 'strongman' of its own (cf. Revelation 17:12-13; see also Must the Ten Kings of Revelation 17:12 Rule over Ten Currently Existing Nations?) I have also long written that I believe that trade conflict could be the trigger for the start of WWIII. Donald Trump repeatedly said he would negotiate better trade deals for the USA at the expense of other nations.
Europe is moving towards its own military and tighter reorganization. And ultimately, a reorganization that a Vatican leader will endorse.
The Europeans are not pleased with Donald Trump, but they also were not happy with the Obama Administration.  Notice something from the German press:
In an interview in Germany's "Bild" newspaper, Donald Trump blasted NATO, the EU and Germany. But Chancellor Merkel should confidently stand up to the new president, writes DW's Miodrag Soric from Washington.

16 January 2017

Both the USA and Germany have been supporting Ukraine's sovereignty, but it is only the German taxpayers who have been paying for it. When the Ukrainian president recently asked Washington for financial aid, Congress sent him home empty handed. And it seems as though President Trump will also be holding the purse strings tight. A further example? Germany has been paying billions to help Syrian and Iraqi refugees. But Germany had nothing to do with the war in Iraq, and indeed expressly warned against it. The US picked the fight. And this destabilized the entire region. They don't like to acknowledge their responsibility for this misadventure nowadays.

America's presidents come and go. But regardless of who calls the shots in the White House, the political reality seems to be perceived selectively. http://www.dw.com/en/opinion-trumps-threats/a-37144781
So, the Germans have had resentment against the USA and believe that they even have been paying for the blunders of the Obama Administration related to Syria. Now, because of Donald Trump, they seem more willing to publicly state their discontent with the USA.
A divide between the USA and Europe is happening. Oh yes, the relations between the USA and Europe will ebb and flow–but have no doubts about it–Europe will one day rise up and will successfully attack and takeover the USA–you Bible teaches this (cf. Daniel 11:39; see also USA in Prophecy: The Strongest Fortresses).
Barack Obama's Administration helped fulfill at least a dozen predictions I warned about (see appendix in Barack Obama, Prophecy, and the Destruction of the United States-Second Edition for Second Obama Term ). Since his election, world events have already confirmed at least four made related to Donald Trump.
We in the Continuing Church of God "have also a more sure word of prophecy; whereunto ye do well that ye take heed, as unto a light that shineth in a dark place, until the day dawn, and the day star arise in your hearts" (2 Peter 1:19, KJV)."
Anti-Church of God skeptics do not seem to care that world events are aligning with properly understood biblical prophecy. Hopefully you are not among them.
Let us now be "exhorting one another, and so much the more as you see the Day approaching" (Hebrews 10:25).
Some items of possibly related interest may include:
Who is the King of the West? Why is there no Final End-Time King of the West in Bible Prophecy? Is the United States the King of the West? Here is a version in the Spanish language: ¿Quién es el Rey del Occidente? ¿Por qué no hay un Rey del Occidente en la profecía del tiempo del fin?.
Donald Trump in Prophecy Prophecy, Donald Trump? Are there prophecies that Donald Trump may fulfill? Are there any prophecies that he has already helped fulfill? Could a Donald Trump presidency be apocalyptic? A related video is titled: 13 Ways President-Elect Trump is Apocalyptic.
Europa, the Beast, and Revelation Where did Europe get its name? What might Europe have to do with the Book of Revelation? What about "the Beast"? Is an emerging European power "the daughter of Babylon"? What is ahead for Europe? Here is a link to a video titled: Can You Prove that the Beast to Come is European?
European Technology and the Beast of Revelation Will the coming European Beast power would use and develop technology that will result in the taking over of the USA and its Anglo-Saxon allies? Is this possible? What does the Bible teach? Here is a related YouTube video: Military Technology and the Beast of Revelation.
Must the Ten Kings of Revelation 17:12 Rule over Ten Currently Existing Nations? Some claim that these passages refer to a gathering of 10 currently existing nations together, while one group teaches that this is referring to 11 nations getting together. Is that what Revelation 17:12-13 refers to? The ramifications of misunderstanding this are enormous. A related sermon is titled Ten Kings of Revelation and the Great Tribulation.
Might German Baron Karl-Theodor zu Guttenberg become the King of the North? Is the former German Defense Minister (who is also the former German Minister for Economics and Technology) one to watch? What do Catholic, Byzantine, and biblical prophecies suggest?
Germany's Assyrian Roots Throughout History Are the Germanic peoples descended from Asshur of the Bible? Have there been real Christians in Germanic history? What about the "Holy Roman Empire"? There is also a You-Tube video sermon on this titled Germany's Biblical Origins.
Germany in Biblical and Catholic Prophecy Does Assyria in the Bible equate to an end time power inhabiting the area of the old Roman Empire? What does prophecy say Germany will do and what does it say will happen to most of the German people? Here is a link to a video Is the USA Pushing Germany to Start WWIII?
Anglo – America in Prophecy & the Lost Tribes of Israel Are the Americans, Canadians, English, Scottish, Welsh, Australians, Anglo-Saxon (non-Dutch) Southern Africans, and New Zealanders descendants of Joseph? Where are the lost ten-tribes of Israel? Who are the lost tribes of Israel? What will happen to Jerusalem and the Jews in Israel? Will God punish the U.S.A., Canada, United Kingdom, and other Anglo-Saxon nations? Why might God allow them to be punished first? Here is a link to the Spanish version of this article: Anglo-América & las Tribus Perdidas de Israel. Information is also in the YouTube sermons titled Where are the Ten Lost Tribes? Why does it matter? and British are the Covenant People. A short YouTube of prophetic interest may be Barack Obama and the State of the Apocalypse.
Will the Anglo-Saxon Nations be Divided and Have People Taken as Slaves? Will the lands of the United States, United Kingdom, Canada, Australia, and New Zealand be divided? What about Jerusalem? What does Bible prophecy teach? Are there non-biblical prophecies that support this idea? Who will divide those lands? Who will end up with the lands and the people? Here is a link to a video titled Will the USA and other Anglo-nations be Divided and Their People Made Slaves? Here is a related item in the Spanish language ¿Serán divididas las naciones anglosajonas?
British are the Covenant People What do 'British' and 'Britain' mean in Hebrew? Are the descendants of the Anglo-Saxons people of the covenant? Does the British royal family connect to the throne of David? What does the Bible teach? What does history show us? Is there any DNA evidence related to British-Israelism? When did Christianity make it to the British Isles? Could Jeremiah have made it to the British Isles? What type of Christians made it to the British Isles? Did the last King of England believe in British Israelism?
Forbes' Brexit Monster is the Beast of Revelation Various ones have been properly convinced that there is a plan for a European superstate. Forbes' writer Tom Worstall wrote that the Brexit vote was about the United Kingdom "not joining the monster of the European Union to come." The Bible tells of a Beast monster that will arise in the end times in Europe. Dr. Thiel cites news reports, as well as the Old and New Testaments, to show that the monster many fear will arise in Europe, despite the vote by the British to exit the European Union. This is a video.
Post Brexit Prophecy On June 23, 2016, the voters of the United Kingdom of Great Britain and Northern Ireland (UK) chose to leave the European Union. Now with this BRitish EXIT (Brexit) vote, what is prophesied to happen to the UK? Will the UK do well or be taken over and made slaves? Dr. Thiel explains from biblical prophecies what is ahead for the UK, Europe, and even the USA, Canada, Australia, and New Zealand. This is a video.
WTO/TTIP and the Babylonian Beast Will international trade agreements like WTO/TTIP/CETA lead to the fulfillment of end time prophecies concerning the Babylonian Beast power that the Book of Revelation warns against? What does the Bible teach? A related video would be WTO Trade Deal and the Rise of the European Beast Power.
USA in Prophecy: The Strongest Fortresses Can you point to scriptures, like Daniel 11:39, that point to the USA in the 21st century? This article does. A related sermon is titled: Do these 7 prophesies point to the end of the USA?
Who is the King of the North? Is there one? Do biblical and Roman Catholic prophecies for the Great Monarch point to the same leader? Should he be followed? Who will be the King of the North discussed in Daniel 11? Is a nuclear attack prophesied to happen to the English-speaking peoples of the United States, Great Britain, Canada, Australia, and New Zealand? When do the 1335 days, 1290 days, and 1260 days (the time, times, and half a time) of Daniel 12 begin? When does the Bible show that economic collapse will affect the United States? In the Spanish language check out ¿Quién es el Rey del Norte? Here is a link to a video titled: The Future King of the North.
When Will the Great Tribulation Begin? 2017, 2018, or 2019? Can the Great Tribulation begin today? What happens before the Great Tribulation in the "beginning of sorrows"? What happens in the Great Tribulation and the Day of the Lord? Is this the time of the Gentiles? When is the earliest that the Great Tribulation can begin? What is the Day of the Lord? Who are the 144,000? Here is a version of the article in the Spanish language: ¿Puede comenzar la Gran Tribulación en 2016 o 2017? ¿Es el Tiempo de los Gentiles? You can also see the English language sermon videos: The Great Tribulation from the Mount of Olives and Can the Great Tribulation begin before 2020? A shorter video is: Will the Great Tribulation Start in 2017?
The 'Peace Deal' of Daniel 9:27 This prophecy could give up to 3 1/2 years advance notice of the coming Great Tribulation. Will most ignore or misunderstand its fulfillment? Here is a link to a related sermon video Daniel 9:27 and the Start of the Great Tribulation.
The Gospel of the Kingdom of God This free online pdf booklet has answers many questions people have about the Gospel of the Kingdom of God and explains why it is the solution to the issues the world is facing. Here are links to three related sermons: The World's False Gospel, The Gospel of the Kingdom: From the New and Old Testaments, and The Kingdom of God is the Solution.
World War III: Steps in Progress Are there surprising actions going on now that are leading to WWIII? Might a nuclear attack be expected? Does the Bible promise protection to all or only some Christians? How can you be part of those that will be protected? A related video would be Is World War III About to Begin? Can You Escape?