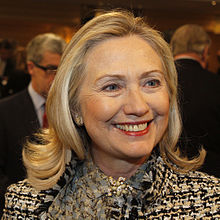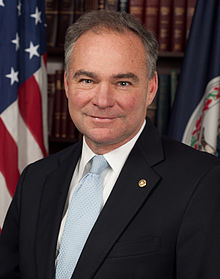 Hillary Clinton and Tim Kaine

Hillary Clinton's campaign announced that Tim Kaine was her choice for Vice President of the United States:
July 23, 2016

US Democratic presidential candidate Hillary Clinton has named Virginia Senator Tim Kaine as her running mate in this year's presidential election. The Spanish-speaking moderate represents a key battleground state. http://www.dw.com/en/us-democratic-presidential-candidate-hillary-clinton-names-tim-kaine-as-running-mate/a-19422302

July 23, 2016

TAMPA, Fla. (AP) — Hillary Clinton and Tim Kaine will debut as a presidential ticket in the crucial battleground state of Florida as they head toward next week's Democratic Party convention.

Clinton ended a monthslong search for a running mate with a Friday evening phone call to the senator from Virginia, the state's former governor and mayor of Richmond. Long viewed as a likely choice to partner with Clinton, he is a fluent Spanish speaker with a reputation for working with Republicans. …

Kaine's strong ties to politically important Virginia, as well as his foreign policy experience, put him over the top, according to a person close to the campaign, who insisted on anonymity because the person was not authorized to discuss the process publicly.

He also had a particularly powerful backer: President Barack Obama, who advised Clinton's campaign during the selection process that Kaine would be a strong choice.

Kaine is viewed skeptically by some liberals in the Democratic Party, who dislike his support of free trade and Wall Street. http://hosted.ap.org/dynamic/stories/U/US_CAMPAIGN_2016?SITE=AP&SECTION=HOME&TEMPLATE=DEFAULT&CTIME=2016-07-23-02-41-28

July 22, 2016

Abortion activist Hillary Clinton today tapped pro-abortion Virginia Senator Tim Kaine has her vice-presidential running mate.

The Virginia politician is on record as trying to have it both ways — saying he is both a "traditional Catholic" and a strong supporter of abortion. Kaine has a pro-abortion record and the potential Clinton running mate is not following anyone. As LifeNews previously reported, Kaine said he is a "strong supporter of Roe v. Wade"  despite supposedly being a "traditional Catholic."

"I have a traditional Catholic personal position, but I am very strongly supportive that women should make these decisions and government shouldn't intrude," Kaine said. "I'm a strong supporter of Roe v. Wade and women being able to make these decisions. In government, we have enough things to worry about. We don't need to make people's reproductive decisions for them." http://www.lifenews.com/2016/07/22/hillary-clinton-names-pro-abortion-tim-kaine-vp-says-hes-catholic-who-supports-abortion/
Tim Kaine is fluent in Spanish and spoke publicly in that language after he was announced. It is likely that Hillary Clinton believes that a Spanish speaking running mate who calls himself Roman Catholic will appeal to not only Hispanics, but to others who are Roman Catholic as well as perhaps some Protestants.
As far as being a "traditional" Roman Catholic, Tim Kaine's views on homosexual marriage are not in line with the position of that church:
LGBT rights

In 2006, Kaine campaigned against an amendment to the Virginia State Constitution to bar same-sex marriage, and in March 2013, Kaine announced his support of same-sex marriage, saying "I believe all people, regardless of sexual orientation, should be guaranteed the full rights to the legal benefits and responsibilities of marriage under the Constitution."

In the Senate, Kaine has co-sponsored the Employment Non-Discrimination Act, which would bar employment discrimination on the basis of sexual orientation. (Tim Kaine. Wikipedia, accessed 07/23/16)
Although parts of the press want to portray Tim Kaine as a "moderate," various of his positions are clearly opposed to the Bible. Tim Kaine has stated that he is personally against abortion, yet certain others see his votes and tolerance of abortion as a contradiction to his supposed personal beliefs.
Here is the "Clinton-Kaine" logo: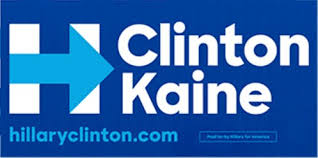 If the Clinton/Kaine ticket wins, and the Great Tribulation begins before its first or potentially second term ends, I would suspect that Tim Kaine will end up having to replace Hillary Clinton.
Why?
Because if the following biblical prophecy has an end-time fulfillment, it seems to suggest that a male leader will be in charge when the USA falls:
7 As for Samaria, her king is cut off Like a twig on the water. 8 Also the high places of Aven, the sin of Israel, Shall be destroyed. The thorn and thistle shall grow on their altars; They shall say to the mountains, "Cover us!" And to the hills, "Fall on us!" … 10 When it is My desire, I will chasten them. Peoples shall be gathered against them When I bind them for their two transgressions. (Hosea 10:7,8,10)
If Hosea 10:7-10 has end time connotations (and part of it seems to, cf. Revelation 6:16), AND presuming that the Hebrew word translated as '"king" literally means a male, then it would not seem to be possible that Hillary Clinton could be the last President/leader of the United States. However, since she has chosen a male for Vice-President, Tim Kaine possibly could be the last.
Some will believe that the Clinton/Kaine ticket is the answer to the issues in the USA.
Others will believe it is Trump/Pence.
Neither ticket truly holds to biblical morality.
But the real answer is the Kingdom of God.
Some items of possibly related interest may include:
Hillary Clinton in Prophecy Prophecy, Hillary Clinton? Are there prophecies that Hillary Clinton may fulfill? Are there any prophecies that she has already helped fulfill? Could Hillary Clinton be apocalyptic? Could Hillary Clinton be the final Antichrist? A video of related interest is titled Hillary Clinton and Bible Prophecy.
Donald Trump in Prophecy Prophecy, Donald Trump? Are there prophecies that Donald Trump may fulfill? Are there any prophecies that he has already helped fulfill? Could a Donald Trump presidency be apocalyptic? A related video is titled Could Donald Trump be Apocalyptic?
Should a Christian Vote? This article gives some of the Biblical rationale on this subject. Would Jesus vote for president/prime minister? Is voting in the Bible? This is a subject Christians need to understand. A video of related interest is available titled: Should Christians Vote?
Abortion, the Bible, and a Woman's Right to Choose Do you know what the Bible teaches on this? Has the Roman Catholic Church allowed abortions? What about the real Church of God? Some may also, or instead, wish to view the YouTube video Abortion, the Bible, and US Debt.
Cross-dressing and other assaults against your children. What should you do? Is there an agenda to turn your children and/or grandchildren away from biblical morality and towards practices promoted by homosexuals? What does the Bible teach about cross-dressing? What should parents do? If there is an agenda, what has been going on? There are also two YouTube videos related to this, titled Transgender 'Woe to those who call evil good' and Cross dressing and Other Assaults Against Your Children.
The Bible Condemns Homosexuality "Same-sex marriage" for "gays" and lesbians is becoming more acceptable to many. What does the Bible teach about homosexuality? Can homosexuals change? A related video sermon is titled: What Does the Bible Really Teach about Homosexuality?
Does God Have a 6,000 Year Plan? What Year Does the 6,000 Years End? Was a 6000 year time allowed for humans to rule followed by a literal thousand year reign of Christ on Earth taught by the early Christians? Does God have 7,000 year plan? What year may the six thousand years of human rule end? When will Jesus return? 2024 or 20xx? There is also a video titled The 6000 Year Plan: Is the end of humanity's reign almost up? Here is a link to the article in Spanish: ¿Tiene Dios un plan de 6,000 años?
When Will the Great Tribulation Begin? 2016, 2017, or 2018? Can the Great Tribulation begin today? What happens before the Great Tribulation in the "beginning of sorrows"? What happens in the Great Tribulation and the Day of the Lord? Is this the time of the Gentiles? When is the earliest that the Great Tribulation can begin? What is the Day of the Lord? Who are the 144,000? Here is a version of the article in the Spanish language: ¿Puede comenzar la Gran Tribulación en 2016 o 2017? ¿Es el Tiempo de los Gentiles? You can also see the English language sermon videos: The Great Tribulation from the Mount of Olives and Can the Great Tribulation begin before 2020? A shorter video is: Can the Great Tribulation Start in 2016?
Just What Do You Mean — Repentance? Do you know what repentance is? Have you truly repented? Repented of what? Herbert W. Armstrong wrote this as a booklet on this important subject.
The Gospel of the Kingdom of God This free online pdf booklet has answers many questions people have about the Gospel of the Kingdom of God and explains why it is the solution to the issues the world is facing.
The Gospel of the Kingdom of God was the Emphasis of Jesus and the Early Church Did you know that? Do you even know what the gospel of the kingdom is all about? You can also see a YouTube video sermons Why Teach the Kingdom of God? and The Gospel of the Kingdom.
When You Sin: Do You Really Repent? This is an article by Charles F. Hunting. A related sermon is Confess to God and truly repent.
Living as a Christian: How and Why? In what ways do Christians live differently than others. What about praying, fasting, tithing, holy days, and the world? There is also a YouTube video related to that also called: Living as a Christian: How and Why?
Women and the New Testament Church What roles did women play in the ministry of Jesus and the apostles? Did Jesus and the Apostle Paul violate Jewish traditions regarding their dealings with women? Do women have any biblical limitations on their role in the Church? Were there female prophets? Do women have any special responsibilities in terms of how they dress? What does the New Testament really teach about women? Here is a related sermon titled: New Testament Women.
Anglo – America in Prophecy & the Lost Tribes of Israel Are the Americans, Canadians, English, Scottish, Welsh, Australians, Anglo-Saxon (non-Dutch) Southern Africans, and New Zealanders descendants of Joseph? Where are the lost ten-tribes of Israel? Who are the lost tribes of Israel? What will happen to Jerusalem and the Jews in Israel? Will God punish the U.S.A., Canada, United Kingdom, and other Anglo-Saxon nations? Why might God allow them to be punished first? Here is a link to the Spanish version of this article: Anglo-América & las Tribus Perdidas de Israel. Information is also in the YouTube sermons titled Where are the Ten Lost Tribes? Why does it matter? and British are the Covenant People. A short YouTube of prophetic interest may be Barack Obama and the State of the Apocalypse.
Will the Anglo-Saxon Nations be Divided and Have People Taken as Slaves? Will the lands of the United States, United Kingdom, Canada, Australia, and New Zealand be divided? What about Jerusalem? What does Bible prophecy teach? Are there non-biblical prophecies that support this idea? Who will divide those lands? Who will end up with the lands and the people? Here is a link to a video titled Will the USA and other Anglo-nations be Divided and Their People Made Slaves? Here is a related item in the Spanish language ¿Serán divididas las naciones anglosajonas?