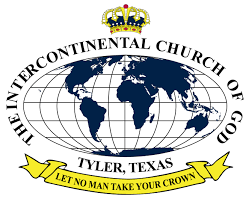 Logo of the Intercontinental Church of God

The 7th day COG news page reported the following about ICG:
Intercontinental Church of God
The church is in the midst of a long overdue make-over of its websites for The ICG and the Garner Ted Armstrong Evangelistic Association – but will there be any changes to reverse the decline of the ICG itself?

A list of congregations has now been added, only 18 now remain, all in the USA, and one of these – Austin, Texas – defected over a decade ago.

The Australian website shows that there remain one weekly fellowship group meeting, in Sydney, plus two more meeting occasionally. New South Wales is currently in lockdown, and the venue for the Festival of Tabernacles in Nelson Bay is closed.

When Garner Ted Armstrong died in 2003, the ICG had around 90 congregations and was on around 30 television stations and cable outlets. His son Mark took over the day to day operation of the church and the production of the television outreach program. He was not ordained, and had no interest in ministry.

Under his leadership, 80% of its congregations have been lost, and there has been no television outreach program for years. His personal involvement is a weekly political diatribe and an occasional article for the quarterly magazine, both lacking in Christian content.
Tom Kerry and a number of other ministers considered him unqualified for Christian leadership and left in 2004 to form the first split in what eventually became known as Church of God Ministries International. https://7th-day.info/church-of-god-news/ accessed 08/27/21
Before going further, let me state that Garner Ted Armstrong faced losses of congregations several times–essentially various ones bolted because of reports of his sexual misconduct.
ICG has an internet presence, which has deteriorated.
Alexa is an independent internet source that looks at the overall popularity of websites based upon factors such as number of visits, repeat visits, amount of time spent at a website, amount of links clicked at the site, etc. Though some prefer not to believe its results, notice the following review of Alexa ratings:
Alexa Rank Checker is one of the most accurate and freely available tools to find out how well your site ranks up against millions of other sites on the Web. http://www.seomastering.com/alexa-rank-checker.php viewed 10/31/13
The lower the number of an Alexa rating the greater the impact. For example, google.com has an Alexa ranking of 1, meaning it is the most popular website in the world, and facebook.com has an Alexa ranking of 2, meaning that it is the second most popular website in the world according to Alexa (number 3 is YouTube.com). Lower ranking numbers are better than higher ones.
As of 08/27/21, the Alexa popularity ranking of garnertedarmstrong.org was 5,367,202. As of 03/08/19, the Alexa ranking for intercontinentalcog.org was 11,039,151 which was not very good and for its 21stcenturywatch.com was 14,881,929 –these rankings suggests its daily reach was much, much less, than two decades ago. As of 08/27/21, Alexa was unable to rank intercontinentalcog.org or 21stcenturywatch.com as their reach deteriorated to the point they were not popular enough to rank.
ICG's focus has not, seemingly, been on proclaiming the Gospel of the Kingdom of God (cf. Matthew 24:14) or preparing for the Final Phase of the Work or the Short Work of Romans 9:28.
That being said, Mark Armstrong can be an interesting writer, but is perhaps best known these days for sending out a weekly letter that tends to lean heavily towards US politics, and not the Bible or biblical prophecy.