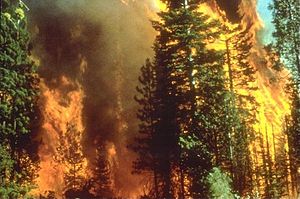 A major fire affected a building in London:
14 June 2017

Firefighters were battling to rescue people trapped inside a 24-storey tower block in west London this morning hours after a huge fire broke out and swept through apartments.

The fire at Grenfell Tower on Latimer Road near Notting Hill started shortly before 1am on Wednesday. …

Just before 4am the Metropolitan police said people were being treated for a range of injuries and evacuations were continuing. Reports said police on the scene were urging people trapped inside the building to use place a wet cloth over their mouths and "self-evacuate".

Residents of nearby flats were told to evacuate because of debris falling from Grenfell Tower.

Photographs and video from the scene showed huge flames engulfing most of the block, with lights on in many windows. The tower contains 120 homes. https://www.theguardian.com/uk-news/2017/jun/14/fire-24-storey-grenfell-tower-block-white-city-latimer-road-london

14 June 2017

At least 200 firefighters and 40 engines on the scene of a huge fire at Grenfell Tower in Latimer Road,near Notting Hill, in West London.
Various events occur to people. Notice the words of Jesus:
45 … He makes His sun rise on the evil and on the good, and sends rain on the just and on the unjust. (Matthew 5:45)

4 Or those eighteen on whom the tower in Siloam fell and killed them, do you think that they were worse sinners than all other men who dwelt in Jerusalem? 5 I tell you, no; but unless you repent you will all likewise perish. (Luke 13:4-5)
God allows disasters, and sometimes people learn from them.
God does not want people to suffer, but to turn to Him:
10 "Therefore you, O son of man, say to the house of Israel: 'Thus you say, "If our transgressions and our sins lie upon us, and we pine away in them, how can we then live?"' 11 Say to them: 'As I live,' says the Lord God, 'I have no pleasure in the death of the wicked, but that the wicked turn from his way and live. Turn, turn from your evil ways! For why should you die, O house of Israel?' (Ezekiel 33:10-11)
God wants people everywhere to repent (Acts 17:30).
Sometimes, disasters and issues get people to reassess their lives and change.
My prayers go out for those affected by this fire in London.
Some items of possibly related interest may include:
Are You Being Called by God? Norman Shoaf wrote various points to consider.
Is God Calling You? Alfred E Carrozzo wrote this.
What Did Christ Mean Many Are Called, But Few Are Chosen? This article was by Raymond McNair.
Christian Repentance Do you know what repentance is? Is it really necessary for salvation? A related sermon is also available titled: Real Christian Repentance.
Do Christians Sin? This is an article by Herbert W. Armstrong.
Overcoming Sin What is sin? How are Christians suppose to overcome it? Here is also a link to a video titled How to Overcome Sin.
How to Prevent Sin This is an article by Herbert W. Armstrong.
Just What Do You Mean Conversion? Many think that they are converted Christians. But are they? Would you like to know more about conversion. Herbert W. Armstrong wrote this as a booklet on this important subject.
False Conversion Have you really been converted? Herbert W. Armstrong wrote this article on this important subject.
All About Water Baptism What is baptism? Would you like to know more about it. Herbert W. Armstrong wrote this as a booklet on this important subject. As far as early history, see also Baptism and the Early Church.
God's Grace is For All Is being Jewish a hindrance to salvation? What about not being a descendant of Israel? What does the Bible really teach? Here is a link to a related sermon titled Race and Grace; Do you view race as God does?