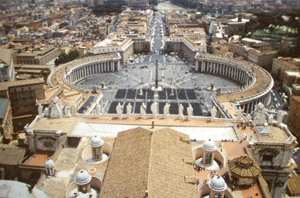 Vatican City from above (Photo by Joyce Thiel)
Pope Francis entered into USA politics while he was in Mexico:
February 18, 2016

Pope Francis has a message for Donald Trump: building a wall on the Mexican border is "not Christian."

The pontiff delivered that message Thursday during a news conference on his flight back to the Vatican from Mexico.

"A person who only thinks about building walls, wherever they may be, and not building bridges, is not Christian," the Buenos Aires-born pontiff said when asked about Trump's now infamous promises to erect a wall aimed at keeping Mexicans out of the U.S. http://www.nbcnews.com/storyline/immigration-border-crisis/pope-francis-donald-trump-building-mexico-wall-not-christian-n520706
Whether or not this affects the primaries in the USA, Pope Francis' comments are clearly political and at least partially aimed to try to stop Donald Trump.
While I, too, do not consider that Donald Trump is a real Christian, Pope Francis needs to look in the mirror  himself.
Not only did NO EARLY CHURCH LEADER dress like the priests of Mithras before Emperor Constantine (see Were the Early Duties of Elders/Pastors Mainly Sacramental? What was their Dress?), Vatican City itself is basically a big wall that keeps people out of areas beyond St. Peter's Basilica and the related square.  There are Swiss military personnel who stop people from going anywhere else.  They check your papers and do not let anyone into the gardens, etc. without proper documentation.
The Vatican is a walled off 'nation' that will allow some to visit certain parts, but keeps all out of most of it.  Pope Francis has not changed that nor hinted that he would.
Thus, Pope Francis is not a Christian based on the standard he, himself, set.
Donald Trump fired back against Pope Francis today:
February 18, 2016

Donald Trump fired back at Pope Francis in a rally Thursday afternoon in South Carolina, saying the pope would wish for a President Trump "if and when" the Islamic State were to attack the Vatican.

"For a religious leader to question a person's faith is disgraceful," Trump said in a lengthy statement. http://www.businessinsider.com/donald-trump-pope-francis-isis-vatican-2016-2
Despite Donald Trump's 'disgraceful comment,' it is appropriate for religious leaders to question the faith of others (Jesus did this repeatedly with the Pharisees and Sadducees).
As far as Pope Francis having an apparent double-standard goes, Donald Trump's implication here is correct that Pope Francis wants protection (though Pope Francis obviously does not believe that Donald Trump needs to lead that protection).
The timing of Pope Francis' comments is also political.  A national poll out yesterday has Ted Cruz leading as the first choice for Republicans.  However, with Donald Trump widely expected to win the next two primaries that are coming up in the next several days (South Carolina and Nevada), those possible wins could give Donald Trump the momentum to win the Republican nomination.
While Pope Francis likely decided to say what he did because he was in Mexico, he likely considered the political ramifications. But he has denied that:
February 18, 2016

Francis insisted he was not telling Americans whether or not they should vote for Trump, the Republican presidential candidate who recently lost his lead to rival Sen. Ted Cruz in a new NBC News/Wall Street Journal poll.

"I am not going to get into involved in that," said the pope, who had just wrapped up a tour of Mexico. "I would only say that this man is not Christian if he has said things like that." http://www.nbcnews.com/storyline/immigration-border-crisis/pope-francis-donald-trump-building-mexico-wall-not-christian-n520706
In my view, Pope Francis is bearing false witness.  He technically did not tell people not to vote for Donald Trump, but he clearly was referring to Donald Trump not being a Christian.  He had to have considered that Roman Catholics should understand that they should not vote for Donald Trump.
Not to long ago, Donald Trump said something about the border and Pope Francis last week:
February 12, 2016

During an interview with Fox Business' Stuart Varney on Thursday, Trump went after Pope Francis' decision to visit Mexico while Trump's campaign continues to rile supporters' anti-immigrant anxieties with promises of a giant border wall to keep out Mexicans.

"Pope Francis is gonna stand at the border with Mexico, standing with the migrants. What do you make of that?" Varney asked Trump.

First calling Pope Francis "a very political person," Trump then insisted the religious leader "doesn't understand the problems our country has."

"I don't think he understands the danger of the open border that we have with Mexico," Trump told Varney. http://www.salon.com/2016/02/12/trump_lashes_out_at_very_political_pope_francis_for_daring_to_visit_mexico/
Pope Francis truly is a very political person. Pope Francis proved that again today.
He is working on an ecumenical and interfaith 'Babylonian' unity that the Bible repeatedly warns against (Revelation 17,18).
Today, Pope Francis said something that might affect the outcome of the Republican primaries.
Some items of possibly related interest may include:
Should a Christian Vote? This article gives some of the Biblical rationale on this subject. Would Jesus vote for president/prime minister? Is voting in the Bible? This is a subject Christians need to understand. A video of related interest is available titled: Should Christians Vote?
Does God Have a 6,000 Year Plan? What Year Does the 6,000 Years End? Was a 6000 year time allowed for humans to rule followed by a literal thousand year reign of Christ on Earth taught by the early Christians? Does God have 7,000 year plan? What year may the six thousand years of human rule end? When will Jesus return? 2023 or 20xx? There is also a video titled The 6000 Year Plan: Is the end of humanity's reign almost up? Here is a link to the article in Spanish: ¿Tiene Dios un plan de 6,000 años?
When Will the Great Tribulation Begin? 2016, 2017, or 2018? Can the Great Tribulation begin today? What happens before the Great Tribulation in the "beginning of sorrows"? What happens in the Great Tribulation and the Day of the Lord? Is this the time of the Gentiles? When is the earliest that the Great Tribulation can begin? What is the Day of the Lord? Who are the 144,000? Here is a version of the article in the Spanish language: ¿Puede comenzar la Gran Tribulación en 2016 o 2017? ¿Es el Tiempo de los Gentiles? You can also see the English language sermon video: The Great Tribulation from the Mount of Olives. A shorter video is: Can the Great Tribulation Start in 2016?
Were the Early Duties of Elders/Pastors Mainly Sacramental? What was their Dress? Were the duties of the clergy primarily pastoral or sacramental? Did the clergy dress with special liturgical vestments? Can "bishops" be disqualified as ministers of Christ based on their head coverings?
Hillary Clinton in Prophecy Prophecy, Hillary Clinton? Are there prophecies that Hillary Clinton may fulfill? Are there any prophecies that she has already helped fulfill? Could Hillary Clinton be apocalyptic? Could Hillary Clinton be the final Antichrist? A video of related interest is titled Hillary Clinton and Bible Prophecy.
The Gospel of the Kingdom of God was the Emphasis of Jesus and the Early Church Did you know that? Do you even know what the gospel of the kingdom is all about? You can also see a YouTube video sermon The Gospel of the Kingdom.
Women and the New Testament Church What roles did women play in the ministry of Jesus and the apostles? Did Jesus and the Apostle Paul violate Jewish traditions regarding their dealings with women? Do women have any biblical limitations on their role in the Church? Were there female prophets? Do women have any special responsibilities in terms of how they dress? What does the New Testament really teach about women? Here is a related sermon titled: New Testament Women.
Anglo – America in Prophecy & the Lost Tribes of Israel Are the Americans, Canadians, English, Scottish, Welsh, Australians, Anglo-Saxon (non-Dutch) Southern Africans, and New Zealanders descendants of Joseph? Where are the lost ten-tribes of Israel? Who are the lost tribes of Israel? What will happen to Jerusalem and the Jews in Israel? Will God punish the U.S.A., Canada, United Kingdom, and other Anglo-Saxon nations? Why might God allow them to be punished first? Here is a link to the Spanish version of this article: Anglo-América & las Tribus Perdidas de Israel. Information is also in the YouTube sermons titled Where are the Ten Lost Tribes? Why does it matter? and British are the Covenant People. A short YouTube of prophetic interest may be Barack Obama and the State of the Apocalypse.
Will the Anglo-Saxon Nations be Divided and Have People Taken as Slaves? Will the lands of the United States, United Kingdom, Canada, Australia, and New Zealand be divided? What about Jerusalem? What does Bible prophecy teach? Are there non-biblical prophecies that support this idea? Who will divide those lands? Who will end up with the lands and the people? Here is a link to a video titled Will the USA and other Anglo-nations be Divided and Their People Made Slaves? Here is a related item in the Spanish language ¿Serán divididas las naciones anglosajonas?
Hillary Clinton, Prophecy, and the Destruction of the United States This is a 188 page book for people truly interested in prophecies related to Hillary Clinton and the United States, including learning about many that have already been fulfilled and those that will be fulfilled in the future. It also discusses Republicans. The physical book can be purchased at Amazon from the following link: Hillary Clinton, Prophecy, and the Destruction of the United States: Is Hillary Clinton Fulfilling Biblical, Islamic Catholic, Hopi, and other America-Related Prophecies? $11.99.
Hillary Clinton, Prophecy, and the Destruction of the United States-Amazon Kindle edition. This electronic version of the 188 page print edition is available for only US$3.99. And you do not need an actual Kindle device to read it. Why? Amazon will allow you to download it to almost any device: Please click HERE to download one of Amazon s Free Reader Apps. After you go to for your free Kindle reader and then go to Hillary Clinton, Prophecy, and the Destruction of the United States-Amazon Kindle edition.
The 'Lady' of Guadalupe: Any Future Ramifications? It is claimed that a female apparition appeared near Mexico City on December 12, 1531. How has it affected the world? What might it suggest about the future? A video of related interest is titled: The 'Lady of Guadalupe' and Prophecy.
Pope Francis: Could this Marian Focused Pontiff be Fulfilling Prophecy? Pope Francis has taken many steps to turn people more towards his version of 'Mary.' Could this be consistent with biblical and Catholic prophecies? This article documents what has been happening. There is also a video version titled Pope Francis: Could this Marian Focused Pontiff be Fulfilling Prophecy?
Feast of the Immaculate Conception? Did early Christians teach Mary had an immaculate conception and led a sinless life?
Origin of the Marian Dogmas: Where Do Catholic Scholars Say The Four Dogmas of Mary Came From?
Assumption of Mary Did Mary die? Was she taken to heaven on August 15th? What is known? What does the Bible show?
Mary, the Mother of Jesus and the Apparitions Do you know much about Mary? Are the apparitions real? What happened at Fatima? What might they mean for the rise of the ecumenical religion of Antichrist? Are Protestants moving towards Mary? How do the Eastern/Greek Orthodox view Mary? How might Mary view her adorers? Here is a link to a YouTube video Marian Apparitions May Fulfill Prophecy. Here is a link to a sermon video: Why Learn About Fatima?
Satan's Plan Does Satan have a plan? What is it? Has it already been successful? Will it be successful in the future?
Mystery of Civilization Why is civilization like it is? How will it end? What will replace it?Here is a link to a related sermon titled: Mystery of Civilization and How it Will End.
Beware: Protestants Going Towards Ecumenical Destruction! What is going on in the Protestant world? Are Protestants turning back to their 'mother church' in Rome? Does the Bible warn about this? What are Catholic plans and prophecies related to this? Is Protestantism doomed? See also World Council of Churches Peace Plan.
Why Should American Catholics Fear Unity with the Orthodox? Are the current ecumenical meetings a good thing or will they result in disaster? Is doctrinal compromise good? Here is a link to a related video Should you be concerned about the ecumenical movement?
Will the Interfaith Movement Lead to Peace or Sudden Destruction? Is the interfaith movement going to lead to lasting peace or is it warned against? A video sermon of related interest is: Will the Interfaith Movement lead to World War III? and a video sermon is also available: Do You Know That Babylon is Forming?
Fatima Shock! What the Vatican Does Not Want You to Know About Fatima, Dogmas of Mary, and Future Apparitions. Whether or not you believe anything happened at Fatima, if you live long enough, you will be affected by its ramifications (cf. Isaiah 47; Revelation 17). Fatima Shock! provides concerned Christians with enough Catholic-documented facts to effectively counter every false Marian argument. In addition to the print version, there is a Kindle version of Fatima Shock! which you can acquire in seconds.