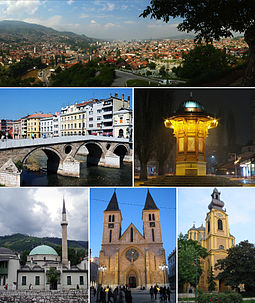 Sarajevo (Collage from Wikipedia)
Pope Francis continues to push his ecumenical agenda, this time in Sarajevo, which is the  largest city of Bosnia and Herzegovina (bolding below mine):
June 6, 2015

Pope Francis has celebrated Mass in front of tens of thousands of Catholics at a stadium in Bosnia-Herzegovina.

The pontiff's visit to the capital, Sarajevo, is aimed at promoting peace and reconciliation across the country.

The Pope is also meeting members of the Muslim, Orthodox Christian and Jewish communities during his one-day trip.

Bosnia remains divided along religious and ethnic lines, 20 years after its civil war which depleted the Catholic population.

"War never again!" Pope Francis urged in his homily before 65,000 worshippers at Sarajevo's Kosevo stadium.

"War means children, women and the elderly in refugee camps; it means forced displacement, destroyed houses, streets and factories. Above all countless shattered lives," he said.

"You know this well having experienced it here," he added in reference to the 1992-95 Bosnian conflict, which left some 100,000 dead and two million displaced.

The Pontiff also warned that the world faced "a kind of third world war being fought piecemeal and, in the context of global communications, we sense an atmosphere of war". …

Speaking to reporters on his flight to Sarajevo, he described Sarajevo as the "Jerusalem of the West".

"It is a city of very different ethnic and religious cultures. It is even a city that has suffered much during its history. Now it is on a beautiful path of peace. I am making this trip to talk about this, as a sign of peace and a prayer for peace."  http://www.bbc.com/news/world-europe-33033866

June 6, 2015

Pope Francis has arrived in Sarajevo for a one-day visit to encourage the dwindling number of Catholics to stay and help forge a peaceful future with Bosnia's Muslims and Orthodox Christians following a devastating three-way war. …

The pontiff said Sarajevo is "a city that has suffered so much in history. But now it is walking along the path to peace," Francis told reporters en route from Rome. "I'm making this trip as a sign of peace, and as a prayer for peace." …

"I encourage you Catholics to stand beside your countrymen as witnesses to your faith and God's love, working for a society that walks toward peace, coexistence and collaboration," Francis said in a video message this week. …

Francis will also host a meeting with Muslim, Orthodox and Jewish leaders, and preside over a rally for young people before returning to Rome in the evening. http://www.theguardian.com/world/2015/jun/06/pope-heads-to-sarajevo-to-encourage-post-war-reconciliation

June 6, 2015

Vatican officials say Francis believes he can have a positive impact by promoting interfaith communication.

In a message to the residents of Sarajevo earlier this week, he wrote: "I come amongst you… to express my support for ecumenical and interfaith dialogue, and above all to encourage peaceful cohabitation in your country."

Sarajevo, once a multicultural hub, is also now largely split along ethnic lines.
While I do believe in peaceful relations between those of different religions, I cannot endorse the type of ecumenical and interfaith dialogue that Pope Francis calls for as what he really seems to want is condemned in the Bible (cf. Revelation 17 & 18).  I believe Pope Francis is basically telling people that if they want to avoid a major World War III (WWIII), that they need to heed his ecumenical and interfaith agenda.  An agenda that is shared by the United Nations and others these days (see also United Nations: Humankind's Last Hope or New World Order?).
Notice something else the Bible warns about:
11 Then I saw another beast coming up out of the earth, and he had two horns like a lamb and spoke like a dragon. 12 And he exercises all the authority of the first beast in his presence, and causes the earth and those who dwell in it to worship the first beast, whose deadly wound was healed. (Revelation 13:11-12)
Much of the mainstream media acts like Pope Francis looks like a lamb, yet the message he is giving is consistent with that of the dragon of old called Satan (Revelation 12:9, 20:2; see also Satan's Plan).
The ecumenical and interfaith movements will have a certain success according to Bible prophecy (Revelation 13:4,8), but they will not end well (Revelation 18).  Remember also that the Apostle Paul was inspired to write:
3 For when they say, "Peace and safety!" then sudden destruction comes upon them, as labor pains upon a pregnant woman. And they shall not escape. 4 But you, brethren, are not in darkness, so that this Day should overtake you as a thief. 5 You are all sons of light and sons of the day. We are not of the night nor of darkness. 6 Therefore let us not sleep, as others do, but let us watch and be sober. (1 Thessalonians 5:3-6)
While Pope Francis hints that he is trying to stop WWIII, the reality is that he is helping to set the stage for it (see also World War III: Steps in Progress).  WWIII will devastate the USA, UK, Canada, Australia, and New Zealand (see also Anglo – America in Prophecy & the Lost Tribes of Israel).
Notice:
4 There is one body and one Spirit, just as you were called in one hope of your calling; 5 one Lord, one faith, one baptism (Ephesians 4:4-5)
The Bible does not endorse multiple religions along with multiple 'lords' and baptisms.  The time for true religious unity is not now–all religions would have to convert to the true Christian faith (Where is the True Christian Church Today? and Continuing History of the Church of God) and that is not what the ecumenical/interfaith movements are all about.
As far as timing for unity, notice the following:
10 "Sing and rejoice, O daughter of Zion! For behold, I am coming and I will dwell in your midst," says the Lord. 11 "Many nations shall be joined to the Lord in that day, and they shall become My people. And I will dwell in your midst. Then you will know that the Lord of hosts has sent Me to you. 12 And the Lord will take possession of Judah as His inheritance in the Holy Land, and will again choose Jerusalem. 13 Be silent, all flesh, before the Lord, for He is aroused from His holy habitation!" (Zechariah 2:10-13)
It is after Babylon falls and Jesus returns that true Christian unity will occur (Zechariah 2:10-11).
Do not be deceived by the Babylonian ecumenical movement. The Bible warns that nearly all on the earth in the final end times will be deceived (2 Thessalonian 2:9-12) and fall for it (Revelation 13:8). Have the 'love of the truth' so that you will not fall for this as more and more are coming to believe that the interfaith/ecumenical movement is the key to peace.
Yet, the Bible says that Jesus is the 'Prince of Peace' (Isaiah 9:6) and it will take the return of Jesus Christ and the establishment of the millennial kingdom of God to bring peace–not the false interfaith/ecumenical movement.
Some items of related interest may include:
Why Should American Catholics Fear Unity with the Orthodox? Are the current ecumenical meetings a good thing or will they result in disaster? Is doctrinal compromise good? Here is a link to a related video Should you be concerned about the ecumenical movement?
Will the Interfaith Movement Lead to Peace or Sudden Destruction? Is the interfaith movement going to lead to lasting peace or is it warned against? A video of related interest could be Do You Know That Babylon is Forming?
Some Similarities and Differences Between the Eastern Orthodox Church and the Continuing Church of God Both groups claim to be the original church, but both groups have differing ways to claim it. Both groups have some amazing similarities and some major differences. Do you know what they are?
Orthodox Must Reject Unity with the Roman Catholics Unity between these groups will put them in position to be part of the final end time Babylon that the Bible warns against as well as require improper compromise.
Beware: Protestants Going Towards Ecumenical Destruction! What is going on in the Protestant world? Are Protestants turning back to their 'mother church' in Rome? Does the Bible warn about this? What are Catholic plans and prophecies related to this? Is Protestantism doomed? See also World Council of Churches Peace Plan.
Do You Know That Babylon is Forming? How is the final Babylon forming? Are Protestants such as Joel Osteen and Kenneth Copeland are endorsing something dangerous? Could Pope Francis be the 'False Prophet' that the Bible warns against? Is an antipope expected to endorse a one-world religion? Here is a link to a related written article In Vatican City: New Babylon more openly forming!
United Nations: Humankind's Last Hope or New World Order? Is the UN the last hope for humanity? Or might its goals end up with sinister results? A related video would be United Nations and Vatican Are Planning the New World Order.
Hope of Salvation: How the Continuing Church of God differ from most Protestants How the real Church of God differs from mainstream/traditional Protestants, is perhaps the question I am asked most by those without a Church of God background. As far as some changes affecting Protestantism, watch the video Charismatic Kenneth Copeland and Anglican Tony Palmer: Protestants Beware! [Português: Esperança do salvação: Como a igreja do deus difere da maioria de protestantes]
Will You Be Deceived by Antichrist? 1964 article by David Jon Hill, originally published in the old Good News magazine.
Satan's Plan Does Satan have a plan? What is it? Has it already been successful? Will it be successful in the future? Here are links to a two-part sermon series: What are Some of the Parts of Satan's Plan? and Satan's Plan is More Dramatic than Many Realize.
Could Pope Francis be the Last Pope and Antichrist? According to some interpretations of the prophecies of the popes by the Catholic saint and Bishop Malachy, Pope Francis I is in the position of "Peter the Roman," the pontiff who reigns during tribulations until around the time of the destruction of Rome. Do biblical prophecies warn of someone that sounds like Peter the Roman? Could Francis I be the heretical antipope of Catholic private prophecies and the final Antichrist of Bible prophecy? This is a YouTube video.
Pope Francis: Could this Marian Focused Pontiff be Fulfilling Prophecy? Pope Francis has taken many steps to turn people more towards his version of 'Mary.' Could this be consistent with biblical and Catholic prophecies? This article documents what has been happening. There is also a video version titled Pope Francis: Could this Marian Focused Pontiff be Fulfilling Prophecy?
World War III: Steps in Progress Are there surprising actions going on now that are leading to WWIII? Might a nuclear attack be expected? Does the Bible promise protection to all or only some Christians? How can you be part of those that will be protected? A related video would be Is World War III About to Begin? Can You Escape?
Did The Early Church Teach Millenarianism? Was the millennium (sometimes called chiliasm) taught by early Christians? Who condemned it? Will Jesus literally reign for 1000 years on the earth? Is this time near? A related sermon is titled The Millennium.
The Gospel of the Kingdom of God was the Emphasis of Jesus and the Early Church Did you know that? Do you even know what the gospel of the kingdom is all about? You can also see a YouTube video sermon The Gospel of the Kingdom.
COGwriter Position on Other Churches and Religions What is the fate of those who do not know Christ? What about those who profess Christ outside the Church of God?
Continuing History of the Church of God This pdf booklet is a historical overview of the true Church of God and some of its main opponents from Acts 2 in the first century to the 21st century. Related sermon links include Continuing History of the Church of God: c. 31 to c. 300 A.D. and Continuing History of the Church of God: 4th-16th Centuries. Marque aquí para ver el pdf folleto: Continuación de la Historia de la Iglesia de Dios.
Where is the True Christian Church Today? This free online pdf booklet answers that question and includes 18 proofs, clues, and signs to identify the true vs. false Christian church. Plus 7 proofs, clues, and signs to help identify Laodicean churches. A related sermon is also available: Where is the True Christian Church? Here is a link to the booklet in the Spanish language: ¿Dónde está la verdadera Iglesia cristiana de hoy?