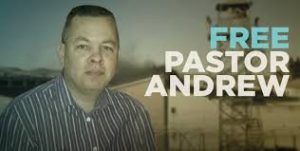 Picture from aclj.org
Protestant Pastor Andrew Brunson was released from Turkish imprisonment and is now in the USA:
October 13, 2018

U.S. Pastor Andrew Brunson, newly freed from detention in Turkey, thanked Donald Trump and prayed for the U.S. president at a televised White House meeting Saturday.

Brunson had been held by Turkey for two years. Grateful for the diplomatic effort to free him, Brunson said he "loves this country."

Trump thanked Turkish President Recep Tayyip Erdogan for the return of Brunson, who was freed Friday by a Turkish court. Trump noted the U.S. did not negotiate an agreement with Turkey for Brunson's release.

Brunson's release ended a bitter diplomatic dispute between Washington and Ankara. He was facing 35 years in jail if he had been convicted on terrorism and espionage charges, allegations Washington called baseless.

The Turkish court found Brunson guilty Friday but sentenced him to only three years and one month in jail. The pastor had already served two years in pre-trial detention, so he was freed for time served.

During the fourth day of hearings Friday, three prosecution witnesses recanted earlier testimony. One said he didn't know who Brunson was, while others claimed the court had misunderstood their previous statements.

The pastor's case became the focal point of a crisis in Turkish-U.S. relations. Trump, partly in retaliation for Brunson's prosecution, slapped Turkey with trade tariffs in August. The action made the Turkish currency collapse.

On Twitter on Friday, Secretary of State Mike Pompeo said the Trump administration would continue to work to bring other "wrongfully imprisoned" Americans home. https://www.voanews.com/a/newly-freed-pastor-meets-trump/4612356.html

October 13, 2018 One day after he was released from house arrest in Turkey, American pastor Andrew Brunson arrived at the White House on Saturday afternoon to meet with President Trump in the Oval Office.

Brunson, from North Carolina, flew to Germany Friday for a medical checkup at a U.S. military hospital before flying on to the U.S. On Friday, a Turkish judge ordered Brunson freed from house arrest on Friday after sentencing him to time served on terror and treason charges; on Saturday shortly after noon E.T., an aircraft carrying Brunson landed at Joint Base Andrews.

The pastor was imprisoned in October 2016 due to his alleged ties to an outlawed group as part of a crackdown on a failed coup in Turkey against President Recep Erdogan's government. Brunson had rejected the charges against him and maintained his innocence.

Upon Brunson's arrival in the Oval Office, Trump said "from a Turkish prison to the White House in 24 hours, that's not bad."


The president then warned that "we do not pay ransom in this country, at least any longer," but added that he wants to thank President Erdogan, after noting that he was "very surprised we didn't work this out a couple of months ago." https://www.zerohedge.com/news/2018-10-13/trump-meets-freed-american-pastor-andrew-brunson-oval-office
Irrespective of how one views US President Trump, he sent a strong enough message to Turkey to get Andrew Brunson freed.
Andrew Brunson has been in my prayers for some time as have others like the Egyptian Copts & Catholics, Yazidis, and Syrian Armenian Orthodox who are facing religious persecution in places like the Middle East.
This freeing of Andrew Brunson is expected to help US-Turkish relations as well as the Turkish economy (US President Trump had imposed limited sanctions when Brunson was not released in July and threatened stronger ones against Turkey).
However, since there are other religious Americans with issues in Turkey, Turkey is likely going to be pressured to do more.
And, Turkey will ultimately align with Europe and against the USA (cf. Psalm 83:3-8; see also Turkey in Prophecy).
The freeing of Andrew Brunson will help energize President Trump's evangelical supporters and may impact next month's mid-term elections.
That being said, Jesus spoke of persecutions to come (Matthew 24:9) before the start of the Great Tribulation (Matthew 24:21), and more persecutions are coming. Despite the good news of Andrew Brunson's release.
Items of possibly related interest may include:
Persecutions by Church and State This article documents some that have occurred against those associated with the COGs and some prophesied to occur. Will those with the cross be the persecutors or the persecuted–this article has the shocking answer. There is also a YouTube video sermon you can watch: The Coming Persecution of the Church. Here is information in the Spanish language: Persecuciones de la Iglesia y el Estado.
The Spanish Inquisition and Early Protestant Persecutions Was the Church of Rome really responsible for this? What happened?
What Should You Know About Turkey in Prophecy Do you know the Turkish people descended from? Did the Ottoman Empire possibly fulfill a promise in Genesis? Will Turkey support the European King of the North or Arabic King of the South? Will it betray one of them? Will Turkey be involved in the encouraging the destruction of Israel? Is Turkey going to become Catholic? Is Turkey mentioned in Psalm 83, Daniel 11, and elsewhere in the Bible? This video provides answers.
Hope of Salvation: How the Continuing Church of God differs from most Protestants How the real Church of God differs from mainstream/traditional Protestants, is perhaps the question I am asked most by those without a Church of God background. As far as some changes affecting Protestantism, watch the video Charismatic Kenneth Copeland and Anglican Tony Palmer: Protestants Beware! [Português: Esperança do salvação: Como a igreja do deus difere da maioria de protestantes]. A sermon is also available: How Does the Church of God Differ from Protestantism?
Nazarene Christianity: Were the Original Christians Nazarenes? Who were the Nazarene Christians? What did they believe? Should 21st century Christians be modern Nazarenes? Is there a group that exists now that traces its history through the Nazarenes and holds the same beliefs today? Here is a link to a related video sermon Nazarene Christians: Were the early Christians "Nazarenes"?
The Pergamos Church Era was predominant circa 450 A.D. to circa 1050 A.D. An especially persecuted Church.
The Thyatira Church Era was predominant circa 1050 A.D. to circa 1600 A.D. The Church during the Inquisition.
Some Similarities and Differences Between the Eastern Orthodox Church and the Continuing Church of God Both groups claim to be the original church, but both groups have differing ways to claim it. Both groups have some amazing similarities and some major differences. Do you know what they are?
Military Service and the Churches of God: Do Real Christians Participate in Carnal Warfare or Encourage Violence? Here are current and historical perspectives on a matter which show the beliefs of the true church on military participation. Is war proper for Christians? A related sermon would be: Christians, Violence, and Military Service.
What Did the Early Church Teach About Idols and Icons? Did Catholic and Orthodox "saints" endorse or condemn idols and icons for Christians?
Binitarian View: One God, Two Beings Before the Beginning Is binitarianism the correct position? What about unitarianism or trinitarianism?
Is The Father God? What is the view of the Bible? What was the view of the early church?
Jesus: The Son of God and Saviour Who was Jesus? Why did He come to earth? What message did He bring? Is there evidence outside the Bible that He existed? Here is a YouTube sermon titled Jesus: Son of God and Saviour.
Did the True Church Ever Teach a Trinity? Most act like this is so, but is it? Here is an old, by somewhat related, article in the Spanish language LA DOCTRINA DE LA TRINIDAD.
Was Unitarianism the Teaching of the Bible or Early Church? Many, including Jehovah's Witnesses, claim it was, but was it?
Binitarianism: One God, Two Beings Before the Beginning This is a shorter article than the Binitarian View article, but has a little more information on binitarianism.
Is the Future King of the South Rising Up? Some no longer believe there needs to be a future King of the South. Might Egypt, Islam, Iran, Arabs, or Ethiopia be involved? Might this King be called the Mahdi or Caliph? What does the Bible say? A YouTube video of related interest may be: The Future King of the South is Rising.
Jerusalem: Past, Present, and Future What does the Bible say about Jerusalem and its future? Is Jerusalem going to be divided and eliminated? Is Jesus returning to the area of Jerusalem? There are also two related YouTube videos you can watch: Jerusalem To be divided and eliminated and God's and Satan's Plan for Jerusalem.
Anglo – America in Prophecy & the Lost Tribes of Israel Are the Americans, Canadians, English, Scottish, Welsh, Australians, Anglo-Saxon (non-Dutch) Southern Africans, and New Zealanders descendants of Joseph? Where are the lost ten-tribes of Israel? Who are the lost tribes of Israel? What will happen to Jerusalem and the Jews in Israel? Will God punish the U.S.A., Canada, United Kingdom, and other Anglo-Saxon nations? Why might God allow them to be punished first? Here is a link to the Spanish version of this article: Anglo-América & las Tribus Perdidas de Israel. Information is also in the YouTube sermons titled Where are the Ten Lost Tribes? Why does it matter? and British are the Covenant People. A short YouTube of prophetic interest may be: Are Chinese threats against Australia for real?
Does God Have a 6,000 Year Plan? What Year Does the 6,000 Years End? Was a 6000 year time allowed for humans to rule followed by a literal thousand year reign of Christ on Earth taught by the early Christians? Does God have 7,000 year plan? What year may the six thousand years of human rule end? When will Jesus return? 2026 or 20xx? There is also a video titled The 6000 Year Plan: Is the end of humanity's reign almost up?
When Will the Great Tribulation Begin? 2018, 2019, or 2020? Can the Great Tribulation begin today? What happens before the Great Tribulation in the "beginning of sorrows"? What happens in the Great Tribulation and the Day of the Lord? Is this the time of the Gentiles? When is the earliest that the Great Tribulation can begin? What is the Day of the Lord? Who are the 144,000? Here is a version of the article in the Spanish language: ¿Puede comenzar la Gran Tribulación en 2018 o 2019? ¿Es el Tiempo de los Gentiles? You can also see the English language sermon videos: The Great Tribulation from the Mount of Olives and Can the Great Tribulation begin before 2020? A shorter video is: Can the Great Tribulation begin in 2018?
The Times of the Gentiles Has there been more than one time of the Gentiles? Are we in it now or in the time of Anglo-America? What will the final time of the Gentiles be like? A related sermon is available and is titled: The Times of the Gentiles.
The Gospel of the Kingdom of God This free online pdf booklet has answers many questions people have about the Gospel of the Kingdom of God and explains why it is the solution to the issues the world is facing. Here are links to three related sermons: The World's False Gospel, The Gospel of the Kingdom: From the New and Old Testaments, and The Kingdom of God is the Solution.
Damascus and Syria in Prophecy Will Bashar Assad hold power as he has it? Does the Bible show that Damascus, the capital of Syria, will be destroyed? What will happen to Syria? Will the Syrians support the final King of the South that the Bible tells will rise up? Which scriptures discuss the rise and fall of an Arabic confederation? Does Islamic prophecy predict the destruction of Syria. This is a YouTube video.
Donald Trump in Prophecy Prophecy, Donald Trump? Are there prophecies that Donald Trump may fulfill?  Are there any prophecies that he has already helped fulfill?  Is a Donald Trump presidency proving to be apocalyptic?  Two related videos are available: Donald: 'Trump of God' or Apocalyptic? and Donald Trump's Prophetic Presidency.
Trump Presidency Magic 8 Ball or Bible Prophecy? BBC reported that one might as well use a 'Magic Eight-Ball' to try to predict what will happen in the remaining time of Donald Trump's presidency. What is a 'Magic Eight-Ball'? Dr. Thiel not only explains that, but also briefly goes over 10 biblically-based warnings he wrote would happen if Donald Trump were elected that have already began to come to pass. He also goes over something he wrote back in 2008 that the Trump presidency is also helping lead to fulfillment. Should you trust Bible prophecy or not? Dr. Thiel says that Bible prophecy can be trusted, despite the view of skeptics and others that either overlook or despise the Bible. This is a video.
Where is the True Christian Church Today? This free online pdf booklet answers that question and includes 18 proofs, clues, and signs to identify the true vs. false Christian church. Plus 7 proofs, clues, and signs to help identify Laodicean churches. A related sermon is also available: Where is the True Christian Church? Here is a link to the booklet in the Spanish language: ¿Dónde está la verdadera Iglesia cristiana de hoy?
Continuing History of the Church of God This pdf booklet is a historical overview of the true Church of God and some of its main opponents from Acts 2 to the 21st century. Related sermon links include Continuing History of the Church of God: c. 31 to c. 300 A.D. and Continuing History of the Church of God: 4th-16th Centuries and Continuing History of the Church of God: 17th-20th Centuries. The booklet is available in Spanish: Continuación de la Historia de la Iglesia de Dios, German: Kontinuierliche Geschichte der Kirche Gottes, French: L'Histoire Continue de l'Église de Dieu and Ekegusii Omogano Bw'ekanisa Ya Nyasae Egendererete.