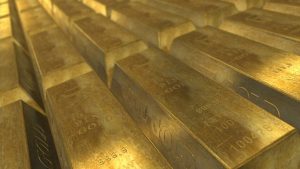 Russia and China are continuing to increase their gold reserves:
Russian Gold Reserves Surge Above 1900 Tons – 5th Largest In The World

May 24, 2018

After adding 6,700,000 ounces (208 tonnes) of gold to her reserves in 2015, the Russian Central Bank added 6,400,000 ounces (199 tonnes) in 2016 and another 224 tons (7,202,000 ounces) in 2017.

The Central Bank of Russia ended 2016 with 1838.21 tonnes of gold on their balance sheet.

Central Bank of Russia added 7.2 Million ounces (approximately 223.945 tonnes) in 2017.

Through April 2018, the Central Bank of Russia has added 2.3 million ounces or approximately 71.54 tons of gold. …


Since 2009, Russia has added over 1,100 tons of gold to its reserves –  more than China who added about 775 tons during the same time period.

Russia has added 26.7 million ounces (approximately 830 tons) to its reserves from June 2014 through April 2018.

Putin has long been on a mission to build up the country's gold reserves after previous Russian governments ran the country's reserves down to less than 300 tonnes.

The current president has made it clear that the country should be holding gold, rather than US dollars. For many years, the Russian central bank has consistently bought gold, driven by Putin's believe in the financial sovereignty offered by gold and its protection against geopolitical and economic risks. …

Russia and increasingly Turkey and China are countries that are increasingly seen as threats to the West, in one form or another. As a result various measures have been taken against them to make international trade and negotiations very difficult.

Whether through sanctions or trade tariffs countries are beginning to really feel the weight of the US and its allies' powers. As a result, they are using gold to protect themselves and to protect their foreign exchange reserves and hard earned national savings. 04/24/18 https://news.goldcore.com/ie/gold-blog/russia-buys-gold-reserves-currency-wars/
Officially, Russia and China still do not have enough gold to truly be able to dethrone the USA dollar. But they are taking steps.
They, and many other nations, are looking into ways to bypass the US dollar. Turkey's President proposed the use of gold instead of the USA dollar to the International Monetary Fund (see Turkey repatriates gold and denounces US dollar dominance). The populous and economic powerhouse China has also taken various financial and other steps (watch also US Dollar being challenged by Gold-Petro-Yuan). There is also movement towards the Euro. Part of the intent of the Euro was to become the world's dominant reserve currency. And while it is not ready for that yet, the Europeans still expect that to happen.
Notice also the following:
Iran oil sanctions could advance China's 'petro-yuan'

NEW YORK (Reuters) – China is positioned to be a chief beneficiary of the U.S. decision to withdraw from the Iran nuclear deal as it would give China leverage to demand oil imports be priced in yuan, several currency experts said …

President Donald Trump is preparing to impose new sanctions on Iran … following the U.S. withdrawal from the multinational 2015 agreement that stalled Iran's nuclear program.

The sanctions would aim to limit global trade of the oil producer's crude. The effects may be muted as major Asian importers, China chief among them, are likely to continue buying Iranian oil.

The People's Republic stands to benefit if it can use its leverage as the world's largest importer of crude by insisting that its oil purchases from Iran be priced in yuan. 05/10/18 https://www.reuters.com/article/uk-iran-nuclear-china-oil/iran-oil-sanctions-could-advance-chinas-petro-yuan-idUSKBN1IB32H

China's Petro-Yuan Contracts on Steady Rise Amid Renewed US Sanctions on Iran

Washington's intention to re-impose the "toughest" sanctions on Iran appears to be playing into the hands of Chinese investors and oil futures traders, analysts have come to believe.

Shanghai crude oil futures ISCc1 have recently seen a significant uptick in their trade volumes, which hit a record 250,000 lots last Wednesday, a day after Trump announced the US was withdrawing from the 2015 Iran nuclear deal. The day before, they were noticeably half of that marker, the Chinese oil futures accounted for eight percent of the global market, which after the pullout announcement climbed to 12. https://sputniknews.com/asia/201805151064462135-china-petro-yuan-us-iran/
The eroding of the US dollar's status in international trade is one of the 'unintended consequences' of various USA sanctions.
Furthermore, consider also the following:
The End of Petrodollar Era? How Trump's Iran Deal Undermines the Dollar

Washington has shot itself in the foot by announcing the upcoming resumption of anti-Iranian sanctions, as Chinese and European investors are already seeking to circumvent US restrictions. By shifting to yuan-, euro- and ruble-denominated trade with Iran, they could deal a blow to the dominance of the US dollar.

By ripping up the Iran nuclear deal on May 8 and targeting the Islamic Republic's energy sector, Donald Trump has unwittingly dealt a blow to the US dollar. …

For its part, the EU is harboring plan to switch from US dollars to euros when purchasing oil from Iran, a diplomatic source told Sputnik. … The Financial Times pointed out that while US regulators are transacting in dollars, European envoys are mulling over setting up state credit lines in euros to get around the dollar finance restrictions with the European Investment Bank as a possible source of funding. https://sputniknews.com/analysis/201805161064522712-us-dollar-iran-deal/

In a sign the currency's status in international finance is on the rise, and just a few short weeks after China unveiled its Yuan-denominated oil futures contract, the CEO of the London Metal Exchange has confirmed that it is planning to introduce yuan-denominated metal products. …

The contract is thundering into action," said Stephen Innes, head of trading for Asia/Pacific at futures brokerage OANDA in Singapore, as quoted by Reuters.

 "It makes sense for Iran to begin selling oil under contracts denominated in yuan rather than dollars."

Which could explain why, as The South China Morning Post reports, LME CEO Matthew Chamberlain said in an interview in Hong Kong…

 "At present, investors are trading our products in US dollars. We would definitely like to explore the possibility of launching products denominated in offshore renminbi,"

The LME, owned by Hong Kong Exchanges and Clearing (HKEX), already allows traders to use the Chinese currency as collateral. HKEX last July has also introduced yuan-denominated gold futures. https://www.zerohedge.com/news/2018-05-23/lme-plans-launch-yuan-denominated-metals-futures-markets


UBS: Petroyuan Will Undermine U.S. Market Dominance

RMB-denominated oil contracts began trading for the first time in Shanghai on March 26. We believe that in the long term this will ultimately change how oil is traded globally, create a Petroyuan currency flow, increase the role of the RMB as a global trading currency, and compel investors to up their allocations to Chinese financial assets. …

China passed the U.S. as the world's largest oil consumer in 2016. Accordingly, China wants to pay for its huge import bill in its own currency (RMB) rather than USD.

More importantly, however, China wants the new oil trading plan to promote RMB internationalization, i.e. forcing wider adoption of the RMB as a global trading currency, and switching to RMB payments for major imports is part of this process. https://oilprice.com/Energy/Energy-General/UBS-Petroyuan-Will-Undermine-US-Market-Dominance.html
The statement By ripping up the Iran nuclear deal on May 8 and targeting the Islamic Republic's energy sector, Donald Trump has unwittingly dealt a blow to the US dollar reminds me that I warned that there would be "unintended consequences" with some of Donald Trump's policies.
While the Bible does NOT show that China or Russia will be the premier trading nations during the Great Tribulation, the Bible does show that gold will have value during that time:
40 "At the time of the end…43 He shall have power over the treasures of gold and silver (Daniel 11:40,43)

14… And the wealth of all the surrounding nations
Shall be gathered together:
Gold, silver, and apparel in great abundance. (Zechariah 14:14)

12 … merchandise of gold and silver, precious stones and pearls … 16 … 'Alas, alas, that great city that was clothed in fine linen, purple, and scarlet, and adorned with gold and precious stones and pearls! (Revelation 18:12, 16)

4 The woman was arrayed in purple and scarlet, and adorned with gold and precious stones and pearls (Revelation 17:4)
There are no similar statements backing up the future value of paper items, like the US dollar or the British pound (scripture, indirectly, teaches their elimination, for details see Anglo – America in Prophecy & the Lost Tribes of Israel).
Daniel 11:24 shows that the European leader mentioned in Daniel 11:40-43 (the King of the North) will somehow also be accumulating wealth prior to this time, and that may involve gold accumulation (cf. Daniel 11:38). Perhaps to back up a European supported currency, he also may end up with personal and/or national gold reserves and/or wealth from the Vatican. The Vatican has a vast amount of wealth and is prophesied to be improperly involved with the kings of the earth in the end times per Revelation 17.
The Bible teaches that in the end time, the highly indebted nation will be taken over (Habakkuk 2:2-8)–no nation is more indebted than the USA–and on a per capita basis, the UK is one of the most indebted. They will be taken over and conquered during the Great Tribulation (Matthew 24:21; Daniel 11:39; watch also Do these 7 prophesies point to the end of the USA?).
Increased USA debt, combined with gold accumulation by various nations, points to economic disaster in the USA's future (cf. Habakkuk 2:6-8).
The USA dollar, instead of being the world's premier currency, will be worth no more than the scrap/sentimental value of the cotton-paper its notes are printed on.
ZeroHedge had the following:
May 24, 2018

Addressing precisely this issue, Russia's Finance Minister Anton Siluanov said at the St. Petersburg International Economic Forum that settlements in US currency could be dropped by Russia in favor of the euro. That said, Russia would only engage in such an unprecedented transition under one condition:  if the EU takes a stand against the latest US sanctions on Moscow.

"As we see, restrictions imposed by the American partners are of an extraterritorial nature. The possibility of switching from the US dollar to the euro in settlements depends on Europe's stance toward Washington's position," said Siluanov, who is also Russia's first deputy prime minister.

Is there even a remote possibility Europe would entertain such a dramatic shift in alliances? Well… the EU initially supported Washington's sanctions against Moscow, but has recently criticized US President Donald Trump's policy of imposing trade restrictions on other countries. The EU was also hit by the introduction of US import duties on steel and aluminum. The situation escalated even more after the US withdrew from the nuclear deal with Iran, a move which Europe has refused to acknowledge and has slammed the Trump administration for acting unilaterally and without coordination.

"If our European partners declare their position unequivocally, we could definitely see a way to use the European common currency for financial settlements, such as payments for goods and services, which today are often subject to restrictions," Siluanov added, dangling the bait in front of Merkel and Macron.

Siluanov concluded that Russia is already developing settlements in national currencies with its trading partners, among which is none other than China, which means that should the Europe respond affirmatively, overnight the entire monetary balance of power in the world would shift away from the US and toward Eurasia.

We now await Europe's response. https://www.zerohedge.com/news/2018-05-24/russia-finance-minister-we-are-ready-ditch-dollar-favor-euro
While Europe is upset, it may or may not push real hard against the sanctions with the USA now, the Russian willingness to use Euros will be remembered by the Europeans. The Europeans eventually will make a deal with the Russians that will not end well for the USA.
Notice also the following:
24 May 2018

BERLIN/WASHINGTON(Own report) – German Foreign Minister Heiko Maas ended his first official visit to Washington yesterday, without reaching a compromise in the transatlantic dispute over policy on Iran. "We're pursuing two completely different paths," Maas declared following his talks with his counterpart Mike Pompeo and the National Security Advisor John Bolton. The EU remains unified in their policy approach, which is diametrically opposed to that of the Trump administration. Berlin's attempts to achieve an independent German-EU policy on Iran opposing Washington's is particularly applauded by Germany's strategists in the establishment's foreign policy sectors. Recommendations of submission to the Trump administration's threats to use force against Teheran, so as not to jeopardize German companies' highly profitable business relations with the US, are coming from business circles. Meanwhile, foreign policy experts recommend developing the euro into an alternative global reserve currency. This could reduce the USA's potential to apply pressure on Germany's economy. https://www.german-foreign-policy.com/en/news/detail/7618/
Europe is taking steps.
We are getting closer to the start of the Great Tribulation (see also When Will the Great Tribulation Begin?) and final time of the Gentiles that Jesus spoke of (Matthew 24:21; Luke 21:24).
Gentile nations are taking steps that the Anglo-American nations will one day regret.
Some items of possibly related interest may include:
The Plain Truth About Gold in Prophecy. How Should a Christian View Gold? What do economists and the Bible teach about gold? Gold and silver may drop in value. Inflation/deflation? What do Christians need to know about gold? A video of related interest may be: Germany, Gold, and the US Dollar.
US Dollar being challenged by Gold-Petro-Yuan The US dollar has been the world's primary reserve currency for decades. Is this about to change? What is going on with the Chinese yuan and oil and gold? What do the BRICS nations want? What did Venezuela do? Do the Europeans want to dislodge the US dollar as the world's primary reserve currency? Does US debt play any role? Does the Bible tell us what will happen to the USA and its dollar? What happens if the USA loses its status? Will gold outlast the US dollar? Dr. Thiel addresses those issues and more in this video.
Gentile Cryptocurrency Proposal Two Russian leaders have called for a BRICS-wide and/or EAEU-wide cryptocurrency. This is hoped to be used to replace the US dollar for international trade. BRICS stands for Brazil, Russia, India, China, and South Africa. The BRICS nations represent 3.6 billion people. The EAEU includes Russia, Armenia, Belarus, Kazakhstan, and Kyrgyzstan. Will Gentiles rise up? Are there any prophetic ramifications of what these nations are looking to do? This is a video.
The End of US Dollar Dominance Is the USA losing its economic status? What about the petro-gold-yuan? A related video is also available: US Dollar being challenged by Gold-Petro-Yuan.
USA in Prophecy: The Strongest Fortresses Can you point to scriptures, like Daniel 11:39, that point to the USA in the 21st century? This article does. A related sermon is titled: Do these 7 prophesies point to the end of the USA?
Who is the King of the West? Why is there no Final End-Time King of the West in Bible Prophecy? Is the United States the King of the West? Here is a version in the Spanish language: ¿Quién es el Rey del Occidente? ¿Por qué no hay un Rey del Occidente en la profecía del tiempo del fin?
Anglo – America in Prophecy & the Lost Tribes of Israel Are the Americans, Canadians, English, Scottish, Welsh, Australians, Anglo-Saxon (non-Dutch) Southern Africans, and New Zealanders descendants of Joseph? Where are the lost ten-tribes of Israel? Who are the lost tribes of Israel? What will happen to Jerusalem and the Jews in Israel? Will God punish the U.S.A., Canada, United Kingdom, and other Anglo-Saxon nations? Why might God allow them to be punished first? Here is a link to the Spanish version of this article: Anglo-América & las Tribus Perdidas de Israel. Information is also in the YouTube sermons titled Where are the Ten Lost Tribes? Why does it matter? and British are the Covenant People. A short YouTube of prophetic interest may be: Are Chinese threats against Australia for real?
Will the Anglo-Saxon Nations be Divided and Have People Taken as Slaves? Will the lands of the United States, United Kingdom, Canada, Australia, and New Zealand be divided? What about Jerusalem? What does Bible prophecy teach? Are there non-biblical prophecies that support this idea? Who will divide those lands? Who will end up with the lands and the people? Here is a link to a video titled Will the USA and other Anglo-nations be Divided and Their People Made Slaves? Here is a related item in the Spanish language ¿Serán divididas las naciones anglosajonas?
British are the Covenant People What do 'British' and 'Britain' mean in Hebrew? Are the descendants of the Anglo-Saxons people of the covenant? Does the British royal family connect to the throne of David? What does the Bible teach? What does history show us? Is there any DNA evidence related to British-Israelism? When did Christianity make it to the British Isles? Could Jeremiah have made it to the British Isles? What type of Christians made it to the British Isles? Did the last King of England believe in British Israelism?
The Times of the Gentiles Has there been more than one time of the Gentiles? Are we in it now or in the time of Anglo-America? What will the final time of the Gentiles be like? A related sermon is available and is titled: The Times of the Gentiles.
Europa, the Beast, and Revelation Where did Europe get its name? What might Europe have to do with the Book of Revelation? What about "the Beast"? Is an emerging European power "the daughter of Babylon"? What is ahead for Europe? Here is a link to a video titled: Can You Prove that the Beast to Come is European?
European Technology and the Beast of Revelation Will the coming European Beast power would use and develop technology that will result in the taking over of the USA and its Anglo-Saxon allies? Is this possible? What does the Bible teach? Here is a related YouTube video: Military Technology and the Beast of Revelation.
Must the Ten Kings of Revelation 17:12 Rule over Ten Currently Existing Nations? Some claim that these passages refer to a gathering of 10 currently existing nations together, while one group teaches that this is referring to 11 nations getting together. Is that what Revelation 17:12-13 refers to? The ramifications of misunderstanding this are enormous. A related sermon is titled Ten Kings of Revelation and the Great Tribulation.
WTO/TTIP and the Babylonian Beast Will international trade agreements like WTO/TTIP/CETA lead to the fulfillment of end time prophecies concerning the Babylonian Beast power that the Book of Revelation warns against? What does the Bible teach? A related video would be WTO Trade Deal and the Rise of the European Beast Power.
Spiritual Samaritans: Old and New Who were the Samaritans? Do the represent true Christianity or something else? Here is a link to a related sermon: USA in Prophecy: Samaria.
China, Its Biblical Past and Future, Part 1: Genesis and Chinese Characters Where did the Chinese people come from? This article provides information showing that the Chinese peoples must have known about various accounts in the Book of Genesis up until their dispersion after the Tower of Babel. Here is a link to a version of this article in Spanish: ¿Prueban los caracteres chinos la exactitud de la Biblia?
China, Its Biblical Past and Future, Part 2: The Sabbath and Some of God's Witness in China When did Christianity first come to China? And is there early evidence that they observed the seventh day sabbath?
Asia in Prophecy What is Ahead for Asia? Who are the "Kings of the East"? What will happen to nearly all the Chinese, Russians, Indians, and others of Asia? China in prophecy, where? Who has the 200,000,000 man army related to Armageddon? A YouTube video of interest may be Is China THE Threat to the United States of America?
The Eurasian Union, the Kings of the East, and Bible Prophecy Is there a Eurasian union that will be formed? Is one being formed right now? Are any leaders working on that in the 21st century? Does the Bible teach that there will be a Eurasian union? If some type of Eurasian union is formed, who might it benefit and who will it destroy? A related video would be Is The Eurasian Union Rising?
Russia and Ukraine: Their Origins and Prophesied Future Russia in prophecy. Where do the Russians come from? What about those in the Ukraine? What is prophesied for Russia and its allies? What will they do to the Europeans that supported the Beast in the end? There is also a video sermon available: Russia in the Bible and in Prophecy and a video sermonette available: Ukraine in Prophecy?
Is Russia the King of the North? Some claim it is. But what does the Bible teach? Here is a link to a video, also titled Is Russia the King of the North?
Ezekiel 38: For Russia & Iran in Our Day? Is Ezekiel 38 about to be fulfilled? A related video is available titled Ezekiel 38: For Russia, Ukraine, & Iran Now? Another could be Russia, Iran, Syria, & the Bible (Code).
Donald Trump in Prophecy Prophecy, Donald Trump? Are there prophecies that Donald Trump may fulfill? Are there any prophecies that he has already helped fulfill? Is a Donald Trump presidency proving to be apocalyptic? Two related videos are available: Donald: 'Trump of God' or Apocalyptic? and Donald Trump's Prophetic Presidency.
Trump Presidency Magic 8 Ball or Bible Prophecy? BBC reported that one might as well use a 'Magic Eight-Ball' to try to predict what will happen in the remaining time of Donald Trump's presidency. What is a 'Magic Eight-Ball'? Dr. Thiel not only explains that, but also briefly goes over 10 biblically-based warnings he wrote would happen if Donald Trump were elected that have already began to come to pass. He also goes over something he wrote back in 2008 that the Trump presidency is also helping lead to fulfillment. Should you trust Bible prophecy or not? Dr. Thiel says that Bible prophecy can be trusted, despite the view of skeptics and others that either overlook or despise the Bible. This is a video.
Donald Trump and America's Apocalypse This 188 page book is for people truly interested in prophecies related to Donald Trump and the United States, including learning about several that have already been fulfilled and those that will be fulfilled in the future. The physical book can be purchased at Amazon for $12.99 from the following link: Donald Trump and America's Apocalypse.
Donald Trump and America's Apocalypse-Kindle Edition This electronic version of the 188 page print edition is available for only US$3.99. And you do not need an actual Kindle device to read it. Why? Amazon will allow you to download it to almost any device: Please click HERE to download one of Amazon s Free Reader Apps. After you go to for your free Kindle reader and then go to Donald Trump and America's Apocalypse-Kindle Edition.