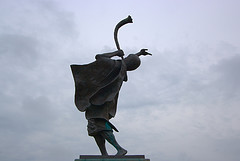 The Feast of Trumpets runs from sunset September 18th until sunset September 19th of 2020. Here is an offertory sermonette:
On the first day of the seventh month of the biblical calendar, it is a day of blowing the trumpets. Also a special offering was taken up then. What did Jesus say about your treasure, your needs, and worry? What will happen to currencies like the British pound and US dollar? Why might people throw their gold and silver into the streets? Dr. Thiel goes over many scriptures and more in this offertory for the Feast of Trumpets. Offerings can be mailed to the Continuing Church of God, 1036 W. Grand Avenue, Grover Beach, CA 93433. Offerings can also be given online via PayPal–check out: https://www.ccog.org/donations/

25:03

According to the Jewish 'Seder Olam Rabbah' the period from sunset 9 September 2018 to 29 September 2019 is the year 5779 Anno Mundi (age of the world). However, the Jewish Encyclopedia, secular scholars, and modern Jewish experts have all claimed that the count is off between 164 to 200 plus years. Are we closer to the year 5990 than 5779 since Adam and Eve left the Garden of Eden? Why would the Seder Olam be off by so much? Does any of this have anything to do with deceit and pointing to the false 'messiah' Simon Bar Kochba? Was the Messiah supposed to come after 4000 or 6000 years? Does Daniel 9:26 clearly point to Jesus? Dr. Thiel refers to Jewish accepted and other sources to answer these questions? An article of related interest it available titled Does God Have a 6,000 Year Plan? What Year Does the 6,000 Years End?
The Feast of Trumpets is one God's Feasts per Leviticus 23.