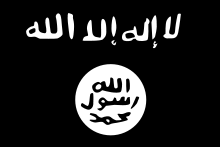 Islamic State Flag (also known as the Black Flag of Jihad)

The Wall Street Journal reported that ISIS seems to be forming the type of caliphate that the late Osama bin Laden wanted:
Islamist Insurgency Fueled by Global Finance Web

July 7, 2014

The little cans were at cash registers everywhere in Kuwait, where I lived during much of the 1990s. … I learned from my Kuwaiti friends that these collection cans were not always helping those kids – many were funding Hamas, Hezbollah, Islamic Jihad, and other violent groups.

Now, twenty years later, there is an international web of finance that leads to deadly insurgents such as the Islamic State of Iraq and the Levant (ISIL). Part of it runs through so-called "charities," while another funding stream for terrorists is enabled by official complicity. And, these sources also intersect.

Colin Clarke, author of an upcoming book titled "Terrorism Inc: The Funding of Terrorism, Insurgency, and Irregular Warfare" says much of the cash now pouring into ISIL and other violent groups comes from three regional sources.

"A key component of support to Sunni extremist groups [including ISIL] comes from wealthy individuals in the Arab Gulf states of Kuwait, Qatar, and Saudi Arabia," Clarke told VOA, adding "The majority of donors likely know exactly where their money is going. Some are blatant about it, while others enjoy the plausible deniability of ambiguity."

Clarke also contends these three states are using this funding stream as a means of achieving influence with insurgent groups. "The Saudis," he said, "are reportedly fearful of the threat posed by ISIL, but certainly contribute to radical groups, battling for a leadership role with Qatar, another country active in this funding."

Kuwait has also allegedly kept the flames of insurgency fueled with cash. Until recently, one of those streams reportedly ran through Kuwait's Aqaf, its Ministry of Islamic Affairs. In May, Aqaf Minister Nayef al-Ajmi resigned in the wake of accusations by a senior U.S. official that he was enabling terrorists.
Teerorists used a variety of funding sources.  And it has long been known that several Arabic nations that claim to be allies of the USA are involved in providing funding to terrorists.
Notice an observation published over 30 years ago:
Terrorists have become the means by which some powerful nations, desiring to avoid unwanted escalation or public outcry, can punish their enemies at a relatively small cost.

These modern-day guns-for-hire also provide the same service for smaller nations that may fear a direct confrontation with a major power.

Many nations make no bones about their connections to terrorist groups. Syria, Libya, Iraq and South Yemen all see no objection in directly aiding terrorism. (Taylor D. TERRORISM the Worst Is Yet to Come! Plain Truth, May 1984)
Terrors/terrorism is prophesied in the Bible.
Some terrorism has occurred and more is expected.
Here are some verses in the Bible that seem to refer to that:
14 'But if you do not obey Me, and do not observe all these commandments, 15 and if you despise My statutes, or if your soul abhors My judgments, so that you do not perform all My commandments, but break My covenant, 16 I also will do this to you: I will even appoint terror over you, wasting disease and fever which shall consume the eyes and cause sorrow of heart. And you shall sow your seed in vain, for your enemies shall eat it. 17 I will set My face against you, and you shall be defeated by your enemies. Those who hate you shall reign over you, and you shall flee when no one pursues you. (Leviticus 26:14-17)

25 The sword shall destroy outside; There shall be terror within (Deuteronomy 32:25)

12 "Cry and wail, son of man; For it will be against My people, Against all the princes of Israel. Terrors including the sword will be against My people; Therefore strike your thigh. (Ezekiel 21:12)

12 Behold, these are the ungodly,Who are always at ease; They increase in riches…19 Oh, how they are brought to desolation, as in a moment! They are utterly consumed with terrors. (Psalms 73:12,19)

25 Because you disdained all my counsel, And would have none of my rebuke, 26 I also will laugh at your calamity; I will mock when your terror comes, 27 When your terror comes like a storm, And your destruction comes like a whirlwind, When distress and anguish come upon you. (Proverbs 1:25-27)

5 Also they are afraid of height, And of terrors in the way (Ecclesiastes 12:5).
Jihadist gains in various parts of the world have repeatedly stated that they will use terrorism.
I believe that we will see terrorists come out of Iraq and many other Arabic countries.  Not that all terrorists are Arabs or even Muslims, but because of biblical prophecies involving the Arabs (such as Psalm 83:4-8 and Ezekiel 30:2-8), it appears that Arabic people are likely to be involved with future terrorism.
This will not bode well for the USA nor its Anglo-Saxon descended allies.  The USA invented the internet and now that is something that terrorists are using to try to defeat the USA and the West.
Some items of possibly related interest may include:
Iraq, the King of the South, Armageddon, and Prophecy What will happen to Iraq? Is it the prophesied Mystery Babylon? What is Armageddon and how does that have to do with Iraq? Here is a related video Iraq, Armageddon, & Prophecy.
The Prophesied 'Islamic' Confederation Where is an Islamic caliphate prophesied? Will one happen? Should you be concerned about it? A related video is Will an Arabic Calphiphate Destroy the West?
Is the Future King of the South Rising Up? Some no longer believe there needs to be a future King of the South. Might Egypt, Islam, Iran, Arabs, or Ethiopia be involved? Might this King be called the Mahdi or Caliph? What does the Bible say? A YouTube video of related interest may be: The Future King of the South is Rising.
The Muslim Brotherhood and the Rise of the King of the South The Bible tells of the formation of a power of nations that are in the Middle East and North Africa that are part of the final "King of the South" (Daniel 11:40-43) The Muslim Brotherhood wishes to have an Islamic empire with basically the same nations. This YouTube video explains what to expect from such a confederation.
The Arab and Islamic World In the Bible, History, and Prophecy The Bible discusses the origins of the Arab world and discusses the Middle East in prophecy. What is ahead for the Middle East and those who follow Islam? What about the Imam Mahdi? What lies ahead for Turkey, Iran, and the other non-Arabic Muslims? An item of possibly related interest in the Spanish language would be: Líderes iraníes condenan la hipocresía de Occidente y declaran que ahora es tiempo para prepararse para el Armagedón, la guerra, y el Imán Mahdi.
Egypt in Prophecy Does Egypt have a special role in end time prophecy? Will Egypt rise up and then be defeated. What does God teach will
What Should You Know About Turkey in Prophecy Do you know the Turkish people descended from? Did the Ottoman Empire possibly fulfill a promise in Genesis? Will Turkey support the European King of the North or Arabic King of the South? Will it betray one of them? Will Turkey be involved in the encouraging the destruction of Israel? Is Turkey going to become Catholic? Is Turkey mentioned in Psalm 83, Daniel 11, and elsewhere in the Bible? This video provides answers.
Damascus and Syria in Prophecy Will Bashar Assad hold power as he has it? Does the Bible show that Damascus, the capital of Syria, will be destroyed? What will happen to Syria? Will the Syrians support the final King of the South that the Bible tells will rise up? Which scriptures discuss the rise and fall of an Arabic confederation? Does Islamic prophecy predict the destruction of Syria. This is a YouTube video.
Is There an Islamic Antichrist? Is Joel Richardson correct that the final Antichrist will be Islamic and not European? Find out.
Anglo – America in Prophecy & the Lost Tribes of Israel Are the Americans, Canadians, English, Scottish, Welsh, Australians, Anglo-Saxon (non-Dutch) Southern Africans, and New Zealanders descendants of Joseph? Where are the lost ten-tribes of Israel? Who are the lost tribes of Israel? What will happen to Jerusalem and the Jews in Israel? Will God punish the U.S.A., Canada, United Kingdom, and other Anglo-Saxon nations? Why might God allow them to be punished first? Here is a link to the Spanish version of this article: Anglo-América & las Tribus Perdidas de Israel. Information is also in the YouTube sermons titled Where are the Ten Lost Tribes? Why does it matter? and British are the Covenant People. A short YouTube of prophetic interest may be Barack Obama and the State of the Apocalypse.
Will the Anglo-Saxon Nations be Divided and Have People Taken as Slaves? Will the lands of the United States, United Kingdom, Canada, Australia, and New Zealand be divided? What about Jerusalem? What does Bible prophecy teach? Are there non-biblical prophecies that support this idea? Who will divide those lands? Who will end up with the lands and the people? Here is a link to a video titled Will the USA and other Anglo-nations be Divided and Their People Made Slaves? Here is a related item in the Spanish language ¿Serán divididas las naciones anglosajonas?
Barack Obama in Islamic Prophecy? There is actually a 17th century Shiite prophecy that some believe that Barack Obama will fulfill that will lead to a rising up of Islam.
Arabic Nazarenes May Have Kept Original Christian Practices Were their faithful Arabs who held to original Christianity?
Nazarene Christianity: Were the Original Christians Nazarenes? Should Christians be Nazarenes today? What were the practices of the Nazarenes.
Barack Obama, Prophecy, and the Destruction of the United States-Second Edition for Second Obama Term This is a 160 page book for people truly interested in prophecies related to Barack Obama and the United States, including learning about many that have already been fulfilled (which the book documents in detail) and those that will be fulfilled in the future. It also has a chapter about a Republican choice. This book is available to order at www.barackobamaprophecy.com. The physical book can also be purchased at Amazon from the following link: Barack Obama, Prophecy, and the Destruction of the United States: Is Barack Obama Fulfilling Biblical, Islamic Catholic, Kenyan, and other America-Related Prophecies? What About Republican Leaders? Second Edition for Second Obama Term.
Barack Obama, Prophecy, and the Destruction of the United States-Second Term-Amazon Kindle edition. This electronic version is available for only US$2.99. And you do not need an actual Kindle device to read it. Why? Amazon will allow you to download it to almost any device: Please click HERE to download one of Amazon s Free Reader Apps. After you go to for your free Kindle reader and then go to Barack Obama, Prophecy, and the Destruction of the United States-Second Term-Amazon Kindle edition.