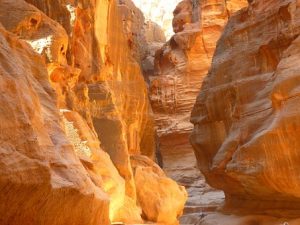 Jordanian rock passage near Petra

Some are in the media suggesting that we are getting closer to World War III (WWIII):
World War 3 FEARS: Iran threatens Trump with 'BOMBS AND TERRORISM' over sanctions

8 December 2018

IRAN's firebrand president has warned the West will be flooded with "a deluge of drugs, asylum seekers, bombs and terrorism" due to Donald Trump's sanctions against Tehran.

Hassan Rouhani slammed the US for what he called "unjust and illegal" sanctions which he said were an example of "economic terrorism", in a fiery speech carried live on state television. It comes a month after President Trump reimposed an embargo on Iran's vital oil industry as well as shipping and banks after pulling the US out of the 2015 nuclear agreement in May, calling it the "worst deal ever". Rouhani said: "I warn those who impose sanctions that if Iran's ability to fight drugs and terrorism are affected … you will not be safe from a deluge of drugs, asylum seekers, bombs and terrorism." https://www.express.co.uk/news/world/1056112/world-war-3-iran-news-hassan-rouhani-donald-trump-nuclear-deal-sanctions

Are We Sleepwalking Into Armageddon? Expert Warns Nuclear War Could Be Triggered By 'Trump Derangement Syndrome'

– Is WW3 The Globalists End Game? Civil Unrest Would Begin In Hours If Not Minutes

According to this important new story over at The Nation written by Stephen F. Cohen, an expert on U.S.-Russian relations, a nuclear war between America and Russia is increasingly growing likely due to the 'RussiaGate' allegations being spewed by the left for the last two years. …

Paul Joseph Watson breaks down for us in the only video at the bottom of this story just how "Trump Derangement Syndrome" could actually 'trigger' this 'new cold war' to go 'hot' as even President Trump himself warned of in a tweet back in July as seen in the screenshot at the top of this story. …

As we've previously reported on ANP, without even detonating a nuclear weapon in a US city, Russia, China, Iran or terrorists who've gotten a hold of a nuclear weapon could inflict massive carnage upon America by exploding a nuclear weapon high over America. …

Paul Craig Roberts, Stephen Cohen, Philip Giraldi, Ray McGovern and many others have been issuing warnings of a looming a Third World War.  …

And the truth is simply this:

If there is going to be a war with Russia, then the United States will most certainly be destroyed, and most of us will end up dead. http://allnewspipeline.com/War_With_Russia_A_Globalists_End_Game.php

World War III will actually start with Europe attacking the USA, Canada, and/or the UK.
Trade issues, which are upsetting Iran, Russia, and Europe will be factors.
An earlier issue of CCOG's Bible News Prophecy magazine (Bible News Prophecy January-March 2018: Trade Wars) has the following:
Back in 1971, the late Pastor General of the old Worldwide Church of God Herbert W. Armstrong wrote the following:

Trade War Looming to Trigger World War III?

Either we start raising high tariff barriers against other countries, starting a TRADE WAR which in time will trigger the nuclear war that will DESTROY US – or, American workers are going to have to MEET the competition of the workers in other countries , by lowering living standards. Obviously American workers are not going to choose to do the latter. And if they don't – well, THE HANDWRITING IS ON OUR NATIONAL WALL. (Armstrong HW. Trade War Looming to Trigger World War III? Plain Truth, March 1971)

And while his basic impression of timing was off it is correct that trade issues will be a factor that will trigger WWIII. A war that will be against the USA, Canada, and UK by a power that will reorganize (Revelation 17:12-13). A Europe that is angry at the UK for Brexit and one that is mad at the USA for a host of reasons (including decisions of its President Donald Trump and its Congress).
As far as WWIII goes, late Herbert W. Armstrong wrote of it:
World War 3 brings with it THE GREAT TRIBULATION. That is now next in order. But Jesus, in foretelling this chain of world events, said the GREAT TRIBULATION would be preceded by the world-wide proclaiming of HIS Gospel. "The GOSPEL must first be published among all nations," said Jesus (Mark 13:10), or, as recorded by Matthew (24:14): "This Gospel OF THE KINGDOM shall be preached in all the world for a witness unto ALL NATIONS; and THEN shall the END (of the world) come." (Armstrong HW. Brethren and Co-Worker Letter, May 22, 1953)

Matthew 24:15…That will be a time when the UNITED Europe shall appear–the revival of the medieval "Holy Roman Empire." We shall then be warned, and readied to be taken to a place of refuge and safety from the Great Tribulation. Forty-five days later "the beasts armies" will surround Jerusalem. Thirty days later the Great Tribulation will probably start with a nuclear attack on London and Britain–and possibly the same day or immediately after, on the United States and Canadian cities. The GREAT TRIBULATION, we shall fully then realize, is the time of "Jacob's Trouble," spoken of in Jeremiah 30:7. And Jacob's name was named on Joseph's sons, Ephraim and Manasseh (Gen. 48:16). … We have reached the time just before a "United States of Europe" restores the "Holy Roman Empire," under the papacy, in a union of church and state. (Armstrong HW. The Time We Are In, Now. Pastor General's Report-Vol 1, No. 15, November 20, 1979, Page 2).
Donald Trump and Brexit have upset the Europeans and they are now working on a unified military (e.g. see 'PESCO is not about peace, it is about preparing for EU wars').
The Continuing Church of God (CCOG) has the following video on our Bible News Prophecy YouTube channel:
Could preparations for WWIII began? German Chancellor Angela Merkel and French President Emmanuel Macron called for a European army to be independent of the USA and NATO. One of the reasons was to be able to protect against the USA. Is the fourth German reich in progress? What does the Bible teach about Germany, Europe, and WW3? Dr. Thiel addresses these matters in this video.
Here is a link to the sermonette video: Germany and World War 3.
Russia is expected to help the Germans and other Europeans who will destroy the Anglo-American powers.
Will the USA and other Anglo-nations be Divided and Their People Made Slaves?
Yes.
After Jesus returns the following will be fulfilled:
7 For thus says the Lord: "Sing with gladness for Jacob, And shout among the chief of the nations; Proclaim, give praise, and say, 'O Lord, save Your people, The remnant of Israel!' 8 Behold, I will bring them from the north country, And gather them from the ends of the earth, Among them the blind and the lame, The woman with child And the one who labors with child, together; A great throng shall return there. 9 They shall come with weeping, And with supplications I will lead them. I will cause them to walk by the rivers of waters, In a straight way in which they shall not stumble; For I am a Father to Israel, And Ephraim is My firstborn. 10 "Hear the word of the Lord, O nations, And declare it in the isles afar off, and say, 'He who scattered Israel will gather him, And keep him as a shepherd does his flock.' (Jeremiah 31:7-10)
While the 'land of the north' has to do with end time Babylonian Europe (cf. Zechariah 2:6-7),  the "end of the earth" comment indicates that Russia will also have been involved (cf. Jeremiah 50:41).
Is there a way of escape?
Those without a COG background, as well as some of those with one, may also find the following related to WWIII from the late Dr. Herman Hoeh to be of interest:
IF WORLD WAR III COMES – There Is a Way of Escape

You need to be prepared. …

Jesus' Amazing Prophecy

Let's notice Jesus' prophecy of the "times of the Gentiles" in Luke 21:24.

When speaking of the Jews, Jesus told His disciples that "they shall fall by the edge of the sword, and shall be led away captive into all nations, and Jerusalem shall be trodden down of the Gentiles until the times of the Gentiles be fulfilled."

This prophecy is not speaking of a period of peace, but of war. It is a message for our day — a time when the Gentiles are conquering and destroying, when they are ruling themselves contrary to the way of God who is Creator and RULER. …

Remember what Jesus said in Luke 21:24? That Jerusalem would be trodden down of the Gentiles until the very completion of the times of the Gentiles!

Since Zechariah 14:1-3 shows that Jesus Christ will return in order to deliver Jerusalem from the Gentiles, it is plain that THE SECOND COMING OF CHRIST WILL PUT AN END TO THE TIMES OF PUNISHMENT ON THE GENTILE BABYLONISH SYSTEM! (Isaiah 27:13; I Cor. 15:52.) Then God will send His Son to rule the world!

As Christ said, of the second coming, "But of that day and hour, knoweth no man!" But … world-occurrences warn us that … it is very near! …
Way of Escape

But in this end-time of turmoil there is a place of safety-if you heed-until Christ does bring us peace.

It's a vital part of the gospel of the soon-coming Kingdom of God! Jesus said, " … except those days were SHORTENED, there should no flesh be saved!" (Mat. 24:22.) But He went on to say that God would supernaturally cut short the days, for the sake of the ELECT!

That is our only real hope for survival!

The intervention of God! Jesus Christ promised protection to His own elect! He PROMISED they would survive the prophesied holocaust to strike this unsuspecting world!

WHO are the Elect?

He said, "FEAR NOT, little flock, for it is your Father's good pleasure to give you the kingdom" (Luke 12: 32).

He promised that somewhere on this earth, right now, there would be His own WORK! That work would be faith· fully performed, He promised, by His own true followers, who KNOW HIS VOICE, who would be preaching…"the Gospel of the Kingdom" as a WITNESS TO the WHOLE WORLD!

They would be preaching it, chapter- by-chapter, verse-by-verse, word-by-word, just exactly as it really IS, not as they might interpret it to be, or any man, woman, or organization of men or women would like to have it preached!

You NEED TO FIND WHERE THAT WORK IS BEING CARRIED ON! Why? Because it is ONLY THOSE who have an absolute guarantee of safety! The very elect are those who are the called and chosen, who have truly RE-PENTED of their own carnal ways, and have accepted the Holy ways of God! They are the ones who have been made members of the very BODY of Jesus Christ (1 Cor. 12:13) performing HIS WORK! Jesus speaks of these faithful ones, in the Book of Revelation.

"And to the angel of the church in Philadelphia [the prophesied end-time Church of God, doing the work of God) write: … 'I know thy works , behold, I have set before thee an open door II (Rev, 3:7-8).

The Apostle Paul spoke of a door flung open before him to PREACH THE GOSPEL (II Cor. 2:12). Remember, Jesus promised, "This Gospel of the Kingdom SHALL be preached in all the world . .. " (Mat. 24:14), and promised to make a way for that message of hope and good news to go-by flinging open the massive DOORS of radio, the printing press, television, and personal evangelism. He promised those doors would remain , …. and no man can shut it, for thou has a little strength, and hast kept my word, and hast not denied my name" (Rev, 3:8), Yes, the very elect would NEVER become corrupted by false doctrines, or be muzzled by boards of men-it would not deny the name of Jesus Christ, or His true doctrine! (Hoeh H. If World War III Comes–There is a Way of Escape. Plain Truth, June 1963)
Let me interject here that the Continuing Church of God is now getting that gospel out over the printing press, radio, YouTube 'television' videos, personal evangelism, and the internet. We represent the remnant of the Philadelphia portion of the Church of God that Dr. Hoeh mentions below:
Later, Jesus gave the exhilarating GOOD NEWS to those faithful ones who put the WORK of God far above their own personal considerations. He said "Because thou hast KEPT the word of my patience, I ALSO WILL KEEP THEE FROM THE HOUR OF TEMPTATION [TRIBULATION) WHICH SHALL COME UPON ALL THE WORLD, TO TRY THEM THAT DWELL ON THE EARTH!" (Rev. 3:10) . Yes , Jesus promised SAFETY. He promises supernatural PROTECTION to His own elect.

On the Wings of an Eagle

Eagle God brought the ancient Israelites out of Egypt on symbolic "eagles' wings." This symbolizes the loving care and protection of God for His own children. Notice, now, an amazing prophecy. It is about the same Church of God addressed in the promise of protection we have just read in Revelation 3.

"And to the woman [the Church) were given two wings of a great eagle, that she might fly into the wilderness, into her place, where she is nourished for a time, and times, and half a time from the face of the serpent" (Rev. 12:14), In this end-time prophecy, John writes of the last, end-time REMNANT Church which is to ESCAPE the terrible WAR and tribulation that will soon strike our heedless people, They are, just as the ancient Israelites, carried to a place of SAFETY … in the wilderness by the supernatural power of Almighty God, their Banner, their Shield, their Prorector!

Where Will They GO?

Now notice another amazing prophecy. Daniel was inspired to write of this impending nuclear war, and its immediate aftermath. He describes the rising BEAST power in Europe, a coming resurrection of the ancient ROMAN EMPIRE, symbolized as the "King of the North." But the European power crushes and occupies these poorly equipped up-start countries.

"And at the time of the end [NOT back during the days of the Seleucidae of Syria)… the king of the north shall come… like a whirlwind, with chariots, and with horsemen, and with many ships, and he shall enter into the countries, and shall overflow and pass over.

"He shall enter also into the glorious land [Palestine], and many countries shall be overthrown, but these shall escape out of his hand, even Edam and Moab and the chief of the children of Ammon" (Dan. 11:40-41).

Why are these areas spared?

For a very special reason!

A PLACE of Protection

God promises His people will be flourished, provided for, in the "wilderness"! He will supernaturally protect them, carrying them safely there on symbolic "eagles' wings. " They may be taken by air, sea or land-the Bible doesn't sayBut where is this "wilderness" place God is readying?

Many Bible statements indicate it is in the areas anciently occupied by the Edomites, Moabites, and Ammonites, southeast of Jerusalem, in the rugged, barren mountains beyond the Dead Sea — the modern country of Transjordan (Dan. 11:41 and Isaiah 16:4-5).

Regardless of WHERE the "place" is that God's Church is nourished and protected during these perilous times described in so many dozens of prophecies — the way to make sure you are going there is clear!

To those who will truly repent of wanting their own way, and who will come to God through Jesus Christ and His sacrifice, He promises spiritual, supernatural, MIRACULOUS shelter!

Does this sound fantastic? Does it sound incredible? Have we strayed so far from our RULER and our SAVIOUR that we think Him UNABLE to save us? Is it ridiculous to most today to really believe in God above and His supernatural protection — His divine INTERVENTION in our own personal lives?

Of course not!

He is our Fortress! He is our Rock! He is our GOD! He will supernaturally bring His people to a place of safety! (Hoeh H. If World War III Comes–There is a Way of Escape. Plain Truth, June 1963)
More on this place of protection can be found in the article There is a Place of Safety for the Philadelphians. Why it May Be Petra; there is also a video on the subject: Might Petra be the Place of Safety? Here is something related in the Spanish language: Hay un lugar de seguridad para los Filadelfinos. ¿Puede ser Petra?
World events are showing that we are getting closer to the start of the Great Tribulation (see also When Will the Great Tribulation Begin?).
WWIII will involve the destruction of the USA and its Anglo-Saxon descended allies.
While Iran and Russia will NOT be the primary antagonists, both may assist in the coming destruction of the Anglo-American nations.
Some items of possibly related interest may include:
World War III: Steps in Progress Are there surprising actions going on now that are leading to WWIII? Might a nuclear attack be expected? Does the Bible promise protection to all or only some Christians? How can you be part of those that will be protected? A related video would be Is World War III About to Begin? Can You Escape?
Physical Preparation Scriptures for Christians. We all know the Bible prophecies famines. Should we do something? Here is a version in the Spanish language Escrituras sobre Preparación física para los Cristianos. Here is a link to a related sermon: Physical preparedness for Christians.
There is a Place of Safety for the Philadelphians. Why it May Be Near Petra This article discusses a biblical 'place of safety' and includes quotes from the Bible and Herbert W. Armstrong on this subject–thus, there is a biblically supported alternative to the rapture theory. There is also a video on the subject: Might Petra be the Place of Safety?
This is PETRA! This is a 1962 Good News article by the late Dr. Hoeh.
USA in Prophecy: The Strongest Fortresses Can you point to scriptures, like Daniel 11:39, that point to the USA in the 21st century? This article does. A related sermon is titled: Do these 7 prophesies point to the end of the USA?
Who is the King of the West? Why is there no Final End-Time King of the West in Bible Prophecy? Is the United States the King of the West? Here is a version in the Spanish language: ¿Quién es el Rey del Occidente? ¿Por qué no hay un Rey del Occidente en la profecía del tiempo del fin?
Anglo – America in Prophecy & the Lost Tribes of Israel Are the Americans, Canadians, English, Scottish, Welsh, Australians, Anglo-Saxon (non-Dutch) Southern Africans, and New Zealanders descendants of Joseph? Where are the lost ten-tribes of Israel? Who are the lost tribes of Israel? What will happen to Jerusalem and the Jews in Israel? Will God punish the U.S.A., Canada, United Kingdom, and other Anglo-Saxon nations? Why might God allow them to be punished first? Here is a link to the Spanish version of this article: Anglo-América & las Tribus Perdidas de Israel. Information is also in the YouTube sermons titled Where are the Ten Lost Tribes? Why does it matter? and British are the Covenant People. A short YouTube of prophetic interest may be: Are Chinese threats against Australia for real?
Will the Anglo-Saxon Nations be Divided and Have People Taken as Slaves? Will the lands of the United States, United Kingdom, Canada, Australia, and New Zealand be divided? What about Jerusalem? What does Bible prophecy teach? Are there non-biblical prophecies that support this idea? Who will divide those lands? Who will end up with the lands and the people? Here is a link to a video titled Will the USA and other Anglo-nations be Divided and Their People Made Slaves? Here is a related item in the Spanish language ¿Serán divididas las naciones anglosajonas?
British are the Covenant People What do 'British' and 'Britain' mean in Hebrew? Are the descendants of the Anglo-Saxons people of the covenant? Does the British royal family connect to the throne of David? What does the Bible teach? What does history show us? Is there any DNA evidence related to British-Israelism? When did Christianity make it to the British Isles? Could Jeremiah have made it to the British Isles? What type of Christians made it to the British Isles? Did the last King of England believe in British Israelism?
Who is the King of the North? Is there one? Do biblical and Roman Catholic prophecies for the Great Monarch point to the same leader? Should he be followed? Who will be the King of the North discussed in Daniel 11? Is a nuclear attack prophesied to happen to the English-speaking peoples of the United States, Great Britain, Canada, Australia, and New Zealand? When do the 1335 days, 1290 days, and 1260 days (the time, times, and half a time) of Daniel 12 begin? When does the Bible show that economic collapse will affect the United States? In the Spanish language check out ¿Quién es el Rey del Norte? Here is a link to a video titled: The Future King of the North.
When Will the Great Tribulation Begin? 2019, 2020, or 2021? Can the Great Tribulation begin today? What happens before the Great Tribulation in the "beginning of sorrows"? What happens in the Great Tribulation and the Day of the Lord? Is this the time of the Gentiles? When is the earliest that the Great Tribulation can begin? What is the Day of the Lord? Who are the 144,000? Here is a version of the article in the Spanish language: ¿Puede comenzar la Gran Tribulación en 2018 o 2019? ¿Es el Tiempo de los Gentiles? You can also see the English language sermon videos: The Great Tribulation from the Mount of Olives and Can the Great Tribulation begin before 2020? A shorter and newer video is: Might the Great Tribulation start in 2019?
The Times of the Gentiles Has there been more than one time of the Gentiles? Are we in it now or in the time of Anglo-America? What will the final time of the Gentiles be like? A related sermon is available and is titled: The Times of the Gentiles.
Armageddon Who is involved and when will this gathering happen? Here is also a video from Dr. Thiel, from Tel Megiddo in Israel: Armageddon. Another video is related to China's One Belt, One Road Initiative (Silk Road project): watch Is China paving roads to Armageddon?
Europa, the Beast, and Revelation Where did Europe get its name? What might Europe have to do with the Book of Revelation? What about "the Beast"? Is an emerging European power "the daughter of Babylon"? What is ahead for Europe? Here is a link to a video titled: Can You Prove that the Beast to Come is European?
European Technology and the Beast of Revelation Will the coming European Beast power would use and develop technology that will result in the taking over of the USA and its Anglo-Saxon allies? Is this possible? What does the Bible teach? Here is a related YouTube video: Military Technology and the Beast of Revelation.
Must the Ten Kings of Revelation 17:12 Rule over Ten Currently Existing Nations? Some claim that these passages refer to a gathering of 10 currently existing nations together, while one group teaches that this is referring to 11 nations getting together. Is that what Revelation 17:12-13 refers to? The ramifications of misunderstanding this are enormous. A related sermon is titled Ten Kings of Revelation and the Great Tribulation.
WTO/TTIP and the Babylonian Beast Will international trade agreements like WTO/TTIP/CETA lead to the fulfillment of end time prophecies concerning the Babylonian Beast power that the Book of Revelation warns against? What does the Bible teach? A related video would be WTO Trade Deal and the Rise of the European Beast Power.
Spiritual Samaritans: Old and New Who were the Samaritans? Do the represent true Christianity or something else? Here is a link to a related sermon: USA in Prophecy: Samaria.
Iran in Prophecy Is Iran in Bible prophecy? If so, what does the Bible teach? What names, other than Persia, may be used to describe Iran? There is also a related YouTube video titled Iran In Prophecy.
Jordan in Bible Prophecy What does the Bible show will happen to the inhabitants of Jordan? Will they escape and then be punished? A related video is titled Jordan, Petra, and Armageddon.
The Eurasian Union, the Kings of the East, and Bible Prophecy Is there a Eurasian union that will be formed? Is one being formed right now? Are any leaders working on that in the 21st century? Does the Bible teach that there will be a Eurasian union? If some type of Eurasian union is formed, who might it benefit and who will it destroy? A related video would be Is The Eurasian Union Rising?
Russia and Ukraine: Their Origins and Prophesied Future Russia in prophecy. Where do the Russians come from? What about those in the Ukraine? What is prophesied for Russia and its allies? What will they do to the Europeans that supported the Beast in the end? There is also a video sermon available: Russia in the Bible and in Prophecy and a video sermonette available: Ukraine in Prophecy?
Is Russia the King of the North? Some claim it is. But what does the Bible teach? Here is a link to a video, also titled Is Russia the King of the North?
Ezekiel 38: For Russia & Iran in Our Day? Is Ezekiel 38 about to be fulfilled? A related video is available titled Ezekiel 38: For Russia, Ukraine, & Iran Now? Another could be Russia, Iran, Syria, & the Bible (Code).
Donald Trump in Prophecy Prophecy, Donald Trump? Are there prophecies that Donald Trump may fulfill? Are there any prophecies that he has already helped fulfill? Is a Donald Trump presidency proving to be apocalyptic? Two related videos are available: Donald: 'Trump of God' or Apocalyptic? and Donald Trump's Prophetic Presidency.
Trump Presidency Magic 8 Ball or Bible Prophecy? BBC reported that one might as well use a 'Magic Eight-Ball' to try to predict what will happen in the remaining time of Donald Trump's presidency. What is a 'Magic Eight-Ball'? Dr. Thiel not only explains that, but also briefly goes over 10 biblically-based warnings he wrote would happen if Donald Trump were elected that have already began to come to pass. He also goes over something he wrote back in 2008 that the Trump presidency is also helping lead to fulfillment. Should you trust Bible prophecy or not? Dr. Thiel says that Bible prophecy can be trusted, despite the view of skeptics and others that either overlook or despise the Bible. This is a video.