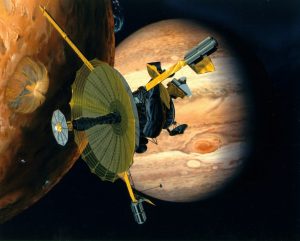 Artist's rendition of Galileo satellite
Deutsche Welle reported the following:
6 June 2018

The EU executive said Wednesday it would start imposing higher duties on a number of US products in July in response to US President Donald Trump's recent decision to slap higher tariffs on some EU exports.

The Trump administration had made up its mind not to grant the EU any exemptions from duties that had earlier been imposed on China and other nations.

As a result, European Union producers now have to put up with a 25-percent tariff on steel exports and a tariff of 10 percent on aluminum shipments to the United States.

Trade war taking shape?

European Commission Vice President Maros Sefcovic said Wednesday that formalities in finalizing the EU's response should be completed this month and "that the duties start applying from July."

Brussels had earlier indicated it would introduce rebalancing tariffs on about €2.8 billion ($3.4 billion) worth of US steel, agricultural and other products including bourbon, peanut butter, cranberries and orange juice.

In mid-May, Brussels notified the World Trade Organization of its plans to retaliate. http://www.dw.com/en/eu-set-to-implement-retaliatory-tariffs-from-july/a-44094881
In addition to having our first magazine of 2018 focusing on a coming trade war (here is a link: January-March 2018 edition of Bible News Prophecy), here is number 7 of the 18 items to prophetically watch in 2018 I wrote to watch out for this year:
7. Trade

Not all warfare is militaristic. There is also economic warfare.

This often involves trade.

Notice some warnings from COG writers:

Trade War Looming to Trigger World War III?

Either we start raising high tariff barriers against other countries, starting a TRADE WAR which in time will trigger the nuclear war that will DESTROY US – or, American workers are going to have to MEET the competition of the workers in other countries , by lowering living standards. Obviously American workers are not going to choose to do the latter. And if they don't – well, THE HANDWRITING IS ON OUR NATIONAL WALL. (Armstrong HW. Trade War Looming to Trigger World War III? Plain Truth, March 1971)

Dangerous Security Changes

Other experts warn that American political leaders — responding to calls for immediate competitive relief from their constituents — may be ignoring another lesson of the Great Depression: that the severe contraction of world trade gave added impetus to imperialist surges in Asia and Europe, specifically Japan and Germany.

Since 1945 Japan has chosen the mercantile road as its path to power, prestige and national restoration. Germany, specifically the Federal Republic of Germany, is heavily dependent upon world trade, exporting a full third of its manufactured goods.

Access to the U.S. market is central to the economies of Japan and the other nations of the Pacific Basin, writes National Review executive editor John McLaughlin, "and hence perhaps to their stability." If protectionism takes hold, what would happen to Japan and to Western Europe, whose economic heart is in Germany? Protectionism, leading to a full-blown trade war, would likely break the extensive joint defense relationships between the U.S. and its primary World War II foes, now allies for the past 40 years.

Americans should then prepare to witness the emergence of a nuclear — armed Japan as well as a nuclear — armed united Europe with Germany at its core. It's doubtful whether the American public and its elected representatives have thought out the likely end results of actions now under way.

Former Senate majority leader Howard H. Baker Jr. sounded this warning: "The disastrous Smoot-Hawley Tariff Act of 1930 was rushed through Congress… and it took 14 years and a world war to straighten out the mess." (Hogberg G. Prepare for Trade War! Plain Truth, January 1986)

The Brits will ultimately decide that they are more supportive of the Americans and Canadians. They will be so much more supportive that they will end up in a trading agreement with them (with the Australians and New Zealanders probably also becoming part of that agreement).

The EU will decide that Mexico and the rest of Latin America are in more agreement with it and thus make some type of serious trading agreement with most (or all) of Latin America. The Vatican will also have influence here as Latin America is highly Roman Catholic. (Thiel B. A Combined EU & North American Trade Block Coming? COGwriter.com, March 3, 2008)

Here is something from me a day before Donald Trump took office in 2017:

Trade wars have causalities and tariffs increase prices and can cause inflation.

Various nations will not like the policies that Donald Trump has advocated.

Trade wars have been listed as part of the Twelve 'grey swan' events to watch for in 2017?

Trade disputes are likely to be a factor that will lead to World War III. …

There is a cost to trade wars and tariffs. Those who think otherwise are fooling themselves. (Thiel B. 'America's Tariff Trouble'. COGwriter.com, January 19, 2017)

And much happened in 2017 affecting trade and pushing trade away from the USA.

Europe will get more involved.

For a time, Babylon will dominate world trade:

2 And he cried mightily with a loud voice, saying, "Babylon the great is fallen, is fallen, and has become a dwelling place of demons, a prison for every foul spirit, and a cage for every unclean and hated bird! 3 For all the nations have drunk of the wine of the wrath of her fornication, the kings of the earth have committed fornication with her, and the merchants of the earth have become rich through the abundance of her luxury." (Revelation 18:2-3).

While 'Babylon' will not reign in 2018, with the USA pulling out of trade deals and/or wishing to change them, steps are occurring that are pushing Europe to dominate trade (watch Trade Wars: Are COG warnings coming to pass?). The Europeans have been working with Latin America, China, Russia's Eurasian Union, and other areas of the world to try to set up its dominance of world trade as well as standards for world trade.
The Europeans are also working on technology and military reorganization (see 'PESCO is not about peace, it is about preparing for EU wars' and PESCO moving forward with technology and With PESCO, EU entering a 'New Era': An era that will NOT end well for the USA, Canada, or the UK).
As far as technology goes, a reader sent me a link to the first of the following today:
European Commission seeks to boost space spending

6 June 2018

Commissioner Elżbieta Bieńkowska detailed the proposal in a press conference in Brussels.

"Europe is a space power and intends to remain a space power," she said.

What does the EU want to do in space?

Galileo is Europe's version of the American's Global Positioning System (GPS). Egnos is an 'overlay' that ensures existing sat-nav signals are precise enough to be used to land planes.
Copernicus is an Earth observation project. Seven satellites are already in orbit; 25 are in development. Known as Sentinels, the spacecraft gather data to inform and enforce EU policies.
GovSatCom is a new initiative. It would pool member states' secure satellite telecommunications for use by, for example, police forces, border agencies and diplomats.
Space Situational Awareness is about ensuring the orbital environment stays safe through collision avoidance and debris mitigation. Better tracking of space objects is a high priority.
The EC will ensure all EU-programme satellites are launched on European rockets to support the bloc's independent launcher industry. It would like all EU states to make the same commitment.
Emphasis is also being placed on supporting 'New Space' companies that have disruptive ideas. This will see more risk financing being made available through the EU for space SMEs. …

Brussels wants to tighten and, in its words, streamline the management of activities like Galileo and Copernicus.

This would involve bringing all Union space activity under one body, which the Commission is calling the "EU Agency for the Space Programme". It would be a beefed-up version of the Prague-based office that currently supervises only Galileo. https://www.bbc.com/news/science-environment-44383819
Notice that Europe is intending to be a significant space power, plus keeps coming up with new developments. This expansion and focus on technology by Europe, also, is something I expected.
Here is number 14 of the 18 items to prophetically watch in 2018 I wrote to watch out for this year:
14. Europe Will Work to Reorganize and Have a Great Army

The Bible shows that Europe will reorganize:

12 The ten horns which you saw are ten kings who have received no kingdom as yet, but they receive authority for one hour as kings with the beast. 13 These are of one mind, and they will give their power and authority to the beast. (Revelation 17:12-13).

Various ones are calling for a version of that in Europe (Ten Kings, Catalonia, and the Future of Europe). Even Pope Francis has called for Europe to be creative and think beyond national boundaries (see Catalonians want democracy to work; Pope Francis wants Europe to be more united).

Various ones have called for a "United States of Europe" (see German call for a 'United States of Europe' in five years).

One of the "grey swans" that Nomura expects is a United States of Europe:

A United States of Europe

2018 presents a unique political opportunity for the European Union and in particular those countries within the euro area to forge closer ties and perhaps embark upon a political journey that will end with the creation of a 'United States of Europe' – the longstanding dream of many federalists within the continent. The reasons for the propitious backdrop are threefold.

Less focus on domestic politics …

Brexit in the background …

Fixing the roof while the sun is shining: One of the lessons learnt from the global financial crisis and the euro crisis that followed is to fix the roof while the sun is shining and don't wait for when it rains. European growth is at its strongest in years. The EU unemployment rate has fallen from 11% in 2013 to 7.4% currently and shows no signs of stopping. The low in the previous boom period was 6.8% and at the current run rate that could be achieved in under 12 months. Increasing the pace of integration will bring with it some risks and possibly even some J-curve impacts. This suggests there is no better time to undertake this project than now.

Something like a United States of Europe cannot be built in a year. But steps on a path that the market understands to be leading there can be taken. A grey swan event for 2018 is that European politicians understand the temporal opportunity they have been given, and undertaking such a path starting with a treaty change that leads to increased mutualisation of debts and sharing of risks. It is important to note that comments from key European leaders are heading in this direction. You can see it in the rhetoric of Jean-Claude Juncker's State of the Union address, Macron's united defence speech and in Martin Schulz's latest, looking for a United States of Europe by 2025. http://www.zerohedge.com/news/2017-12-18/10-grey-swans-events-2018

As regular readers of the COGwriter.com Church of God News page are aware, the idea of a United States of Europe has been something that Church of God leaders have written about for decades–and Nomura s correct that Brexit is a factor (watch also Forbes' Brexit Monster is the Beast of Revelation).

The prophesied reorganization will not happen in 2018, but expect calls to reorganize Europe.

Notice the following Catholic private prophecy about a leader rising up in Europe:

St. Francis of Paola (Born in Italy, 15th century). "By the grace of the Almighty, the Great Monarch will annihilate heretics and unbelievers. He will have a great army, and angels will fight at his side. He will be like the sun among the stars. His influence will spread over the whole earth. All in all, there will be on earth twelve Kings, one Emperor, one Pope and a few Princes. They will all lead holy lives." (Dupont, Yves. Catholic Prophecy. TAN Books, 1973, p.38)

Why bother with that? Well, it is consistent with the following scriptures:

24 He shall enter peaceably, even into the richest places of the province; and he shall do what his fathers have not done, nor his forefathers: he shall disperse among them the plunder, spoil, and riches; and he shall devise his plans against the strongholds, but only for a time.

25 "He shall stir up his power and his courage against the king of the South with a great army. (Daniel 11:24-25)

Notice that the 'he,' which is a European power, will first seem peaceful, but will have a great army!

Catholic prophecy is favorable towards him and calls him the 'Great Monarch.' The Bible warns against him and calls him the Beast of the Sea (Revelation 13:1-10) and the final King of the North (Daniel 11:40).

Europe is working on developing its own army.

One that is independent of the USA.

Furthermore, Europe has been working on technology, like the Large Hadron Collider (see Could the Large Hadron Collider lead to destruction?) and its Galileo satellite system, in order to make this happen.

In December 2017, Europe launched four more satellites for Galileo, plans to launch more in 2018, and expects to be fully operational in 2020 (see Europe's Galileo system gained four more satellites). This is a trend to watch.

While most do not believe that Europe can or ever will destroy the USA, consider the following prophecies:

5 "Woe to Assyria, the rod of My anger And the staff in whose hand is My indignation. 6 I will send him against an ungodly nation, And against the people of My wrath I will give him charge, To seize the spoil, to take the prey, And to tread them down like the mire of the streets. 7 Yet he does not mean so, Nor does his heart think so; But it is in his heart to destroy, And cut off not a few nations. … 12 Therefore it shall come to pass, when the Lord has performed all His work on Mount Zion and on Jerusalem, that He will say, "I will punish the fruit of the arrogant heart of the king of Assyria, and the glory of his haughty looks."(Isaiah 10:5-7,12).

39 Thus he shall act against the strongest fortresses with a foreign god, which he shall acknowledge, and advance its glory; and he shall cause them to rule over many, and divide the land for gain. (Daniel 11:39)

In the 21st century, it is the USA with the strongest fortresses. The power with the strongest fortresses wll be taken over by the European Beast power. Technology, as well as deception, will be factors in the military takeover of the USA. This will cause the world to marvel.

3 And I saw one of his heads as if it had been mortally wounded, and his deadly wound was healed. And all the world marveled and followed the beast. 4 So they worshiped the dragon who gave authority to the beast; and they worshiped the beast, saying, "Who is like the beast? Who is able to make war with him?" (Revelation 13:3-4)

People will be shocked when Europe shows it is a militarily successful power. It is now taking steps that will lead to the fulfillment of various warring prophecies.
Europe is moving forward with its space plans and military plans and few in the USA seem to realize that when it gets enough power, the USA will lose all of its.
Europe is getting increasingly frustrated with the USA and is taking steps related to trade. Europe, not the USA, will dominant trade for a time this century (cf. Revelation 18).
While some will correctly point out that the USA has the world's predominant reserve currency as well as a large military advantage over other nations, the USA's overconfidence and debt, combined with its excessive sharing of military technology with Europe, as well as pressuring the Europeans to spend more on military matters, is also putting it at risk.
The Bible shows that the Europeans will defeat the land of the "strongest fortresses" (Daniel 11:39).
We continue to see moves and counter moves by the USA and Europe that will lead to a European military defeating the USA and a European economy to dominate international trade.
Some items of possibly related interest may include:
Europa, the Beast, and Revelation Where did Europe get its name? What might Europe have to do with the Book of Revelation? What about "the Beast"? Is an emerging European power "the daughter of Babylon"? What is ahead for Europe? Here is a link to a video titled: Can You Prove that the Beast to Come is European?
European Technology and the Beast of Revelation Will the coming European Beast power would use and develop technology that will result in the taking over of the USA and its Anglo-Saxon allies? Is this possible? What does the Bible teach? Here is a related YouTube video: Military Technology and the Beast of Revelation.
18 items to prophetically watch in 2018 Much is happening. Dr. Thiel points to 18 in this article. Here is a link to a related sermon: 18 items to prophetically watch in 2018.
Must the Ten Kings of Revelation 17:12 Rule over Ten Currently Existing Nations? Some claim that these passages refer to a gathering of 10 currently existing nations together, while one group teaches that this is referring to 11 nations getting together. Is that what Revelation 17:12-13 refers to? The ramifications of misunderstanding this are enormous. A related sermon is titled Ten Kings of Revelation and the Great Tribulation.
The End of US Dollar Dominance Is the USA losing its economic status? What about the petro-gold-yuan? A related video is also available: US Dollar being challenged by Gold-Petro-Yuan.
USA in Prophecy: The Strongest Fortresses Can you point to scriptures, like Daniel 11:39, that point to the USA in the 21st century? This article does. A related sermon is titled: Do these 7 prophesies point to the end of the USA?
Who is the King of the West? Why is there no Final End-Time King of the West in Bible Prophecy? Is the United States the King of the West? Here is a version in the Spanish language: ¿Quién es el Rey del Occidente? ¿Por qué no hay un Rey del Occidente en la profecía del tiempo del fin?
Who is the King of the North? Is there one? Do biblical and Roman Catholic prophecies for the Great Monarch point to the same leader? Should he be followed? Who will be the King of the North discussed in Daniel 11? Is a nuclear attack prophesied to happen to the English-speaking peoples of the United States, Great Britain, Canada, Australia, and New Zealand? When do the 1335 days, 1290 days, and 1260 days (the time, times, and half a time) of Daniel 12 begin? When does the Bible show that economic collapse will affect the United States? In the Spanish language check out ¿Quién es el Rey del Norte? Here is a link to a video titled: The Future King of the North.
The Great Monarch: Biblical and Catholic Prophecies Is the 'Great Monarch' of Catholic prophecies endorsed or condemned by the Bible? Two sermons of related interest are also available: Great Monarch: Messiah or False Christ? and Great Monarch in 50+ Beast Prophecies.
When Will the Great Tribulation Begin? 2018, 2019, or 2020? Can the Great Tribulation begin today? What happens before the Great Tribulation in the "beginning of sorrows"? What happens in the Great Tribulation and the Day of the Lord? Is this the time of the Gentiles? When is the earliest that the Great Tribulation can begin? What is the Day of the Lord? Who are the 144,000? Here is a version of the article in the Spanish language: ¿Puede comenzar la Gran Tribulación en 2018 o 2019? ¿Es el Tiempo de los Gentiles? You can also see the English language sermon videos: The Great Tribulation from the Mount of Olives and Can the Great Tribulation begin before 2020? A shorter video is: Can the Great Tribulation begin in 2018?
The Times of the Gentiles Has there been more than one time of the Gentiles? Are we in it now or in the time of Anglo-America? What will the final time of the Gentiles be like? A related sermon is available and is titled: The Times of the Gentiles.
British are the Covenant People What do 'British' and 'Britain' mean in Hebrew? Are the descendants of the Anglo-Saxons people of the covenant? Does the British royal family connect to the throne of David? What does the Bible teach? What does history show us? Is there any DNA evidence related to British-Israelism? When did Christianity make it to the British Isles? Could Jeremiah have made it to the British Isles? What type of Christians made it to the British Isles? Did the last King of England believe in British Israelism?
Forbes' Brexit Monster is the Beast of Revelation Various ones have been properly convinced that there is a plan for a European superstate. Forbes' writer Tom Worstall wrote that the Brexit vote was about the United Kingdom "not joining the monster of the European Union to come." The Bible tells of a Beast monster that will arise in the end times in Europe. Dr. Thiel cites news reports, as well as the Old and New Testaments, to show that the monster many fear will arise in Europe, despite the vote by the British to exit the European Union.
Post Brexit Prophecy On June 23, 2016, the voters of the United Kingdom of Great Britain and Northern Ireland (UK) chose to leave the European Union. Now with this BRitish EXIT (Brexit) vote, what is prophesied to happen to the UK? Will the UK do well or be taken over and made slaves? Dr. Thiel explains from biblical prophecies what is ahead for the UK, Europe, and even the USA, Canada, Australia, and New Zealand. This is a video.
Anglo – America in Prophecy & the Lost Tribes of Israel Are the Americans, Canadians, English, Scottish, Welsh, Australians, Anglo-Saxon (non-Dutch) Southern Africans, and New Zealanders descendants of Joseph? Where are the lost ten-tribes of Israel? Who are the lost tribes of Israel? What will happen to Jerusalem and the Jews in Israel? Will God punish the U.S.A., Canada, United Kingdom, and other Anglo-Saxon nations? Why might God allow them to be punished first? Here is a link to the Spanish version of this article: Anglo-América & las Tribus Perdidas de Israel. Information is also in the YouTube sermons titled Where are the Ten Lost Tribes? Why does it matter? and British are the Covenant People. A short YouTube of prophetic interest may be Barack Obama and the State of the Apocalypse.
Will the Anglo-Saxon Nations be Divided and Have People Taken as Slaves? Will the lands of the United States, United Kingdom, Canada, Australia, and New Zealand be divided? What about Jerusalem? What does Bible prophecy teach? Are there non-biblical prophecies that support this idea? Who will divide those lands? Who will end up with the lands and the people? Here is a link to a video titled Will the USA and other Anglo-nations be Divided and Their People Made Slaves? Here is a related item in the Spanish language ¿Serán divididas las naciones anglosajonas?
Donald Trump in Prophecy Prophecy, Donald Trump? Are there prophecies that Donald Trump may fulfill? Are there any prophecies that he has already helped fulfill? Could a Donald Trump presidency be apocalyptic? A related video is titled: Donald: 'Trump of God' or Apocalyptic?
Trump Presidency Magic 8 Ball or Bible Prophecy? BBC reported that one might as well use a 'Magic Eight-Ball' to try to predict what will happen in the remaining time of Donald Trump's presidency. What is a 'Magic Eight-Ball'? Dr. Thiel not only explains that, but also briefly goes over 10 biblically-based warnings he wrote would happen if Donald Trump were elected that have already began to come to pass. He also goes over something he wrote back in 2008 that the Trump presidency is also helping lead to fulfillment. Should you trust Bible prophecy or not? Dr. Thiel says that Bible prophecy can be trusted, despite the view of skeptics and others that either overlook or despise the Bible. This is a video.
Donald Trump and America's Apocalypse This 188 page book is for people truly interested in prophecies related to Donald Trump and the United States, including learning about several that have already been fulfilled and those that will be fulfilled in the future. The physical book can be purchased at Amazon for $12.99 from the following link: Donald Trump and America's Apocalypse.
Donald Trump and America's Apocalypse-Kindle Edition This electronic version of the 188 page print edition is available for only US$3.99. And you do not need an actual Kindle device to read it. Why? Amazon will allow you to download it to almost any device: Please click HERE to download one of Amazon s Free Reader Apps. After you go to for your free Kindle reader and then go to Donald Trump and America's Apocalypse-Kindle Edition.