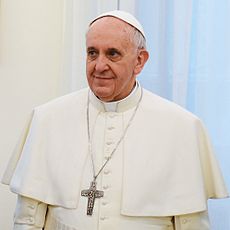 Barack Obama, Ban Ki-moon, and Pope Francis
US President Obama choose to go to the Florida Everglades on Earth Day:
April 22, 2015

WASHINGTON—

With swampy wetlands and alligators as his backdrop, President Barack Obama will use a visit to Florida's Everglades to warn of the damage that climate change is already inflicting on the nation's environmental treasures – and to hammer political opponents he says are doing far too little about it.

Obama's trip to the Everglades on Wednesday, timed to coincide with Earth Day, marks an attempt to connect the dots between theoretical arguments about carbon emissions and real-life implications. With his climate change agenda under attack in Washington and courthouses across the United States, Obama has sought this week to influence Americans to envision a world in which cherished natural wonders fall victim to pollution.

In Florida, rising sea levels have allowed salt water to seep inland, threatening drinking water for Floridians and the extraordinary native species and plants that call the Everglades home.  http://www.voanews.com/content/obama-everglades-visit-pushes-climate-issues/2729960.html
The Everglades does face major risks because of levies, etc.  It is also at risk if ocean levels rise (see also Islands and Bible Prophecy). But it should be understood that the push for regulations, etc. related to climate change is near the top of USA President Barack Obama's objectives for the last two years of his current presidential term. But he is not the only major international figure pushing a climate change related agenda.
A reader sent me the following about the head of the United Nations plans to open a meeting for Pope Francis this month related to the Vatican's plans to get Catholics involved the 'climate change' controversy:
UN chief to open Vatican conference on Pope Francis' upcoming climate change encyclical
RACHEL ZOLL, Associated Press
NEW YORK — U.N. Secretary-General Ban Ki-moon will open a key Vatican meeting this month on Pope Francis' highly anticipated teaching document on climate change.

The U.N. chief will join American economist Jeffrey Sachs and the pope's top representative on the environment, Cardinal Peter Turkson, at the April 28 event in Rome. Turkson, head of the Pontifical Council for Justice and Peace, helped write the first draft of the pope's encyclical on global warming and the environment, which is scheduled to be released in June or July.

The conference was announced on the websites for the Pontifical Academy of Sciences, the Pontifical Academy of Social Sciences and the Vatican's "End Slavery" initiative. Called "Protect the Earth, Dignify Humanity," the event will feature scientists and world religious leaders, aiming to build a global movement toward curbing climate change, according to the online program. Speakers will have "a special focus on the most vulnerable, to elevate the moral dimensions of protecting the environment in advance of the papal encyclical," according to the program. …

Environmental groups are thrilled that the pope is putting his popularity and moral authority behind fighting global warming, but climate change skeptics have been critical, accusing the pontiff of addressing an issue beyond his understanding. Francis has said global warming is "mostly" man-made. And he said he wanted his encyclical out in time to be absorbed before the next round of U.N. climate change talks in Paris in November.  http://www.miamiherald.com/news/nation-world/article18543146.html
The United Nations and the Vatican are pushing a similar agenda related to 'climate change' (see United Nations insists 'climate change' is real and steps need to be taken: but which steps?).  Last year, its Secretary General Ban Ki-moon even stated that on many matters the Vatican and the United Nations have the same goals (see UN states it has the 'same goals' as the Vatican). One problem, however, is that neither Pope Francis, Barack Obama, nor Ban Ki-moon seem to understand the true cause of bizarre weather.
Do humans have any impact on the climate?
Yes. The Bible repeatedly warns, especially in the Hebrew scriptures, that various sins will result in negative climate change (see Weather Blessings and Sorrows). Other than alluding to possible sins related to financial greed, did the United Nations' Secretary General, the Vatican's Pope, or USA's President call for repentance?
No.
Did any mention the growing acceptance of the homosexual agenda as being related to climate change?
No.
Do all scientists believe that a massive elimination of all fossil fuels will resolve problems associated with climate change?
No.
Have the United Nations, Pope, and/or USA President been quoting biblical prophecy related to 'climate change'?
No.
Is anything dramatic going to happen with the climate?
Yes.
The Bible says that we will have a horrible period of high heat in the future, and eventually no islands:
15 "But it shall come to pass, if you do not obey the voice of the Lord your God, to observe carefully all His commandments and His statutes which I command you today, that all these curses will come upon you and overtake you: 16 "Cursed shall you be in the city, and cursed shall you be in the country. 17 "Cursed shall be your basket and your kneading bowl. 18 "Cursed shall be the fruit of your body and the produce of your land, the increase of your cattle and the offspring of your flocks. 19 "Cursed shall you be when you come in, and cursed shall you be when you go out. 20 "The Lord will send on you cursing, confusion, and rebuke in all that you set your hand to do, until you are destroyed and until you perish quickly, because of the wickedness of your doings in which you have forsaken Me. 21 The Lord will make the plague cling to you until He has consumed you from the land which you are going to possess. 22 The Lord will strike you with consumption, with fever, with inflammation, with severe burning fever, with the sword, with scorching, and with mildew; they shall pursue you until you perish. 23 And your heavens which are over your head shall be bronze, and the earth which is under you shall be iron. 24 The Lord will change the rain of your land to powder and dust; from the heaven it shall come down on you until you are destroyed. (Deuteronomy 28:15-24)

8 Then the fourth angel poured out his bowl on the sun, and power was given to him to scorch men with fire. 9 And men were scorched with great heat, and they blasphemed the name of God who has power over these plagues; and they did not repent and give Him glory. (Revelation 16:8-9)

18 And there were noises and thunderings and lightnings; and there was a great earthquake, such a mighty and great earthquake as had not occurred since men were on the earth. 19 Now the great city was divided into three parts, and the cities of the nations fell. And great Babylon was remembered before God, to give her the cup of the wine of the fierceness of His wrath. 20 Then every island fled away, and the mountains were not found. (Revelation 16:18-20)
Back in 2009, in a book, I mentioned the following was about to happen:
Considering all of the natural disasters such as earthquakes, floods, food shortages, and economic problems in the past few years, perhaps this would be a good time to explain that the Bible shows that these problems were expected to occur prior to the great tribulation. Those outside the Bible have sometimes referred to a time such as this as a time of transition or chaos. …

There will be a generation that will experience end-time events, beginning with "sorrows," including the Great Tribulation, heavenly signs, and finally the return of Jesus Christ (Matthew 24:5-34). …

Mark recorded the same account of this time from his perspective:

3 Now as He sat on the Mount of Olives opposite the temple, Peter, James, John, and Andrew asked Him privately, 4 "Tell us, when will these things be? And what will be the sign when all these things will be fulfilled?" 5 And Jesus, answering them, began to say: "Take heed that no one deceives you. 6 For many will come in My name, saying, 'I am He,' and will deceive many. 7 But when you hear of wars and rumors of wars, do not be troubled; for such things must happen, but the end is not yet. 8 For nation will rise against nation, and kingdom against kingdom. And there will be earthquakes in various places, and there will be famines and troubles. These are the beginnings of sorrows. 9 But watch out for yourselves, for they will deliver you up to councils, and you will be beaten in the synagogues. You will be brought before rulers and kings for My sake, for a testimony to them. 10 And the gospel must first be preached to all the nations. 11 But when they arrest you and deliver you up, do not worry beforehand, or premeditate what you will speak. But whatever is given you in that hour, speak that; for it is not you who speak, but the Holy Spirit…" (Mark 13:3–11).

Thus, in both Matthew and Mark it is clear that a time called "the beginning of sorrows" precedes the Great Tribulation.

Notice that in Mark's account he uses the term troubles. Troubles would seem to include economic and political problems, in addition to those specifically mentioned, such as wars, famines, natural disasters, and pestilences. …

| | |
| --- | --- |
| Odd weather patterns result in food shortages and natural disasters. | Matthew 24:7 |
| The world is actually in a berserk transition, as the real age of peace is not yet here. It may be a period of chaos. It is the beginning of sorrows. | Matthew 24:8 |

(Thiel B. 2012 and the Rise of the Secret Sect. Nazarene Books, 2009)
The above was published because it was consistent with Bible prophecy. We have been seeing odd weather patterns and the United Nations and others are concerned about related food shortages.
The problems that the world is now facing should be a wake-up call to repent. The warnings from the Bible are going out, but many prefer to put their trust in humankind and not God to solve the problems.
Some items of possibly related interest may include:
Weather Blessings and Sorrows Are weather problems a warning? What should be done? What does the Bible teach about weather? What about floods, droughts, heat, earthquakes, tornadoes, and solar storms? Here is a related YouTube video Does God Use Weather? A related item in the Spanish language would be Bendiciones y maldiciones del clima.
The Bible, Christians, and the Environment How should Christians view the environment? Does the Bible give any clues? What are some of the effects of air, water, and land pollution? Is environmental pollution a factor in autism and death? Do pollutants seem to double the autism risk? What will Jesus do? A YouTube video is available titled Air Pollution, Autism, and Prophecy.
Islands and Bible Prophecy What's ahead for islands? What does the Bible prophesy about them?
Anti-Pope Francis? Some cardinals and other members of the Roman Catholic clergy are concerned that Pope Francis has deviated from its traditional positions on matters such as homosexuality, salvation, fornication, remarriage, and other doctrines. Australian Cardinal George Pell even mentioned 'antipopes' when discussing Pope Francis. North American Cardinal Raymond Burke has raised many concerns about Francis' pontificate. Did Catholic saints teach that popes could become heretics? Will the final pope not be Catholic? Is an ecumenical pontiff possibly the final Antichrist? What do both biblical, and even Roman Catholic, prophecies warn about? Could Pope Francis be an antipope and final Antichrist? This is a video. A written article of related interest is: Australian Cardinal hints Francis could be an antipope; US Cardinal also expresses doubts about Pope Francis.
Could Pope Francis be the Last Pope and Antichrist? Former Argentinian Cardinal Jorge Mario Bergoglio is now Pope Francis. According to some interpretations of the prophecies of the popes by the Catholic saint and Bishop Malachy, Pope Francis is in the position of "Peter the Roman," the pontiff who reigns during tribulations until around the time of the destruction of Rome. Do biblical prophecies warn of someone that sounds like Peter the Roman? Could Francis be the heretical antipope of Catholic private prophecies and the final Antichrist of Bible prophecy? Could a Jesuit be "the black pope"?
Pope Francis: Could this Marian Focused Pontiff be Fulfilling Prophecy? Pope Francis has taken many steps to turn people more towards his version of 'Mary.' Could this be consistent with biblical and Catholic prophecies? This article documents what has been happening. There is also a video version titled Pope Francis: Could this Marian Focused Pontiff be Fulfilling Prophecy?
Anglo – America in Prophecy & the Lost Tribes of Israel Are the Americans, Canadians, English, Scottish, Welsh, Australians, Anglo-Saxon (non-Dutch) Southern Africans, and New Zealanders descendants of Joseph? Where are the lost ten-tribes of Israel? Who are the lost tribes of Israel? What will happen to Jerusalem and the Jews in Israel? Will God punish the U.S.A., Canada, United Kingdom, and other Anglo-Saxon nations? Why might God allow them to be punished first? Here is a link to the Spanish version of this article: Anglo-América & las Tribus Perdidas de Israel. Information is also in the YouTube sermons titled Where are the Ten Lost Tribes? Why does it matter? and British are the Covenant People. A short YouTube of prophetic interest may be Barack Obama and the State of the Apocalypse.
Will the Anglo-Saxon Nations be Divided and Have People Taken as Slaves? Will the lands of the United States, United Kingdom, Canada, Australia, and New Zealand be divided? What about Jerusalem? What does Bible prophecy teach? Are there non-biblical prophecies that support this idea? Who will divide those lands? Who will end up with the lands and the people? Here is a link to a video titled Will the USA and other Anglo-nations be Divided and Their People Made Slaves? Here is a related item in the Spanish language ¿Serán divididas las naciones anglosajonas?
When Will the Great Tribulation Begin? 2015, 2016, or 2017? Can the Great Tribulation begin today? What happens before the Great Tribulation in the "beginning of sorrows"? What happens in the Great Tribulation and the Day of the Lord? Is this the time of the Gentiles? When is the earliest that the Great Tribulation can begin? What is the Day of the Lord? Who are the 144,000? Here is a version of the article in the Spanish language: ¿Puede comenzar la Gran Tribulación en 2014 o 2015? ¿Es el Tiempo de los Gentiles? You can also see the English language sermon video: The Great Tribulation from the Mount of Olives.
Can the Great Tribulation Begin in 2015? When will the Great Tribulation begin? Can it begin in 2015 as some have indicated? What are the biblical requirements that precede the Great Tribulation? What did Jesus teach would happen prior to the Great Tribulation. Are there definite clues in the Book of Daniel that Christians should look out for? Is there a King of the North or a King of the South yet? Where does the 'prince' of Daniel 9:26-27 come from? What about 'blood moons'? Dr. Thiel videoed this on the Mount of Olives where Jesus specifically discussed events leading up to the Great Tribulation in Matthew 24.
Barack Obama, Prophecy, and the Destruction of the United States-Second Edition for Second Obama Term This is a 160 page book for people truly interested in prophecies related to Barack Obama and the United States, including learning about many that have already been fulfilled (which the book documents in detail) and those that will be fulfilled in the future. It also has a chapter about a Republican choice. This book is available to order at www.barackobamaprophecy.com. The physical book can also be purchased at Amazon from the following link: Barack Obama, Prophecy, and the Destruction of the United States: Is Barack Obama Fulfilling Biblical, Islamic Catholic, Kenyan, and other America-Related Prophecies? What About Republican Leaders? Second Edition for Second Obama Term.
Barack Obama, Prophecy, and the Destruction of the United States-Second Term-Amazon Kindle edition. This electronic version is available for only US$2.99. And you do not need an actual Kindle device to read it. Why? Amazon will allow you to download it to almost any device: Please click HERE to download one of Amazon s Free Reader Apps. After you go to for your free Kindle reader and then go to Barack Obama, Prophecy, and the Destruction of the United States-Second Term-Amazon Kindle edition.
United Nations: Humankind's Last Hope or New World Order? Is the UN the last hope for humanity? Or might its goals end up with sinister results? A related video would be United Nations and Vatican Are Planning the New World Order.