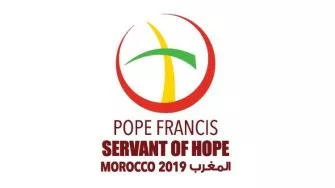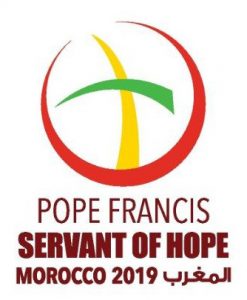 (Vatican News showed the above 'Chrislam Cross' as a symbol for Pope Francis going to Morocco)
Pope Francis is back in Rome following his trip a few days earlier to Morocco. The National Catholic Register reported the following:
Pope Francis: God Desires Solidarity Among Catholics and Muslims

ROME – Reflecting upon his recent apostolic journey to Morocco, Pope Francis said Wednesday that God desires a greater sense of fraternity among Catholics and Muslims as "brother children of Abraham."

"Some may ask, 'But why does the pope visit the Muslims and not only the Catholics?'" Pope Francis said in St. Peter's Square April 3.

"With Muslims, we are descendants of the same father, Abraham," he said. "What God wants is fraternity between us in a special way," he added, noting that this was the motive behind his travels.

Pope Francis offered thanks to God that his trip to the Moroccan capital of Rabat March 30-31 was "another step on the path of dialogue and encounter with our Muslim brothers and sisters."  …

Pope Francis said that Catholics and Muslims must not be afraid of differences because God has allowed this, but "we must be frightened if we do not work in fraternity, to walk together in life." 04/03/19 http://www.ncregister.com/daily-news/pope-francis-god-desires-solidarity-among-catholics-and-muslims
The Bible and Islamic prophecy tell of coming cooperation between those in historically Roman Catholic and Islamic lands (cf. Daniel 11:27; Psalm 83:2-8; see also Is the Future King of the South Rising Up?)
Not all related to the Church of Rome have been thrilled by the Pope's statements related to Islam this year:
April 4, 2019

In a joint statement with the Grand Imam of Al-Azhar Ahmad Al-Tayyeb, Pope Francis said in February that the plurality and diversity of religions "are willed by God in His wisdom," just as God wills a plurality of colors, sexes, races, and languages.

This Abu Dhabi declaration elicited a wave of criticism from Catholic theologians, who insisted that such a statement seemed to suggest that either God actively wills error, or that all religions are equally valid paths to God. The existence of a variety of colors, races, and languages in humanity is very different from a variety of contradictory claims about God's identity and way of acting.

Father Thomas Weinandy, for instance, the former head of the U.S. bishops' doctrinal office, said he found the statement disturbing for its apparent reduction of Jesus Christ to just another guru or religious leader.

"What I find very sad and scandalously troubling" Father Weinandy told Lifesite News, "is that, in the midst of it all, Jesus is being insulted. He is reduced to the level of Buddha or Mohammed when in fact he is the Father's beloved Messianic Son, the one in whom the Father is well pleased."

"The only religions that God positively willed are Judaism and Christianity for he himself founded these religions through his own positive divine actions and revelation," Weinandy said.

According to many scholars, Islam, for example, was born as a Christian heresy — a perversion of Christianity — and it would be odd if God directly willed for heresy to be proclaimed. https://www.breitbart.com/faith/2019/04/04/pope-francis-says-god-only-permits-islam-to-exist/
While true Christianity and Islam are biblically incompatible, let's see some statements from the Catechism of the Catholic Church from the Vatican's official website http://www.vatican.va/archive/ccc_css/archive/catechism/p123a9p3.htm accessed February 14, 2019:
841 The Church's relationship with the Muslims. "The plan of salvation also includes those who acknowledge the Creator, in the first place amongst whom are the Muslims; these profess to hold the faith of Abraham, and together with us they adore the one, merciful God, mankind's judge on the last day."330

842 The Church's bond with non-Christian religions is in the first place the common origin and end of the human race:

All nations form but one community. This is so because all stem from the one stock which God created to people the entire earth, and also because all share a common destiny, namely God. His providence, evident goodness, and saving designs extend to all against the day when the elect are gathered together in the holy city. . .331

843 The Catholic Church recognizes in other religions that search, among shadows and images, for the God who is unknown yet near since he gives life and breath and all things and wants all men to be saved. Thus, the Church considers all goodness and truth found in these religions as "a preparation for the Gospel and given by him who enlightens all men that they may at length have life."332
So, the Vatican officially claims that the Muslims and Catholics adore the same deity.
It is that type of 'Chrislam' that the Vatican and various others wish to promote.
Notice what the Apostle Peter said in the Book of Acts:
8

Then Peter, filled with the Holy Spirit, said to them, "Rulers of the people and elders of Israel:

9

If we this day are judged for a good deed done to a helpless man, by what means he has been made well,

10

let it be known to you all, and to all the people of Israel, that by the name of Jesus Christ of Nazareth, whom you crucified, whom God raised from the dead, by Him this man stands here before you whole.

11

This is the 'stone which was rejected by you builders, which has become the chief cornerstone.'

12

Nor is there salvation in any other, for there is no other name under heaven given among men by which we must be saved." (Acts 4:8-12)

Islam does NOT believe that Jesus is necessary for salvation (see also the free online book: Proof Jesus is the Messiah).
Furthermore, the Bible warns:
14 Do not be unequally yoked together with unbelievers. For what fellowship has righteousness with lawlessness? And what communion has light with darkness? 15 And what accord has Christ with Belial? Or what part has a believer with an unbeliever? 16 And what agreement has the temple of God with idols? For you are the temple of the living God. As God has said:

"I will dwell in them
And walk among them.
I will be their God,
And they shall be My people."

17 Therefore

"Come out from among them And be separate, says the Lord. Do not touch what is unclean, And I will receive you. 18 'I will be a Father to you, And you shall be My sons and daughters, Says the Lord Almighty." (2 Corinthians 6:14-18)
Muslims are unbelievers in the biblical Jesus.
Yet, on February 4, 2019, Pope Francis and Sunni Imam Sheikh Ahmed al-Tayeb signed a document that some suspect may lead towards a "one world religion." It has been called "the most important interfaith document in history." We put together a video related to the signing:
On February 4, 2019, at the ' Global Conference on Human Fraternity,' Pope Francis and leading Sunni Imam Sheikh Ahmed al-Tayeb signed a document that some suspect may lead towards a "one world religion." The World Council of Churches (WCC) General Secretary, Dr Olav Fykse Tveit, who also attended, pushed for religious leaders and institutions to push towards a particular cooperative agenda to help bring world peace. Will there be real peace or just a temporary one? Will destruction come to the USA and nations in the Middle East and North Africa? What will be some characteristics of this "one world religion'? Will all have the same religious practices? Might it have commonalities with the ancient Roman Empire? The Grand Mosque in the UAE was renamed "Mary, Mother of Jesus." Will Catholic, Islamic, and even Hindu reverence for Marian figures play a role? Is that part of the plan? Should real Christians support the interfaith and ecumenical agendas or remain separate from them? What does the Bible teach? What did Jesus teach? Dr. Thiel addresses these issues and more.
Here is a link to that video: Pope Francis signs 'one world religion' document!
Now, various ones have referred to the Vatican's logo for the Morocco conference as a symbol of Chrislam, essentially a 'Chrislam Cross' as it contains a version of a cross nearly completely surrounded by the crescent moon of Islam. Related to it and the interfaith agenda, the Continuing Church of God (CCOG) put together the following video on our Bible News Prophecy YouTube channel:
What is Chrislam? What are the two forms of it? Did the Vatican unveil the Chrislam Cross? How does it look? Are Christianity and Islam theologically compatible? What does the 'Catechism of the Catholic Church' say? What about the Bible and the Quran? Did Pope Francis and Sunni Imam Sheikh Ahmed al-Tayeb sign an important interfaith document on February 4, 2019? Do biblical and Islamic prophecies point to a deal between the Europeans and Arabs that will be broken? Do Catholic and Islamic writings support the view that Mary and/or apparitions of 'Mary' may lead to temporary cooperation between the Arabs and Europeans? Will such cooperation bring lasting peace or war? Have any of the Eastern Orthodox warned of the danger in using 'Mary' to push the interfaith and ecumenical movements? Is there a 'Mary, Mother of Jesus mosque? Should you wish to be part of the Chrislam movement? What does the Bible teach? Dr. Thiel addresses these issues and more.
Here is a link to the sermonette video: The Chrislam Cross and the Interfaith Movement.
Pope Francis continues to push his interfaith agenda.
It is not one that people like the Apostle Peter would have approved of.
Some items of possibly related interest may include:
Will the Interfaith Movement Lead to Peace or Sudden Destruction? Is the interfaith movement going to lead to lasting peace or is it warned against? A video sermon of related interest is: Will the Interfaith Movement lead to World War III? and three video sermonette are also available: Pope Francis signs 'one world religion' document! and The Chrislam Cross and the Interfaith Movement and Do You Know That Babylon is Forming?
What is the Origin of the Cross as a 'Christian' Symbol? Was the cross used as a venerated symbol by the early Church? Three related YouTube videos would be Beware of the 'Ecumenical Cross', The Chrislam Cross and the Interfaith Movement, and Origin of the Cross.
Which Is Faithful: The Roman Catholic Church or the Continuing Church of God? Do you know that both groups shared a lot of the earliest teachings? Do you know which church changed? Do you know which group is most faithful to the teachings of the apostolic church? Which group best represents true Christianity? This documented article answers those questions.
Proof Jesus is the Messiah This free book has over 200 Hebrew prophecies were fulfilled by Jesus. Plus, His arrival was consistent with specific prophecies and even Jewish interpretations of prophecy. Here are links to seven related sermons: Proof Jesus is the Messiah, Prophecies of Jesus' birth, timing, and death, Jesus' prophesied divinity, 200+ OT prophecies Jesus filled; Plus prophecies He made, Why Don't Jews Accept Jesus?, Daniel 9, Jews, and Jesus, and Facts and Atheists' Delusions About Jesus. Plus the links to two sermonettes: Luke's census: Any historical evidence? and Muslims believe Jesus is the Messiah, but … These videos cover nearly all of the book, plus have some information not in the book.
Orthodox Must Reject Unity with the Roman Catholics Unity between these groups will put them in position to be part of the final end time Babylon that the Bible warns against as well as require improper compromise.
United Nations: Humankind's Last Hope or New World Order? Is the UN the last hope for humanity? Or might its goals end up with sinister results? A related video would be United Nations and Vatican Are Planning the New World Order.
Why Should American Catholics Fear Unity with the Orthodox? Are the current ecumenical meetings a good thing or will they result in disaster? Is doctrinal compromise good? Here is a link to a related video Should you be concerned about the ecumenical movement?
Beware: Protestants Going Towards Ecumenical Destruction! What is going on in the Protestant world? Are Protestants turning back to their 'mother church' in Rome? Does the Bible warn about this? What are Catholic plans and prophecies related to this? Is Protestantism doomed? watch the video Charismatic Kenneth Copeland and Anglican Tony Palmer: Protestants Beware! and World Council of Churches Peace Plan.
Do Certain Catholic Prophecies About Antichrist Warn Against Jesus? Will the final "Anti-Christ" be Jewish, insist on Saturday, be opposed to the trinity, and bring in the millennium? Certain Catholic writings indicate this, while others take a different view, but what does the Bible show? A related sermon is Will Jesus Christ be called the Antichrist?
Laudato Si: Pope's Agenda or Kingdom of God? Pope Francis' 2nd encyclical is titled 'Laudato Si.' In it, he goes over his views related to environmental, economic, social, moral, agricultural, and spiritual issues. He advocates international cooperation to solve various problems he believes are affecting humanity. Is that Pope's agenda the solution? What about the Kingdom of God? does the Bible teach? Two related articles include Laudato Si: Will Pope Francis' economic actions match his words? and Laudato Si: A call for a one-world government?
The Prophesied 'Islamic' Confederation Where is an Islamic caliphate prophesied? Will one happen? Should you be concerned about it? A related video is Will an Arabic Calphiphate Destroy the West?
How Will Middle East Peace be Brought About? Can humans bring peace to the Middle East? Here is a link to a related video: Middle East Peace? When?
Why Terrorism? Is Terrorism Prophesied? What does the Bible teach? Which nations may be affected? Here is a link to a related sermon: Terrorism, Christianity, and Islam.
Is the Future King of the South Rising Up? Some no longer believe there needs to be a future King of the South. Might Egypt, Islam, Iran, Arabs, or Ethiopia be involved? Might this King be called the Mahdi or Caliph? What does the Bible say? A YouTube video of related interest may be: The Future King of the South is Rising.
The Arab and Islamic World In the Bible, History, and Prophecy The Bible discusses the origins of the Arab world and discusses the Middle East in prophecy. What is ahead for the Middle East and those who follow Islam? What about the Imam Mahdi? What lies ahead for Turkey, Iran, and the other non-Arabic Muslims? An item of possibly related interest in the Spanish language would be: Líderes iraníes condenan la hipocresía de Occidente y declaran que ahora es tiempo para prepararse para el Armagedón, la guerra, y el Imán Mahdi.
The Muslim Brotherhood and the Rise of the King of the South The Bible tells of the formation of a power of nations that are in the Middle East and North Africa that are part of the final "King of the South" (Daniel 11:40-43) The Muslim Brotherhood wishes to have an Islamic empire with basically the same nations. This YouTube video explains what to expect from such a confederation.
Differences Between Islam and the Continuing Church of God What are some of the main differences? Are there any similarities? A video of related interest is titled: Islam: Any Christian Concerns or Similarities?
Christians: Ambassadors for the Kingdom of God, Biblical instructions on living as a Christian This is a scripture-filled booklet for those wishing to live as a real Christian. A related sermon is also available: Christians are Ambassadors for the Kingdom of God.
The Gospel of the Kingdom of God This free online pdf booklet has answers many questions people have about the Gospel of the Kingdom of God and explains why it is the solution to the issues the world is facing. Here are links to three related sermons: The World's False Gospel, The Gospel of the Kingdom: From the New and Old Testaments, and The Kingdom of God is the Solution.
Where is the True Christian Church Today? This free online pdf booklet answers that question and includes 18 proofs, clues, and signs to identify the true vs. false Christian church. Plus 7 proofs, clues, and signs to help identify Laodicean churches. A related sermon is also available: Where is the True Christian Church? Here is a link to the booklet in the Spanish language: ¿Dónde está la verdadera Iglesia cristiana de hoy? Here is a link in the German language: WO IST DIE WAHRE CHRISTLICHE KIRCHE HEUTE? Here is a link in the French language: Où est la vraie Église Chrétienne aujourd'hui? Here is a link to a short animation: Which Church would Jesus Choose?
Continuing History of the Church of God This pdf booklet is a historical overview of the true Church of God and some of its main opponents from Acts 2 to the 21st century. Related sermon links include Continuing History of the Church of God: c. 31 to c. 300 A.D. and Continuing History of the Church of God: 4th-16th Centuries and Continuing History of the Church of God: 17th-20th Centuries. The booklet is available in Spanish: Continuación de la Historia de la Iglesia de Dios, German: Kontinuierliche Geschichte der Kirche Gottes, French: L Histoire Continue de l Église de Dieu and Ekegusii Omogano Bw'ekanisa Ya Nyasae Egendererete.