Cross-dressing and other assaults against your children.  What should you do?
By COGwriter
Is there an agenda to turn your children and/or grandchildren away from biblical morality and towards practices promoted by homosexuals? What does the Bible teach about cross-dressing? What does the Bible call homosexual acts? What about 'cross-dressing'? Are lesbian acts condemned in the Bible? What should you do? What should parents do?

If there is an agenda, what has been going on? This article will provide answers to these questions (There are also three YouTube videos related to this, titled Transgender 'Woe to those who call evil good' and Cross dressing and Other Assaults Against Your Children and USA pushing gender confusion). 
Cross-dressing "Gender-Bender Day"
Back on May 24, 2013, an elementary school in Milwaukee, Wisconsin had a day they initially referred to as "Gender Bender Day":
Last Friday's cross-dressing day at a Milwaukee elementary school proved contentious.

The school-sponsored event was one of the theme days during school spirit week at Tippecanoe School for the Arts and Humanities. While the themes for each of the other days were sufficiently milquetoast, Gender Bender Day — as it was originally named — raised a few parental eyebrows.

Members of the school's student council chose the transvestite theme, reports WITI-TV. The idea was straightforward: boys were encouraged to dress like girls and girls were encouraged to dress like boys.

Deidri Hernandez, the mother a second-grader at Tippecanoe, found out about the plan and complained to the principal, reports EAGnews.org. School officials allegedly responded by saying that the school's actions were not illegal. At the same time, officials also opted to change the themed day's name to "Switch It Up Day."

"I didn't have a problem with the title. I had a problem with the activity taking place," Hernandez told EAGnews. In her view, the notion of sponsoring a cross-dressing day at a grade school is "ridiculous" and "creepy."

"They might as well call it 'Transgender Day,'" the irate mother opined...

School board member Terrence Falk suggested that the complaining parents are trying to play politics with a harmless themed day..http://news.yahoo.com/school-sponsored-cross-dressing-day-elementary-school-causes-121822822.html
While cross-dressing in schools may not be 'illegal,' it certainly violates biblical standards of morality."Cross-dressing" is condemned as an abomination in the Bible:

5 A woman shall not wear anything that pertains to a man, nor shall a man put on a woman's garment, for all who do so are an abomination to the Lord your God. (Deuteronomy 22:5)

The Bible clearly condemns cross-dressing. It does not consider it to be harmless like school board member Falk claimed.
The Bible clearly condemns cross-dressing. The Bible also condemns males acting effeminate:
9 Know ye not that the unrighteous shall not inherit the kingdom of God? Be not deceived: neither fornicators, nor idolaters, nor adulterers, nor effeminate, nor abusers of themselves with mankind, 10 Nor thieves, nor covetous, nor drunkards, nor revilers, nor extortioners, shall inherit the kingdom of God. (1 Corinthians 6:9-10, KJV)

Cross-dressing is not something that children (or adults) should be doing.
The Bible says Christians can change from such behaviours:
11 And such were some of you: but ye are washed, but ye are sanctified, but ye are justified in the name of the Lord Jesus, and by the Spirit of our God. (1 Corinthians 6:11, KJV)


5 Put to death, therefore, whatever belongs to your earthly nature: sexual immorality, impurity, lust, evil desires and greed, which is idolatry. 6 Because of these, the wrath of God is coming. 7 You used to walk in these ways, in the life you once lived. 8 But now you must also rid yourselves of all such things as these: anger, rage, malice, slander, and filthy language from your lips. 9 Do not lie to each other, since you have taken off your old self with its practices 10 and have put on the new self, which is being renewed in knowledge in the image of its Creator. (Colossians 3:5-10, NIV)
But in this age, many who claim to be Christians, do not believe that they (or others) can change.
Transgender Discrimination?
On June 24, 2013, a civil rights panel in the USA is claiming that restricting a boy from regularly using the toilet for girls was discriminatory' (the boy is referred to as a 'transgender girl' below):
A Colorado primary school discriminated against a six-year-old transgender girl by barring her from using the girls' toilets, a civil rights panel has said.

The panel in the US state of Colorado said Coy Mathis' school ignored her gender identity and created an environment "rife with harassment"…a spokeswoman for the Colorado Department of Regulatory Agencies said the district could seek arbitration or a public trial.

While she had always expressed a preference for things associated with girls, Coy became depressed and withdrawn if forced to wear boys' clothes or referred to as a boy in school, her family said.  http://www.bbc.co.uk/news/world-us-canada-23040500

(CNN) — A transgender first-grader who was born a boy but identifies as a girl has won the right to use the girls' restroom at her Colorado school…This is the first of it's kind ruling in the country regarding the rights of transgender students. No court, no tribunal has ever said what the Colorado Division of Civil Rights has said today which is that trangendered students must be treated equally…experts say some children who look like they will be transgender in early childhood turn out to be gay, lesbian or bisexual.

These children are not intersex — they do not have a physical disorder or malformation of their sexual organs. The gender issue exists in the brain… http://www.cnn.com/2013/06/24/us/colorado-transgender-girl-school/
Notice also the following:
March 7, 2015
A Michigan woman's Planet Fitness membership was revoked after she complained about a transgender person in the women's locker room.

Yvette Cormier, a 48, said she was walking into the Midland Planet Fitness locker room last Saturday when she saw someone "dressed like a man."

The person was wearing a wig and "a little bit of blush," but was "huge" and appeared "very manly," Cormier told ABC News today.

"I just stopped right there in my tracks," she said. "It was a man for sure."

Cormier, who had been a Planet Fitness member for two months, said she went to the front desk immediately. The man at the desk told her that Planet Fitness policy is "whatever gender you feel you are, that's the locker room you're allowed to go in," she said.

"And then he said, 'We've had lots of complaints about him but we told him to go change in a stall,'" Cormier said.

"He said, 'if you're uncomfortable with that you can wait until he's done in there,'" she said. "I stood back and said, 'How about he waits until I'm done in the women's locker room. Or get a unisex bathroom.' He asked if I would like to talk to the manager and I said, 'I'm calling corporate.'" …

"I wouldn't have signed up for this gym if I knew that ahead of time," Cormier said, adding that the gym is "failing to protect me if anything happens in those locker rooms with a man."

She said she went back to the gym the next few days and "told everyone in the locker room what happened." She said everyone she talked to "was appalled."

On Thursday, Cormier said, Planet Fitness Corporate called and revoked her membership immediately.

"They said, 'You are talking to people about him in the women's locker room. You are making people upset.' That's my whole point," she said. "I'm telling them and warning them because you are not doing that. You allow men in there, and we are appalled by it."

Planet Fitness Director of Public Relations McCall Gosselin said the gym is "committed to creating a non-intimidating, welcoming environment for our members. Our gender identity non-discrimination policy states that members and guests may use all gym facilities based on their sincere self-reported gender identity."

The statement continued, "The manner in which this member expressed her concerns about the policy exhibited behavior that management at the Midland club deemed inappropriate and disruptive to other members, which is a violation of the membership agreement and as a result her membership was cancelled."

Gosselin added, "As our statement outlines, her membership was not cancelled as a result of complaints about our policy, as we welcome all feedback from our members. Rather, it was the manner in which her concerns were expressed that club management felt was inappropriate, which resulted in the cancellation." http://abcnews.go.com/Health/planet-fitness-revokes-womans-membership-transgender-complaint/story?id=29465983

March 7, 2015

A Michigan Planet Fitness canceled a woman's membership after she campaigned to get a transgender person, whom she described as "a man," booted from the women's locker room.

"The manner in which this member expressed her concerns about the policy exhibited behavior that management at the Midland club deemed inappropriate and disruptive to other members," said a statement from the Planet Fitness gym in Midland County, Mich.

The gym called the woman's actions a "violation of the membership agreement" and the chain's policy of a "no judgment zone."http://www.washingtontimes.com/news/2015/mar/7/planet-fitness-mich-revokes-womans-membership-over/#ixzz3TnujhWnZ
This is the type of decision the 'founding fathers' of the USA would have vomited against. A woman should be entitled to be able to change in her clothes in a locker room without being subject to being watched by a man. But, because she utilizes her freedom of speech, she is condemned as being 'judgmental' and booted from the fitness club.
Now, in Planet Fitness' defense, it probably felt that its policy was the only way to not violate current and expected anti-discrimination laws, regulations, and statues.  And that may well be. But the decision was still wrong.
I recall hearing that part of the reason for the 9/11 disaster was that the legal office of one of the airlines told the employees that they had to allow on the plane the terrorists, despite the perceived security threat, as the airline was afraid of being sued for discrimination.
For those unfamiliar, here is how Wikipedia defines being "transgendered" (viewed 06/24/13):
Transgender is the state of one's gender identity (self-identification as woman, man, neither or both) not matching one's assigned sex (identification by others as male, female or intersex based on physical/genetic sex)
Of course, the Bible condemns cross-dressing and other aspects of being 'transgendered.'
Notice the lack of tolerance towards people concerned and/or confused about this:
November 6, 2015

Daycare workers fired for refusing transgender demands

2 male parents insisted daughter, 6, be called boy

Two daycare workers in Texas – one of whom is the author of a Christian book – were fired after they refused to refer to a six-year-old girl in their care as a boy.

The demand came from the girl's two male parents, Breitbart reported. The dads also demanded the girl, whose hair was cut short like a boy's, also be called by a masculine name.

Madeline Kirksey, who has penned a book for the Christian crowd, told Breitbart she was most concerned about confusing the little girl by calling her "John," which was not the name given at her birth, and by referring to her as a boy. Kirksey and another worker at the Childrens' Lighthouse Learning Center in Katy, Texas, were fired, Breitbart said. …
So, you can be fired for not calling a girl a boy! Child Protective Services should have removed the girl from her homosexual parents, but it no longer seems to consider this child abuse--which trying to make a girl a boy most certainly is. It should also be made clear that there is no such thing as two same-sex parents in actuality, nor is one a different gender than their actual genitalia.
Cross-dressing is not something that children or adults should be doing. It also affects others, but the 'civil rights' of others was not properly considered (or why the reasons for having separate toilets in the first place).
There are various problems with various leaders, and the Bible warns:
20 Woe to those who call evil good, and good evil;
Who put darkness for light, and light for darkness;
Who put bitter for sweet, and sweet for bitter!

21 Woe to those who are wise in their own eyes,
And prudent in their own sight!  (Isaiah 5:20-21)
More problems are coming to the world as more and more accepts positions wanted by the homosexuals and the effeminate. Yet, various ones in the government within the USA want to do that.
Being transgender is not good, and seems to increase the risk of violent behaviour:
December 28, 2019

The transsexual movement's driving myth is that there is an epidemic of murders targeting them for their stated "identities." The controlled press in America and the UK has been the main culprit in building this fictitious narrative, constantly reminding us that 24 trannies were killed in 2019, as if their lives are more special than the 17-18,000 victims of homicide every year. 

What the propagandists omit is that individuals identifying as transgender are not only less likely to be victims of murder than biological women (and far less than men), their small population is well represented among murderers, serial killers and pedophiles.  

The Human Rights Campaign, which meticulously tracks transgender deaths across the country, is conspicuously not tracking them when they commit crimes. But in the UK, analysts found that during the period of 2007-2017, transsexuals were 58% more likely to commit a murder than be murdered. ...

Simple math shows that transgenders are less likely to be murdered than normal people. 

According to FBI crime statistics, Americans are victims of homicide at a rate of about 5 per 100,000. For men, the number is 6.6 per 100,000 and for women, 1.8. 

According to gay activist groups, 24 transgenders have been killed in 2019 out of a population of 1.4 million , making their homicide rate 1.7 out of 100,000 - less likely to be killed than the average woman. https://russia-insider.com/en/transgenders-are-58-more-likely-commit-murder-be-murdered/ri28099
Consider the truths in the following:
June 10, 2016

"War is Peace; Freedom is Slavery; Ignorance is Strength."

This was the slogan of George Orwell's fictional English Socialist Party (INGSOC) of Oceania, from his timeless dystopian novel "1984."

Orwell depicted a mind-control technique employed by INGSOC called "doublethink," which "describes the act of simultaneously accepting two mutually contradictory beliefs as correct, often in distinct social contexts."

If the malleable masses could be made to believe self-contradictory, patently absurd and empirically impossible concepts as true, went Orwell's thesis, they could then be made to believe, or do, anything.

We have entered an age that George Orwell might never have imagined. Today's "American Socialist Party" (the secular left) has applied the doublethink mind-control technique on a grand scale.

Its slogan?

"Male is Female; Female is Male; Evil is good."

Indeed, not only do secular leftists like Barack Obama and Hillary Clinton stubbornly maintain that objective morality be treated as relative – that evil is good and good evil; they now demand that the immutable laws of physics and biology be similarly repealed.

There are things true and things untrue. It is true, for instance, that water is composed of two parts hydrogen and one part oxygen (H20). No amount of wishful thinking, angry foot-stomping, or even a tyrannical presidential edict issued to America's public school chemistry classes can change this unchangeable reality.

It is likewise true that a person born with XX chromosomes is, and shall always be, female, while a person born with distinct X and Y chromosomes is forever male. Again, no amount of self-delusion, gnashing of teeth, cross-dressing, genital mutilation surgery, or utterly bizarre presidential doublethink dictates can alter this unalterable fact.

While we would call a person who subjectively insists that water is comprised of pure hydrogen either ignorant or insane, we incongruously call the person who similarly insists that a man can somehow "transition" to a woman, "progressive." http://www.wnd.com/2016/06/indecent-exposure-the-gender-identity-agenda/#1AERBIIbR7R1WYZV.99
Yet, the LGBTQ promoters care not for the truth on these matters, but to push an agenda that is evil.
Notice what the USA's first legally 'non-binary' person had to say:
December 31, 2019

This month, the first person to obtain a legal "non-binary" sex designation has successfully petitioned the court originally responsible for his "non-binary" status to order that the sex on his birth certificate be restored to "male." In documents exclusively provided to PJ Media, James Shupe's petition described his "non-binary" designation as a "psychologically harmful legal fiction." He told PJ Media he hopes this decision will prevent a woman currently seeking "non-binary" recognition from following the same lies.

"The charade of not being male, the legal fiction, it's over," James Shupe told PJ Media on Tuesday. "The lies behind my fictitious sex changes, something I shamefully participated in, first to female, and then to non-binary, have been forever exposed. A truthful accounting of events has replaced the deceit that allowed me to become America's first legally non-binary person."

"The legal record has now been corrected and LGBT advocates are no longer able to use my historic non-binary court order to advance their toxic agenda," he added. "I am and have always been male. That is my biological truth, the only thing capable of grounding me to reality."

While he became a hero for the transgender movement, Shupe now aims to dispel the lies of gender identity and reverse the harm caused by the precedent of his "non-binary" legal designation.

He referenced the case of Jones David Hollister, a woman who identifies as non-binary and is currently fighting to change her legal designation to non-binary. Hollister's brief to the Oregon Court of Appeals cites Shupe's case.

"I hope that Hollister and all the others are denied the right to change their sex to non-binary because it's fraud and legal fiction based on pseudoscience," Shupe said. "I was indoctrinated to believe that I had this thing called a gender identity and that suppressing it was causing my mental health problems. It was all a lie."

He said he had embraced the lie of transgender identity as a crutch while struggling with deep psychological issues that would have been better addressed by therapy.

"I ended up in the psych ward three times because of hormones. I had blood clots in my eyes because my estrogen levels were 2,585 instead of 200, low bone density, problems controlling my bladder, and emotional instability," Shupe said. "Blood tests indicated I was dropping into kidney disease territory (EFGR below 60) for about 18 months, I had chronic dermatology issues and skin reactions to estrogen patches, I passed out on the kitchen floor from Spironolactone." https://pjmedia.com/trending/ex-trans-man-reverses-non-binary-sex-designation-in-blow-to-lgbt-movement/
The transgender agenda is not good.
Other Agenda Factors Affect US Education
In 2009, then US President Barack Obama appointed Kevin Jennings to be an education official. Notice a report from 2009:
President Barack Obama has nominated homosexual propagandist Kevin Jennings to be the Deputy Assistant Secretary of Education in charge of the "Safe and Drug-Free Schools" program. Aside from overseeing drug education programs, the term "safe" also means making public schools "safe" for alleged homosexual children; translated, this means Jennings's position will be used to produce and disseminate pro-homosexual propaganda to America's public schools...

Who is Jennings? He's the founder and, until recently, the President of the Gay, Lesbian, Straight Education Network (GLSEN), the nation's leading homosexual pressure group working to insert homosexual propaganda into America's public schools. GLSEN's budget is in the millions and they are the driving force behind the formation of over 4000 homosexual clubs on our colleges, high schools and even middle schools. Most of these clubs were formed by homosexual faculty members trained by GLSEN.

But this appointment shouldn't surprise anyone. Obama has supported the homosexual agenda his entire political career. Indeed, within 24 hours of winning the presidency, his website posted the most aggressive pro-homosexual agenda of any president in American history. http://www.westernjournalism.com/exclusive-investigative-reports/obama-appoints-homosexual-propogandist-to-education/
Kevin Jennings held that job for 2 years. Since that time, Barack Obama turned against the Defense of Marriage Act and then openly advocates homosexual marriage, etc. (e.g. Obama, Supreme Court, and homosexual 'marriage').
Furthermore, at CalPoly, San Luis Obispo, its LGBTQIA Faculty Staff Association received a grant in 2013 to support a series of roundtable discussion of a book titled "How to Be Gay" as well as for it to host presentations on homosexuality (CAL POLY. The Tribune, San Luis Obispo, May 30, 2103, p. B1).
Much associated with the homosexual agenda is an abomination to God:

22 You shall not lie with a male as with a woman. It is an abomination. (Leviticus 18:22)


13 If a man lies with a male as he lies with a woman, both of them have committed an abomination. (Leviticus 20:13)


9 Know ye not that the unrighteous shall not inherit the kingdom of God? Be not deceived: neither fornicators, nor idolaters, nor adulterers, nor effeminate, nor abusers of themselves with mankind, 10…shall inherit the kingdom of God. (1 Corinthians 6:9-10b, KJV)
Notice that encouraging cross-gender behavior such as being effeminate (Note: the expression "abusers of themselves with mankind" is a reference to homosexual behavior).
Sports and Showers
Under the Obama Administration, the United States Department of Education ordered a school district in Illinois to allow a boy to be able to shower with girls:
November 3, 2015
The Department of Education is demanding that an Illinois school district allow a boy who identifies as a girl and plays sports on a girls team to have full access to the locker room and showers with the girls on the team.

The district has only 30 days to comply, or it stands to lose Title IX federal funding.

"Some things are so profoundly stupid that, the fact is, it's hard to respond to something like that," said Liberty Counsel Chairman Mathew Staver, who has also been in the news recently as the lead counsel for Rowan County Kentucky Clerk Kim Davis

The federal government's decision follows a 2013 legal challenge to Township High School District 211 that the boy filed through the American Civil Liberties Union. The district allowed the unnamed male to play on the girls team since he identifies as female but refused to allow him to dress and shower with the girls.

"All students deserve the opportunity to participate equally in school programs and activities – this is a basic civil right," Assistant U.S. Secretary for Civil Rights Catherine Lhamon said in a statement Monday.

The district issued a statement in disagreement with the Department of Education ruling, saying its top concern was protecting the privacy of its students.

"We do not agree with (the DOE's) decision and remain strong in our belief that the District's course of action, including private changing stations in our locker rooms, appropriately serves the dignity and privacy of all students in our educational environment," the statement read in part.

Staver said the district is exactly right.

"To say that this is a basic civil right for a young boy to use a girls shower room and restroom is absolutely absurd," he said. "Certainly, these girls deserve privacy. They deserve respect. No one would expect that while they're in the shower, a boy is going to come into the same shower that they're in." http://www.wnd.com/2015/11/complete-anarchy-transgender-boy-hits-girls-showers/#uEmptvF0vlsKx2pD.99
November 3, 2015
The U.S. Department of Education is threatening sanctions against an Illinois school district that it says violated anti-discrimination laws when it refused to allow a female transgender student to use the girls' locker room.

Officials say there was a "a preponderance of evidence" that Township High School District 211, which is based in Palatine, Illinois, failed to comply with Title IX, the federal law that prohibits sex discrimination.

The student filed a complaint with the Department of Education's Office for Civil Rights in 2013 after she was denied the right to have unlimited use of the girls' locker room, the Chicago Tribune reports. A solution appeared to be in the works, until school officials put up privacy curtains in the locker room and said the student would be required to use the private area while changing.

Officials in the Township High School District change names, genders, and pronouns for transgender students on school records, and allow those students to use the bathrooms of the gender with which they identify, as well as play on the sports teams for that gender.  https://www.yahoo.com/health/illinois-school-district-must-give-locker-room-123444494.html
Let me state that from what I have read the person in question is a boy, not a girl.  It is outrageous that actual girls are being disallowed proper privacy and that government officials act like a claimed belief about gender is more relevant than actual gender.
Voyeurism and other perversions are being encouraged. The idea of allowing teenage males to have unlimited access to girls' lockerooms and showers  is absurd.
As far as sports go, if this transgender trash is taken to its logical extreme, there will be almost no females on female sports' teams.  Overall, males are stronger and faster and taller than females.  If males athletes claim that they identify as female, they will begin to dominate female sports' teams. This is not good for females.
Notice an example:
February 24, 2019

Connecticut transgender sprinters won 1st and 2nd place at the state indoor track championships.

In other words, biological males competed against girls and won because they have higher bone density, larger muscles and higher testosterone levels than their biological female opponents.

Connecticut is one of 17 states that allows transgender athletes to compete without any type of restrictions – it's open season and high school girls are the ones suffering because of this insanity. …

Another competitor pointed out the fallout from allowing biological males to compete against biological girls is much wider.

Salina Soule, a female competitor said she believes that had the transgender athletes, Miller and Yearwood not competed against the girls, she would be on her way to race in Boston in front of more college coaches, reported the Washington Times.

"We all know the outcome of the race before it even starts; it's demoralizing," she said. https://www.thegatewaypundit.com/2019/02/high-school-transgender-sprinters-win-1st-and-2nd-place-at-connecticut-girls-indoor-track-championships/
The USA wants to act like males and females are the same–like something I saw in the news today: All-Male Military Draft Is Unconstitutional, Judge Rules, but despite "equality" claims, that is not the case.
When it comes to sports, having people born male competing as females against females puts people born female at great disadvantage in many sports.
Even the liberal Wikipedia has the following on the topic:
The participation of transgender or transsexual individuals in competitive sports is a controversial issue. Opposition to transgender or transsexual individuals competing in sporting events generally focuses on hormonal factors (such as higher testosterone levels among trans women), the socialisation of young men and women, and physiological factors such as height and weight. Insisting trans athletes compete against athletes of the same biological sex, sex verification testing, and access regulations have been used with the aim of ensuring fair competition. …

An early high-profile transgender athlete was tennis player Renée Richards. Already a promising tennis player in the mens circuit, Richards underwent gender reassignment therapy in 1975 and started playing in women's tournaments a year later. Her discovery and the resulting media frenzy sparked protests.[2] After she accepted an invitation to a warm-up tournament for the US Open the Women's Tennis Association (WTA) and the United States Tennis Association (USTA) withdrew their support and 25 of the 32 women withdrew.[3]

The USTA and WTA introduced the Barr body test, which identifies a person's sex chromosomes. Richards refused to take the test and was banned from the US Open.[2] She filed a lawsuit in 1977 claiming that her civil rights were violated. The judge agreed that the Barr body test as the sole determinant of sex was "grossly unfair" and ruled Richards legally female.[4] She competed in the 1977 Open, lost in the first round and retired four years later.[2] At the time, the ruling in Richards's case did not lead to major changes outside of tennis.[4] …

In 2003, a committee convened by the International Olympic Committee (IOC) Medical Commission drew up new guidelines for participation of athletes who had undergone sex reassignment. The report listed three conditions for participation. First, athletes must have undergone sex reassignment surgery, including changes in the external genitalia and gonadectomy. Second, athletes must show legal recognition of their gender. Third, athletes must have undergone hormone therapy for an appropriate time before participation, with two years being the suggested time.[5]

It was not until 2004 that the IOC allowed transsexual athletes to participate in the Olympic Games.[6] …

In 2015, the IOC modified these guidelines in recognition that legal recognition of gender could be difficult in countries where gender transition is not legal, and also that requiring surgery in otherwise healthy individuals "may be inconsistent with developing legislation and notions of human rights".[7][8] The new guidelines require only that trans woman athletes declare their gender and not change that assertion for four years, and demonstrate a testosterone level of less than 10 nanomoles/liter for at least one year prior to competition and throughout the period of eligibility. Athletes who transitioned from female to male were allowed to compete without restriction. These guidelines were in effect for the 2016 Rio Olympics, although no openly transgender athletes competed.[9]

In 2017 Mack Beggs, a teenager from Texas, was required to wrestle against girls throughout the season of his transition from female to male up through the state championship, despite wanting to wrestle against boys. This was due to state sport regulations requiring athletes to compete alongside athletes of their birth gender. Some opponents say the testosterone prescribed as part of his transition gives him an unfair advantage and made it unsafe for the other wrestlers. (He finished the regular season at 52-0 and won the state championship.) …

People who oppose transgender women competing in women's sports say that they are given an unfair advantage over cisgender women due to their testosterone levels, and different muscle and fat distribution. Testosterone regulates many different functions in the body, including the maintenance of bone and muscle mass.[14] It is also argued that athletes who transition to a woman after puberty will have a greater muscle to fat ratio compared to female athletes.[15] (Transgender people in sports. Wikipedia, retrieved 02/25/19)
It is not fair to females for people born male to compete as women in many sports. Everyone knows this, but courts, agencies, and surgeries seem to result in people over looking facts.
The transgender agenda is destructive to female sports.
Various groups are creating 'rights' that do not exist in order to take away rights which historically have existed.
Perhaps I should mention that there are two bills in the Congress of the USA that will make all of this LGBT situation even worse–for some details watch Is the US Congress eliminating the 1st Amendment?
The Obama Administration decided that schools must permit 'transgender' people to use whatever restroom they feel they should use as Voice of America (VOA), an official US government news source, reports:
May 13, 2016

Transgender students must be allowed to use the bathrooms that match their chosen gender identity, the Obama administration is going to tell all U.S. public school districts on Friday.

The letter, signed by Justice and Education department leaders, will give guidance to school leaders to ensure that no student is discriminated against.

"There is no room in our schools for discrimination of any kind, including discrimination against transgender students on the basis of their sex," Attorney General Loretta Lynch said in a statement issued late Thursday that will accompanying the directive being sent to school districts on Friday.

"This guidance gives administrators, teachers, and parents the tools they need to protect transgender students from peer harassment and to identify and address unjust school policies," Lynch said.

The letter will say that public schools are obligated to treat transgender students in a way that matches their gender identity, even if their education records or identity documents indicate a different sex.

The directive does not have the force of law but contains an implicit threat that schools that do not abide by the administration's interpretation of the law could face lawsuits or a loss of federal aid. http://www.voanews.com/content/us-public-schools-must-allow-transgender-students-bathroom-choice/3328648.html
The federal government had no legal right to force this, so that is why it used financial threats and other means to try to force this absurdity. The Trump Administration essentially rescinded most of the above.
Notice the following that a medical doctor posted on April 12, 2016:
Federal and state governments have opened a new Pandora's box of dangers to the public, especially for women and girls, with the new push for "gender neutral" public bathrooms and locker rooms, allowing people to choose such facilities based on self-perceived gender, rather than biological sex.

Consequence of such absurd ideas are predictable. This video graphically illustrates many case examples of the dangers to vulnerable women. Just recently, a Seattle man began undressing at a public swimming pool women's locker room when a group of young girls were changing for a swim team practice. He was not arrested, as a result of Washington's new law allowing "transgender" men to use women's restrooms. I use quotes around the term transgender because this man had no outward identifying statements or attire to suggest he thought of himself as a woman.

Bathroom equality or "gender neutral" locker rooms is just the latest absurdity in the move by "progressives" to "progress" the United States right out of common sense and public safety. It continues the liberal expansion of "rights" for a minority few against safety and privacy rights of the majority.

To put the tyranny of the minority in perspective here: There are approximately 700,000 transgender people in the U.S., representing about 0.3 percent of the entire population. That means the safety, privacy and common decency concerns for 99.7 percent of the American population are sacrificed on the altar of political correctness and "feel good" policies for a tiny fraction of the public.

Indecent exposure (males exposing genitals to women in public is the most common occurrence), sexual battery, assault, molestation, sex with minors and rape are all crimes in almost all jurisdictions. It shouldn't take a rocket scientist to see that telling men they can suddenly decide they "feel" like a woman and thereby use women's bathrooms is a slippery slope to more of all types of these sexual crimes. How does the "feeling" of a gender dysphoric man take priority over the safety of your wife, daughter, girlfriend, mother, sister or friend?

The Association of American Physicians and Surgeons released a statement about the importance of separate facilities for men and women to protect public safety: "Attempts by activist groups to force businesses or government facilities to harm, threaten demean, or offend women and girls who do not want to share facilities with biological males are to be resisted and condemned as immoral, irrational, oppressive, and contrary to public order, human rights, public health, and our founding principles." http://www.wnd.com/2016/04/doc-gender-neutral-bathrooms-are-dangerous/#CgSgUxyLYoS4HJcU.99
Notice a later report:
September 17, 2019

A psychiatrist from Johns Hopkins University has slammed the medical and psychiatric industries for what he says is reckless and irresponsible treatment of patients who claim to be transgender.

Paul McHugh, a renowned psychiatrist from Johns Hopkins University, told The College Fix he believes transgender people are being experimented on because the doctors treating transgender patients with hormones "don't have evidence that (the treatment) will be the right one." He also criticized the manner of treatment given to many children who claim to be transgender.

"Many people are doing what amounts to an experiment on these young people without telling them it's an experiment," he told The Fix via phone.

"You need evidence for that and this is a very serious treatment. It is comparable to doing frontal lobotomies."

Vast majority of gender minorities report mental health issues

A recent study published in the American Journal of Preventive Medicine found that 80 percent of gender minority students report having mental health problems, nearly double the rate of "cisgender" students. McHugh believes that in many cases the patient's gender dysphoria is precipitated by mental illness.

"I think their mental problems, often depression, discouragement are the things that need treatment," not gender dysphoria, he argued. ...

Asked about the possible long-term consequences of the growing practice of helping children develop transgender identities, including with hormones, McHugh expressed pessimism.

"They're going to be in the hands of doctors for the rest of their lives, many of them are going to be sterilized not able to have their own children, and many will regret this," McHugh said.

"Can you imagine having a life where you need to seek doctors all the time, for everything, just to live? Getting your hormones checked, getting everything checked. That is something doctors should like to spare people of," he added.

McHugh thinks that eventually our society will look back on this craze as something of an historical shame. "I believe it will be something like how we think of eugenics now. We will come to regret it when we discover how many of the young people that were injured regret it themselves," he told The Fix. https://www.thecollegefix.com/johns-hopkins-professor-on-child-transgender-trend-many-will-regret-this/
The LGBT agenda is NOT good, yet many politicians and 'celebrities' in the West are pushing it.
The USA will, within the next couple of decades, be no more (see also Anglo - America in Prophecy & the Lost Tribes of Israel).
Transgender Children's 'Entertainment'
While encouraging various males to be effeminate seems the desire of at least part of the entertainment industry, did you know that there is now to be a children's program that features a 'super-hero' who transforms himself into a girl?
Nothing says "child-appropriate material" quite like gender-bending underage superheroes. At least that's the theory over at the Hub, the network co-owned by Discovery and Hasbro, which is trotting out its latest soon-to-be-dud, SheZow. That show follows the adventures of a 12-year-old boy named Guy who uses a magic ring to transform himself into a crime-fighting girl. Yes, you read that correctly...

The chief executive of the Hub...is Margaret Loesch. Loesch commented, "When I first heard about the show, my reaction was 'Are you out of your minds?' Then I looked at it and I thought, 'This is just funny.'"

The target audience for the Hub is children aged two to eleven.  http://www.breitbart.com/Big-Hollywood/2013/05/28/Children-network-transsexual-superhero
Just funny? So, the world's media is trying to reorient and confuse gender roles for children as young as age two.
In Romans 1:18-32, the Apostle Paul condemns many forms of immorality including lesbianism and homosexuality.  But he also condemns those who simply just approve it:
18 For the wrath of God is revealed from heaven against all ungodliness and unrighteousness of men, who suppress the truth in unrighteousness, 19 because what may be known of God is manifest in them, for God has shown it to them. 20 For since the creation of the world His invisible attributes are clearly seen, being understood by the things that are made, even His eternal power and Godhead, so that they are without excuse, 21 because, although they knew God, they did not glorify Him as God, nor were thankful, but became futile in their thoughts, and their foolish hearts were darkened. 22 Professing to be wise, they became fools, 23 and changed the glory of the incorruptible God into an image made like corruptible man — and birds and four-footed animals and creeping things.

24 Therefore God also gave them up to uncleanness, in the lusts of their hearts, to dishonor their bodies among themselves, 25 who exchanged the truth of God for the lie, and worshiped and served the creature rather than the Creator, who is blessed forever. Amen.

26 For this reason God gave them up to vile passions. For even their women exchanged the natural use for what is against nature. 27 Likewise also the men, leaving the natural use of the woman, burned in their lust for one another, men with men committing what is shameful, and receiving in themselves the penalty of their error which was due.

28 And even as they did not like to retain God in their knowledge, God gave them over to a debased mind, to do those things which are not fitting; 29 being filled with all unrighteousness, sexual immorality, wickedness, covetousness, maliciousness; full of envy, murder, strife, deceit, evil-mindedness; they are whisperers, 30 backbiters, haters of God, violent, proud, boasters, inventors of evil things, disobedient to parents, 31 undiscerning, untrustworthy, unloving, unforgiving, unmerciful; 32 who, knowing the righteous judgment of God, that those who practice such things are deserving of death, not only do the same but also approve of those who practice them. (Romans 1:18-32)
There is an assault against children and biblical morality Yet, many approve of it.
Disney Promotes Homosexuality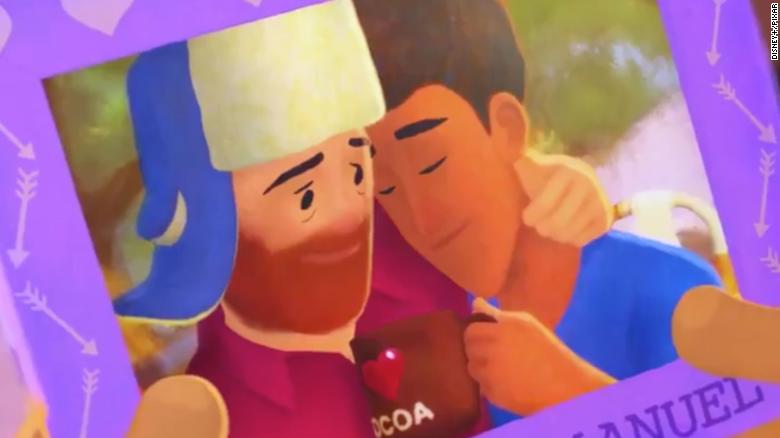 Pixar 'Out" scene shot

Breaking Israel News reported the following:
For First Time: Disney Introduces Openly Gay Main Character

May 26, 2020
Pixar, which is owned by Disney has released its first-ever film with an openly gay main character. The short, entitled "Out", was introduced through Disney Plus's SparkShorts series on Friday. The film's protagonist, Greg, is depicted as a conflicted gay mans who is afraid of coming out of the closet to his parents. But then, two of fairy god-pets descend down to earth from a rainbow and kidnap both Greg and his dog. …
Disney seems to be progressing towards making homosexuality mainstream among children. Back in March, Pixar's Onward was the first feature film to include a gay character playing Lena Waithe's cyclops cop Officer Spector.

And although this is the first time Disney has made a gay person the main character, it appears as though the iconic production company boasts a history of subtlety introducing gay characters from it's inception … https://www.breakingisraelnews.com/150944/first-time-disney-features-openly-gay-main-character/
In its major hit Frozen 2, Disney also gave hints about a homosexual character. Now, it has apparently decided to completely openly promote a bad and non-biblical sexual lifestyle.
But it is terribly wrong.
Sadly, many parents will not realize that.
Why?
Because most fail to do what God says related to training their children:
6 "And these words which I command you today shall be in your heart. 7 You shall teach them diligently to your children, and shall talk of them when you sit in your house, when you walk by the way, when you lie down, and when you rise up. 8 You shall bind them as a sign on your hand, and they shall be as frontlets between your eyes. 9 You shall write them on the doorposts of your house and on your gates. (Deuteronomy 6:6-9)

6 Train up a child in the way he should go, And when he is old he will not depart from it. (Proverbs 22:6).
If one trains up a child based on the word of God, the child will know that the LGBTQ agenda is wrong.
Notice also the following:
Disney Plus Aims To Be The #1 Corrupter Of Children With A 'Reimagining' Of Popular Disney Songs To Promote The LGBTQ+ Movement Agenda

June 19, 2021

Disney+'s This Is Me: Pride Celebration Spectacular, which is set to stream on YouTube and Facebook on June 27, … will include gender-fluid singer Alex Newell and gender non-binary performer Jesse James Keitel. The event is intended to raise awareness of GLSEN, a LGBTQ youth advocacy group founded by Kevin Jennings …
From their inception, the Walt Disney Company geared itself to families and children, but when inspected closer, there was always a dark undertone to their product offerings with hidden messaging in animated movies and overly-adult themes in dialogue in children's movies. Modern day Disney is pro-abortion, pro-occult, …. Now Disney Plus wants to indoctrinate your kids with LGBTQ+ ideology set to some of their most-loved music.

"And have no fellowship with the unfruitful works of darkness, but rather reprove them. For it is a shame even to speak of those things which are done of them in secret. But all things that are reproved are made manifest by the light: for whatsoever doth make manifest is light." Ephesians 5:11-13 (KJB)

It used to be that children were protected, that they were intentionally kept from themes and ideas that they were not emotionally ready to explore, but safeguards like that have no place in our society as the spirit of Antichrist continues to rise. Now children are 'fair game' and seen as recruitment tools, mere fodder for the LGBTQ+ machine that is preparing to devour them. …

Disney+ is recognizing Pride Month by spotlighting LGBTQ-themed programming. The streaming service recently debuted the short film The Little Prince(ss) about a gender non-conforming kid. As Breitbart News reported, the new comedy series Big Shots, starring John Stamos, featured a lesbian kiss between to high school characters. https://www.nowtheendbegins.com/disney-plus-streaming-reimagining-popular-songs-with-lgbtq-ideology-for-children/

"At Disney+, we believe in the power of inclusive storytelling to bring us together and inspire us to live authentically," Disney+ global head of marketing and content curation Joe Earley said. "We are committed to amplifying the voices of our LGBTQ creators and talent, and platforming content that reminds people to love loud – and sing louder – in this special event." 06/17/21 https://www.breitbart.com/news/disney-to-host-pride-concert-featuring-nina-west-hayley-kiyoko/
Well, obviously at Disney+ they do not believe in promoting biblical values.
Instead, they are promoting abominations.
Disney should be ashamed. Notice also the following:
9 The look on their countenance witnesses against them, And they declare their sin as Sodom; They do not hide it. Woe to their soul! For they have brought evil upon themselves. (Isaiah 3:9)
Such sins should be denounced:
1 Cry aloud, spare not;
Lift up your voice like a trumpet;
Tell My people their transgression,
And the house of Jacob their sins. (Isaiah 58:1)
Producing and promoting videos like Out is sinful. Denounce such. Do not promote such filfth.
Jews and Protestants Support the Transgender Movement
While people who claim to believe the Bible should condemn the transgender movement, various Jews and Protestants want to support it.
Notice something from a Jewish group:
November 5, 2015

The largest Jewish group in North America adopted a broad transgender rights policy on Thursday, not only stating its own commitment to equality, but also urging synagogues and other Jewish groups to be advocates for transgender rights and to take steps like training their staffs on accommodating transgender people.

"We have a longstanding commitment to bringing in people who have heretofore been on the margins of society," said Rabbi Rick Jacobs, the president of the Union for Reform Judaism. "For us, this is not just political correctness, but opening possibilities theologically." http://www.nytimes.com/2015/11/06/us/union-for-reform-judaism-adopts-transgender-rights-policy.html

Opening possibilities theologically?
The Hebrew scriptures that the Jews claim to believe teach the following, and the following are Jewish translations into English:
5 A woman shall not wear that which pertaineth unto a man, neither shall a man put on a woman's garment; for whosoever doeth these things is an abomination unto the LORD thy God. (Deuteronomy 22:5, JPS Tanakh 1917)

20 Woe unto them that call evil good, And good evil; That change darkness into light, And light into darkness; That change bitter into sweet, And sweet into bitter! (Isaiah 5:20, JPS Tanakh 1917)

27 And God created man in His own image, in the image of God created He him; male and female created He them. (Genesis 1:27, JPS Tanakh 1917)
Theologically, the Bible condemns cross-dressing and the transgender agenda.
It is not just Jews who are having theological issues, notice this from a Protestant:
When pastors bear false witness against transgender people

November 6, 2015

by Morgan Guyton ...

Pastors in Houston preached sermons and organized a massive campaign against transgender people. They invested hundreds of volunteers and hundreds of hours of time advocating in favor of discrimination. Instead of building the kingdom of God. How is that Christian discipleship? How does that exude the spirit of Christ in any sense? How is that evangelistic? Now, more and more people living in Houston have yet another reason not to give Jesus a chance. The equal rights ordinance actually had a religious exemption incorporated into it. Steve Wells, the current pastor of South Main Baptist Church where I grew up in Houston, observed that "though he believed some of the behaviors protected by the ordinance were sinful, the law would not keep him from believing that." But this didn't stop other pastors from lusting after that need to feel "persecuted" by persecuting others.

This is why we Christians are the people from whom Jesus needs to save the world the most. All slanderers will have to answer to God.  ...

About Morgan Guyton

I'm the director of the NOLA Wesley Foundation, which is the United Methodist campus ministry at Tulane and Loyola University in New Orleans, LA.  http://www.patheos.com/blogs/mercynotsacrifice/2015/11/06/when-pastors-bear-false-witness-against-transgender-people/

All will answer to God and be judged for their words (Matthew 12:39) and works (Revelation 20:12.  And pastors should point out sin (cf. Isaiah 58:1) and not promote it (Jude 4-8). The Gospel of the Kingdom of God explains how that living according to God's ways are best for humanity--it is not good to stay in a transgendered state of mind.
As far as 'religious protections' are concerned, they are becoming more limited: expect those to erode and criticism of transgenderism to be hate speech and/or discriminatory.
Consider that God made humans male and female--and Jesus also taught that:
27 So God created man in His own image; in the image of God He created him; male and female He created them. (Genesis 1:27)

6 But from the beginning of the creation, God 'made them male and female.' (Mark 10:6)
Nowhere in the Bible is any human considered to be any sex/gendere other than male and female. And those who act otherwise are warned against (Deuteronomy 22:5; 1 Corinthians 6:10-12; Romans 1:18-32). One is not a different gender than their actual genitalia at birth.
But now many in the world, including many in USA, have their own, antibiblical ideas. Yet:
33 God is not the author of confusion (1 Corinthians 14:33)
The transgender agenda encourages and exploits confusion. It is NOT good for those who consider themselves transgendered.
Attacking the Opposition
Notice the following:
LGBTQs target top psychiatrist for debunking gender myths

May 17, 2017

The Human Rights Campaign, one of the leading U.S. pro-homosexual/transgender organizations, is tired of getting debunked by a world-renowned psychiatrist and medical doctor and has decided to fight back with an online campaign to paint their opponent as a peddler of "junk science."

HRC has launched an online attack called "McHugh Exposed" at its website.

"For years, Paul McHugh has used his platform as a psychiatrist affiliated with Johns Hopkins University to peddle myths about transgender people – not just in his writings, but in courtrooms and state legislatures across the country," HRC complains. "While he has no expertise in gender or sexuality, McHugh has publicly called transgender people 'caricatures' and described them as 'confused' and 'mad.' ...

In his May 2016 Wall Street Journal article, titled "Transgender Surgery isn't the Solution," McHugh exploded the so-called "consensus," writing that those identifying as transgenders do not suffer some incurable medical condition and that, further, undergoing sexual-reassignment surgery does not "change men to women or vice versa."

"The transgendered suffer a disorder of 'assumption' like those in other disorders familiar to psychiatrists," McHugh continued. "With the transgendered, the disordered assumption is that the individual differs from what seems given in nature – namely one's maleness or femaleness. Other kinds of disordered assumptions are held by those who suffer from anorexia and bulimia nervosa, where the assumption that departs from physical reality is the belief by the dangerously thin that they are overweight."

McHugh noted the results of Swedish research showing a 20-fold increase in the suicide death rate above the comparable non-transgender population for those having sex-reassignment surgery.

WND reported last year the results of a study conducted by McHugh and statistician Lawrence S. Mayer debunking the "born that way" theory that attempts explain gender identity as something innate and independent of biological sex. Of particular concern to McHugh was the trend of parents declaring their child transgendered and subjecting the child to hormone treatments, behavioral adjustments and even surgery.

Children who express any identification of the opposite gender almost always leave those expressions behind as they grow, the scholars argued.

"Despite the scientific uncertainty, drastic interventions are prescribed and delivered to patients identifying, or identified, as transgender. This is especially troubling when the patients receiving these interventions are children," the authors wrote in the study, "Sexuality and Gender: Findings from the Biological, Psychological, and Social Sciences," published in The New Atlantis. http://www.wnd.com/2017/05/lgbtqs-target-top-psychiatrist-for-debunking-gender-myths/
Those pushing the LGBTQ agenda want to silence the religious who raise moral objections as well as the scientists who raise other objections to them. The LGBTQ crowd wants to censor much of the truth.
The Genetic Truth, the Brain Truth
Notice the following absurdity:
"It's not possible to know a person's gender identity at birth, and there is no consensus criteria for assigning sex at birth," CNN's Devan Cole wrote. https://nypost.com/2021/04/01/cnn-ridiculed-for-saying-no-consensus-for-assigning-sex-at-birth/
Actually, yes it is possible. And there has been a consensus for thousands of years by billions of people to assign sex at birth.
Notice the following from LiveScience.com:
How sex is determined

Humans have an additional pair of sex chromosomes for a total of 46 chromosomes. The sex chromosomes are referred to as X and Y, and their combination determines a person's sex. Typically, human females have two X chromosomes while males possess an XY pairing. This XY sex-determination system is found in most mammals as well as some reptiles and plants.

Whether a person has XX or XY chromosomes is determined when a sperm fertilizes an egg. Unlike the body's other cells, the cells in the egg and sperm — called gametes or sex cells — possess only one chromosome. Gametes are produced by meiosis cell division, which results in the divided cells having half the number of chromosomes as the parent, or progenitor, cells. In the case of humans, this means that parent cells have two chromosomes and gametes have one.

All of the gametes in the mother's eggs possess X chromosomes. The father's sperm contains about half X and half Y chromosomes. The sperm are the variable factor in determining the sex of the baby. If the sperm carries an X chromosome, it will combine with the egg's X chromosome to form a female zygote. If the sperm carries a Y chromosome, it will result in a male. accessed 04/30/21 https://www.livescience.com/27248-chromosomes.html
The LGBTQ crowd pushes not only transgenderism, but the idea that gender is fluid. The idea that you can be something one day, then another gender another day.
Yet, men and women are different. While one of the differences is genitalia, there are more differences than that. But one's chromosomes never change.
Notice also the following:

4 May 2017

Researchers have revealed a breakthrough is how the sexes really differ from each other.

A groundbreaking genetic study pinponted 6500 genes that differ between men and women.

Experts say it could have a profound effect in the way we identify and treat everything from disease to fertility. http://www.dailymail.co.uk/sciencetech/article-4475252/There-6-500-genetic-differences-men-women.html#ixzz4l2KCqvLW


May 7, 2017

A biological male can take hormones, surgically alter his body and identify as "female," but the procedures still won't make him a woman, according to new evidence found by Israeli researchers.

That's because there are at least 6,500 genes that contain sex-specific instructions for males and females.

For the study by Israel's Weizmann Institute of Science, professor Shmuel Pietrokovski and Dr. Moran Gershoni, both researchers from the institute's Molecular Genetics Department, "looked closely at around 20,000 protein-coding genes, sorting them by sex and searching for differences in expression in each tissue. They eventually identified around 6,500 genes with activity that was biased toward one sex or the other in at least one tissue, adding to the already major biological differences between men and women." ...


The new findings are further evidence that biological males cannot simply "transition" into females and vice versa, argues Mat Staver, founder and chairman of Liberty Counsel.

"This recent study from Israel's Weizmann Institute of Science further proves that you cannot fool Mother Nature," Staver said. "The saying, 'I think, therefore, I am' is best left to philosophy and not science. Gender confusion is mental, not physical or biological. God made male and female, and no amount of protestation will change the natural created order."

Staver called the idea that a person can choose his or her gender "fiction."

"These Israeli scientists identified over 6,500 genes with activity that was biased toward one sex or the other in at least one tissue," he said. "That clearly validates the genetic differences between men and women." http://www.wnd.com/2017/05/study-more-proof-a-man-can-never-become-a-woman/

Another difference between males and females has to do with the brain.
Proof that girls and boys are born to be different: Controversial study finds that brain differences between the sexes begin in the womb

25 March 2019

In a scientific first, researchers claim to have found that differences between men's and women's brains start in the womb.

The conclusion is likely to be controversial, with some experts claiming social influences are more important.

But scientists who did brain scans of 118 foetuses in the second half of pregnancy to analyse the links between gender and the connectivity of a developing brain believe the differences are biological. …

According to the US study, published in the journal Developmental Cognitive Neuroscience, female brains growing in the uterus produced 'long-range' networks.
Professor Thomason said this was less true of boys, who were 'more susceptible to environmental influences'. https://www.dailymail.co.uk/health/article-6845991/Controversial-study-finds-brain-differences-sexes-begin-womb.html
While I do not think that this is necessarily "a scientific first" (as others noted brain development differences between male and female brains in utero), it is at least additional proof that boys and girls are biologically different in a way that is not clearly visually seen.
Since this study involved the unborn, it also helps negate the false narrative that 'gender' is not biological, but the result of societal environmental factors.
Of course, many 'moderns' want to act like there is no difference, but the Bible is clear that men and women are different. God warned that there would be those "who suppress the truth in unrighteousness" (Romans 1:18). But the truth is still the truth.

Books, Boy Scouts, and Biblical History
Back in March of 2013, it was announced that the State of California would introduce more homosexuality-themed books on its recommended reading list for students from kindergarten to 12th grade:
The California Department of Education's recently released Recommended Reading list for students in grades K-12 has received heightened media attention this week for its inclusion of so-called "gay literature." http://www.nydailynews.com/blogs/pageviews/2013/03/california-to-introduce-more-gay-themed-books-into-school-curriculum-unsurprisingl
And it is not just California nor government educational organizations that are doing such things.
The Boy Scouts of America (BSA) is an organization intended to help boys from age 10 ½-18 learn skills and be "morally straight."
Yet on May 24, 2013, the BSA organization decided to allow openly homosexual boy scouts (see BSA makes the move to allow homosexual scouts).  While some have objected to this, their voices are drowned out by the prevailing media attitude which is in favor of the homosexual agenda.
Did you know that in California, it is the law to teach homosexual history? This was signed in back in 2011:
Democratic California Gov. Jerry Brown said Thursday he had signed a bill that will require public schools in the state to teach students about the contributions of lesbian, gay, bisexual and transgender Americans. http://www.cnn.com/2011/US/07/14/california.lgbt.education/index.html
As far as homosexuals and history, let's look at some passages in the Bible about that:
24 Then the Lord rained brimstone and fire on Sodom and Gomorrah, from the Lord out of the heavens. 25 So He overthrew those cities, all the plain, all the inhabitants of the cities, and what grew on the ground. (Genesis 19:24-25)
And why did it happen?

7 as Sodom and Gomorrah, and the cities around them in a similar manner to these, having given themselves over to sexual immorality and gone after strange flesh, are set forth as an example, suffering the vengeance of eternal fire. (Jude 7)

Why mention this in the 21st century?

Because God turned:

6…the cities of Sodom and Gomorrah into ashes, condemned them to destruction, making them an example to those who afterward would live ungodly (2 Peter 2:6)

Thus, the destruction of Sodom and Gomorrah were to serve as an example to those who would live as they did.
Yet despite biblical warnings, many modern leaders are endorsing so-called homosexual "rights" and "same-sex marriage."
Ba'al-ifornia
Notice something related to the State of California that Joseph Farah reported:
Another day in Ba'al-ifornia

September 14, 2017

I'll never forget the day I stepped into the state Capitol in Sacramento for the first time. …
A lot of bad things happen in that place – and it's getting worse all the time.

Let me give you a few examples:

SB 179: "Change Your Gender Bill" – This bill completely changes the meaning of the words "male" and "female," from a physical description of anatomical reality, to a description of feelings and self-identification. It also officially creates a third gender, "non-binary," for those who don't want to identity exclusively as either sex. The bill make it easier to change the gender listed on their driver's licenses or birth certificates to one of three options, by simply filling out a form.
SB 310: "Gender Changes for Inmates" – This bill will make it easier for inmates to change names and gender while in jail or prison. Currently, a gender change while in jail must be approved by correctional facility officials. This bill would leave the decision up to a disinterested judge. Opponents believe this will lead to more men changing their sex identity to female so they can be incarcerated with women.
SB 396: "Gender Identity Sensitivity Training" – Businesses with over 50 employees will be required to provide at least two hours of training and education regarding harassment based on gender identity, gender expression and sexual orientation. The bill analysis states that the state Fair Employment and Housing Council issued new regulations in July of 2017 regarding discrimination based on gender identity: "These regulations address key topics such as the rights of employees to use restrooms, locker rooms, and other similar facilities corresponding to their gender identity; to dress in accord with their gender identity and expression; and to be addressed by their preferred name and gender pronoun."
SB 219: "LGBT Rights in Long-term Care Facilities" – This bill will impose fines and jail time on any long-term care center worker whose patients identifying as transgender aren't referred to by their preferred gender pronoun. (The gender pronoun list could contain as many as 50 options.) The bill also mandates that gender be determined by self-identification, not biology. There are no exemptions for religious institutions.
AB 569: "Prohibits Pro-Life Codes of Conduct" – This bill specifically outlaws employer codes of conduct that respect the rights of employees to oppose abortion, sex outside of marriage, or contraception, and exposes them to devastating and expensive lawsuits. This includes all churches, religiously affiliated schools, and pro-life nonprofits. There is a very narrow exemption for ministers.

I now realize it is impossible to explain California politics any other way than this – Ba'al worship. …

Ba'al worship is at the root of all this insanity you see taking place in California and the way a former Judeo-Christian culture is being corrupted, toppled and replaced by old-fashioned paganism. …

But the thing that really never struck me before about Ba'al worship was its near total focus on challenging the God of Abraham, Isaac and Jacob with abominations all too familiar to 21st century America:

child sacrifice;
an assault on gender roles;
war on marriage.

Sound familiar? 09/14/17 http://www.wnd.com/2017/09/another-day-in-baal-ifornia/
Ancient pagan priests used to employ various tricks to get people to believe that their idols talked to them, healed them, prophesied for them, or took various actions that seemed impossible for inanimate objects.
Now political leaders in California want people to believe a lie.
And more than one lie.
One's gender is a biological matter. It is not a matter of human choice.
Even those who get their bodies mutilated and genitalia apparently changed, still have to take artificial hormones, etc. in order to maintain their chosen gender.
The Bible warns about leaders who will not accept the truth:

12…Those who lead you cause you to err, And destroy the way of your paths. (Isaiah 3:12)


16 For the leaders of this people cause them to err, And those who are led by them are destroyed (Isaiah 9:16).

Therefore it should be clear that, leaders who ignore what the Bible teaches are leading others toward destruction.

So what should you do. Well, one of the first things is to pray:

1 Therefore I exhort first of all that supplications, prayers, intercessions, and giving of thanks be made for all men, 2 for kings and all who are in authority, that we may lead a quiet and peaceable life in all godliness and reverence. (1 Timothy 2:1-3)
People are also to be understand what the Bible teaches. Notice what Jesus said:

26 And as it was in the days of Noah, so it will be also in the days of the Son of Man: 27 They ate, they drank, they married wives, they were given in marriage, until the day that Noah entered the ark, and the flood came and destroyed them all. 28 Likewise as it was also in the days of Lot: They ate, they drank, they bought, they sold, they planted, they built; 29 but on the day that Lot went out of Sodom it rained fire and brimstone from heaven and destroyed them all. (Luke 17:26-29)
In scriptures such as Jeremiah 50:38-40, Lamentations 4:6-20, and Amos 4:7-12 there are warnings that what happened to Sodom and Gomorrah will also happen in the end times (see also the article The Bible Condemns Homosexuality).

What Should Parents Do?
So, what should parents do?

Parents should teach their children the word of God and press the importance of biblical morality. Teach them the truth. Notice the following:

4 "Hear, O Israel: The Lord our God, the Lord is one! 5 You shall love the Lord your God with all your heart, with all your soul, and with all your strength. 6 "And these words which I command you today shall be in your heart. 7 You shall teach them diligently to your children, and shall talk of them when you sit in your house, when you walk by the way, when you lie down, and when you rise up. (Deuteronomy 6:4-7)


6 Train up a child in the way he should go, And when he is old he will not depart from it. (Proverbs 22:6)

Parents should also warn their children of the consequences of the immoral agenda that is being foisted off in the USA and other parts of the world.

The sexual immoral agenda will end in destruction.

Cross-dressing, BSA acceptance of open homosexuals, 'transgender' rights, indoctrination classes on homosexuality, certain worldly entertainment, etc. contribute to turning children and adults away from biblical morality.

Parents need to turn their hearts and time to their children and the Bible says that they need to be told to do so. Here are some verses in Malachi:

4 "Remember the law of my servant Moses, the decrees and laws I gave him at Horeb for all Israel.  5 "See, I will send the prophet Elijah to you before that great and dreadful day of the Lord comes. 6 He will turn the hearts of the parents to their children, and the hearts of the children to their parents; or else I will come and strike the land with total destruction."  (Malachi 4:4-6, NIV).

While the trend in society is to go the wrong way, children need to be taught the right way. This way they can turn their hearts to their parents and not towards an immoral and destructive direction.
Because of speech 'laws' and actions, the time will more and more come when the following is fulfilled:
13 Therefore the prudent keep silent at that time, For it is an evil time. (Amos 5:13)
Until then, however, we in the Continuing Church of God are striving to fulfill the following:
1 "Cry aloud, spare not; Lift up your voice like a trumpet; Tell My people their transgression, And the house of Jacob their sins. (Isaiah 58:1)
The transgender agenda is sinful and it promotes abomination.  This agenda is another one of the sins of the 'house of Jacob,' which includes the USA (see Anglo – America in Prophecy & the Lost Tribes of Israel).  This will not end well for the USA (Romans 1:32; Daniel 11:39).
The Great Tribulation and Day of the Lord is coming. And while some diligent Christians (the few Philadelphians) will be protected from it (Revelation 3:10). Most people will be alive when it begins, including Christians (Revelation 12:17) will have to experience it (Revelation 3:10; Matthew 24:21).
The time to teach YOUR children diligently is now.  If you want more information we also have a video at the BNP channel titled Five Rules for Effective Parenting, as well as other materials at www.cogwriter.com
The biblically immoral have an agenda that involves your children and/or grandchildren.  Tell your children what the Bible teaches.
There are also three YouTube videos related to this, titled Transgender 'Woe to those who call evil good' and Cross dressing and Other Assaults Against Your Children and USA pushing gender confusion.
Thiel B. Cross-dressing and other assaults against your children.  What should you do? COGwriter (c) 2013 2015 2016 2017 2018 2019 2020 2021 0619 http://www.cogwriter.com/homosexual-education-assault.htm 
Some additional items of possibly related interest may include:
The Bible Condemns Homosexuality "Same-sex marriage" for "gays" and lesbians is becoming more acceptable to many. What does the Bible teach about homosexuality?  Can homosexuals change? A related video sermon is titled: What Does the Bible Really Teach about Homosexuality?
Gay Gene? Born That Way? A study came out in August of 2019 showing that so many Americans are so fearful from news reports that more have become doomsday preppers. Meaning that they are storing up food, weapons, and other supplies for an apocalyptic type event to hit the USA. Jesus said sorrows and troubles would come, then a tribulation so bad that unless God intervened, no flesh would be saved alive. Is physical preparation the answer? Should Christians do any type of disaster preparations? Does God have a plan to protect some or all Christians from the coming "hour of trial" that Jesus spoke of? Who is promised protection and who is not? Is keeping the commandments enough? What has Jesus said His people should do? Are you supporting the work that needs to be completed before the end comes? Dr. Thiel addresses these issues and more in this video.
Pornography: A scourge on society Is pornography harmless fun? Does the Bible teach anything about it? What are the views of some involved with it? Here is a link to a YouTube video Pornography: Harmless Fun or a Scourge on Society?
Making Your Marriage Work Marriage is not also easy, but it pictures a divine relationship. How can you make your marriage work? Here is a link to the video sermon: You Can Make YOUR Marriage Work.
God Created Marriage Some falsely claim that God did not create marriage and that fornication is fine.  What does the Bible really teach? Here is a version in Mandarin Chinese 神创造婚姻.
Love, Marriage, and Sex It is important to get them in the right order.
Five Rules for Effective Parenting Do you know that there are five simple rules that can make you a more effective parent? There is also a 12 1/2 minute YouTube video on this, also titled Five Rules for Effective Parenting.
What Psychologists do not Know About Child Rearing This is an article by Herbert Armstrong that was used as the introduction to the pdf booklet The Plain Truth About Child Rearing.
The Plain Truth About Child Rearing This is a pdf booklet that the old WCG put out.
Elijah: Past and Prophesied Information about the original Elijah and some information about the Elijah-related prophecies.
The Elijah Heresies Does the Bible teach that there will be a future Elijah? Must it be Herbert W. Armstrong?
How To Determine If Someone is a True Prophet of God There are many false prophets. How can Christians determine who is a true prophet? There is also a sermon-length video titled How to determine if someone is a true prophet of God. Here is a related link in Spanish/español: ¿Cómo determinar si alguien es un verdadero profeta de Dios?
When Will the Great Tribulation Begin? Can the Great Tribulation begin today? What happens before the Great Tribulation in the "beginning of sorrows"? What happens in the Great Tribulation and the Day of the Lord? Is this the time of the Gentiles? When is the earliest that the Great Tribulation can begin? What is the Day of the Lord? Who are the 144,000? Here is a version of the article in the Spanish language: ¿Puede comenzar la Gran Tribulación en 2019? ¿Es el Tiempo de los Gentiles? You can also see the English language sermon video: The Great Tribulation from the Mount of Olives.
There is a Place of Safety for the Philadelphians. Why it May Be Petra This article discusses a biblical 'place of safety' and includes quotes from the Bible and Herbert W. Armstrong on this subject–thus, there is a biblically supported alternative to the rapture theory. There is also a video on the subject: Might Petra be the Place of Safety?
This is PETRA! This is a 1962 Good News article by the late Dr. Hoeh.
What is the Meaning of Life? Who does God say is happy? What is your ultimate destiny? Do you really know? Does God actually have a plan for YOU personally? If you would like to watch videos covering subjects of this article, you can click on the following links: Why YOU? Why Do YOU Suffer? and What is the meaning of your life?
What Did Jesus Teach About the Ten Commandments? This article quotes what Jesus actually said about them (His words are in red).
The Ten Commandments Reflect Love, Breaking them is Evil Some feel that the ten commandments are a burden. Is that what Jesus, Paul, Peter, James, and John taught?
The Ten Commandments and the Early Church Did Jesus and the Early Church keep the ten commandments? What order were they in? Here are quotes from the Bible and early writings.
Anglo - America in Prophecy & the Lost Tribes of Israel Are the Americans, Canadians, English, Scottish, Welsh, Australians, Anglo-Saxon (non-Dutch) Southern Africans, and New Zealanders descendants of Joseph? Where are the lost ten-tribes of Israel? Who are the lost tribes of Israel? What will happen to Jerusalem and the Jews in Israel? Will God punish the U.S.A., Canada, United Kingdom, and other Anglo-Saxon nations? Why might God allow them to be punished first? Here is a link to the Spanish version of this article: Anglo-América & las Tribus Perdidas de Israel. Information is also in the YouTube sermons titled Where are the Ten Lost Tribes? Why does it matter? and British are the Covenant People. A short YouTube of prophetic interest may be Barack Obama and the State of the Apocalypse.
Will the Anglo-Saxon Nations be Divided and Have People Taken as Slaves? Will the lands of the United States, United Kingdom, Canada, Australia, and New Zealand be divided? What about Jerusalem? What does Bible prophecy teach? Are there non-biblical prophecies that support this idea? Who will divide those lands? Who will end up with the lands and the people? Here is a link to a video titled Will the USA and other Anglo-nations be Divided and Their People Made Slaves? Here is a related item in the Spanish language ¿Serán divididas las naciones anglosajonas?