Thanksgiving: Can Christians keep it?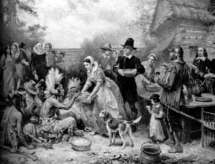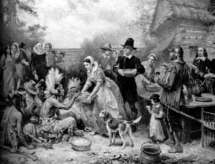 The First Thanksgiving, painting by Jean Leon Gerome Ferris (1863–1930)
By COGwriter
The fourth Thursday in November is the American holiday called Thanksgiving.
According to Wikipedia:
In Canada, Thanksgiving is celebrated on the second Monday in October. It is the only other country outside of the United States that officially observes the day as a holiday.
Unlike most holidays observed in the USA and Canada, this Thanksgiving is not of pagan origin. Hence, the vast majority in the Church of God (COG) consider it an "optional" (not biblically-required) holiday. Jesus Himself seemed to observe a national Jewish, as opposed to a biblical, holiday called the Feast of the Dedication in the New Testament as He went to the Temple during it (John 10:22-23).
As Americans know, the history related to the USA Thanksgiving involves a group of people commonly known as the Pilgrims.
They were a dissenting religious group considered to be outside of mainstream "Christianity". The Pilgrims felt that the only way freely to practice their religion was to physically separate themselves from the Church of England that had persecuted them. First to flee persecution, these "Separatists," moved to the English Midlands. Then they went to Amsterdam in 1607. In 1609, they moved to the more religiously tolerant Netherlands. But they decided that this would not do. Finally, they began their voyage to America in 1620. It took months to cross the sea and they lost many during that voyage as well as after coming to America.. In spite of all their sufferings and the death of half of their company, in October 1621, the Pilgrims celebrated their first harvest. In 1863, US President Lincoln made a proclamation that ultimately led to Thanksgiving becoming a US holiday.
The persecutions of the Pilgrims somewhat remind me of the history of the Church of God (a related article of interest may be Persecutions by Church and State).
Notice something from the old Radio Church of God on this subject:
Dear Friend:

   How should we view the American custom or celebrating Thanksgiving Day?

   The Thanksgiving holiday was established in comparatively recent years. It is, or course, not mentioned in Scripture — but the principle or attending and celebrating national holidays is made clear in Scripture.

Thanksgiving Day was established by the early colonists, not by any Divine authority. But this in itself does not make it wrong to celebrate with good fellowship. Notice the example or Jesus Christ. In John 10:22 we find that Christ attended the "Feast or Dedication," which was established by the Jews years before to commemorate the purification of the temple at Jerusalem. That day was celebrated on the anniversary of the day that the reestablishment or Divine worship occurred after Antiochus Epiphanes had been vanquished and the temple purified about 165 B.C. 

   Jesus' attendance at that annual holiday clearly illustrated that it is not wrong to attend or celebrate a national holiday established for an honorable purpose. There was nothing wrong in the Jews' celebrating the dedication of the temple and giving God special gratitude on that day. God led Esther and Mordecai to establish the Feast of Purim in commemoration of the miraculous deliverance or the Jews from bloody Haman (see the last chapter or Esther).

   The national holidays celebrated by the Jews have, of course, no special significance for the non-Jew — just as Thanksgiving Day holds no special significance for our non-American brethren scattered around the world. God permits these customs only if they do not get out or hand. What God expressly forbids is the observance of pagan festivals which were intended as deliberate substitutes for the plan and program of God. We are not to adopt in God's worship those customs which heathen used in serving their gods. But it is proper and fitting for national leaders to set aside time for the whole nation to give God special thanks for His unique bounty to this nation.

   Thanksgiving Day was first celebrated by the Pilgrims in 1621 after their first harvest had been entirely reaped. On that day, they paid tribute to God for all their bountiful and undeserved material and spiritual blessings. Thanksgiving Day gradually became neglected and was revived during the Civil War as a day of special national thanksgiving for preserving this nation. This American Thanksgiving Day does not have a pagan origin despite the claims of certain fringe sects. It is not usually celebrated with pagan ceremonial customs in honor of pagan traditions and gods, as are Christmas, Easter and Halloween. If this national holiday becomes corrupted, then it would be high time to reject it — but generally is not so celebrated today.

   This day of national thanksgiving can be enjoyed by our brethren in America with an especially deep understanding because we know that our personal and national prosperity have come solely as the result of God's promise to Abraham — and as a result of His choice of this nation as the springboard for His Church in this generation.

   Our brethren in other nations do not celebrate this holiday any more than we celebrate the Jews' Feasts of Dedication and Purim. What we all do celebrate are those divinely appointed Holy Days and Festivals established by God in His Word for all men. We never regard a national holiday with the same respect, awe and reverence as we do God's Sabbath and His Holy Days. National holidays are just that — holidays, not Holy Days. They are a time of secular pleasure and gratitude, nothing more.

   But in the midst of the Thanksgiving season, let's not neglect Paul's command in Ephesians 5:20 to "give thanks always." Let's not make a mockery of God's special blessings to this nation.

LETTER ANSWERING DEPARTMENT

Letter Number: 930

Publication Date: 1959
Thanksgiving is an optional national holiday. It is not a biblical holy day, nor is it kept like one.
But Christians should give thanks whether they observe some version of it or not.
Notice something from the New Testament:
16 Let the word of Christ dwell in you richly in all wisdom, teaching and admonishing one another in psalms and hymns and spiritual songs, singing with grace in your hearts to the Lord. 17 And whatever you do in word or deed, do all in the name of the Lord Jesus, giving thanks to God the Father through Him. (Colossians 3:16-17)
One song that comes to mind to me at this time (and is in the old WCG hymnal, as well as CCOG's hymnal with the title Oh Give Thanks and Praise the Eternal!) is based 1 Chronicles 16:8-13 upon which says:
8 Oh, give thanks to the LORD!
Call upon His name;
Make known His deeds among the peoples!
9 Sing to Him, sing psalms to Him;
Talk of all His wondrous works!
10 Glory in His holy name;
Let the hearts of those rejoice who seek the LORD!
11 Seek the LORD and His strength;
Seek His face evermore!
12 Remember His marvelous works which He has done,
His wonders, and the judgments of His mouth,
13 O seed of Israel His servant,
You children of Jacob, His chosen ones!
Those of us who understand God's plan of salvation, should be thankful for being part of those chosen in this age. This is consistent with the following admonition from the Book of Psalms and one from Saint Paul:
4 Sing praise to the LORD, You saints of His, And give thanks at the remembrance of His holy name (Psalm 30:4).

16 Rejoice always, 17 pray without ceasing, 18 in everything give thanks; for this is the will of God in Christ Jesus for you. (1 Thessalonians 5:16-18)
Here is information related to salvation:
Is God Calling You? This booklet discusses topics including calling, election, and selection. If God is calling you, how will you respond? Here is a link to a related sermon: Could God be Calling You? A short animation is also available: Is God Calling You?

Hope of Salvation: How the Continuing Church of God Differs from Protestantism The CCOG is NOT Protestant. This free online book explains how the real Church of God differs from mainstream/traditional Protestants. Several sermons related to the free book are also available: Protestant, Baptist, and CCOG History; The First Protestant, God's Command, Grace, & Character; The New Testament, Martin Luther, and the Canon; Eucharist, Passover, and Easter; Views of Jews, Lost Tribes, Warfare, & Baptism; Scripture vs. Tradition, Sabbath vs. Sunday; Church Services, Sunday, Heaven, and God's Plan; Seventh Day Baptists/Adventists/Messianics: Protestant or COG?; Millennial Kingdom of God and God's Plan of Salvation; Crosses, Trees, Tithes, and Unclean Meats; The Godhead and the Trinity; Fleeing or Rapture?; and Ecumenism, Rome, and CCOG Differences.

Universal OFFER of Salvation, Apokatastasis: Can God save the lost in an age to come? Hundreds of scriptures reveal God's plan of salvation Will all get a fair chance at salvation? This free book is packed with scriptures showing that God does intend to offer salvation to all who ever lived–the elect in this age, and the rest in the age to come. Here is a link to a related sermon series: Universal Offer of Salvation 1: Apocatastasis, Universal Offer of Salvation 2: Jesus Desires All to be Saved, Mysteries of the Great White Throne Judgment (Universal Offer of Salvation part 3), Is God Fair, Will God Pardon the Ignorant?, Can God Save Your Relatives?, Babies, Limbo, Purgatory and God's Plan, and 'By the Mouth of All His Holy Prophets'.
That being said, the Bible is full of admonitions to give thanks to God. in the NKJV the term "give thanks" is used 40 times and the term "giving thanks" is used 5 times–and nearly all of these verses are discussing giving thanks to God. The term "thanksgiving" is used 24 times. Here are a few of them:
14 Offer to God thanksgiving (Psalms 50:14).

30 I will praise the name of God with a song, And will magnify Him with thanksgiving. (Psalms 69:30)

2 Let us come before His presence with thanksgiving; Let us shout joyfully to Him with psalms. 3 For the Lord is the great God, And the great King above all gods. (Psalms 95:2-3)

4 Enter into His gates with thanksgiving, And into His courts with praise. Be thankful to Him, and bless His name. 5 For the Lord is good; His mercy is everlasting, And His truth endures to all generations. (Psalms 100:4-5)
It is certainly appropriate to thank God for calling us, blessing us physical, and for the opportunity to understand the purpose of life and God's way of life, the sacrifice of Jesus, and for the opportunity for salvation that He has given to us. We can be grateful for the understanding of God's great plan that the Kingdom of God will bring peace and abundant prosperity.
Despite the fact that we and the peoples of the world will punished for our sins, God does have a plan to bring peace and prosperity (see the article Did The Early Church Teach Millenarianism and a 6000 Year Plan?) and will offer salvation to all (please see the article Universal Salvation? There Are Hundreds of Verses in the Bible Supporting the Doctrine of True Apocatastasis).
We do not 'add a day' to God's holy days if we somehow observe Thanksgiving or other national holidays. National observances are NOT holy days, nor does anyone have to keep them. Jesus, however, observed at least one, setting an example that we can if we so choose.
While Christians can observe national holidays, presuming they can do so without sinning, they do not have to keep holidays like Thanksgiving. While he was mainly referring to fast days, the following from the Apostle Paul seems to be applicable here:
5 One person esteems one day above another; another esteems every day alike. Let each be fully convinced in his own mind. 6 He who observes the day, observes it to the Lord; and he who does not observe the day, to the Lord he does not observe it. He who eats, eats to the Lord, for he gives God thanks; and he who does not eat, to the Lord he does not eat, and gives God thanks. (Romans 14:5-6)
If one has a problem of conscience keeping Thanksgiving, then one should not. But, either way, Christians should thank and praise God.
Give thanks and praise the Eternal!
For more scriptures on giving thanks, check out the article: Giving Thanks.
Thiel B. Thanksgiving: Can Christians keep it? http://www.cogwriter.com/thanksgiving.htm (c) 2017 2018 2020 2021 0519