News of Those Once Affiliated with the Global Church of God
Since the November 1998 takeover of the old GCG by the board in the U.S., those once with GCG went to many places. Most of the members and ministers ultimately went with the Living Church of God (LCG), 8-15% went with the Church of God, a Christian Fellowship (CGCF) and smaller percentages ended up with David Pack's Restored Church of God (RCG), Harold Smith's Church of God Fellowship, Northwest (CGFnw), the Continuing Church of God (CCOG), and other groups (at least one which is outside the U.S. uses the term Global Church of God). On July 1, 2001, eight ministers resigned from CGCF and formed the Church of the Eternal God (CEG), similar in name, but not related, to the Eternal Church of God (ECG--founded by a minister removed from the original GCG ministry for impropriety). About a month later CGCF (USA) dissolved and most then with it ended up in the United Church of God (UCG). One former GCG minister (Ronald Laughland) became pastor of the Wholeworld Church of God. In 2004, Raymond McNair, having been in GCG, CGCF, LCG, then went on his own and formed Church of God, 21st Century (COG21); later he died and that group disbanded. Don Haney, once in GCG/LCG, formed the Church of God In Peace and Truth. In 2005, Ben Faulkner, who was in GCG/LCG, formed the Church of the Sovereign God (CotSG). In 2006, Charles Bryce who was in GCG/LCG left, and formed the Enduring Church of God (En COG). In 2010, several of the main leaders who went to UCG from CGCF left it and went to a group called COGWA. A couple of people, like Norman Edwards (Servants' News/Shepherd's Voice), left GCG well before the 1998 takeover (he has Port Austin Bible Campus). In 2013, Rod Reynolds left LCG and formed COG Messenger. On 12/15/11, a minister in good-standing with LCG anointed Bob Thiel with oil and prayed that God would grant him a double-portion of His Spirit (see also How To Determine If Someone is a True Prophet of God): and things have not been the same since (Bob Thiel still, of course, supports the goals and biblical beliefs of Philadelphia era of the Church of God). Website links for most of those who were once part of GCG and that have websites can be found at the COGlinks page. In 2012, certain heresies were officially introduced, accepted, and/or promoted by LCG. After concluding that insufficient value was placed on the truth (and keeing their word) by certain leaders of LCG and that they no longer held to biblical church governance and could not as is be used to lead the final phase of the work (see also Why Bob Thiel Left the Living Church of God), on 12/28/12 Bob Thiel was led to form, and then announced, the beginning of the Continuing Church of God (CCOG). CCOG seems to be the second or third largest group, in terms of members, of those groups whose leaders were once part of GCG (LCG is largest). This page reports on those groups that somehow once had ties to the old GCG.
08/24/16 p.m. The Continuing Church of God has a new songbook. Well, a different edition of its songbook, The Bible Hymnal.
It has taken a lot longer than we originally hoped, but finally we were able to approve a proof of The Bible Hymnal in the language of Kiswahili today. We asked CreateSpace (an Amazon company) to send four dozen copies of them to Kenya to start. We hope that some will be able to have them prior to the Feast of Tabernacles this year.
We later expect to send some to Tanzania and probably elsewhere.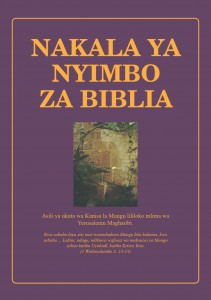 We would like to thank Aaron Dean, Mark Graham, and others at the United Church of God for their cooperation in providing us their translated music files. We would also like to thank Ondigo Ochieng of the Continuing Church of God for his translation assistance for the covers and a Continuing Church of God introduction.
As far as Kiswahili goes, it is the language of the Swahili people. But many just call the language Swahili. There are 75-115 million native speakers and about 50-90 million who use it as a second language. So, between 65 – 165 million people speak it. Kiswahili is native to Tanzania, Democratic Republic of the Congo, Kenya, Mozambique (mostly Mwani), Burundi, Rwanda, Somalia, Uganda, Comoros, Mayotte and the margins of Zambia, Malawi, Madagascar, and South Sudan. Kiswahili has been considered the 'lingua franca' in many parts of Africa, meaning that it is a language that many know, even though it is not their native language.
It is great that this songbook is now available. If you would like to see it, here is a link Nakala ya Nyimbo za Biblia.
On other songbook matters, John Owak is working on translating the full English version of The Bible Hymnal int0 the language of Dholuo. While it is not likely to be completed prior to the Feast of Tabernacles, we hope to have it available some time next year. Although a lot less people speak Dholuo than Kiswahili, most people in the Continuing Church of God speak Dholuo than Kiswahili. But because we were able to get the songs already translated into Kiswahili, we were able to produce the Kiswahili songbook first.
We are also were able to make progress on putting together a type of songbook for Malawi and Mozambique in Chichewa. It is not as well laid out, nor as complete, as the English or Kiswahili versions, but it represents our first step to get those in Mozambique and Malawi something in Chichewa. I also plan to send one or more English and Kiswahili songbooks to Malawi when the Chichewa version is partially available to see if that will assist in getting a more complete and useful version in Chichewa. We hope to have more African languages someday.
We also are looking at one or more European languages to produce songbooks in as well. Maybe someday, we will have Asian ones too. We strive to reach people of all nations, tongues, and tribes (cf. Revelation 7:9; see also Preparing for the 'Short Work' and The Famine of the Word).
08/20/16 p.m. The following is from one of LCG's official websites from it Dr. Meredith:
August 18, 2016

Finally, brethren and co-workers, I have some BIG NEWS! Now that Mr. Gerald Weston has been here at Headquarters serving alongside of us for several weeks, and with my declining health and abilities, I have decided to appoint him to be the next Presiding Evangelist, Chairman of the Board and overall leader of God's Church if I should die or be physically incapacitated. I have talked with Mr. Ames about this more than once, and Mr. Ames—one of the most dedicated and loyal men I have ever known—agrees with this. Both of us will continue in our present responsibilities as long as we are in health. But, in case of my death or incapacity, Mr. Weston will take over.

So I ask all of you brethren and co-workers to give him every support as you have me. I have known him for 51 years—since he first came to college in the autumn of 1965. He and his dedicated wife have been consistently loyal, doctrinally sound and extremely capable in feeding God's people and building God's Work. ...

So please give Mr. and Mrs. Weston your total support and know that Christ is the living Head of the Church of God. He has guided and will guide in this appointment.
Dr. Meredith believes that God guided this appointment. If so, not the way that Dr. Meredith seems to want all to believe. Anyway, hopefully people will believe the Bible above men and have their true loyalty to God. Earlier, in the Spring of 2016, Gerald Weston was appointed to be the next president of LCG. For some comments, see Gerald Weston appointed next president of the Living Church of God.
08/09/16 a.m. Last month, someone asked me for a list of the congregations of Continuing Church of God (CCOG). But we never had put together a comprehensive list. Now we have. Here is a link to the list of Congregations of the Continuing Church of God.
We currently have over 60 congregations and small groups with the CCOG. Additionally, we have scattered people in many US states as well as on all the inhabited continents of the earth.
08/07/16 p.m. Banned by HWA has the following purportedly from Elizabeth Scarborough:
Our complaint was not "religious in nature". We were slandered. No matter who you are, it's against the law to say untrue,defamatory things about people. It's even worse when those statements are lies spoken with the intent to harm someone's reputation and good name. THAT is what our case was based on. Not doctrine.

Late Friday night our lawyer informed us that the judge granted LCG the dismissal. Needless to say, we were shocked. At this point our claim is completely dead unless we decide to appeal. We have 30 days to make that decision. ...

The silver lining in all this is that after over 20 hours of depositions, we now know why Rod McNair and Rod Meredith decided to mark us, which is something we have struggled to understand for nearly 2 years now. Rod McNair testified, under oath, that we were marked for the following reasons: 1. we had a Greek-themed party in 2009 (after returning from a trip to Greece) that looked like a "toga party" 2. In 2011 I sang the Andrew's Sisters 1945 hit "Rum & Coca-Cola" at Spokesman Club ladies night and McNair believes the song promotes prostitution (they asked me to sing that night and pre-approved the song but I still got in trouble for it) 3. In 2014 I invited two couples, close friends (or so I thought at the time but apparently I was wrong) to my home for a bbq to show them unconditional love because they had been suspended from church and were feeling discouraged. They had been suspended for reading the Book of Enoch and having private Bible studies which we were NEVER a part of but we loved them and wanted to support them because they were very discouraged and upset. We ALL expressed concern over the behavior of HQ's ministry that night but these couples were Rod McNair's friends so they got off unscathed while "speaking negatively of ministry" and "causing church division" was added to McNair's file against me when he found out about our conversations. And then lastly, 4. They blamed Patrick for being the source of information posted on cogwriter.com about Mr. Apartian. Bob Thiel emailed LCG, called LCG and posted on his blog that we were NOT his source (we subsequently found out WHO the source actually was) but LCG continued to pin this accusation on Patrick because they literally had NOTHING else to justify marking him. One LCG minister even testified under oath that the information posted on cogwriter was TRUE and that Mr. Apartian had actually made those statements to a handful of people in his last year of life.

So they marked Patrick for TRUE information that he didn't give Thiel! That's it. ...

I'm sure the hours and hours of deposition transcripts would make salacious and eye-opening reading for many. At one point, Rod Meredith said that if it were up to him we would NEVER be allowed to attend ANY church of God again. It gave me goosebumps! And he thinks that's a converted attitude?! Praise God that decision is not his. Meredith also said that "causing church division is worse than murder or child molestation". Ironic since he's formed two churches through division himself and we never caused or urged a single person to leave LCG.
This means that the case is over unless appealed. Relatively few will understand the truth about what happened. FWIW, I repeatedly discouraged the Scarborough's from filing their lawsuit because of 1 Corinthians 6:1-8.
Let me add that while the Scarborough's were not my source for what Dibar Apartian said about LCG (which he truly did say, see also Memories of evangelist Dibar Apartian and LCG differences), I never told them who the source was as I promised my source I would not make it public. So, perhaps my source (for some of what Dibar Apartian said) contacted them directly or they found out who the source was another way.
Anyway, I personally left the Living Church of God because its leadership had serious integrity issues (for some details, see Why Bob Thiel Left the Living Church of God). And yes, I was slandered and libeled, but I trust that God will judge--and He will.
08/02/16 a.m. Last night, I was able to verify that the Executive Editor of the Editorial Department of the Living Church of God, William Bowmer resigned. The report I received said that this was related to the departure of John Robinson, also once part of the Editorial Department.
Bill Bowmer had basically been the head of Editorial, under Richard Ames, since the start of LCG. Bill and Richard Ames were, at least when I was in contact with them, very close. Bill Bowmer has been aware of integrity problems with LCG and seems to have finally acted upon that.
That being said, from what I was also told, there is a chance he might be persuaded to return to LCG employment.
08/01/16 a.m. CCOG Pastor Evans Ochieng sent in the following report:
Pastor Dr Bob,

MONTHLY REPORT,


Greetings from Kenya,


We thank God for the great work which has been done in Africa mostly
in Kenya. When I was joining Continuing Church of God some 2 years
back, I did not expect the work which I have seen in Kenya right now.
The steps that continuing church of God have moved in Africa is quite
far. We have 26 active congregations. Namely-


NDHIWA----------58 MEMBERS
MBANI------------34 MEMBERS
ORIANG------------18 MEMBERS
KISEKE--------------16 MEMBERS
NYAKACH--------63 MEMBERS
LOWER NYAKCH—8 MEMERS
KISII EBEREGE-----85 MEMBERS
KISII SENGERA---- 15 MEMBERS
KISII NYABIORE-----43 MEMBERS
OYUGIS----------------18 MEMBERS
RONGO----------------9 MEMBERS
MIGORI A-----------30 MEMBERS
MIGORI B----------20 MEMBERS
MBITA----------------14 MEMBERS
CHILANI---------------37 MEMBERS
MOTOSIET------------28 MEMBERS
TAKITECH-------------24 MEMBERS
KABOLECHO------------18 MEMBERS
OSOTUA-----------------35 MEMBERS
KURIA KIHANCHA -13 MEMBERS
SINDO---------------12 MEMBERS
KEWET---------------18 MEMBERS
NKOBEN-------------25 MEMBERS
CHISOEN--------------------16 MEMERS
BOMET----------------------50 MEMBERS
NAIROBI--------------------14 MEMBERS
TOTAL---------------------721 MEMBERS


We thank the continuing church of God for helping most of
congregations in Kenya to get 9 meeting halls to help the brethren for
Sabbath services. Since Kenyans do not have big rooms to accommodate
brethren on Sabbath services, many congregations were gathered under
tree on services and it is a total problem when it is raining or when
the sum is hot. The CONTINUING CHURCH OF GOD has done a great work to
help in building this 9 halls to help the congregations of Eberege,
Ndhiwa, Nyakach, Nyabiore, Sengera,Oriang,Tackitech, Chilani and
Nyakach lower. Out of these halls one is permanent and 8
semi-permanent.


If we are looking the history of churches that came out of worldwide
which are in Kenya, none has help to build many halls like continuing
church of God. That means CCOG has moved more steps a head than
others.


CCOG has done a great work to help 5 widows to get houses in Kenya and
one widow in Tanzania. This is also a big problem in Kenya simply
because of poverty. Many widows in Kenya are really suffering because
many are being left without a proper house that can stay for long
after the death of their husbands. It is a great problem even to
Kenyan government. Now-a-days governors are also trying to help many
of them to get houses. We also have 4 orphans who we are helping to
pay school fees in higher education level. Also we have 6 total
orphans that the church is looking after their daily
living,schooling,clothes. So CCOG is doing a great work both
physically and spiritually.


CCOG is building a feast of tabernacles camp in Tanzania where the
brethren in Tanzania are going to keep the feast of tabernacles 2016
in Tanzania. It was a big problem for our brethren in Tanzania when
they were crossing border to come to keep the feast in Kenya. They
were being arrested every time. This is the major reason why we have
decided to build a feast camp in Tanzania. We will expand it in future
because we need it to be a big place to help in future. Tanzania is
now growing very well.


CCOG is having arms in many African countries. We have members in
Ghana, Kenya, Tanzania, Ethiopia, Malawi, Nigeria and Mozambique. We
also have one family in Uganda, .


CCOG has made steps a head in publishing magazines and booklets in
Africa. We are publishing 300 magazines in Kenya. I talked with the
publisher that we are going add more and produce 600 now. We also
published the booklet entitled "GOD'S HOLY DAYS OR DEMONIC HOLIDAYS.
So many people really interested in this book. I published 300 but it
will force us to add more because of the demand. There is also a great
work that church has done in giving out lap tops to brethren and some
schools to eradicate computer illiteracy. No church has done such
wonderful works like the one which CCOG has done. I thank the ALMIGHTY
FATHER ABOVE who has given us more effort to do such a wonderful work.
I also thank our pastor Dr Bob Thiel and the brethren who have
contributed in helping the work in Africa to move. May God give
abundant life and daily bread.

TRIP
I am planning to travel to malawi and Ethiopia this August. After that
I will go back to Tanzania also in August. In September I will travel
to Ghana to talk with Samuel about his travel to Kenya in February. I
will go and confirm if he is having passport. I am also planning to go
to Nigeria if possible in September.


Evans.
Pastor Evans Ochieng came to the Continuing Church of God about 2 1/2 years ago with around 260 in Kenya (we also had some in CCOG in Kenya prior to him joining with us, as well as some in Tanzania).
That has grown to over 700 in Kenya. Furthermore, because of the internet reach of the CCOG, we were contacted by people in Ghana, Kenya, Tanzania, Ethiopia, Malawi and Nigeria (Mozambique came through personal contact of Sosten Libungwa in Malawi, and Uganda came through personal contact with Pastor Evans Ochieng). Pastor Evans Ochieng has since been able to visit leaders in all of those countries, except Nigeria (which he is planning to visit soon) and Mozambique (which he will likely visit some day).
Overall, in Africa, we have over 1,400 affiliated with the Continuing Church of God.
Another part of the reason for that growth has been our literature in English as well as several other African languages (for some details, see The Final Phase of the Work). We also have a YouTube channel called CCOGAfrica which has messages by African leaders in several African languages. While many Africans do not have the ability to watch them, some can, as can some leaders there.
Considering our limited funds and resources, we have made significant strides in Africa. We are diligently working to fulfill Jesus' words in Matthew 24:14 and Matthew 28:19-20.
07/31/16 p.m. LCG reported the following about Eng Monson:
Memorial Service for Mr. Eng Monson

The memorial service for Mr. Eng Monson will be held at 12:00 noon on Monday, August 1, at the lodge at Camp Lazarus in Delaware, Ohio. Mr. Sheldon Monson plans to conduct the service. Lunch will follow in the dining hall. The address of Camp Lazarus is 4422 Columbus Pike, Delaware, OH 43015.
I met him once. This is after he had come back to LCG after going with Charles Bryce's Enduring COG.
07/29/16 a.m. LCG's Roderick C. Meredith put the following out in a letter calling for a fast in his church to begin tonight:
Several of our ministers in the field have mentioned that, although people are not "falling away" or anything serious, yet there is a sense of spiritual malaise, a kind of a "take it easy" Laodicean attitude that is certainly creeping in. Our people are not "on fire" as much as they have been in the past. And we are certainly going to be under "spiritual attack" more than ever in the future as I have indicated. After talking to a number of our leading ministers here and in the field, I feel it is imperative that we have a Church-wide fast very soon and begin to genuinely seek God as a Church more than we have done for many months or years!

So as the Presiding Evangelist, I am now calling a Church-wide fast for all of God's people and ministry in the Living Church of God. The time we have selected is the Sabbath of July 30, 2016—beginning, of course, the previous sunset. I hope all of you ministers will cooperate in every way as I know a number of you will probably have to cancel or postpone various picnics, activities, etc. For there is always something going on. But the need for a fast and for all of us to truly set ourselves to seek God as Jehoshaphat did when he "feared and set himself to seek the Eternal" is very vital for His Church and His Work at this time. I hope that all of you ministers and brethren will truly be "on board" with this as it is one of the most important things we could possibly do at this time.

Brethren, let us all take time during this fast to study, to thoughtfully meditate on our weaknesses and shortcomings and Laodicean attitudes and literally "beg God" to stir us and bring us closer to Him than ever before. We need to cry out for the "gifts" of God's Spirit.
Someone asked me if the timing of this is related to the Scarborough lawsuit. That could be as well as could be recent the arrival of Gerald Weston.
My experience with Dr. Meredith and LCG fasts is basically that he DOES believe in them, but he tends to have reasons for them that he does not share with the membership (which may be why, in my view, God has not answered them the way Dr. Meredith has told me he wanted them to on more than one occasion).
The 'falling away' comment by Dr. Meredith is interesting as that is not the type of 'falling away' that LCG officially (and improperly) believes that the Bible teaches (more on that can be found in the article The Falling Away: The Bible and WCG Teachings). In two official, must-play, sermons, LCG condemned those who believed that the falling away had to do with leaving the Church of God (see The Falling Away: The Bible and WCG Teachings). Yet, that is what Dr. Meredith now seems to be implying that he and some of the ministry believe.
As far as my own hope for LCG's fast--I too believe that people in LCG should "cry out for 'gifts' of God's Spirit" which would include actually respondng to the truth. The Apostle John wrote:
4 I have no greater joy than to hear that my children walk in truth. (3 John 4)
As far as fasts go, the Bible teaches:
6 "Is this not the fast that I have chosen:
To loose the bonds of wickedness,
To undo the heavy burdens,
To let the oppressed go free,
And that you break every yoke? (Isaiah 58:6)
Fasts should be to help break the yoke of sin (cf. Lamentations 1:14) and relieve undue improper burdens, in order to get closer, not to an organization per se, but to God.
And as far as Dr. Meredith's comment about spirtual malaise, all who truly believe the Bible should understand that LCG is a Laodicean organization with some Philadelphian Christians in it. Essentially by Jesus' definition in Revelation 3:14-19, the Laodicean churches are full of spirtual malaise. That problem in LCG is bigger than Dr. Meredith still seems to realize. Simply fasting, without repenting as Jesus told the Laodicean Christians, is not enough. People do not just need to GET gifts from God, they need to change where appropriate.
Hopefully, the remaining Philadelphians in LCG will have sufficient love of the truth and the brethren to not place organizational loyalty (like many Roman Catholics do) above the truth of the Bible--Philadelphians need to actually walk in the truth and understand the truth about that organization (see also What About the Living Church of God? Are there Doctrinal Differences with the Continuing Church of God?).
As far as the Scarborough lawsuit and this fast go, if the facts do come out in the next couple of months (and some in LCG's ministry involved in the lawsuit have reportedly tried to obscure them through false statements and/or improper inuendo), hopefully people who fasted (supposedly to get closer to God) will not discount the actual truth related to that and other matters.
I personally left LCG because it leadership lacked the intergrity to lead the final phase of the work (see also Why Bob Thiel Left the Living Church of God). Certain details in that Scarborough lawsuit, for those who are willing to believe the truth, should back the reality that the top leadership in LCG is lacking proper biblical integrity. Hopefully, those in LCG who fast properly will be led to see and act on the truth.
07/24/16 a.m. Last Wednesday, my wife Joyce and I visited the Pasadena campus of the old Ambassador College and the headquarters of the Worldwide Church of God. My wife took photographs. Today, we put them togther and made a post. If you would like to see what the area now looks like, check out Pictures of the Pasadena Campus of Ambassador College and the former Headquarters of the old Worldwide Church of God.
07/23/16 a.m. Went to the Enduring COG website today, but there is not much there to report. Its leader, Charles Bryce, has had health issues for a couple of years, which may be a factor. The group itself seems to be small and mainly focused on its local area (they still report that they are on one radio station in Texas). When I checked their website's Alexa ranking this morning (which gives the impact/relative popularity of a site internationally), Alexa responded with:
We don't have enough data to rank this website.
Basically that means the site has almost no impact.
That being said, Enduring does have some articles up from its magazine, Straightforward, but it is not clear how often that magazine comes out. But it, as of today, strightforward.org had an Alexa ranking of 13,427,282. This means very few view it online, but even that is much more than its church site.
Enduring claimed that disapproval of makeup was a key factor in its originally formation (more on makeup can be found in the article Makeup and the Philadelphia Era of the COG).
07/15/16 a.m. In its newsletter today, CEG reported the following:
What Kinds of Sports, Games and Related Activities Are Appropriate and Inappropriate for Christians? ...

"The Scriptures tell us that the killing or 'smiting' of another human being is wrong in God's eyes and in violation of the Ten Commandments. The 'accidental' manslayer, who did not hate his neighbor whom he killed, was not considered innocent, as his conduct, albeit unintentional or unknowing, led to the death of a person. With proper precautions, such a death could have been avoided. The accidental manslayer still had to flee to a city of refuge and stay there until the high priest died…"

Considering all of these principles, it is becoming obvious that certain sports and games might have to be avoided which are designed to injure a competitor. But even games or other activities which might involve action causing serious injuries or even death may need to be avoided, even if the sports per se are not designed to cause such harm.

A clear distinction can be made between, on the one hand, sports or other activities which purposefully harm—or teach to harm—other human beings and, on the other hand, conduct which is not directly or indirectly focusing on others. ...

It is very important that the players understand the nature of the game; that they are not trying to injure another person; and that everybody plays with proper protection so as to avoid serious injuries. With these precautionary remarks, even playing American football or rugby might be appropriate, even though some or many Christians would probably avoid playing those games, given their violent appearance.

A boundary could be drawn where the intent of the sport is clearly to hurt someone (for example, boxing), even though it may not be wrong to watch boxing matches.
The above is very disappointing. When I saw the article's title and started to read it, I had thought that CEG would come out and boldly condemn violent sports. Instead it is taking a cold or lukewarm approach to them. The Bible teaches that we are to love our neighbor (Matthew 22:39), and encouraging violence by watching violent sports does not show Philadelphian love (cf. Romans 13:9-10).
Furthermore, some may be interested in what the late Herbert W. Armstrong taught about violent sports:
Boxing is definitely BANNED. God did not design and create the human brain and head to be pummeled and knocked senseless by an antagonist.

Wherever a game in sports involves ANTAGONISTS--in HOSTILE ATTITUDE to harm the other and/or to "GET" from the other--to get the best of the other--then a harmful, Satanic and evil attitude enters in , and the sport is EVIL, not good...

football , (American football)...because football is such a violent body contact sport , it TOO OFTEN is played in an ATTITUDE OF HOSTILITY, and is too DANGEROUS and fraught with PHYSICAL INJURY . Therefore it must be BANNED so far as participation by God's Church or people is concerned...This is sufficient to illustrate the application of the PRINCIPLE of God's Law to sports. That participated in with an attitude of HOSTILITY toward the opponent is evil. That which HARMS mentally or physically an opponent is evil.

Satan is the author of COMPETITION based on hostility, harm to the opponent, GETTING by taking FROM an opponent--to his harm or loss. God's way is LOVE TOWARD neighbor equal to love of self. (Armstrong HW. Not all sports are banned. Pastor General's Report, Volume 2, Issue 36, September 5, 1980)

Sometimes there is a fine line between what is within and what is outside God's law.

Football (American football) is a violent body-contact sport. It too often is played in an attitude of hostility and is dangerous and fraught with physical injury. Therefore it is not played, but we do play American flag football at Ambassador. (Armstrong HW. An Overview from Higher Up. Plain Truth, July-August 1984)
Early Christians refused to watch violent sports. For more scriptures and details on this, see the article Is American Football Evil? There is also a YouTube video available titled Should Christians watch American football?.
07/08/16 a.m. Although originally it appeared that there would be a July 2016 court date for the Scarborough vs. Living Church of God lawsuit (see LCG leadership being sued for slander), it is my understanding that this date has been pushed back to September 2016.
While I have NOT endorsed the idea of a lawsuit on this matter, I will again state that the reason I left LCG is because its top leadership lacked the integrity it should have to hold the 'Philadelphia mantle' in the Church of God.
Those who did not believe my account of what happened, sadly could not accept the truth about LCG as I did NOT bare false witness and DID keep my promises--but LCG's top leadership did not keep their promises.
If it is not settled out-of-court (and most lawsuits in the USA are), the Scarborough case may let all see that LCG's leadership has long lacked proper integrity. In this case, it is my understanding that the top leadership of LCG knew that the Scarboroughs were NOT my source related to a post about the late Dibar Apartian, yet let stand a marking/disfellowshiping of Patrick and/or Elizabeth anyway. Sadly, most in LCG will not care enough about the truth to take Philadelphian action once they learn more of the truth.
More information on why I felt compelled to leave LCG was in the article Why Bob Thiel Left the Living Church of God.
In other LCG-related news, today LCG is once again teaching that the final Beast power will likely be reduced to ten nations:
Although the current configuration in Europe will undoubtedly change, we need to watch for a streamlining of EU nations, very likely into a group of ten, based on prophecies in Revelation 17. (Future EU Army. TW News & Prophecy, July 8, 2016)
This is an erroneous position that LCG said it did not to intentionally teach when I was part of it. Yet, since my departure, LCG has repeatedly emphasized a wrong view on Revelation 17 by pointing to ten nations. Unless it repents of this, those in LCG will NOT possibly know when the Great Tribulation will begin until it is too late.
An article of related interest may be Must the Ten Kings of Revelation 17:12 Rule over Ten Currently Existing Nations?
07/05/16 a.m. A former RCG member sent me the following today that he said David Pack basically announced at Sabbath services this past weekend:
News from RCG. Kevin Denee, one of two evangelists, and his wife Jennifer, David Pack's daughter, have left the church. I believe Jennifer was in charge of all the bookkeeping and finance. This is a significant event. No word as to where they may be going. David Pack must be shaken as now none of his children are with him.
RCG will have more problems than this.
06/23/16 p.m. The 7th Day COG News page reported the following:
Living Church of God

Gerald Weston and his wife plan to move into their new home in Charlotte, North Carolina, on July 15, ready for him to take over the daily administration of the church on Monday the 18th.
Over 200 subpoenas have been issued to LCG members (including ministers) for their depositions by the attorney acting for Patrick and Elizabeth Scarborough, who are suing Rod Meredith and Rod McNair personally, and as officials of the Living Church of God, for Defamation of Character and 'Intentional Infliction of Emotional Distress'.
While I do not endorse the idea of a lawsuit on this matter, I will state that the reason I left LCG is that its top leadership lacked the integrity it should have to hold the 'Philadelphia mantle' in the Church of God. Those who did not believe my account of what happened, sadly could not accept the truth about LCG. The Scarborough case may let all interested in seeing that LCG's leadership has long lacked proper integrity. More information on why I felt compelled to leave LCG was in the article Why Bob Thiel Left the Living Church of God.
06/10/16 a.m. In its update today, CEG had the following:
Q&A

What Is the Origin of the Sign of the Cross? Should Christians Make the Sign of the Cross? (Part 1)

We see it on television all the time—Catholic soccer players make the sign of the cross when they score or even when they enter the field. Other athletes may make the sign of the cross on various occasions as well. In many cases, it has become a matter of routine. For example, the sign of the cross is made before meals, in church services, and at other times by many people. But what do we know about its origin?The Roman Catholic Church and many other religious organizations claim that the sign of the cross has its origin in early Christianity. The website of catholicstraightanswers.com/what-is-the-origin-of-the-sign-of-the-cross/ states the following perspective of the Catholic Church:

"The sign of the cross is a beautiful gesture which reminds the faithful of both the cross of salvation while invoking the Holy Trinity… The early Church Fathers attested to the use of the sign of the cross. Tertullian (d.c. 250) described the commonness of the sign of the cross: 'In all our travels and movements, in all our coming in and going out, in putting on our shoes, at the bath, at the table, in lighting our candles, in lying down, in sitting down, whatever employment occupies us, we mark our foreheads with the sign of the cross' (De corona, 30). St. Cyril of Jerusalem (d. 386) in his Catechetical Lectures stated, 'Let us then not be ashamed to confess the Crucified. Be the cross our seal, made with boldness by our fingers on our brow and in everything; over the bread we eat and the cups we drink, in our comings and in our goings out; before our sleep, when we lie down and when we awake; when we are traveling, and when we are at rest' (Catecheses, 13).

"Gradually, about the ninth century, the sign of the cross was incorporated in different acts of the Mass, such as the three-fold signing of the forehead, lips, and heart at the reading of the gospel or the blessing and signing of the bread and wine to be offered. The earliest formalized way of making the sign of the cross appeared about the 400s, during the Monophysite heresy which denied… the unity of the Holy Trinity. The sign of the cross was made from forehead to chest, and then from right shoulder to left shoulder with the right hand. The thumb, forefinger, and middle fingers were held together to symbolize the Holy Trinity—Father, Son, and Holy Spirit."

We see, then, that the "sign of the cross" is inseparably connected with the belief in the "Holy Trinity."

The problems with this entire concept are many.

First, the Bible does not teach at all that God is a Trinity. It does teach that the Father and the Son (Jesus Christ) are God and that they are two Beings or Persons within the God Family, but it does NOT teach that the Holy Spirit is God or a Person. ...

Secondly, to have or use a cross in any way in the connection with worship; to wear it as an amulet; or to have a crucifix in our home; is not biblical. It totally misunderstands the saving work of Jesus Christ. From this it follows that the making of the cross is equally unbiblical.
CEG is correct about crosses and the trinity not being biblical.
Information on these matters can be found in the following:
What is the Origin of the Cross as a 'Christian' Symbol? Was the cross used as a venerated symbol by the early Church? A related YouTube video would be Origin of the Cross.
Binitarian View: One God, Two Beings Before the Beginning Is binitarianism the correct position? What about unitarianism or trinitarianism?
Is The Father God? What is the view of the Bible? What was the view of the early church?
Jesus: The Son of God and Saviour Who was Jesus? Why did He come to earth? What message did He bring? Is there evidence outside the Bible that He existed? Here is a YouTube sermon titled Jesus: Son of God and Saviour.
Jesus is God, But Became Flesh Was Jesus fully human and fully God or what? Here is information in the Spanish language¿Es Jesucristo Dios?.
Virgin Birth: Does the Bible Teach It? What does the Bible teach? What is claimed in The Da Vinci Code?
Why Does Jesus Have Two Different Genealogies listed in Matthew 1 and Luke 3? Matthew 1:1-16 and Luke 3:23-38 seemingly list two different genealogies for Jesus. Why?
Did Early Christians Think the Holy Spirit Was A Separate Person in a Trinity? Or did they have a different view?
What is the Holy Spirit? This is an article by Rod Reynolds.
Did the True Church Ever Teach a Trinity? Most act like this is so, but is it? Here is an old, by somewhat related, article in the Spanish language LA DOCTRINA DE LA TRINIDAD. A brief video is also available: Three trinitarian scriptures?
Was Unitarianism the Teaching of the Bible or Early Church? Many, including Jehovah's Witnesses, claim it was, but was it?
Did the Archangel Michael become Jesus? The Jehovah's Witnesses teach this, but does the Bible allow for this?
Binitarianism: One God, Two Beings Before the Beginning This is a longer article than the Binitarian View article, and has a little more information on binitarianism, and less about unitarianism. A related sermon is also available: Binitarian view of the Godhead.
06/07/16 a.m. Some asked me why I had not commented on the following that LCG's R. Meredith sent out last week:
Although we want all our young people to be fully aware of the awful consequences of suicide, we feel that Mr. Beyersdorfer will eventually be resurrected and be honored for what he did do in the decades of faithful service to God's people when his physical and mental condition were normal.
Basically, I felt that the above was not something I needed to comment on. While all will be resurrected, saying what God may positively do for someone who ended his life via suicide in that type of letter seemed presumptuous of LCG at best (cf. Ezekiel 3:20). God will decide if a suicidal person will be given honor.
06/04/16 p.m. LCG's R. Meredith sent out the following:
Mr. Karl Beyersdorfer—for many years living in my own hometown, Joplin, MO—was noted as "Mr. B" around the whole region and made himself beloved by constantly serving and giving of himself to the people in that area as Christ's minister.

However, in Mr. Beyersdorfer's case, it was a double tragedy in the sense that he took his own life. Hundreds of brethren in that area know that Mr. Beyersdorfer had had quite a number of serious physical ailments—leading to deep depression at times—and finally, about two years ago, completely of his own volition, asked to be removed as the Pastor. He asked that Mr. Gene Hilgenberg carry on and he would just "assist" him as best he could. He was under a great deal of stress and was sometimes not "himself" according to his wife and many others. He was under medical treatment and at the time he took his life was undoubtedly in one of the "spells" under deep depression. ...we want all our young people to be fully aware of the awful consequences of suicide ...
It is sad that Karl Beyersdorder committed suicide. An article of related interest may be What Happens After Death?
06/02/16 a.m. The following was in the paper:
DEATH NOTICE

Karl L. E. Beyersdorfer

- May 27, 2016

JOPLIN, Mo. - Karl Lewis Eugene Beyersdorfer, 73, a minister, passed away Friday, May 27, 2016.
Graveside services were held Tuesday, May 31. Arrangements were under the direction of Clark Funeral Home, Neosho, Mo.

Published in The Joplin Globe

Funeral Services by Clark Funeral Home
Karl Beyersdorfer was an LCG minister who I met years ago. Some reported he committed suicide.
05/26/16 a.m. Bruce Tyler's funeral is to be be on Thursday 2nd of June, with LCG's Dr Douglas Winnail attending the funeral. Rob Tyler has been announced to replace Bruce Tyler as the Regional Director for the Australasian region for LCG.
It is my recollection that Rob Tyler was the son of Bruce Tyler. Rob seemed to function as office manager for his father when we met years ago.
05/23/16 p.m. I heard a day ago that LCG evangelist Bruce Tyler had his second stroke. I learned late tonight that he has since died. He oversaw matters for LCG in Australia, the South Pacific, and Asia. I met him at the Feast of Tabernacles once in Australia and seemed to like him more than his boss at LCG did. I have no information about his funeral, etc. His family is in my prayers.
05/19/16 a.m. Someone sent me the following this morning:
LCG member on missing plane

This is a post from Facebook from Sophie Ellis

(CNN) EgyptAir Flight 804 vanished off radar on its way from Paris to Cairo with 66 people aboard, an airline official said Thursday. The plane was flying at 37,000 feet when it disappeared with 56 passengers and 10 crew members, the airline tweeted. Monique Dalle, member of the Paris congregation, wife of Jean-Jacques DALLE, is on the flight MS804 that disappeared en route from Paris to Cairo. Monique was to see their daughter Esther. Jean-Jacques and their son Nathan are at home in Paris without news from the authorities. Please pray for the family.
This flight crashed according to reports (CBS: EgyptAir crash deemed more likely terror than tech failure). It is not clear if there were survivors as I post this. The family is in my prayers.
05/13/16 a.m. LCG sent the following out today:
Bible prophecies have long referred to an end-time iron-and-clay configuration in Europe composed of ten kings or nations (Daniel 2:42-43)—which suggests that the 28-member EU will downsize. (Many Europeans Unhappy with EU. TW News & Prophecy, May 13, 2016)
While the UK will not remain an equal member of the final European Beast power, and there could be different nations in the European Union, Bible prophecy teaches that there will be a reorganization. Daniel 2:42-43 mentions ten toes, not ten nations. It is Revelation 17:12 that mentions ten kingdoms. Yet Revelation 17:12 is NOT pointing to a reduction of nations.
Sadly, LCG has some in its leadership that seem determined to misunderstand the final size of the European Beast power. An article of related interest would be Must the Ten Kings of Revelation 17:12 Rule over Ten Currently Existing Nations?
05/02/16 p.m. The latest issue of Shepherd's Voice magazine (Winter 2016) arrived today. It had the following from former GCG board member Norman Edwards:
I remember wondering if our prophetic chronologies should be reckoned from Christ's death as well. I first wondered about it back in the 1970s when it was not very popular to wonder about it. Now, it makes sense to more people. After all, the Bible says, "A good name is better than precious oint - ment, And the day of death than the day of one's birth (Ecclesiastes 7:1). Indeed, Christ's willingness to lay down His life for us gave him the "name above all names" (Philippians 2:9) and he was anointed with precious ointment at his Death (Mark 14:3-8). His death first foreshadowed then later commemorated each year on the Passover for most of history (1 Corinthians 5:7).

We do not have a day that was clearly set apart to foreshadow his birth. I am not at all opposed to reading prophecy and speculating about its fulfillment. In general, I believe in a seven thousand year plan of God. But if Jesus Christ did not claim to have figured out prophecy, what makes me think I will?
It is possible that the time of Jesus' death may correspond to the end of the first four thousand years, but I am not certain. For some information on the 6000-7000 year plan, history, and related prophecies, check out the following:
Does God Have a 6,000 Year Plan? What Year Does the 6,000 Years End? Was a 6000 year time allowed for humans to rule followed by a literal thousand year reign of Christ on Earth taught by the early Christians? Does God have 7,000 year plan? What year may the six thousand years of human rule end? When will Jesus return? 2023 or 20xx? There is also a video titled The 6000 Year Plan: Is the end of humanity's reign almost up? Here is a link to the article in Spanish: ¿Tiene Dios un plan de 6,000 años?


When Will the Great Tribulation Begin? 2016, 2017, or 2018? Can the Great Tribulation begin today? What happens before the Great Tribulation in the "beginning of sorrows"? What happens in the Great Tribulation and the Day of the Lord? Is this the time of the Gentiles? When is the earliest that the Great Tribulation can begin? What is the Day of the Lord? Who are the 144,000? Here is a version of the article in the Spanish language: ¿Puede comenzar la Gran Tribulación en 2016 o 2017? ¿Es el Tiempo de los Gentiles? You can also see the English language sermon video: The Great Tribulation from the Mount of Olives. A shorter video is: Can the Great Tribulation Start in 2016?

Did The Early Church Teach Millenarianism? Was the millennium (sometimes called chiliasm) taught by early Christians? Who condemned it? Will Jesus literally reign for 1000 years on the earth? Is this time near? Two related sermons are available Millennial Utopia and The Millennium.
04/16/16 p.m. Received the following email a few moments ago from someone I do not know who is also not part of the CCOG:
Dear Dr. Bob Thiel, the leader of the Continuing Church of God

First of all, I want to thank you for creating and regularly updating your enormous and extensively researched library of spiritual articles and studies. I've been following and digging through the content of cogwriter.com for several years now and there seems to be no end in sight! I view it as a true goldmine of relevant, interesting and vital information – astonishingly comprehensive!

While reading through your website, I noticed that there are a lot of articles on the topic of prophecy. It must take a lot of work to compile and compare the different scriptures and align them with what is happening today and what already has happened in recent years. Thank you, Dr. Thiel, for your dedicated labor to help people to make sense of it!

God restored precious truths through Dr. Armstrong, but our understanding of prophecy is still quite a work in progress. This topic is shrouded with mystery for many, but we know that in the end times God would reveal what He is going to do to His prophets and servants (Dan.12:4,9, Am.3:7-8, Acts 2:17-18). Prophets were very much present and active in the NT Church. We in the Churches of God have the foundational pillars of prophetic knowledge – identity of Israel, God's plan of salvation, the king of the North and the South and so on. We can build on that foundation through growing in grace and knowledge and thirsting for additional revelation from God to prepare the Bride of Christ in the end-time. Apostle Paul remarked that above all else he wanted His spiritual children to be zealous to "prophesy" (1Cor.14:1).

Currently I am reading through your article titled "How To Determine If Someone is a True Prophet of God". You mention some critically important points in that article which people, especially in the Church, need to equip themselves with as the monumental end-time events unfold and people will be lured away by false "saviors", "apostles" and false "prophets" (Mat.24:5, 11). Speaking of which…

I really appreciate that you exposed the false predictions of David Pack, who incorrectly predicted a reunification of brethren under his authority back a few years ago. He also predicted that three "shepherds" would be killed. But just as you had written in advance… this never happened! From my perspective, this man's false prophecies, harsh tone, exclusivity and unbiblical teachings (e.g. the gospel, having all things in common) has earned him a title of a dangerous man. Such men need to be marked and kept away from. You were correct in confronting his errors! ...

In several of your articles you describe the events and experiences which led you to consider yourself as one of God's anointed prophets. The sign in Charlotte you requested from God, the "double-portion of the Holy Spirit", the admission of LCG leadership that you could be a prophet, the lady from New Zealand that had a dream… You also recorded the story of Mrs. Loma Armstrong's dream, which was accepted by Dr. Armstrong as valid only years later! Just fascinating!
The above writer was astute in several of those observations. Regular readers of this page are also aware that I long warned about RCG's David Pack being wrong, before he was proven wrong.
04/10/16 a.m. In the past couple of days, a couple of people have sent me emails related to the latest series of messages from David Pack's and his Restored Church of God (RCG):
I just watched a seven part series by DCP (yes, it was hard.... I tried to start with part 5, but that was so wild I thought I better go back to part 1 to see how he could possibly get there. He is teaching that Matthew 24:15 proves there will be a third physical temple before the tribulation, Romans 2:9 shows the Jews are saved first and uses prophetic scriptures that mention Judah to conclude that God will give control of the temple mount to the Church and the Jews. Elijah who is also that Prophet will restore all things and rebuild the temple and Church members will be judges who rule Judah and eventually the world, with healings and animal natures changed BEFORE the tribulation and the return of Christ at the 7th Trump but in the "presence" of Christ. This will be preceded by the short work of Revelation 10:11, (the greatest Work ever!) which he claims is referred to as the times of refreshing of Acts 3:19. This rule by perhaps 50,000 human judges residing in Jerusalem and riding on angels he calls the first dominion based on Micah 4:8. After this millennial bliss (and he applies most of the millennial scriptures to this time) there will be the falling away of 2 Th 2 when many will be deluded because they liked the benefits but not the law of God. Satan and the demons have been held captive in heaven during this "first dominion" and when they come back to earth the deception and tribulation begin.





I think he had to find something amazing to justify claiming to be the Joshua/Elijah/Prophet so he has twisted and misapplied huge numbers of scriptures to come up with this fantastic scenario Mr. Armstrong had no knowledge of - thus restoring all things including the government of God over the whole earth BEFORE the 7th trump return of Christ and resurrection of saints!

----------------------------------------------------------------------------------------------------------------------------------------------------------------------------------------------------------------------

Greetings Dr. Thiel.

In this series of sermons and videos, David Pack states the building of the third temple In Jerusalem will be started by four angels called four carpenters, Zechariah 1:20 – 2:2. He says in the sermon, they will literally smash the Dome of the Rock, and lay the foundation and the inner room for Christ to come, Zechariah 2:1 – Revelation 11:1, and dwell in this "first dominion", Micah 4:8. This will cause the rupture, or the breaking of "bands" stated in Zechariah 11:7, 14, because the world will be so angry with the Jews, especially the United Sates, because they will think they did this. He says when Christ comes to this temple laid down by the angels, he will come in great darkness, Isaiah 60:2. This he says, means a literal darkness. The whole world will go black and Christ will descend to this new temple as a shining light, Isaiah 60:1. He stresses the term, "in the last days" in Micah 4:1 and Isaiah 2:2, as proof this is before Christ's second coming. In other words there is a "third" coming when Christ comes to the Mount of Olives in full glory. The second coming will be to this new temple in Mount Zion, Jerusalem. He also states many people (mainly the rich Jews of the world) will come to finish the temple in its full glory. Zechariah 6:12-15. In this first dominion, Christ will establish peace and harmony on earth. He will re-do the earth and make it like the Garden of Eden, using Isaiah 60:2-4, the scripture used to describe the actual millennium. In other words, God will give people a taste of the millennium first, a kind of preview, where He will give everyone on earth a chance to live God's way, before bringing the great tribulation. He also sites Isaiah 11:6-9, and Isaiah 35:1, 2, as this first dominion, more millennial scriptures. He uses many of these.

Also the saints (The members and those that have returned to the Restored Church of God from the "splinters") will join Christ in a semi-spiritual state. In splendor or "resplendent" Matthew 13:43 (still flesh yet in a spiritual state of glorification) and assist Christ in converting the Jews first, Micah 4:5, saying the lower case g in the word god, means judge, yet in Hebrew means "Elohim" or God. So they will be Godlike, Exodus 18:19, 20, 21. Isaiah 1:26, 27. God will supercharge them with gifts, 1 Corinthians 12:8, 9, 10. The saints will have to go through judgement before this. Psalm 50:3, 4, 5, - 1 Corinthians 3:13, 14, 15, and 1 Peter 1:7 -4:12 -4:17. David Pack is saying this is not Christ returning in glory to reign for a thousand years. This is before that. Christ will be in this first dominion for an unspecified number of years. David Pack also says in his sermon, events and situations in the world are not really near the full time of the end, and this first dominion will give the world more time, before the tribulation starts. One important detail should be mentioned here. We could say there is the scripture that says, flesh and blood cannot inherit the kingdom of God, 1 Corinthians 15:50, the scriptures he uses when referring to the first dominion, say "the kingdom" only, not the Kingdom of God yet. That is Christ's millennial rule. However, he does make a revealing error when he uses Matthew 13:43 in describing the saints flesh/spirit condition. In this it says, Then shall the righteous shine forth as the sun in the" kingdom of their Father", which would be the same as saying the kingdom of God. He says the saints will all live in Mt. Zion with Christ, John 14:2.

Dr. Thiel, in addition to this information, I have found out through research with other brethren, the "first dominion" is not in the future, it is in the past.

Thirty three bible translations confirm this! There are more. This is mind blowing. David C. pack has based this insane prophecy on a complete misunderstanding of these three words. I'm sending you proof. See attachment.
As I only listened to some of the David Pack messages myself, the above are supplied as reports and analyses from others. And it probably should be noted that one of the reports is from one who was once a member of RCG and messages like those David Pack has been doing were factors in getting that person to wake up and realize that RCG is not what it claims to be.
04/09/16 a.m. I was able to verify that LCG's Dr. Meredith has officially designated Gerald Weston as the president of the Living Church of God. For some comments, see Gerald Weston appointed next president of the Living Church of God.
04/08/16 p.m. It is reported that LCG's Dr. Meredith wrote the following:
One of the main reasons I wanted to write all of you members directly is that I want all of you to be fully aware and "on board" about the coming transfer of Mr. Gerald Weston here to Headquarters to become President and COO of this Work. I will remain as the Presiding Evangelist and human "head" of the Church as long as God gives me strength. But Mr. Weston will be in charge of running the physical day to day operations.
Presuming this is the case (and I have so far only partially verified this from another source), this will mark a real change in LCG.
04/06/16 p.m. Yesterday, I noticed that someone claiming to be part of the COG posted false and inaccurate statements about me and the CCOG, and that this was picked up by one or more anti-COG sites. So, after prayer, etc., I just posted a response for those interested. Here is a link: Bob Thiel addresses some false statements from 'accusers of the brethren'.
04/03/16 p.m. The 'Silenced' website posted the following about David Pack's and his Restored Church of God (RCG) yesrterday:
Pack claims massive interest in RCG from people. But RCG is still only about 200 members in Wadsworth and at most 800 or so scattered across the country in their living rooms.

Pack said he is the new Elijah. He is not.

Pack declared himself an apostle. He is not.

Pack predicted an August 30, 2013 "reunification" of the COG. It didn't happen.

Pack also predicted that on August 30, 2013, three COG leaders would die. None of them died.

Pack has predicted yet another "signal" that will cause the COG to unite under RCG's banner. This will not happen.

Pack predicted the COG would be flocking to RCG Feast of Tabernacles sites in 2015. It did not.

Pack said he will train the Two Witnesses. He will not.

Pack suggested a 2019 end of the world date. This is a false prophecy like all his others before.
Actually, before David Pack was proven wrong on most of those items, I warned about them here. David Pack most certainly is NOT God's apostle nor is his group Philadelphian (though it might still have some Philadelphians in it). For more on RCG, check out the article Why Not the Restored Church of God?
On the point about 2019 and the end of the world (which I believe is too early), let me add that I once heard David Pack say to the effect that the end had to come by 2014. He has a history of prophetic and doctrinal errors.
If RCG only has a thousand or so people, then it is the third largest group once affiliated with the old GCG. LCG is the largest (over 9000) and CCOG would be the second largest (around 2000).
03/30/2016 p.m. Some have wondered if the lawsuit by the Scarboroughs and LCG is still going on.
The answer is yes.
How is it going for either side?
That I do not know.
While I do not favor this lawsuit, I also do not understand how a church that considers itself 'true' can put out information about people it knows is wrong without offering immediate retractions once it realizes its error(s). Sadly, in my view, LCG has had a history of that, which is why I am no longer part of it (see also Why Bob Thiel Left the Living Church of God).
03/25/16 p.m. Received a couple of emails today related to posted video messages of RCG's David Pack. Here is some of what RCG posted about its current featured video message, which I mentioned a while back, titled Foretold: The Greatest Work Ever—Before the 1st Dominion (Part 6):
Prophecy foretells a great "short Work" in the last days, one that will be so powerful most would not believe it if told about it in advance. Involving the preaching of the true gospel, this end-time commission was prophesied to occur just before Jesus Christ establishes the First Dominion.
Here is one person's comments about David Pack and his message that was sent to me today:
He says the short work of Romans 9: 28 will be done by Elijah during the siege of Jerusalem. The times of refreshing in acts 3:20 is the church doing this work under Elijah before Christ returns( but in his presence). Christ's temple built after he returns will be built by the 4 angels of Zechariah 1:16 called carpenters. He mixes things up. It's crazy town.
While the Bible tells of a great "short Work," this is not something that RCG truly understands.
Those interested in learning more about that Work should check out the article Preparing for the 'Short Work' and The Famine of the Word and/or watch the video The Short Work.
03/24/16 p.m. I, Bob Thiel, plan to be in Florida the Sabbath of April 2, 2016. We arranged to meet for services at the West Boca Executive Office Suites at 7777 Glades Rd #100, Boca Raton, FL 33434. Services are to begin about 1:30 pm. If you live in Florida, and/or may wish to visit and would like to come for services, please email me as the place we are meeting at is not large. My email address is cogwriter@aol.com.
03/21/16 a.m. Larry Carmichael informed me that the funeral for Dr. Vorace 'Ray' Smith is scheduled for Tuesday March 22, 2016 at 1:30 pm as 201 St. Clair St., Franfort, Kentucky.
There is also another death to report from Edith and Beverly Bivens:
Ruby Calahan of Milwaukee Wisconsin passed away quietly on March 20, 2016, at 2:00 pm, after a six-month battle with cancer. She was 71 years old and has been a faithful member of God's Church since 1983. She is survived by her daughter and two grandsons. Ruby will be remembered for her gentle nature and she will be greatly missed by her family and friends.
Ruby was a 'pioneer' in the Continuing Church of God as she attended our first Feast of Tabernacles in the USA in 2013. And I have seen her at all the CCOG USA sites since as well. She will be missed.
03/18/16 p.m. Today, Ryan Smith, son of CCOG member Dr. Vorace 'Ray' Smith, told me his father died. Dr. Smith lived in Frankfort, Kentucky.
Here are some statements from an email from him:
This is Ryan Smith, Ray's son. I wanted to reach out and let you know of my father's passing last night at his home in Frankfort, Kentucky. He died around 7 PM peacefully in bed most likely from a ruptured aneurysm. He was found in bed with his dog next to him and his hand on the Bible so it was as good of a passing as any. We are very saddened by the loss but also consider it a blessing with all the health problems he has experienced in recent years.
Dr. Smith had never quite been the same since having his stroke, his sone told me Dr. Smith was very pleased that he found the Continuing Church of God. And while I knew that, it was nice to also hear it from his son when we spoke later that day.
I knew Dr. Ray Smith for many years and was able to meet him personally at the CCOG Feast of Tabernacles' site in Orlando, Florida in 2014.
Dr. Smith was began to be in LCG in 1995 and came to CCOG in late 2013/early 2014.
Ryan Smith, wanting to be respectful of his father's religious beliefs, asked me if we could either send someone to conduct the funeral or at least send him scriptures that we would like read.
As it turned out, although we did not have any member near enough to conduct the funeral, there was COG man in the area who was acquainted with us and me him. His name is Larry Carmichael. So I called him and he graciously agreed to conduct the funeral service.
I was pleased that we were able to have Larry Carmichael conduct the service and am grateful to him for doing so. The funeral probably will be on Tuesday March 22th, but we do not have the details at this time.
03/14/16 p.m. Here is what is listed as "NEW" at RCG's home page this afternoon:
Prophecy foretells a great "short Work" in the last days, one that will be so powerful most would not believe it if told about it in advance. Involving the preaching of the true gospel, this end-time commission was prophesied to occur just before Jesus Christ establishes the First Dominion.
I did not watch the related video RCG promoted related to it as I do not believe it is possible that RCG's David Pack understands the "short work," let alone be ever able to lead it.
The term "short work" is mentioned in something that the Apostle Paul wrote:
27 Isaiah also cries out concerning Israel:

"Though the number of the children of Israel be as the sand of the sea,
The remnant will be saved.
28 For He will finish the work and cut it short in righteousness,
Because the Lord will make a short work upon the earth." (Romans 9:27-28)
Is it relevant now?
Notice also the following from the late Herbert W. Armstrong:
Just as Jesus said God will cut short the days of the Great Tribulation, so He tells us through the Apostle Paul He will CUT SHORT THIS WORK! Listen! Read it carefully! "For He will finish the Work, and CUT IT SHORT in righteousness: because a SHORT WORK will the Lord make upon the earth." (Romans 9:28.)...

Co-Workers, WE NEED TO WAKE UP! It is FAR later than we think! There is precious little time left! We need to be stirred — to be frightened just enough to realize the SERIOUSNESS of the TIME — and the SERIOUSNESS of THIS WORK! This is GOD'S DOING! — not mine! YOU are privileged, as well as I, to have A PART in it! We need to dedicate ourselves to it, as the MOST IMPORTANT THING IN OUR LIVES, by far! (Armstrong HW. Co-worker letter, July 29, 1968)

Almighty God has been HOLDING BACK the progress of prophesied world events. There is a time, foretold in Revelation 7, when He will do this again.

But then, again, "He will finish the Work, and cut it short in righteousness; because a SHORT WORK will the Lord make upon the earth"! (Armstrong HW. Co-worker Letter, November 9, 1979)
So, he felt then that a short and important work would later happen, but felt in 1979 that it was being held up.
He seemed to have a similar view in 1983 as the following transcription from one of his sermon's states:
God has delayed certain events, but He says that He will make a short work and cut it short suddenly. Jesus gave us the expression of how it will come when it is least expected. And like a rat getting caught in a trap that snaps, when it didn't even know it, until it is caught. And that's how suddenly things are going to happen very, very soon. How much longer God will delay before He does that, I don't know. (Armstrong HW. Success Based On God's Law Sermon Date: July 30, 1983 http://www.hwalibrary.com/cgi-bin/get/hwa.cgi?action=getsermon&InfoID=1330874371&SearchWhat=KeyWord&SearchFor=god%27s%20true%20church&page=97&return=search#.Ug-Q6T_NvXA)
Yes, there was a delay, and that delay continued for decades after he died. Jesus warned that many, including Christians, would not expect what is happening and warned that we need to pray to be counted worthy (Luke 21:34-36).
Here is something Herbert W. Armstrong wrote in a letter dated September 17, 1982:
It is written in Romans 9, concerning this very END TIME, "For he (Christ) will finish the work, and cut it short in righteousness: because a short work will the Lord make upon the earth" (verse 28).
While we were not in the very end time then, we are much closer to it now. In a letter dated October 18, 1983 he wrote that he realized that the 'short work' was for the future:
I feel God will move swiftly soon to make a short work preparatory to Christ's coming.
The short work most definitely involves preparation now. This is part of why more materials in more languages, literature, articles, books, booklets, and websites are being developed and/or added to by the Continuing Church of God.
The two groups with origins in the old GCG who mention the short work the most appear to be RCG and CCOG. But as RCG cannot be leading it (see Why Not the Restored Church of God?), those interested in the short work should see what the Continuing Church of God is doing to prepare for it.
A related article is titled Preparing for the 'Short Work' and The Famine of the Word. Here is a link to a related video sermon titled: The Short Work.
03/05/16 p.m. The Banned By HWA corrected the date of its post below to today. Then Gary Leonard called me more names, as did some of those who post there. The bitter people over there have real problems with the truth--and yes, I do pray for them.
03/05/16 a.m. In a post now shown on the Banned By HWA site oddly dated Tuesday, March 8, 2016, its webmaster Gary Leonard posted:
Several LCG asked me if I had any information on Dibar Apartian and his belief that LCG was no longer God's church. This was posted in December of 2015. You can see it between snarky comments about Bob and his self righteous grandeous image he tries to portray of himself.

The only version of this story is coming from Bob Thiel when he tried to use it to smear Meredith whom he is angry with for refusing to listen to him. and incorporate changes he felt LCG needed.
He then made some more attacks against me and included some information I posted.
Yet, if Gary consulted comments at his own blog, he would realize that I am not the only one to post comments related to Dibar Apartian's views of the Living Church of God. Here are some comments from others at his blog:
The sad part of the story about Mr. Apartian is that. When he was dying, Mr. Ames actually stood up giving the announcements and said "that you should not go see Mr. Apartian anymore. They said it was because he had CDiff. But you only get CDiff if your immune system is weak or you are in a nursing home or hospital. The truth of the matter is they knew that he was telling people the Living was no longer the Church of God. And they had to stop people from seeing him. March 3, 2016 at 2:50 PM

I stood by and heard Mr. Ames himself say the Matt. 18 does not apply to the ministry... I about fell on the floor! They really believe they are above the law and doing what God says... but heaven help the sheep if they don't follow it. March 3, 2016 at 2:45 PM

Mr. Apartian told anyone who was willing to discuss it with him in the last year of his life that "LCG was no longer the church of God". It is common knowledge that he was talking to the leaders of several other groups and planning to remove his support from RCM. Unfortunately,he got sick at the ripe old age of 90 something and never had a chance to complete his transition.

March 3, 2016 at 6:30 AM

This is all true... I have heard Mr. Apartian myself say all of this and more. He was dead set against the upgrades...Marriage Supper (Rapture), and Dr. Winnails Falling Away from the Truth theory. And Dr. Merediths false Gospel... This was all suppose to be never brought up again in the Council of Elders meetings. But when Mr. Apartian died, he was barely in the grave before they changed it all.


I heard Dr. Meredith say that the widows of Mr. McNair, Mr. Ogwyn, and Mr. Apartian say that their husbands would have been right on board with these changes...How can that be when they were the ones stopping it. They fought it in Global and Living.


There is nothing Dr. Meredith won't lie about..."I knew Mr. Armstrong better than anyone..." What a bunch of Horse Manure, he never did know Mr. Armstrong. He always thought Mr. Armstrong was wrong about so much and actually said "I had to keep Mr. Armstrong on track, and I had to correct him all the time." Anyone who believes that is certifiable.
Mr. Apartian, Mr. Ogwyn, and Mr. Carl McNair did not follow Rod Meredith....they followed God only. And their works and lives prove it. You can not change what they believed just because you want to. All you have to do is listen to their sermons and you will know were they stand. and I stand with God and them.

December 9, 2015 at 10:04 AM

Even though many of us in LCG know that Mr. Apartian no longer supported RCM toward the end of his life, RCM uses his name TO THIS DAY as evidence that LCG God's true church.

RCM will name drop in the middle of some boring sermon about how the greatest, most faithful men followed him out of WWCG like Dibar Apartian, Carl McNair and John Ogwyn.

It gives RCM credence and validation with a portion of brethren.

Having known all 3 of the above mentioned men, I seriously doubt any of them would be in the current version of LCG.

But they are dead and their widows are on the LCG payroll so RCM can safely use their names to his advantage.

December 9, 2015 at 7:24 AM

Say what you will about Thiel..., but the facts of the Mr. Apartian story that he broke we all true. I heard Apartian say those exact words almost verbatim. He was not shy about his beliefs and was willing to share them with anyone who cared to discuss the state of LCG during the last few years of his life. It's not an elite group of confidants but includes LCG ministers, non-LCG ministers and brethren a like.

Apartian did not approve of all of LCG's "doctrinal upgrades". Nor did he approve of RCM's lying, greed and nepotism.

One of the last things Dibar ever said to me was, "I fear I have made a terrible mistake".

December 9, 2015 at 7:16 AM

Initially Theil did not allude to who his source might be and Meredith ASSumed that it was Patrick Scarborough who was subsequently disfellowshipped and marked from LCG the Sabbath after this COGWriter story was posted.

Meredith can never admit that he's made a mistake, so even after learning (from Theil himself) that Mr. Scarborough was NOT the source, Meredith has refused to apologize or correct the record. So Christian.

I ask about the Scarborough's every once and a while and the canned answer I always get (and I have asked several different LCG ministers) is that I need to just trust in the ministry to do the will of God.

As time passes, it gets harder and harder to "trust LCG ministry" because much of their behavior is unpalatable. Even for a "sheeple".

December 9, 2015 at 7:33 AM
Anyway, what I posted about Dibar Apartian before was accurate and apparently various others knew about it.
And just what did I post? Well, here is what I posted on December 8, 2015 in a post titled Memories of evangelist Dibar Apartian and LCG differences:
COGwriter and Dibar Apartian

Dibar Apartian died on December 8, 2010. For those unfamiliar with him, he had been an evangelist in the Church of God (COG) for decades.

He was born of Armenian parents and his family had to flee when he was quite young because of persecution from the Turks (known as the Armenian genocide). He ended up in the French-speaking portion of Switzerland. During World War II he worked for the US Embassy there and then later came to the USA. In the USA, he met and married his wife Shirley.

Dibar Apartian lived into his mid-90s (there were debates about the year he was born and he himself did not seem to be certain as his early documents were lost). As many know, he was responsible for the French language work in the old Radio Church of God which became the old Worldwide Church of God (WCG), then he was in the old Global Church of God (GCG), and then the Living Church of God (LCG). He also handled other aspects of Church Administration in and out of the USA for LCG.

For decades, he also taught French at the old Ambassador College (Pasadena, California campus). He loved the French. He loved the French language, he loved French food, and he loved the French people.

His voice was well known throughout much of the French-speaking world as he did a radio program for decades in the French-language that was heard in several French-speaking nations. He used to sometimes write articles that went into the English language publications and sometimes gave sermons in English.

While my wife Joyce and I were familiar with that, we started to become more familiar with him in the 1980s. As WATS line volunteers for the old Worldwide Church of God in Pasadena, sometimes his Friday night Bible studies were played and we would watch them.

After the apostasy in the old Worldwide Church of God, Dibar Apartian did not run immediately to Dr. Meredith and the new Global Church of God as he was unsure where to go. After a couple of years, he ended up with the Global Church of God mainly because of doctrinal issues he had in discussions with the emerging United Church of God (UCG).

Within a year or less of that, Dibar Apartian and I met. We later counted each other as friends. We would spend time together when my family and I used to visit the Garden Grove congregation of the old Global Church of God in the mid to late 1990s.

Prior to the GCG split in 1998, Dibar Apartian expressed his opinion about various actions and decisions he had issues with that its then presiding evangelist Roderick C. Meredith made. He personally told me in late 1998, that he told Dr. Meredith if he ever did something like this again that he would not follow him into another organization. This clarified, for me at least, some of his views of Dr. Meredith.

Through the years, Dibar Apartian and I worked together on many matters, including when I was looking into a variety of allegations against the late Herbert W. Armstrong (see 15 Accusations and Truthful Responses About Herbert W. Armstrong) as well as the Elijah issue (see The Elijah Heresies).

When some claimed that the proclamation work of Matthew 24:14 was completed, he strongly disagreed. Dibar Apartian was an evangelist who was preaching the Gospel of the Kingdom in the French language over radio while Herbert Armstrong was alive, and he did so after some improper believe that Matthew 24:14 had been fulfilled in total.

Dibar Apartian continued to preach the Gospel until shortly before he died. When I asked him if Herbert Armstrong ever told him to stop doing this in the event of his (HWA's) death, Dibar Apartian responded, "To the contrary, he told me he wanted me to go on more stations." This ended up being reported in the article Should the Church Still Try to Place its Top Priority on Proclaiming the Gospel or Did Herbert W. Armstrong Change that Priority for the Work?

We had various discussions about the Bible and Bible study. Dibar Apartian used to teach that the Bible was not like other books–you do not simply read it, you need to truly study it and live by it (see Read the Bible). And that is true (Matthew 4:4; Luke 4:4).

Dibar Apartian and I worked together on how to reach people better in the third world, including places like Nigeria. Neither of us cared for how the then LCG director of Church Administration handled some of those matters (note: this is NOT a reference to Dr. D. Winnail, who did not hold that office when the Nigeria issue arose), and he made suggestions on how to work to support Matthew 24:14; 28:19-20 without getting some things stopped by that director (who was later removed from that position).

Dibar Apartian had a keen interest on prophecy, as well as history. Notice three items he wrote:

This soon-coming union of ten nations or governments prophetically represents the last "head" of the resurrected "beast"-the revival of the "Holy Roman Empire" (Rev. 17 :9- 1 2). But contrary to what you may think, it wiIl NOT consist only of Gentile nations. It will INCLUDE a group of ISRAELITISH nations. "Come out of her , my people," says God in Revelation 18:4. "My people" means Israelites in Bible prophecy. Yes, once again, Joseph' s own brothers will sell him to the Gentiles!

Once again REUBEN (the first-born of Jacob who anciently conspired with his brothers, will "act" in terms of saving him, but end · up by compromising with his brothers to send him into CAPTIVITY. (Apartian D. De Gaulle and the Next World War. Plain Truth, September 1964, p. 11)

This Union of 10 Kingdoms is already in formation in Europe. In fact, France is at present one of its key members. As this prophecy reveals, this union will receive authority "for one hour" only-that is, a short time-because it is like "iron mixed with miry clay" (Dan. 2:43) …

During the last two WORLD WARS France was at the side of her natural allies, the Anglo-Saxons. They are, indeed, her natural allies because the French people, in turn, are the modern DESCENDANTS of one of the twelve tribes of Israel, namely REUBEN! The situation, however, will be quite different during the next WORLD WAR, France will no longer fight at the side of her former allies; she will turn AGAINST them. The descendants of Reuben will play their part in selling into slavery their brother Joseph – just as Reuben did some 3700 years ago. You are now beginning to see why the relations between the United States of America and France are gradually deteriorating. (Apartian D. France: The Enigma of our Time. Plain Truth, August 1966, pp. 11-12)

On September 3, 1939, the Allies declared war against Germany after its invasion of Poland, and all stores and restaurants were closed. Some did not heed. Some had even scoffed at the warning. As a result, they suffered the consequences. How about us, today? What is our attitude as we see dark clouds hovering over our heads? Recently, the United States, as well as the rest of the world, has gone through unparalleled calamities. How many more wake-up calls do we need before we heed and prepare for the calamities ahead? The Bible tells us, "The way of a fool is right in his own eyes, but he who heeds counsel is wise" (Proverbs 12:15). (Apartian D. World Ahead Weekly Update, September 8, 2005)

Many are becoming perplexed and wondering what's really happening to this world? When will earthquakes, tsunamis, and hurricanes end? When will wars and cruelty among human beings come to a halt? We, as God's people, know the answers but we must constantly be strong and vigilant to help others in the world turn to God, submit to His will, and observe His commandments. That's our mission. Are we doing our part—zealously? Are we ourselves submitting to God—totally? Hurricane Katrina is one of the wake-up calls, not only to Americans but to all mankind. The question is: Will mankind wake up? And will all of God's people around the world wake up? Each of us, individually, holds the answer. Remember Christ's words, "And what I say to you, I say to all: Watch!" (Mark 13:37) (Apartian D. World Ahead Weekly Update, September 1, 2005)

He and I often discussed prophetic, historical, doctrinal, and administrative matters.

Many members in LCG were unaware that Dibar Apartian had issues with LCG's Tomorrow's World magazine. He stated it lacked interest, depth, and relevance. In 2007 and 2008, he pushed Dr. Meredith to agree to have articles in it from me as he told me that my articles were what LCG needed. Dr. Meredith agreed, at least at that time. I agreed, but under the proviso that LCG would first fix errors in its booklet on church history. Although LCG, numerous times agreed to do that and told me numerous times that it was working on doing that, it never happened as various ones promised. The reality is that one of the top people did not want the magazine changed and prevented the booklet changes as a reason to not have me submit articles.

Dibar Apartian frequently used to urge me to try to get the other leaders in LCG to correct doctrinal, prophetic, and literature errors. Although I tried to get him to do more of that himself, he always instructed me to not only do that, but to remind other leaders in Charlotte to keep their promises to fix errors, literature, etc.

But we did have an incident where he got quite angry with me. It was related to something that started on October 3, 2008 when Dr. Roderick C. Meredith (Presiding Evangelist of the Living Church of God) called me and said to me, "God may consider you to be a prophet." Dr . Meredith and I discussed this in depth as Dr. Meredith was the one who brought the topic up.

Dibar Apartian shown sitting between COGwriter and my wife Joyce, along with his wife Shirley and our sons Michael and Brian (David is in between them, but hard to see) in Evian, France

Later that month, my family and I went to the Feast of Tabernacles in Evian, France. The conversation with Dr. Meredith weighed on my mind, so I asked Dibar Apartian (who was the Feast site coordinator) and Dr. Jeff Fall (who was my pastor then, and who also attended there that year) to meet with me before services one morning. I told both of them about the conversation with Dr. Meredith.

Upon hearing this, Dibar Apartian got upset. He told me that Dr. Meredith did not say such a thing and I assured him that he had. His emotions got the best of him and he walked out of the meeting and I completed it by discussing what happened in more depth with Dr. Fall.

A couple of days later, after Dibar Apartian calmed down, he came up to me and said that I was either "the one" or the "biggest threat to the church." He also came up to me shortly thereafter and told me how much he appreciated a sermonette I gave during that Feast.

We continued to speak over the telephone. I would bring up issues and Dibar Apartian continued to press me to bring the subjects up to other leaders in Charlotte. So, I did. He told me that I needed to remind those in Charlotte about errors they were making and truths that they were not teaching, so I did.

In the Summer of 2009, Dibar Apartian told me, in quite a positive tone, that Dr. Meredith had been stating in meetings that "Bob Thiel may be a prophet." He seemed very excited. I reminded him that I had told him that in October 2008, and he said yes he knew, but essentially the forthright way Dr. Meredith brought it up struck him in a very positive way.

Anyway, we continued to work together and I would bounce doctrinal, historical, and prophetic issues off of him and as far as I recall, he always agreed with what I was advocating. He kept telling me to remind Dr. Meredith and others of issues there, despite the fact that they often would not resolve matters.

In the late Summer of 2010, I asked Dibar Apartian if he still thought I was "the greatest threat to the church or 'the one.' " He said I was not the threat and said that he would try to talk to Dr. Meredith about my prophetic role, but it is not clear how, or even if, he did before he died later that year. But what was appeared clear was that Dibar Apartian believed then that God had a top/prophetic role for me.

Dibar Apartian got ill at the Feast of Tabernacles in Martinique in late 2010, and never truly recovered from that bout of illness. Here is something he wrote in November 2010:

Dear brethren in Christ: Since the Feast of Tabernacles, my life has known many changes. Humanly speaking, one wonders if the hardship that follows is worth it. The answer is simple: God knows. He knows what every one of us goes through in life and how much we can each take. This has been my strength. Without such hope, life would be worthless. During the last few weeks, while lying in my bed, I have come to understand more and more that God is in control of everything. You and I are simple servants. We should do what He leads us to do. At times, all seems dark. But just like night and day, the light of the day overshadows the darkness of yesterday.

Dibar Apartian was buried at Forest Lawn cemetery in Weddington, North Carolina.

In one of our last conversations, he concluded with the words, "I love you." I was emotionally touched.

Some have attempted to discount and discredit what happened between Dibar Apartian and myself, but what is reported here is true. There should be several in Charlotte who at least used to know this, as well as one or more LCG ministers not in Charlotte who did.

It should be noted that Dibar Apartian had major issues with LCG in general and Dr. Meredith in particular. And I was not the only one who knew this. Someone once in the employ of LCG in Charlotte sent me the following:

I just wanted to write you about Mr. Apartian and what he REALLY felt about LCG and its leaders.

I know that Dibar Apartian expressed serious concern for the LCG brethren, as he made comments about the "true colors" of LCG's upper leadership would come out after his death-which is exactly what happened.

Mr. Apartian told several LCG members, whom he trusted, that LCG was no longer God's true Church, and was no longer even a Godly church.

Mr. Apartian was against the "falling away" doctrine, just as John Ogwyn was against it also.

Mr. Apartian also knew that Herbert W. Armstrong was vehemently against Rod Meredith being the human leader of the church. Mr. Apartian always felt uneasy about following Rod Meredith, since he knew HWA's feelings about that.

Mr. Apartian was also having private meetings, near the end of his life, with ministers of different Church of God groups-one of those ministers, whom Mr. Apartian met with, told me about their meetings in person. Those private meetings were about Mr. Apartian leaving LCG.

However, due to his rapidly failing health and a few other reasons, he stayed with LCG.

He did make it very clear though, that LCG was heading the wrong direction, in terms of doctrine and other major decisions as well.

Mr. Apartian was also very upset about Rod Meredith's lack of compassion and concern for him, while he was near his death.

Rod Meredith had heard about some of Mr. Apartian's revealing comments about LCG, and Meredith was not happy.

Therefore, Rod Meredith did not visit much with Mr. Apartian towards the end, and Meredith even discouraged other LCG members from visiting with Mr. Apartian-worried that more negative facts about LCG would "get out."

I hope this info is helpful-God's people need to know the truth about LCG and about Rod Meredith

. . .

Mr. Apartian actually said that LCG was no longer a Godly church!

He also said that we would all see LCG's "true colors" after he died.

He made these statements to several LCG members, but most of them are still working at HQ, so they just keep quiet and don't say a word.

After Dibar Apartian's death, certain problems with LCG became clearer and certain ones accelerated. Many of those have been documented at the COGwriter.com website. The "true colors" are out there for those who really will love and believe the truth. But sadly, most seem to not understand the depth of the integrity issues, etc.

Since Dibar Apartian died, LCG changed several doctrines. As many know, LCG now teaches that the 'falling away' is for the world (and not for those claiming to be COG) and that it specifically identifies its uniqueness by this heretical doctrinal change. Details of their position and why it is in error are in the article The Falling Away: The Bible, WCG, and LCG Teachings.

I left LCG because it had serious integrity matters and that it would not correct errors its top leaders had acknowledged (see Why Bob Thiel Left the Living Church of God). Dibar Apartian realized LCG had them as well. The integrity matters also spill into matters of doctrine and LCG has made many improper changes since Dibar Apartian's death.

Many have asked me for a list of doctrinal differences between LCG and the Continuing Church of God. As far as doctrines, unlike the Charlotte-based Living Church of God, the CCOG believes:

That the word of God and not Protestant commentaries should be the basis for changing doctrine (it remains my view that the "falling away" logic was primarily based upon Protestant interpretations, overlooked a lot of what HWA's actually church taught about it, and was not consistent with many scriptures in the Bible). See also The Falling Away: The Bible and WCG Teachings.
The Falling Away on 2 Thessalonians 2:3 mainly has to do those affiliated with the COG (see also The Falling Away: The Bible and WCG Teachings).
That the leader of CCOG keep his word, as should the leader of LCG–really (see Why Bob Thiel Left the Living Church of God and Response to a Letter from Dr. Roderick C. Meredith Dated December 28, 2012).
That since a prophet is higher in "spiritual authority" than an evangelist, that those who believe in hierarchical governance would support a prophet of God over an evangelist, irrespective of how long he has been an evangelist (see also The Bible, Peter, Paul, John, Polycarp, Herbert W. Armstrong, Roderick C. Meredith, and Bob Thiel on Church Government and How To Determine If Someone is a True Prophet of God).
That faith is not the first step towards salvation, but that God calls and send out His messengers to teach the word of God (Romans 10:14-17), and then comes faith (the Official Statement of Fundamental Beliefs of LCG differs; see also proposed changes to LCG's Official Statement of Fundamental Beliefs).
That it is inappropriate to suggest that those that do not agree to an unscriptural doctrinal change have somehow been led by or blinded by Satan (this is related to statements in two sermons by Dr. Douglas Winnail; see also The Falling Away: The Bible and WCG Teachings).
That it is not necessary to rebuild a Jewish Temple in Jerusalem before Jesus returns (both a TW telecast and one or more LCG sermons have stated a view that disagrees with that; see also Why is a Jewish Temple in Jerusalem Not Required?).
That literature corrections and/or retractions should be made when known. The work of God MUST be done in truth (Psalm 33:4).
That the COG must be bolder in certain areas if it wants to fulfill Matthew 24:14 (see also The Final Phase of the Work).
Matthew 18:15-17, about going to your brother to try to resolve a matter before going public with it, applies to leaders and members.
That institutional idolatry is still wrong and that proper church governance does not include being loyal to a church or leader's teachings which contradict scripture (see also The Bible, Peter, Paul, John, Polycarp, Herbert W. Armstrong, Roderick C. Meredith, and Bob Thiel on Church Government).
That it is wrong to knowingly send out tens of thousands of booklets with admitted and known errors for several years (tens of thousands of the GCA booklet have gone out, despite LCG being told that they contain known errors years ago and that they perpetuate certain Catholic myths (consider also Psalm 101:7); on 10/18/12 I was informed that over 20,000 incorrect booklets remained and were expected to be sent out; see also October 2012 Emails Related to GCA Booklet).
That it is wrong to continue to have one or more known errors/contradictions in an Official Statement of Fundamental Beliefs, but still keep it unchanged for years after learning what they are (one is a seeming contradiction within the Statement, and the others are covered in points 4 and 18, though point four I had not brought that up before, but wanted to when I first noticed it). (See also December 2011 Proposed changes to LCG's Official Statement of Fundamental Beliefs.)
That Philadelphians should expect persecution (Daniel 11:28-35; Revelation 12:13-14; see also Persecutions by Church and State) and not excessively pull-back proclamation to avoid it (I was specifically told that some, who I will not mention now by name, were afraid I, Bob Thiel, could trigger end time persecution, despite the fact that they in LCG also specifically realize that the Philadelphians will be persecuted).
That improving literature and doctrinal errors will greatly assist in the final phase of the work. (Briefly, what this refers to is when the COG publicly identifies the King of the North and media coverage gets generated, the Catholic scholars will tear through COG literature and find many, many simple to fix errors that will hurt the COG's credibility. LCG Evangelists agreed to fix many of them with me over the years, but often have yet not done so. My being distant from LCG assists as I will not have to apologize for why a group that supposedly has enough of the "love of the truth" kept publishing known and serious errors. And several of those errors perpetuate Catholic myths. This could greatly damage the credibility of God's work.)
It has a better grasp of The Final Phase of the Work. (Briefly, basically this begins no later than when the King of the North is identified and continues until Jesus returns–it has multiple parts including fulfilling Matthew 24:14–which may happen because of related media attention, persecution, the angels' messages of Revelation, the two witnesses, and supporting those witnesses. If John Ogwyn was correct about the "short work" on Romans 9:28, this could possibly, temporarily swell the ranks of the COG prior to the persecution.)
Jesus is present at Passover (Matthew 18:20; 26:26-27; John 6:51,53; 1 Corinthians 11:24-25; LCG's Passover DVD for 2012 stated that Jesus was not present).
People should be more loyal to the word of God and leaders that God appoints than a corporation (see also The Bible, Peter, Paul, John, Polycarp, Herbert W. Armstrong, Roderick C. Meredith, and Bob Thiel on Church Government).
Ignatius' writings did not do away with the Sabbath (see Another Look at the Didache, Ignatius, and the Sabbath) as that is a mistranslation (the God's Church Through the Ages' booklet has this and many other errors as does the book LCG printed and gave to all in the Fall of 2014 by Ivor Fletcher). Accurate details about COG history, that do NOT perpetuate Catholic and other myths like two publications distributed by LCG do, are in the free booklet: Continuing History of the Church of God.
Various divorce and remarriage (D&R) matters. Though since I have only been married once (we have been married for 34 plus years, and are not planning on divorcing), this was not a major personal item, but has long been a concern as LCG seemed to allow remarriage where the Bible did not.
That adultery, does not mean multiple adultery, as far as Jesus' words about divorce go (Dr. Meredith has said in sermons that adultery here means multiple violations. That is not how I read this and I called Charlotte about it in 2012, with no satisfactory resolution.)
Marriages performed by the ministry are not to include believers to unbelievers per 2 Corinthians 6:14-18 (unless certain other biblically-sanctioned reasons are present; e.g. Deuteronomy 22:28). See also the 2015 post, NBC: 'Exposed in Ashley Madison Hack? Here's What to Do Now'.
That the Great Tribulation, the time of Jacob's troubles, does not start at Daniel 11:40 when the King of the South pushes at the King of the North–it starts the prior verse (this is something that still needs to be corrected in the LCG Official Statement of Fundamental Beliefs; this is something many have known about for years and had promised to address; see also When Will the Great Tribulation Begin?).
That the King of the North attacks the USA and its Anglo-Saxon allies (Daniel 11:39) before he attacks the King of the South (Daniel 11:40; LCG teaches both versions of this and leans towards the wrong one; LCG's Fourteen Signs booklet, for one example, teaches that Daniel 11:31 comes AFTER Daniel 11:40-43 and that the USA and Anglo-Saxon nations are destroyed afterwards–this means LCG WILL NOT KNOW WHEN THE GREAT TRIBULATION WILL BEGIN AND THOSE THAT PREFER TO SUPPORT LCG WILL NOT FLEE TO BE PROTECTED WHEN IT IS TIME).
That Daniel 11:31 is fulfilled prior to Daniel 11:40-43 (LCG's Fourteen Signs booklet teaches the opposite order).
That since the ten kings have not yet received their kingdoms, that the ten kings mentioned in Revelation 17:16 are not limited to 10-11 currently existing nations (LCG sometimes takes a different view, which will mean that they will not realize when the Beast power is at the end stage of its rising up, see also LCG and PCG insisting on 10 or 11 'nations' for the Beast? What does the Bible teach?).
Do not believe that any in the ministry should promote the sport of American tackle football (the Bible, in Romans 13:9-10 clearly teaches "You shall love your neighbor as yourself." 10 Love does no harm to a neighbor; therefore love is the fulfillment of the law"). HWA also specifically warned against this violent sport (see Is American Football Evil?). There are also other "love" issue matters.
We do not believe that we should encourage the pagan sun-god (Shamash 888 B.C.) worship practice (cf. Deuteronomy 12:29-32) of praying with clasped hands (see our booklet Prayer: What Does the Bible Teach?), whereas LCG has published photos promoting this.
While the Bible seemingly allows for eating out while traveling (Matthew 12:1-8) and certain emergencies (Luke 6:3-5), that it does not condone regular eating out in restaurants on the Sabbath for those who are simply at their homes (cf. Nehemiah 10:30-31; watch also The Christian Sabbath and How and Why to Keep It).
That the "mark of the Beast" includes idolatry and likely a physical object, and is not limited to Sunday worship (see Mark of the Beast and The Mark of Antichrist).
That the "word of the law" needs to be preached as part of the Feast of Tabernacles every seven years (Deuteronomy 31:10-13; cf. Nehemiah 6:73;7:1-3,8,13-17; Joshua 8:34; see also The Feast of Tabernacles: A Time to Learn the Law). This has been conveyed to those given sermons at the CCOG Feast of Tabernacles' Sites for 2013.
That Habakkuk 2 clearly is referring to these end times and thus has prophetic applicability to the Anglo-descended nations (LCG has ministers and at least one evangelist who believe Habakkuk 2 was fulfilled in its entirety and does not have end time applications, even though it clearly does–see also Habakkuk: His message is for us now).
Some of the prophecies in the Bible (e.g. Isaiah 10:5-11) seem to use the term 'Samaria' to refer to the modern United States of America (see also Anglo – America in Prophecy & the Lost Tribes of Israel). Although one LCG leader seemed open to this when told in 2012, LCG does not seem to formally teach this.
France will support the Beast power (LCG is no longer certain; see Must the Ten Kings of Revelation 17:12 Rule over Ten Currently Existing Nations? And this disagrees with the late Dibar Apartian's position as shown in The 'Lost Tribe' of Reuben: France in Prophecy?).
That Matthew 28:19 is part of the Bible and needs to be part of the baptismal ceremony (see also Is Matthew 28:19 in the Bible?). Evangelist Richard Ames personally expressed his doubts to me once about whether Matthew 28:19 was scripture or not–he, at that time at least, was not convinced that it was. Although the Bible teaches, "one Lord, one faith, one baptism" (Ephesians 4:5), in late June 2013 I was told by someone else who inquired that LCG has two different baptisms because some do not believe that Matthew 28:19 applies. Although it ends with an option for an appropriate ceremony, LCG's L049 letter specifically states, "Is Matthew 28:19 the only commanded formula that must be used in a baptism ceremony? Again, we say no, it is not, based on the actual procedures the early church used in baptizing," which seems to substantiate what I was told about more than one baptismal option.
That the man of sin in 2 Thessalonians 2 is the first beast, the final King of the North, and not the second beast, the false prophet (see also Who is the Man of Sin of 2 Thessalonians 2?; or, in English, see the You Tube video Who is the Man of Sin?). In his co-worker letter dated, April 17, 2013, Dr. Meredith indicated that not agreeing with his improper assertion about this individual means that one does not understand biblical prophecy–since Dr. Meredith is not correct on this, but CCOG is, those in his church should realize that LCG has major problems in understanding various parts of prophecy. This will not bode well for any who will believe LCG over CCOG in the future.
It is wrong to tell members that "the end" is closer than the leadership believes (LCG has done this repeatedly as I tended to find out when I checked with its top leadership).
That it is not necessary that a red heifer be sacrificed as part of the final end time sequence (LCG has published that "those who are watching end-time prophetic events know that the slaughter of the red heifer is one of the first major milestones in this final sequence of end-time events"; see The Red Heifer, Jewish Beliefs, and the End of the World).
That God is restoring "all things" (Matthew 17:11; Jude 3). While both CCOG and LCG believe that there has to be some type of an end-time Elijah, LCG has not specifically taught that it has been restoring what needs to be restored (the church history book it distributed at the Feast of Tabernacles in 2014 perpetuated Catholic and other myths and DID NOT restore 'apostolic Christianity.' Furthermore its Dr. Winnail has also taught that the final Elijah could be the church and not a person. Yet CCOG does teach that there is a final person coming in the spirit and power of Elijah, (see Statement of Beliefs of the Continuing Church of God and The Feast of Tabernacles: A Time to Learn the Law), that it is in the process of restoring all things, and the final Elijah will come from it (see the sermon Elijah, Herbert W. Armstrong, and CCOG).
That Jesus is NOT the one who will "will turn the hearts of the fathers to the children, and the hearts of the children to their fathers" (Malachi 4:6) as LCG taught in 2015, but that this is part of the work of the final Elijah (Malachi 4:5-6; details on LCG's and CCOG's positions are in the article The Elijah Heresies).
The EU will NOT collapse like the old Roman Empire as LCG asserted last week as the LCG view is contrary to prophetic scriptures (some details on LCG's and CCOG's positions are in the article Must the Ten Kings of Revelation 17:12 Rule over Ten Currently Existing Nations?).

Anyway, while there are others, the above gives some reasons why those who wish to truly be part of the Philadelphia remnant would want to consider supporting the Continuing Church of God.

Some time ago, LCG ceased to have the 'Philadelphia mantle' (proper leadership authority for the true and faithful church). It seems that Dibar Apartian realized this would happen, though even today, most within LCG (including those who know about the integrity and other issues) do not wish to take the biblically appropriate steps about that.

Though this is not a total surprise as Jesus prophesied that most in the end would not see the need to change as they should per His comments in Revelation 3:14-21.

Anyway, I considered Dibar Apartian as a friend and still miss him.

For those that prefer to read an earlier version of this post in the Spanish language, here is a link: http://www.cdlidd.es/dibar-apartian/.

Some items of possibly related interest may include:

Why Bob Thiel Left the Living Church of God Several have speculated reasons, but here is the truth. (En el idioma español: ¿Por qué Bob Thiel dejó la Iglesia del Dios Viviente?)
The 'Lost Tribe' of Reuben: France in Prophecy? What is the origin of this in France? What is prophesied to happen to them? A two-part sermon related to history and prophecy is available online: The 'Lost Tribe' of Reuben and France and Prophecy.
Dreams, the Bible, the Radio Church of God, and the Continuing Church of God How has God used dreams in the past? Does God still use dreams? Did He use any involving those in the Continuing Church of God? A related sermon is also available: Dreams, COGs, and One Man Rule.
Journal Report on Continuing Church of God Leader Bob Thiel Bob Thiel was interviewed by The Journal News of the Churches of God related to him being a prophet, the proclamation goals of the Continuing Church of God, and why he left LCG.
Response to a Letter from Dr. Roderick C. Meredith Dated December 28, 2012 In violation of Matthew 18, Dr. Meredith publicly sent out a letter that forced Dr. Thiel to conclude that the Continuing Church of God must be formed. Here is that letter and some of Bob Thiel's comments about it. Here is a version in the Spanish language Respuesta a una carta del Dr. Roderick C. Meredith fechada el 28 de diciembre, 2012.
What About the Living Church of God? Are there Doctrinal Differences with the Continuing Church of God? This article explains some information and doctrines of the Living Church of God as led by Roderick C. Meredith and some concerns about them. (En el idioma español: ¿Qué hay acerca de la Iglesia de Dios Viviente? ¿Hay diferencias doctrinales con la Continuación de la Iglesia de Dios?)
Where is the True Christian Church Today? This free online pdf booklet answers that question and includes 18 proofs, clues, and signs to identify the true vs. false Christian church. Plus 7 proofs, clues, and signs to help identify Laodicean churches. A related sermon is also available: Where is the True Christian Church? Here is a link to the booklet in the Spanish language: ¿Dónde está la verdadera Iglesia cristiana de hoy? Here is a link in the German language: WO IST DIE WAHRE CHRISTLICHE KIRCHE HEUTE? Here is a link in the French language: Où est la vraie Église Chrétienne aujourd'hui?
Continuing History of the Church of God This pdf booklet is a historical overview of the true Church of God and some of its main opponents from Acts 2 to the 21st century. Related sermon links include Continuing History of the Church of God: c. 31 to c. 300 A.D. and Continuing History of the Church of God: 4th-16th Centuries. The booklet is available in Spanish: Continuación de la Historia de la Iglesia de Dios, German: Kontinuierliche Geschichte der Kirche Gottes, and Ekegusii Omogano Bw'ekanisa Ya Nyasae Egendererete.
The Philadelphia Church Era was predominant circa 1933 A.D. to 1986 A.D. The old Radio Church of God and old Worldwide Church of God, now the remnant of that era is basically the most faithful in the Church of God, like who hold to the beliefs and practices of the Continuing Church of God.
The Laodicean Church Era has been predominant circa 1986 A.D. to present. The Laodiceans are non-Philadelphians who mainly descended from the old WCG or its offshoots. They do not properly understand the work or biblical prophecies and will face the Great Tribulation if they do not repent.

Sadly, many in and out of LCG do not understand all the truth of this.
03/03/16 p.m. I wrote the following that was in the March 3rd Letter to the Brethren for the Continuing Church of God:
COG News

Leaders of my former COG group have been sued for slander and basically making false statements about a family who is not in nor part of the Continuing Church of God (see LCG leadership being sued for slander).

While I do NOT support the means of a lawsuit for what the family seems to want to accomplish, the reality, as most all of you reading this letter realize, is that I found it necessary to leave my former COG group precisely because they did not have the type of integrity needed to be used of God to lead the final phase of the work (cf. Jeremiah 48:10; Psalm 33:4).

Moses once warned some of the tribes of Israel, "But if you do not do so, then take note, you have sinned against the Lord; and be sure your sin will find you out" (Numbers 32:23). The Apostle Paul wrote "Do not be deceived, God is not mocked; for whatever a man sows, that he will also reap" (Galatians 6:7). Again, while I did not support this lawsuit, it may well be that God will use it to get some messages out.

Presuming this lawsuit does not get settled out of court and information sealed, more people who are willing to look will see the lack of integrity on various issues has remained in that church since my departure.

In time, those scattered Philadelphians who are not part of us, will realize that they should be supporting the Continuing Church of God. While that does not need to have any lawsuit to happen, one might be a factor for some.
I rarely mention other COGs in that weekly letter, but thought some might find this of interest, especially considering why I left LCG (on that, see also Why Bob Thiel Left the Living Church of God).
02/29/16 p.m. Contrary to the lie at the "Banned by HWA" site related to me today that I was blindsided about this lawsuit against LCG, that is false. I knew well before Banned posted anything about it (I knew about it two weeks ago, but waited for it to become public before posting about it). Not that it matters that much. But I only mention it to show that often the anti-COG sites are not careful with the truth and post as 'facts' information that they are wrong about.
P.S. Despite the claim at Banned that I sought out LCG after going to Banned to check out the legitimacy of the lawsuit, that too is another lie. I have not contacted anyone at LCG about this lawsuit claims like the Banned site claimed. The home page of Banned site falsely claims "Nothing you read here is made up!," yet it has repeatedly made things up about me and others. Normally, I do not bother to refute, but decided to do so on this.
02/29/16 a.m. Disfellowshiped former LCG members Patrick and Elizabeth Scarborough have sued the Living Church of God and some of its leaders for slander with a mediation hearing apparently scheduled for July 11, 2016:
MECKLENBURG COUNTY SUPERIOR COURT MEDIATION CALENDAR SESSION BEGINNING WEDNESDAY, FEBRUARY 24, 2016 COURTROOM NUMBER 3420, MECKLENBURG COUNTY COURTHOUSE, 832 EAST 4TH STREET, CHARLOTTE WILLIAM R. BELL ,PRESIDING JUDGE MEDIATIONS BEGINNING WEDNESDAY, FEBRUARY 24, 2016 AT 8:00 AM PURSUANT TO THE LOCAL RULES, ADR EXTENSIONS WILL NOT BE GRANTED BEYOND THIS DATE UNLESS EXIGENT CIRCUMSTANCES EXIST. MEDIATIONS MUST BE COMPLETED EIGHT WEEKS PRIOR TO THE TRIAL DATE. ...

Monday, July 11, 2016 15-CVS-017573 SCARBOROUGH,PATRICK SCARBOROUGH,PATRICK S,S S,I SCARBOROUGH,ELIZABETH SCARBOROUGH,ELIZABETH -VS- LIVING CHURCH OF GOD PRO,SE MEREDITH,RODERICK,C OFFICIAL WARREN,BRIDGET,V CAPACITY GAROFALO,MEL,J MEREDITH,RODERICK,C WARREN,BRIDGET,V GAROFALO,MEL,J MCNAIR,ROD OFFICIAL CAPACITY GAROFALO,MEL,J WARREN,BRIDGET,V MCNAIR,ROD GAROFALO,MEL,J WARREN,BRIDGET,V LEAGUE,BOB ESTATE OF GAROFALO,MEL,J WARREN,BRIDGET,V LEAGUE,BOB ESTATE OF OFFICIAL GAROFALO,MEL,J CAPACITY WARREN,BRIDGET,V LIVING CHURCH OF GOD INC PRO,SE LIVING CHURCH OF GOD GAROFALO,MEL,J INTERNATIONAL INC WARREN,BRIDGET,V ISSUES: OTHR - SLANDER PDAM - PUNITIVE DAMAGES OTHR - SLANDER NEGO - NEG - OTHER PDAM - PUNITIVE DAMAGES DISM - COURT DISMISSED DISM - COURT DISMISSED DISM - COURT DISMISSED DISM - COURT DISMISSED EODF - ENTRY OF DEFAULT WDCN - WITHDRAW AS COUNSEL

http://www1.aoc.state.nc.us/www/data/MECKLENBURG/civil/FEBRUARY.24.2016/S._WILLIAM_R_BELL.3420.8_00_.MEDIATIONS.txt
While I do not support this type of lawsuit, I will add that I personally was libeled and slandered by leaders in the Living Church of God. I left LCG mainly because I did not feel that the top leadership had the character to hold the Philadelphia mantle. For some libel and other details, see Why Bob Thiel Left the Living Church of God and Response to a Letter from Dr. Roderick C. Meredith Dated December 28, 2012.
02/16/16 a.m. Several have asked me about rumors on the internet about possible mergers between the Living Church of God (LCG) and the Church of God, a Worlwide Association (COGWA). From time to time leaders in those two groups have met, which has tended to spark the merger rumors. Here is something that LCG reported about a visit last month:
Mr. Jim Franks, President of the Church of God, a Worldwide Association (COGWA), and several members of its administration visited our office in Charlotte and met with our Headquarters staff. It was a cordial visit and gave us an opportunity to communicate openly about a number of mutual concerns. The purpose of the visit was to build better relationships and promote better understanding.
COGWA was formed as a split from the United Church of God (UCG) 4-5 years ago. Some have essentially claimed that those in COGWA are less liberal than those in UCG, hence a merger between those in LCG and COGWA would seem possible.
When I was part of LCG, I personally asked each of the evangelists in Charlotte about this, and everyone of them said that this was not in the works nor anything they ever expected. This is probably still their view, although since LCG says it wants better relations and better understanding, that makes one wonder.
As far as COGWA goes, it has had less emphasis on gospel proclamation than various other groups, so that does not seem to be a focus of its leaders or members.
That being said, could anything happen between the groups?
Yes, possibly.
Once Dr. Meredith dies, whenever that may be, this may get some in COGWA to be more open to more cooperation with at least some in LCG. Depending on what happens with Richard Ames, Gerald Weston, Jim Meredith, and others, some would likely leave LCG. And some would likely end up with COGWA.
But unless Dr. Meredith, Richard Ames, and Dr. D. Winnail were and/or now are knowingly bearing false witness about COGWA, it is not likely we will see any 'merger' soon. Should any merger happen, scripturally it would not seem to be very significant (Revelation 3:14-18; Luke 6:39).
02/14/16 p.m. Continuing Church of God (CCOG) Pastor Evans Ochieng has been in Malawi for about one week now, meeting with Sosten Libugwa and others in that nation. He just sent the following report:

Pastor Dr Bob,

Yesterday was a Sabbath and I kept Sabbath with a group in Migawi. The service was very good.

When we wanted to close, one old man stood up and testify that one of his ears had been bad and did not hear anything but when I was preaching, he testify that all his ears we opened miraculously.

I also met a Sunday pastor there who told me that I have to visit him in his place. So when I went, he took me to his meeting hall where I met all members. I met a total of 94 people and when I taught them about Sabbath and baptism, all of them turned their heart to keep Sabbath. And now they are Sabbathkeepers. One old lady insisted that I must baptize her tomorrow.

After coming back I and Sosten went to the river to check a place of baptism. So tomorrow I will conduct baptism in MALAWI.

Evans.

So, we have the deaf who now hear, the gospel being preached, and the spiritually blind who can now see. It looks like God may have performed a miracle, not only heal the man who could not hear, but to also get the Sunday pastor's attention.
Notice something that Jesus said when He was questioned:
22 Jesus answered and said to them, "Go and tell John the things you have seen and heard: that the blind see, the lame walk, the lepers are cleansed, the deaf hear, the dead are raised, the poor have the gospel preached to them. 23 And blessed is he who is not offended because of Me." (Luke 7:22-23)

Blessed are those who are NOT offended by the fruits that God is providing in the CCOG.
02/05/16 p.m. In its newletter today, CEG had the following:
NBC News reported on February 2:

"Now that all combat jobs are open to women, the top Army and Marine Corps officers say they should have to register for the draft — just like men. Gen. Mark A. Milley, chief of staff of the Army, and Gen. Robert B. Neller, the Marine Corps commandant said they supported the requirement during testimony at a hearing before the Senate Armed Services Committee on Tuesday.

"'Senator, it's my personal view that, based on this lifting of restrictions … every American who's physically qualified should register for the draft,' Neller said in response to a question from Sen. Claire McCaskill, D-Missouri, who favors the change. Milley also agreed. 'Senator, I think that all eligible and qualified men and women should register for the draft,' he said.

"Right now only men legally residing the U.S. between the ages of 18 and 26 are required to register with the Selective Service. The two thumbs up from the generals came a month after Defense Secretary Ash Carter announced the Pentagon's historic shift in policy. Under the new rules, women will now be able to help fill some of the 220,000 jobs that were only open to their male counterparts, including key posts in some special operations units and the infantry…

"Conscripts have not been drafted since 1973 when the U.S. moved to an all-volunteer military. But in 1980 then President Jimmy Carter reinstated the requirement that men register in response to the Soviet invasion of Afghanistan."

War hawks are pushing for the draft. Men and women who are conscientiously opposed to serving in the military must be prepared for the distinct possibility that the war hawks will have it their way in the future.
If all genders are the same (which they are not, see also Women and the New Testament Church), then this is 'logical' for those who believe that and do not believe the Bible. This will not end well for the USA (cf. Daniel 11:39).
As far as military participation goes, please check out the article Military Service and the Churches of God: Do Real Christians Participate in Carnal Warfare or Encourage Violence?
02/03/16 a.m. Currently, it looks like I will be in Florida the Sabbath of April 2, 2016. Yesterday, I contacted a facility in Lantana, Florida about possibly holding services there. It is on the east coast, near West Palm Beach. If you live in Florida, and/or may wish to visit and would like to come for services, please email me. My email address is cogwriter@aol.com.
01/23/16 a.m. Since RCG's David Pack now claims to be "that Prophet" (see the 01/22/16 p.m post on this page) let us look at something that the New Testament teaches related to "that Prophet":
22 For Moses truly said to the fathers, 'The Lord your God will raise up for you a Prophet like me from your brethren. Him you shall hear in all things, whatever He says to you. 23 And it shall be that every soul who will not hear that Prophet shall be utterly destroyed from among the people. 24 Yes, and all the prophets, from Samuel and those who follow, as many as have spoken, have also foretold these days. 25 You are sons of the prophets, and of the covenant which God made with our fathers, saying to Abraham, 'And in your seed all the families of the earth shall be blessed.' 26 To you first, God, having raised up His Servant Jesus, sent Him to bless you, in turning away every one of you from your iniquities." (Acts 3:22-26)
Notice the scriptures above do refer to Jesus. Yet, David Pack keeps wanting people to believe that if they do not accept him they will be utterly destroyed. He began that, at least publicly, when he started to first claim he was an apostle several years ago. Then last year, he added to that by claiming to be the prophesied Elijah.
In his World To Come broadcast titled Elijah & That Prophet—The 1st Dominion Restoration (Part 4), David Pack claimed that the scriptures he felt were related to "that Prophet" could not describe Jesus as he said that since God sometimes described "that Prophet," God would not describe God. Basically, seengly David Pack overlooked the fact that their are currently two God beings in the Godhead (see also Binitarianism: One God, Two Beings Before the Beginning), and the Father sometimes does describe the Son (Jesus). David Pack remains delusional about himself (see also Why Not the Restored Church of God?).
Because of misunderstandings, false prophets like David Pack, Gerald Flurry, and Ronald Weinland, many have improperly concluded that it is best not to accept that God actually has any prophets now. Norman Edwards (who was once on the board of GCG and is not part of CCOG) warned against that attitude in two different articles in Shepherd's Voice as he wrote:
Two Wrongs Do Not Make a Right

... 37 If you claim to be a prophet or think you are spiritual, you should recognize that what I am saying is a command from the Lord himself. But if you do not recognize this, you yourself will not be recognized. So, my dear brothers and sisters, be eager to prophesy, and don't forbid speaking in tongues. But be sure that everything is done properly and in order (1 Corinthians 14:31- 33, 37-40).

Simply because some congregations do not follow this scripture does not mean that there is not a proper use of spiritual gifts today. Think about this. Almost all of us would agree that we know of another church denomination or congregation that teaches erroneous doctrines. But does that error stop us from teaching the Bible? It should not. Similarly, many people do not attend church congregations because they have experienced corruption there before. But should that stop us from continuing to meet in congregations as the Bible instructs?

Two wrongs do not make a right!

Simply because some congregations that promote "spiritual gifts" do not follow all the scriptural teaching on it, does not mean that dedicated believers can abandon these vital gifts. It becomes all the more important for godly people to do it right. The number of false prophets compared to the number of true prophets does not matter. Elijah went up against 850 prophets of Baal and Asherah. The power of God destroyed all the false prophets (1 Kings 18:17-40). (Edwards N. Spiritual Oomph! Shepherd's Voice, Fall 2015, pp. 11-12)

Eph 4:11 And He Himself gave some to be apostles, some prophets, some evangelists, and some pastors and teachers,

1Th 5:19-21 Do not quench the Spirit. Do not despise prophecies. Test all things; hold fast what is good.

1Tim 1:18 This charge I commit to you, son Timothy, according to the prophecies previously made concerning you, that by them you may wage the good warfare,

1Tim 4:14 Do not neglect the gift that is in you, which was given to you by prophecy with the laying on of the hands of the eldership.

2Tim 3:1-2, 5 But know this, that in the last days perilous times will come: 2 For men will be… lovers of pleasure rather than lovers of God, having a form of godliness but denying its power. And from such people turn away!

Do people today have faith that God is able to prophecy through people in their congregations?

1Jo 4:1-2 Beloved, do not believe every spirit, but test the spirits, whether they are of God; because many false prophets have gone out into the world. By this you know the Spirit of God: Every spirit that confesses that Jesus Christ has come in the flesh is of God,

Note: If there were no true prophets, there would be no need to "test the spirits"—because every prophet would be a "false prophet". But because there are both true prophets and false prophets, we need to "test the spirits". (Edwards N. Need Prophets More than Prophecy. Shepherd's Voice, Fall 2013)
Basically, Norman Edwards is saying that the New Testament does tell of prophets, and that even though there can be vast multitudes of false prophets, that those who will really be the most faithful will listen to God's prophet(s). Jesus Himself also warned in His parable of the talents that some would not support the work for fear of mistakes, and Jesus condemned the one who was afraid to do what should have been done (Matthew 25:24-30).
TWO WRONGS DO NOT MAKE A RIGHT!
The existence of false prophets does NOT excuse not supporting a real one. That being said, most in the COGs do not actually understand what the Bible teaches about prophets in the New Testament. An article that goes into that is available at the following link: How To Determine If Someone is a True Prophet of God.
01/22/16 p.m. A reader tipped me off to the following announcement from RCG:
The Bible foretells the arrival of Elijah and That Prophet just before Christ's Return. Many Christians believe That Prophet is Christ. Jews believe he and Elijah are different men. Are they correct?
Anyway, there is a video from David Pack who now claims that he is "that Prophet" that I listened to this evening.
Last year, David Pack claimed to be 'Elijah.' This was years after he claimed that he had definitively PROVED that it was supposedly Herbert W. Armstrong. Gerald Flurry, many years ago, claimed that he was "that Prophet." Gerald Flurry has a tendency to claim many titled for himself (see Teachings Unique to the Philadelphia Church of God). So David Pack, following in Gerald Flurry's footsteps, has in his World To Come broadcast titled Elijah & That Prophet—The 1st Dominion Restoration (Part 4), claimed that he too is "that Prophet." David Pack specifically stated in that video, "Elijah is that Prophet." Thus, he is now claiming he is God's prophet.
This is different from something that David Pack posted on June 7, 2013 related to one of his false 'reunification' predictions:
But I am not a prophet! Understand. I have NO AUTHORITY to make my own proclamations about anything regarding prophecy. (Pack D. "BACK TOGETHER" What This Means!" June 7, 2013)
David Pack said the above related to predictions he made at that time, which clearly were proven false.
He later compounded the problem by wrongly pointing to 2014:
I will explain a week after the Feast EXACTLY what was misunderstood about the prophecy's timing. It appears we will not be waiting a long time—not another year—for its fulfillment. (Earlier announcements have been corrected.)... (Pack D. How Long Will You Wait for God's Prophecies? 09/06/13 http://rcg.org/sep/how-long-will-you-wait-for-gods-prophecies)
The reunification that David Pack predicted for August 2013 and then by September 2014 did not happen. As of today, it also still has not happened. Nor is it possible that Philadlephia Christians will all flock to RCG.
Anyway, apparently, David Pack changed his view on him being some type of prophet as well. He remains delusional in many ways (see also Why Not the Restored Church of God?). As far as Elijah goes, to learn the truth about that matter check out the article The Elijah Heresies.
01/12/16 p.m. Received the following regarding LCG's Australia-based evangelist Bruce Tyler (Australia's date is a bit ahead of the USA):
From:

Graeme Hemphill <

ghemphill@living.org.au

>

Date:

13 January 2016 8:34:12 am AEST

Subject: FW: Update on Mr. Bruce Tyler

Hello everyone,

I'm very pleased to be able to forward some positive news to you. It is early days for Mr Tyler but the fact the doctors are very encouraged by his condition and progress indicates that God has heard our prayers for a speedy recovery. How much of a recovery is yet to be determined.

Kind regards,

Graeme Hemphill
01/10/16 p.m. Received more emails regarding LCG's Australia-based evangelist Bruce Tyler:
January 10, 2016

Greetings from Charlotte,

As many of you may be aware, Mr. Bruce Tyler had a blood clot at the base of the brain on Sunday morning. He was in the hospital at the time undergoing tests following a brief episode he had after giving a sermon in Auckland the Sabbath of January 2, 2016. As a result of being in the hospital, doctors were able to immediately address this situation. His son Rob, reports that doctors were able to successfully remove the clot and that a brain scan following the surgery appeared to look "reasonable." However, until Mr. Tyler wakes up they will not know to what degree the stroke will have affected him. He is currently in the Critical Care section of the hospital where doctors can monitor his condition. He has been anointed and everyone is looking to God to guide this situation.

Dr. Meredith has written a note to the brethren in Australia conveying our concerns. Please keep Mr. Tyler and his family and the brethren in that region of the world in your prayers. We will keep you informed as we hear more news from Australia.

Warm Regards,

Douglas Winnail

Hello Everyone

I do not have anything else to report other than what has been passed on to you by me via email.

It has come to my attention that some people have been phoning the hospital where Mr Tyler is having the treatment.

Please, please DO NOT contact the hospital or the office or the family at this point in time yourselves. All information about Mr Tyler will be sent to you through official channels such as myself or through the Church.

Please note that in my first email about this situation to you all, I made it VERY CLEAR that we did not want all of you contacting the Tyler's, or the Church office, and of course the hospital would logically be included in that. Here is what I wrote to you all:-

From: Dayrell Tanner
Sent: Sunday, 10 January 2016 4:24 PM
To: Tanner Dayrell
Subject: FW: Prayers urgently requested for Mr Bruce Tyler

Hello Everyone

We have just heard from Mr Gill that Mr Bruce Tyler is in a very serious condition in hospital in Adelaide. Please see Mr Gill's email about this below.

We don't know any more than what has been relayed to us at this point. Michael Tyler will be rushing to Adelaide immediately to be with the family.

Please pray that God will intervene for Mr Tyler as our Great God is well aware of his condition. Please pray for the family as they face this very serious trial.

Please do not contact the Tyler family about this, or the Church Office. We will keep you all informed as soon as we have any further news.

I am unable to give you any further details or news regarding Mr Tyler, so I would appreciate it if you do not call me at this stage.

It is all in God's hands. Please pray earnestly for God's intervention.

Regards

Dayrell Tanner
01/10/16 a.m. Received emails regarding LCG's Australia-based evangelist Bruce Tyler:
Please find below an important message from Mr Robert Tyler.


Cards and letters can be sent to the Church Regional Office

PO Box 300 CLARENDON SA 5157


We do not expect news of further updates for a day or two while the specialists assess Mr Bruce Tyler's condition following the operation.


Dear Friends,

As many of you will have already heard, my dad suffered a major brain stem stroke on Sunday morning 10 January. The area affected was complicated by a blood clot in a significant artery supplying blood to the brain. Thankfully he was already in hospital when the stroke occurred allowing medical staff to immediately begin working on him, however, he still required life support. Doctors immediately arranged for a neurologist and specialist equipment to be transported via ambulance from a nearby hospital so the doctors could attempt to remove the blood clot. After 2 hours in surgery he was moved back into Critical Care where doctors continue to monitor his condition.

Dad is currently at Flinders Private Hospital, Adelaide.

We of course look to God for His mercy and beseech Him for a complete and speedy recovery.

All the Tyler family wish to thank everyone around the world for their prayers and support during this difficult trial.

Rob Tyler
Our family met Bruce Tyler years ago, and I will pray for him.
Bruce Tyler is the third high-level LCG leader that comes to mind being hit by a type of stroke. LCG's Presiding Evangelist Roderick C. Meredith and his assistant, his son Jim, are the other two.
01/07/15 a.m. LCG.org posted a 'Personal' from its Presiding Evangelist Roderick C. Meredith that brought to mind a call that RCG's David C. Pack made for members' assets. Here are a few quotes:
Personal - Pray for Our Financial Growth!

Roderick C. Meredith

January/February 2016

One special prayer that I would ask all of you to join me in praying is this: let us all together beseech God to grant us in this Work at least half of the financial increase that He gave Mr. Herbert W. Armstrong for about 35 years! For, as Mr. Armstrong explained many times, God gave the Work under his direction about 30 percent increase year by year for about 35 years.

Near the end of his ministry, with personal problems and sins growing throughout the Church, those blessings were taken away or cut back. ...

God Almighty is still alive, He is working through us right now, and—as these terrible end-time events approach—we really need to shake the world with the knowledge of His Kingdom far more than we have ever done. Remember, brethren, we are only "beginning to fight." We have not yet finished! So again, since Jesus told us: "ask and you shall receive," we can with faith ask God to give us at least one-half of the financial increase He gave His Church all those years when Mr. and Mrs. Armstrong were still alive and doing the Work. That would be a 15 percent financial increase of this Work year by year. I hope all of you will sincerely and zealously do your part. But I am not going to "press you" on that. For that is up to you and between you and God as you "walk with Him" in the fear of God. But I feel that God would want us to cry out and ask Him for the blessing that I have already indicated. Then, we could go on far more television stations, greatly increase our impact over the Internet—which is certainly the "wave of the future"—increase our personal appearance campaigns and "grow" the Work in every possible way.

When I first began this present Work back in 1992, I was a little embarrassed to ask for money. ...

Most of you realize this. If you go around your neighborhood you find virtually no one who has heard of the Living Church of God or any of the other groups that are trying to do God's Work today. This needs to change! So I hope all of us can begin to fast and to pray fervently and ask God to help us stir ourselves to do our part far more zealously and begin to serve our Creator with zeal and to give of our physical substance sacrificially as we are able. Some of our brethren are already doing this. But I am fully aware that many of our brethren—often fine brethren who mean well and who are already giving a little bit of their substance—are nevertheless sitting on hundreds of thousands or millions of dollars worth of money, property and other resources they very rarely touch to help do the Work of the living God at the very end of this age.

Think of it! ...

God's Word tells us: "Now the multitude of those who believed were of one heart and one soul; neither did anyone say that any of the things he possessed was his own, but they had all things in common.And with great power the apostles gave witness to the resurrection of the Lord Jesus. And great grace was upon them all.Nor was there anyone among them who lacked; for all who were possessors of lands or houses sold them, and brought the proceeds of the things that were sold,and laid them at the apostles' feet; and they distributed to each as anyone had need. And Joses, who was also named Barnabas by the apostles (which is translated Son of Encouragement), a Levite of the country of Cyprus,having land, sold it, and brought the money and laid it at the apostles' feet" (Acts 4:32–37). God does not ask us to "have all things in common" as did these first-century Christians, but we can still be moved and inspired today by their great zeal.

Is it too much to ask that all of us follow the pattern of the early Church and give of ourselves, our time, our energy and our possessions in the very service of Jesus Christ at the end of this age?
So, Dr. Meredith believes that sins cause COG groups to have less than 30% growth, so he is hoping for 15%. There are sins in LCG (see Why Bob Thiel Left the Living Church of God). By Dr. Meredith's logic, there are severe problems with LCG.
Under David Pack, RCG repeatedly pushes its members to send in assets beyond tithes and offerings (it made a big push starting with a sermon, apparently given on 11/03/07 by David Pack to his followers titled Clarion Call -- The Time is NOW!:) and RCG now teaches a doctrine called 'common' to justify wanting more money than tithes and reasonable offerings. Dr. Meredith's comment God does not ask us to "have all things in common" as did these first-century Christians seems directed against RCG.
That being said, both Dr. Meredith and David Pack have both made comments to the effect that their churches need more money in order for the work of God to be completed. While money is involved, that claim is simply is not the case. God does NOT need our money nor our assets, but He allows His people to participate in His work which helps us (see also Tithing Questions and Some Answers).
As I repeatedly told Dr. Meredith, over the years when I was part of LCG, even doubling the number of television stations its broadcast was on would NOT fulfill Matthew 24:14 as the reach (according to his own statistics) would still be inadequate. I explained to him that it looked like God would use media coverage just prior to the Great Tribulation to insure that Matthew 24:14 would be fulfilled. The non-Philadelphian groups seem not to realize how God's work will be accomplished and that it is a work of faith (cf. 1 Thessalonians 1:11) not money.
Because, in opposition to what the Apostle Paul wrote (2 Corinthians 5:7), groups like RCG and LCG seem to wish to walk more more sight than by faith, plus since those two groups have leaders with severe integrity problems, they will not be able to be used to lead The Final Phase of the Work at this time.
We in the Continuing Church of God have been walking by faith and have had vastly more than the 30% growth that WCG once had and the 15% growth that Dr. Meredith just called for. Dr. Meredith and others may wish to consider the ramifications of that in lieu of what he posted. He and others may wish to notice what I wrote that was in last week's CCOG Letter to the Brethren:
Dear Brethren and Co-Workers in Christ:

The Continuing Church of God (CCOG) officially declared its existence on December 28, 2012 because integrity and heretical problems within a different COG group convinced me that its leadership could not possibly hold the Philadelphia mantle.

Unlike many groups that started with a coalition of ministers who pre-planned to start a group to insure its fiscal viability, we started the CCOG without doing anything like that.

Instead, we stepped out on faith in order to work to fulfill Matthew 24:14 and Matthew 28:19-20. Hence, for that and other reasons, we carry the end-time Philadelphia mantle. We are a continuation of the Church of God that first began in the second chapter of the Book of Acts.

While we have had many scoffers and critics, we have been the fastest growing Church of God since our formation. From three members and three prospective members on December 28, 2012, we have grown to the point where over 1500 are claimed to be part of the Continuing Church of God.

Despite the fact that as most of our members live in the poorer parts of the world, we are now one of the ten largest groups who had leaders once in the old Worldwide Church of God (WCG).

This growth was not done with large amounts of money as we have the least income of the top ten largest groups with origins in the old WCG. Of course the Bible says:

6 This is the word of the Lord to Zerubbabel:
'Not by might nor by power, but by My Spirit,'
Says the Lord of hosts. (Zechariah 4:6)

7 For we walk by faith, not by sight. (2 Corinthians 5:7)

5 Look among the nations and watch —
Be utterly astounded!
For I will work a work in your days
Which you would not believe, though it were told you. (Habakkuk 1:5)

We are doing that work.

Jesus said:

16 You will know them by their fruits. Do men gather grapes from thornbushes or figs from thistles? 17 Even so, every good tree bears good fruit, but a bad tree bears bad fruit. 18 A good tree cannot bear bad fruit, nor can a bad tree bear good fruit. 19 Every tree that does not bear good fruit is cut down and thrown into the fire. 20 Therefore by their fruits you will know them. (Matthew 7:16-20)

As far as fruits go, we have also greatly exceeded the 30% growth per year that the old Worldwide Church of God used to claim it had for decades. Many of those that we have with us did NOT have a WCG background as we reached people other groups have not.

We have reached people in over 220 nations and territories, and in multiple languages. We have reached millions over the internet, had over 500,000 views of our YouTube television channels, reached millions over radio, and printed and distributed thousands of pieces of printed literature (magazines, song books, and booklets).

But as we intend to one day reach billions, we still have a long way to go. But we must work and prepare for that time.

The Bible says:

28 For He will finish the work and cut it short in righteousness, Because the Lord will make a short work upon the earth. (Romans 9:28)

Since God will finish the work, and it needs to be a witness to all nations, we need to prepare for what I have referred to as the short work (see Preparing for the 'Short Work' and The Famine of the Word).

We have spent the past three years doing so, and have plans to expand the pool of those that we can potentially reach.
Unlike RCG and LCG, we in the Continuing Church of God take a more biblical approach and I believe that God has blessed us for it. We have the blessings that Dr. Meredith called for and hinted that groups do not have those blessings if they have various sins.
Dr. Meredith should ask himself why CCOG has what he now claims are the fruits of God's blessing and LCG does not. We in the Continuing Church of God and have never asked for members to liquify assets or anything like that to have the fruits that Dr. Meredith indicated that the faithful church would have. But we do have those fruits.
A recent sermon to consider would be: CCOG: Background and Fruits.
01/04/16 a.m. The latest edition of Shepherd's Voice arrived. Norman Edwards had the following in it (bolding his):
We Can Ask for More!

While God says that he has given each of us a spiritual gift, we can always ask for more. More oomph, if you will. Whether it is wisdom, prophecy or some other gift, God is interested:

If you need wisdom, ask our generous God, and he will give it to you. He will not rebuke you for asking (James 1:5).

Therefore, brethren, desire earnestly to prophesy, and do not forbid to speak with tongues (1 Corinthians 14:39, NKJV).

So you should earnestly desire the most helpful gifts ... (1 Corinthians 12:31).

So we have not stopped praying for you since we first heard about you. We ask God to give you complete knowledge of his will and to give you spiritual wisdom and understanding (Colossians 1:9).

Do not neglect the spiritual gift you received through the prophecy spoken over you when the elders of the church laid their hands on you (1 Timothy 4:14).

Our hearts ache, but we always have joy. We are poor, but we give spiritual riches to others. We own nothing, and yet we have everything (2 Corinthians 6:10).

In the last three verses, Paul was asking for spiritual gifts for other believers. Again, our purpose must always be outward. We ask for gifts to serve others, or we ask the gifts to be given to others
Sadly, despite what the Bible says, many do not seem to really believe in certain spiritual gifts or that God still intervenes in the 21st century.
Three items of possible interest may be How To Determine If Someone is a True Prophet of God, Dreams, the Bible, the Radio Church of God, and the Continuing Church of God, and Does God Heal Today?
Click here for the previous news of those once affiliated with GCG
COGwriter, (c) 2016