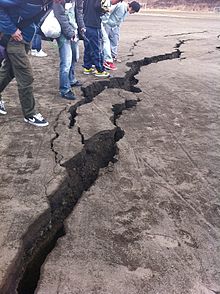 (Choo photo)
The costs of 'natural disasters' is up:
German insurer says costs of natural disasters soared in 2016

4 January 2017

Last year was a costly year for natural disaster damage around the world, according to Munich Re, one of the world's leading reinsurance companies.

The German-based company put global loses at $175 billion (168 billion euros) in 2016 – making it the costliest year since 2012, when the company reported $180 billion worth of losses worldwide. The company's global survey reports that only $50 billion worth of damage was covered by insurance last year.

It listed a pair of earthquakes that rocked southern Japan as the most expensive disasters – registering $31 billion worth of damage, of which only $6 billion was covered by insurance.

Summer floods in China caused $20 billion worth of damage, of which just 1.5 percent was insured – that is, $300 million.

Hurricane Matthew, which tore through the Caribbean and swiped the southeastern United States in August caused damage totaling $10.2 billion, of which only $3.8 billion was covered by insurance.

While 2016 saw a 66 percent increase in the financial impact of natural disasters around the world the number of casualties was greatly reduced. There were 8,700 deaths in 2016, compared to 25,400 in 2015. The company describes the property damage for 2016 as "mid-range," and a considerable increase after three years of relatively low-level costs. http://www.dw.com/en/german-insurer-says-costs-of-natural-disasters-soared-in-2016/a-36998033

January 4, 2017

Insurers paid out around $50 billion for natural disaster claims last year, almost double 2015's payout of $27 billion, reinsurer Munich Re said in its annual natural catastrophe review on Wednesday.

Earthquakes in Japan and devastating floods in China – only 2 percent of whose losses were insured – were the most expensive natural catastrophes of 2016. But the year saw the second-fewest fatalities from natural disasters in 30 years.

Some $125 billion of losses were uninsured.

It was the costliest twelve months for natural catastrophe damage after three years of relatively low losses, and above the 10-year average of $45.1 billion. …

North America was hit by more natural disasters than in any year since 1980, with overall losses totalling $10.2 billion and Hurricane Matthew the most serious event. Its greatest impact was in Haiti, where it killed around 550 people. http://www.reuters.com/article/us-disaster-insurance-idUSKBN14O0XG
$175 billion is several times the 'average' of $45.1 billion. 2016 was a financially expensive year for disasters.
We appear to be in the period of time Jesus referred to as the 'beginning of sorrows':
 7 But when you hear of wars and rumors of wars, do not be troubled; for such things must happen, but the end is not yet.  8 For nation will rise against nation, and kingdom against kingdom. And there will be earthquakes in various places, and there will be famines and troubles. These are the beginnings of sorrows. (Mark 13:7-8)
Earthquakes and other disasters should remind us that our lives can be changed quickly and that repentance is needed now. None should wait. Even Christians need to examine themselves and repent where needed (cf. 1 Corinthians 11:28-32).
Wars, terrorism, and civil unrest are expected (see also Why Terrorism? Is Terrorism Prophesied?).
While your life may seem 'normal,' consider that a natural or man-made disaster can quickly change your circumstances. Sudden destruction can happen (cf. 1 Thessalonians 5:3). Are you spiritually prepared?
Some items of possibly related interest may include:
Weather Blessings and Sorrows Are weather problems a warning? What should be done? Here is a related YouTube video Does God Use Weather?
Earthquakes Today and Bible Prophecy Contains a cool up-to-the-hour update of earthquakes around the world from USGS. It also explains what did Jesus teach about earthquakes and how the Bible describes "the big one" (as well as when it is expected).
Why Terrorism? Is Terrorism Prophesied? What does the Bible teach? Which nations may be affected? Here is a link to a related sermon: Terrorism, Christianity, and Islam.
Japan, Its Biblical Past and Future, Part 1: Any Witness? Where did the Japanese people come from? Have they had any witness?
Japan, Its Biblical Past and Future, Part 2: Prophecy Japan in prophecy. What is prophesied for Japan? Will God save the Japanese?
The Gospel of the Kingdom of God was the Emphasis of Jesus and the Early Church Did you know that? Do you even know what the gospel of the kingdom is all about? You can also see a YouTube video sermons Why Teach the Kingdom of God, The Gospel of the Kingdom, and The Kingdom of God is the Solution.
Christian Repentance Do you know what repentance is? Is it really necessary for salvation? A related sermon is also available titled: Real Christian Repentance.
Did The Early Church Teach Millenarianism? Was the millennium (sometimes called chiliasm) taught by early Christians? Who condemned it? Will Jesus literally reign for 1000 years on the earth? Is this time near? Two related sermons are available Millennial Utopia and The Millennium.
Does God Have a 6,000 Year Plan? What Year Does the 6,000 Years End? Was a 6000 year time allowed for humans to rule followed by a literal thousand year reign of Christ on Earth taught by the early Christians? Does God have 7,000 year plan? What year may the six thousand years of human rule end? When will Jesus return? 2023 or 20xx? There is also a video titled The 6000 Year Plan: Is the end of humanity's reign almost up? Here is a link to the article in Spanish: ¿Tiene Dios un plan de 6,000 años?
When Will the Great Tribulation Begin? 2017, 2018, or 2019? Can the Great Tribulation begin today? What happens before the Great Tribulation in the "beginning of sorrows"? What happens in the Great Tribulation and the Day of the Lord? Is this the time of the Gentiles? When is the earliest that the Great Tribulation can begin? What is the Day of the Lord? Who are the 144,000? Here is a version of the article in the Spanish language: ¿Puede comenzar la Gran Tribulación en 2016 o 2017? ¿Es el Tiempo de los Gentiles? You can also see the English language sermon videos: The Great Tribulation from the Mount of Olives and Can the Great Tribulation begin before 2020? A shorter video is: Will the Great Tribulation Start in 2017?
Physical Preparation Scriptures for Christians. We all know the Bible prophecies famines. Should we do something?