Physical Preparation Scriptures for Christians
By COGwriter
Well over a decade ago, y2k came and went. Though there were minor glitches, the dire predictions of massive chaos were wrong. Even those affected by the 12/2004 tsunami somewhat moved on to lead their version of normal lives. Hurricanes Katrina, Faye, Irene, Sandy, etc. have all come and gone. And in spite of all the hurricanes, tornados, and tropical storms, things have gotten basically back to a new normal for most in the USA.
The restrictions on buying certain grains in some stores in 2008 were lifted long ago. And even the earthquakes in Japan and Haiti seem to have relatively little impact outside their own countries (other than perhaps how Japan's problems may affect the nuclear power industry). 2012 came and went, and as I had written in a book on it back in 2009, 2012 was not going to be the end of the world. Nor, as I correctly pointed out, did the world end from Comet Ison or the Viking Apocalypse in 2014. Nor the blood moons in 2014 and 2015 that I denounced. Nor will it be in 2016 or 2017, despite certain old Jewish (non-biblical) prophecies (see also When Will the Great Tribulation Begin?).
Does this mean that Christians should not be prepared?
Remember the Ant
Here are some scriptures that might provide some possible answers:
"Go to the ant, you sluggard! Consider her ways and be wise, Which, having no captain, Overseer or ruler, Provides her supplies in the summer, And gathers her food in the harvest. How long will you slumber, O sluggard? When will you rise from your sleep? A little sleep, a little slumber, A little folding of the hands to sleep--So shall poverty come to you like a prowler, And your need like an armed man" (Proverbs 6:6-11).

15 "Laziness casts one into a deep sleep, And an idle person will suffer hunger" (Proverbs 19:15).

4 The lazy man will not plow because of winter; He will beg during harvest and have nothing. (Proverbs 20:4)

24...they are exceedingly wise: 25 The ants are a people not strong, Yet they prepare their food in the summer; (Proverbs 30:24-25)
But won't God provide?
3 "The LORD will not allow the righteous soul to famish" (Proverbs 10:3).
Yes, He will, but look at the next verses,
5 "He who has a slack hand becomes poor, But the hand of the diligent makes rich. He who gathers in the summer is a wise son; He who sleeps in harvest is a son of shame" (Proverbs 10:4-5).
So, the Bible speaks well of those who gather in the seasons when they can.
What else should be done?
3 "A prudent man forsees evil and hides himself, But the simple pass on and are punished" (Proverbs 22:3).

"But know this, that if the master of the house had known what hour the thief would come, he would have watched and not allowed his house to be broken into. Therefore you also be ready, for the Son of Man is coming at an hour you do not expect. Who then is a faithful and wise servant, whom his master made ruler over his household, to give them food in due season? Blessed is that servant whom his master, when he comes, will find so doing" (Matthew 24:43-46).

12 "gather His wheat into the barn" (Matthew 3:12).
Thus, people who believe the Bible will take steps and not ignore what is happening today.
In the parable of the virgins, the wise are prepared and rewarded, but the foolish are unprepared and turned away (Matthew 25:1-13); while is is true that this parable (and the other scriptures quoted) have spiritual meanings, it does suggest that Christians should also be prepared physically.
Some do not think there will be a problem because things seem to be the same. Is that the acceptable biblical criteria?
38 "For as in the days before the flood, they were eating and drinking, marrying and giving in marriage, until the day that Noah entered the ark, 39 and did not know until the flood came and took them all away, so also will the coming of the Son of Man be" (Matthew 24:38-39).
But what about all the official assurances we will be receiving?
3 "For when they say, 'Peace and safety!', then sudden destruction comes upon them" (I Thessalonians 5:3).

"Come now, you who say, 'Today or tomorrow we will go to such and such a city and buy and sell, and make a profit'; whereas you do not know what will happen tomorrow...But now you boast in arrogance. All such boasting is evil. Therefore, to him who knows to do good and does not do it, to him it is sin. Come now, you rich, weep and howl for your miseries that are coming upon you" (James 4:13,16,17; 5:1).
Are not the peoples in the first world countries rich?
Does the Bible teach that we are to ignore problems?
"Do not be deceived, God is not mocked; for whatever a man sows, that will he reap...Therefore, as we have opportunity, let us do good, for in due season we shall reap, if we do not lose heart" (Galatians 6:7,10).

16 "The lazy man is wiser in his own eyes than seven men who can answer sensibly" (Proverbs 26:16).

"But be you doers of the word, and not hearers only, deceiving yourselves. For if anyone is a hearer of the word and not a doer, he is like a man observing his natural face in a mirror, for he observes himself, goes away and immediately forgets what kind of man he was" (James 1:22-24).
And preparation certainly makes a lot of sense. One website (to which I have no affiliation whatsoever, nor from which have I ever bought anything) that has been suggested to me related to physical preparation is http://beprepared.com/ (but their are many others on the net that have similar information).
These difficult times should get people's attention.
National repentance is what is needed (though this looks unlikely for the UK, USA, and their Anglo-allies like Canada, New Zealand, and Australia). Some suspect that food riots may some day hit the United Kingdom (see Food Riots for the UK?).
Yet, there is good news as ultimately, God's kingdom will come and food shortages will be gone:
16 They shall neither hunger anymore nor thirst anymore (Revelation 7:16).
But a terrible hour of trial is coming first (Revelation 3:10; Jeremiah 30:7).
Food Politics
In 2008, there were temporary limits placed on buying rice in the United States (see Rice and the Beginning of Sorrows) and some Asian nations limited and even stopped rice exports for a while. Thus, this and more could happen again.
There were various wheat shortages expected for 2010 (see Drought: Less Wheat in Russia, Europe, Australia, China, and Argentina). On August 5, 2010, Russia announced that it would be halting exports of grains.
Those that believe that being part of a Western nation will always keep them fed would do well to notice the following secular news article:
The Geopolitics of Food Scarcity
In some countries social order has already begun to break down in the face of soaring food prices and spreading hunger. Could the worldwide food crisis portend the collapse of global civilization?
World carryover stocks of grain (the amount remaining from the previous harvest when the new harvest begins) have dropped to only 60 days of consumption, a near record low…

No country is immune to the effects of tightening food supplies, not even the United States.

If China turns to the world market for massive quantities of grain, as it recently has done for soybeans, it will undoubtedly look to the United States, which dominates world grain exports. For US consumers, the prospect of competing for the US grain harvest with 1.3 billion Chinese consumers with fast-rising incomes is a nightmare scenario. It would be tempting for the United States to restrict exports, but this is not an option with China which now holds well over one trillion US dollars. Like it or not, US consumers will share their grain with Chinese consumers regardless of how high food prices rise.

If the food crisis worsens, national restrictions on grain exports coupled with various bilateral arrangements could tie down much of the exportable supply of grain, making it increasingly difficult if not impossible for weaker, less affluent countries to find grain to import. Many countries heavily dependent on imports could be left out, and the result would be hundreds of millions of desperate people. Desperate people do desperate things: They riot, they fight over food, they overthrow governments, and they mass migrate to more food-secure countries.

http://www.spiegel.de/international/world/0,1518,606937,00.html
The massive amount of debt that Western nations have acquired somehow needs to be dealt with. And while at some point, leaders will restrict certain food exports, that will not guarantee that their people will have food (they may even need to import if their currencies are any good). If indebted nations restrict their food exports that puts them at risk of totally destroying their currencies, and cause other severe civil disruptions. These are dangerous times, even for the Anglo-American nations (see also Anglo - America in Prophecy).
Notice also the following:
August 25, 2016

The German government told its citizens on Wednesday to stockpile at least a week's worth of food and water in case of a serious attack or catastrophe, Reuters reported. It is the first time since the Cold War that Germany has enforced an emergency preparedness plan for the entire nation.

"The population will be obliged to hold an individual supply of food for ten days," read the 70-page plan, called the "Concept for Civil Defense", prepared by the Interior Ministry.

Citizens will also be required to store five days' worth of drinking water. …

According to German newspaper Frankfurter Allgemeine Sonntagszeitung, the plan calls for all Germans to "prepare appropriately for a development that could threaten our existence and cannot be categorically ruled out in the future."

It also lays out precautionary steps for terror scenarios, chemical attacks, and cyber attacks, and outlines the demand for an effective alarm system which could notify citizens of emergencies. The plan suggests improvements on protection for buildings and emergency medical care as well.

In addition, the report states that civilians should be ready to assist the military with urgent tasks in the case of an emergency, such as directing traffic, providing accommodation for people in need, and finding fuel, said Reuters. …

The preparation or "prepper" movement in America, while not government-mandated, operates in similar anticipation of an apocalyptic event of some sort. While some stock up on supplies in order to prepare for terror attacks, government breakdown, or natural disasters, others see the signs of an approaching End of Days and are determined to be ready. http://www.breakingisraelnews.com/74574/germany-warns-citizens-stockpile-food-water-case-attacks/#u6V6AygkL78X827f.99
So, Germany wants its people to prepare.
Of course, famines and related disruptions have long happened and were even predicted. But Jesus indicated that they would be a serious issue towards the end times:
3 Now as He sat on the Mount of Olives opposite the temple, Peter, James, John, and Andrew asked Him privately, 4 Tell us, when will these things be? And what will be the sign when all these things will be fulfilled?"

5 And Jesus, answering them, began to say: "Take heed that no one deceives you. 6 For many will come in My name, saying, 'I am He,' and will deceive many. 7 But when you hear of wars and rumors of wars, do not be troubled; for such things must happen, but the end is not yet. 8 For nation will rise against nation, and kingdom against kingdom. And there will be earthquakes in various places, and there will be famines and troubles. These are the beginnings of sorrows. 9 But watch out for yourselves, for they will deliver you up to councils, and you will be beaten in the synagogues. You will be brought before rulers and kings for My sake, for a testimony to them. 10 And the gospel must first be preached to all the nations. 11 But when they arrest you and deliver you up, do not worry beforehand, or premeditate what you will speak. But whatever is given you in that hour, speak that; for it is not you who speak, but the Holy Spirit. 12 Now brother will betray brother to death, and a father his child; and children will rise up against parents and cause them to be put to death. 13 And you will be hated by all men for My name's sake. But he who endures to the end shall be saved… Mark 13:3-13).
Events seems to be lining up to fulfill the above and other biblical prophecies. But the end (meaning the great tribulation, which starts afterwards, see When Can the Great Tribulation Begin?) is NOT yet:
18 And pray that your flight may not be in winter. 19 For in those days there will be tribulation, such as has not been from the beginning of creation which God created until this time, nor ever shall be. 20 And unless the Lord had shortened those days, no flesh would be saved; but for the elect's sake, whom He chose, He shortened the days…

37 And what I say to you, I say to all: Watch!" (Mark 13:18-20,37).
A period of persecution combined with successfully proclaiming the gospel to the world as a witness precedes the great tribulation (see also Persecutions by Church and State). And then the faithful church FLEES (see also There is a Place of Safety for the Philadelphians. Why it May Be Petra ).
Until then, Jesus says to watch and pray.
Also, notice the following:
25 I have been young, and now am old;
Yet I have not seen the righteous forsaken,
Nor his descendants begging bread. (Psalms 37:25)
The righteous obey God and take the steps that they believe God would want them to take, realizing that God will provide, even when that does not seem to be the case (cf. Genesis 22:8).
Although those who trust in things on the earth will be disappointed, the wise may also wish to study physical preparation scriptures, such as Proverbs 6:6-8, as they are certainly in the Bible for a reason.
Pestilences are Also Going to Come
The Bible tells of a coming time of death and pestilence (Revelation 6:7-8; Matthew 24:7-8).
In a recent trip to Asia, I noticed that some Asian-appearing individuals (and only Asians, and then mainly women) were wearing masks to presumably reduce their risk of catching airborne diseases in airports and some other places. Washing hands and wearing masks sometimes do have limited benefit, and it is possible that in times of epidemic that some (though not all) may benefit from these actions.
The fourth horseman of the apocalypse will result in death of a quarter of humankind (Revelation 6:8). Just like bodily exercise can benefit for a little while, physical hygiene steps may also benefit some for a little while, yet turning to God and living His ways are what we need to do:
8 For bodily exercise profits a little, but godliness is profitable for all things, having promise of the life that now is and of that which is to come. 9 This is a faithful saying and worthy of all acceptance. 10 For to this end we both labor and suffer reproach, because we trust in the living God, who is the Savior of all men, especially of those who believe. (1 Timothy 4:8-11)
Godliness is profitable in all things (see also What is the Meaning of Life? and The Ten Commandments Reflect Love, Breaking them is Evil). (For more on pestilences, please see the article Fourth Horseman of the Apocalypse.)
Food Vaults Are, However, Not the Answer
While proper preparation is good, some take this to extreme and overly trust in themselves. Others trust in technology.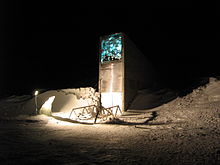 Entrance to Svalbard Global Seed Vault
One solution for problems in the world is the Svalbard Global Seed Vault, also called the Doomsday Vault.
Yet, there have been problems with the so-called Doomsday Vault:
20 May 2017

The Svalbard Global Seed Vault in the remote Arctic is meant to be a "fail-safe" backstop against doomsday scenarios that could kill off humanity's food supply. Located on an island between Norway and the North Pole, and lodged inside a mountain, the vault was designed to withstand major disasters, "natural or man-made," and "stand the test of time," according to its website.

But as with much of the land above the Arctic circle, the mountain containing the vault—and all the land around it—is made of permafrost, the thick layer of compounded plants and animal bones that has been frozen since the last ice age. When ice and snow melts in the Arctic during summer, permafrost—theoretically "permanent"—does not. At least it did not, historically. But thanks to climate change, the permafrost now is thawing, releasing greenhouse gases while causing the land to subside and pools of meltwater to form on the surface. The people behind the seed vault's perspective were not prepared for that when they built it in 2008. Scientists at the time were just beginning to understand what a threat global warming posed to the frozen layer.

"It was not in our plans to think that the permafrost would not be there and that it would experience extreme weather like that," Hege Njaa Aschim, a spokeswoman for the Norwegian government agency which manages the vault, told the Guardian.

Water flooded into the entrance tunnel to the vault after the unusual season, the Guardian reported Friday (May 19).Thankfully, the water froze before it reached the seed storage areas (to preserve their viability, seeds are stored at -18 Celsius, or just below 0 degrees Fahrenheit). https://qz.com/987894/the-fail-safe-svalbard-seed-vault-designed-to-save-us-from-crop-failure-just-flooded-thanks-to-climate-change/

May 20, 2017

Popular Science spoke with Cary Fowler, one of the creators of the vault to see just how serious the situation really is. "Flooding is probably not quite the right word to use in this case," he told them. According to Fowler, a little bit of water has made its way into the entrance every year. Though he wasn't present at the vault when the 'flooding' occurred this year, he insists that it's a pretty routine occurrence.

"The tunnel was never meant to be water tight at the front, because we didn't think we would need that," he tells Pop Sci. Basically, there's a 100-meter tunnel that serves as a walkway into the mountain and it goes downhill. Before you reach the vault doors, the ground shifts uphill. This little area allows water to collect and two pumps can evacuate it. Hege Njaa Aschim, a Norwegian government official, told the Guardian, "A lot of water went into the start of the tunnel and then it froze to ice, so it was like a glacier when you went in." And well, that's not really a crisis. In fact, according to Fowler, if the water were to make it all the way uphill it would get hit with temperatures around minus 18 degrees celcius, freeze, and create a new barrier.

Still, the seed vault is supposed to function without humans having to get involved with maintenance. The Norwegian government is studying the situation and plans to fix the leak. http://gizmodo.com/the-doomsday-vault-isnt-flooded-but-were-all-still-goin-1795400407
The Svalbard Global Seed Vault did not anticipate this problem. There are also others they have not considered.
Prior to this occurrence, CBS reported the following about it:
The Doomsday Vault: Humanity's salvation?

April 2, 2017

On the Arctic tundra in Svalbard, Norway, about half-way between Oslo and the North Pole, there are no gardens, no trees. Yet, deep beneath this barren surface lies the largest concentration of agricultural diversity anywhere on Earth.

The angular, concrete structure seems more "modern art museum" than "seed storage vault." It impresses even before entering.

American agriculturalist Cary Fowler heads this international effort to safeguard the sources of the world's food supply — one designed to outlast any disaster, and ultimately, all of us. …

There are 1,700 seed banks worldwide of varied size and state of repair. But this one in Norway is known as the "Doomsday Vault." It's a back-up for the whole system designed to last for thousands of years.

So, for instance, when a typhoon tore through a seed bank in the Philippines, destroying everything inside, all was not lost. Or when war destroyed seed banks in Iraq and Syria, the seeds were safe here.

"We protect, yes, against some of the natural disasters — war and civil strife and hurricanes and floods and fires," Fowler said. "But we also protect against anemic budgets and budget cuts and stupid human mistakes as well." …

"I think a lot of people would say, 'Wow, this is incredible that there are all of those seeds up in Svalbard, good idea, but it probably doesn't really affect me, personally,'" Doane said.

"Oh, I think it clearly affects everyone," said Cary Fowler. "I mean, we're losing right now something like $160, $170 billion a year just in our wheat crop globally, just because of the temperature anomaly that we have in the world, the hotter temperatures. So we're going to need, and plant breeders are working on, heat-resistant varieties.

"So, we might not notice it right now, but all of these different conditions are affecting today's food supplies." http://www.cbsnews.com/news/the-doomsday-vault-svalbard-global-seed-vault/
The CBS article did not mention anything about genetically-modified seeds which are something that place the world at risk for major crop failures and possible famine.
I continue to believe that likely crop failures associated with GMO grains are putting the USA at extreme risk of being destroyed economically and otherwise (and most USA corn and soy crops come from genetically-modified seeds). Many other parts of the world are vulnerable to this as well–though Europe continues to resist this (see European nations say NO to genetically-modified corn).
The disciples asked Jesus about the end:
3 Now as He sat on the Mount of Olives, the disciples came to Him privately, saying, "Tell us, when will these things be? And what will be the sign of Your coming, and of the end of the age?" (Matthew 24:3)
Notice some of what Jesus taught in response:
4 And Jesus answered and said to them: "Take heed that no one deceives you. 5 For many will come in My name, saying, 'I am the Christ,' and will deceive many. 6 And you will hear of wars and rumors of wars. See that you are not troubled; for all these things must come to pass, but the end is not yet. 7 For nation will rise against nation, and kingdom against kingdom. And there will be famines, pestilences, and earthquakes in various places. 8 All these are the beginning of sorrows. (Matthew 24:4-8).
The "beginning of sorrows" (Mathew 24:7-8) begins before the Great Tribulation (Matthew 24:21), the time of Jacob's trouble (Jeremiah 30:7). We seem to be in the beginning stages of these sorrows.
But the 'Doomsday Vault' is not humanity's salvation. Consider the following:
10 The Lord brings the counsel of the nations to nothing;
He makes the plans of the peoples of no effect.
11 The counsel of the Lord stands forever,
The plans of His heart to all generations. (Psalms 33:10-11)
But people often make plans that leave the true God out. Someone told me today that the 'Doomsday Vault' failure reminded him of the ancient Tower of Babel. Here is a passage of scripture related to it:
4 And they said, "Come, let us build ourselves a city, and a tower whose top is in the heavens; let us make a name for ourselves, lest we be scattered abroad over the face of the whole earth." (Genesis 11:4)
People did not believe God that there would no longer be an earth-covering flood (Genesis 9:11-17). People were afraid so they came up with their own alternate plan. But it was unsuccessful (cf. Genesis 11:5-9).
While having natural seeds preserved is logical and can help, seed vaults are not humanity's salvation.
Jesus said that if God did not intervene in the end, that no flesh would be saved alive:
21 For then there will be great tribulation, such as has not been since the beginning of the world until this time, no, nor ever shall be. 22 And unless those days were shortened, no flesh would be saved; but for the elect's sake those days will be shortened. (Matthew 24:21-22)

29 "Immediately after the tribulation of those days the sun will be darkened, and the moon will not give its light; the stars will fall from heaven, and the powers of the heavens will be shaken. 30 Then the sign of the Son of Man will appear in heaven, and then all the tribes of the earth will mourn, and they will see the Son of Man coming on the clouds of heaven with power and great glory. 31 And He will send His angels with a great sound of a trumpet, and they will gather together His elect from the four winds, from one end of heaven to the other. (Matthew 24:29-31)
So, while having seeds protected can make sense, we need Jesus' return.
While making physical preparations can be wise (cf. Proverbs 22:23; 30:24-25), those who think that they have considered being prepared for all possible emergency situations that will occur are deceiving themselves.
Christians need to heed Jesus' instructions:
25 For whoever desires to save his life will lose it, but whoever loses his life for My sake will find it.  26 For what profit is it to a man if he gains the whole world, and loses his own soul? Or what will a man give in exchange for his soul?  27 For the Son of Man will come in the glory of His Father with His angels, and then He will reward each according to his works. (Matthew 16:25-27)
This does not mean that no physical preparations should be made–but they will not save anyone in the long run.
As far as physical protection in this age during the time of the Great Tribulation, the Bible teaches that there will be two groups of Christians. One group will be protected and the other will not be:
14 But the woman was given two wings of a great eagle, that she might fly into the wilderness to her place, where she is nourished for a time and times and half a time, from the presence of the serpent. 15 So the serpent spewed water out of his mouth like a flood after the woman, that he might cause her to be carried away by the flood. 16 But the earth helped the woman, and the earth opened its mouth and swallowed up the flood which the dragon had spewed out of his mouth. 17 And the dragon was enraged with the woman, and he went to make war with the rest of her offspring, who keep the commandments of God and have the testimony of Jesus Christ. (Revelation 12:14-17)
Notice the group that is promised protection:
7 "And to the angel of the church in Philadelphia write,

'These things says He who is holy, He who is true, "He who has the key of David, He who opens and no one shuts, and shuts and no one opens":  8 "I know your works. See, I have set before you an open door, and no one can shut it; for you have a little strength, have kept My word, and have not denied My name.  9 Indeed I will make those of the synagogue of Satan, who say they are Jews and are not, but lie — indeed I will make them come and worship before your feet, and to know that I have loved you.  10 Because you have kept My command to persevere, I also will keep you from the hour of trial which shall come upon the whole world, to test those who dwell on the earth. (Revelation 3:7-10)
The above promise of protection was only made to the Philadelphian Christians, yet is was not made to the other churches of Revelation 2 & 3. NOT ALL CHRISTIANS WILL BE PROTECTED DURING THE COMING GREAT TRIBULATION.
Jesus said:
34 "But take heed to yourselves, lest your hearts be weighed down with carousing, drunkenness, and cares of this life, and that Day come on you unexpectedly.  35 For it will come as a snare on all those who dwell on the face of the whole earth.  36 Watch therefore, and pray always that you may be counted worthy to escape all these things that will come to pass, and to stand before the Son of Man." (Luke 21:34-36)
Christians should watch world events and realize their biblical ramifications. They should pray to be accounted worthy to escape what will come to pass. This means that in these times that they need to strive to be a Philadelphian Christian.
Relying on seed vaults, etc. is not the answer. Get your spiritual house in order.
Electronic Disruptions are Possible
There are also modern problems that the world faces that were unheard of a century or two ago as the world is more and more dependent upon electricity.
Countries such as the USA, Russia, Israel, North Korea, and Iran (to name a few) are believed to be testing the ability to unleash electromagnetic pulse (EMP) weapons that can disrupt electricity. Some believe that this could drive countries, such as the USA, into the stone-age if they are successful enough. Apparently this has concerned some in the State of Arizona to advise the residents there to take preparatory steps:
Feb 13, 2014

PHOENIX — State lawmakers are moving to make sure you know what to have on hand when electronic Armageddon strikes.

Legislation approved Wednesday by the Senate Public Safety Committee would require the state Division of Emergency Management to come up with recommendations about what kinds of things Arizonans should buy now and store in the garage, basement or storage room just in case some enemy detonates a nuclear or other bomb that wipes out power and communications in the state — and possibly nationwide.

That recommendation also would spell out exactly how much food, water and medical supplies should be available to last for weeks or months. And the state agency would have to updated that list every five years.

SB1476 is being pushed by Sen. David Farnsworth, R-Mesa, amid concerns about an electromagnetic pulse that can be caused by certain types of explosion.

According to a briefing prepared for legislators, a nuclear blast on or near the ground can damage electrical systems and communications for 70 miles or more from the site. But an explosion high in the air — 15 miles or more above the surface — could damage electrical grids nationwide for weeks, if not or longer...

Lawmakers were given no indication of what it would cost the state agency to come up with that list of necessary supplies. But they were unanimous in their approval. In fact, some suggested the legislation does not go far enough.

Sen. Chester Crandell, R-Heber, said it isn't simply a matter of individual survival.

"There's a lot of different organizations we have in the state that actually work for the public safety," he said, including agencies like the Department of Public Safety or even utilities that need to provide power for everything down to the plant that purifies and pumps water. He said maybe state emergency officials need to be figuring out — and telling them — what they need to have on hand.

"If we're looking at a nationwide, or at least a statewide catastrophic (situation), all the power goes out, trucks stop running, this whole thing, how are they going to then carry out their duties and responsibilities for public safety?" Crandell asked.

Sen. Andrea Dalessandro, D-Green Valley, said she understands in a small way what can happen when unexpected disaster strikes, having lived in New Jersey.

"Sometimes we would have regional blackouts for several days," she said.

"It was absolutely debilitating," Dalessandro explained. "Gas pumps are electric. You can't use credit cards."http://azdailysun.com/news/local/state-and-regional/panel-make-list-to-prep-arizonans-for-doomsday/article_8798eb08-946d-11e3-a3f3-0019bb2963f4.html
There are many risks to the current world order.
What About Gold, Silver, etc.?
Many believe that the Anglo-American nations will inflate their currencies so much, that this will mean that they will have little if any value in the future. And sadly this is correct (see also Anglo - America in Prophecy). This will mean that they will be able to import little, if any food, should they have significant weather, pestilences, or other massive issues with their own food supplies
Many advocate gold, silver, and/or other precious metals as a hedge against this. And while I am NOT a "gold bug", it is true that the Bible shows that gold and silver will have value into at least part of the Great Tribulation. Notice:
40... the king of the North...43 He shall have power over the treasures of gold and silver, and over all the precious things of Egypt (Daniel 11:40-43).
If gold and silver were of no value then, then they would not be precious (see also Zechariah 14:13-14) to the King of the North.
However, the Bible specifically teaches that they will not save the rich (or anyone else) from the end-time problems:
3 Your gold and silver are corroded, and their corrosion will be a witness against you and will eat your flesh like fire. You have heaped up treasure in the last days (James 5:3)

4 Riches do not profit in the day of wrath,
But righteousness delivers from death. (Proverbs 11:4)

18 Neither their silver nor their gold
Shall be able to deliver them
In the day of the Lord's wrath;
But the whole land shall be devoured
By the fire of His jealousy,
For He will make speedy riddance
Of all those who dwell in the land. (Zephaniah 1:18)
However, this does not mean that owning some may not help a little bit, but that a relationship with God counts much more. For more scriptures, as well as technical information about gold, please see the article The Plain Truth About Gold in Prophecy. How Should a Christian View Gold?
Game Theory
As one familiar with statistics, there is a concept known essentially within the framework of "game theory" which in essence states, look at the end result and not always at the probability for occurrence. Regarding a food shortage, let us assume that there is a 99% probability that nothing truly significant will happen this year or next.
Let us assume you do nothing. If nothing happens, you will feel vindicated. If something does happen, you may be impoverished or worse--you will also contribute to the panic that would ensue for those who also did not prepare.
Let us assume that tomorrow you store some water and go and buy a few hundred dollars/Euros/pounds worth of storable food (canned goods, dried foods, sacks of grain). If nothing happens, you will have food you can consume eventually that you bought prematurely. You may also eat more whole grains instead of refined ones, which while a little more difficult to prepare, will be healthier for you than the more processed foods. On the other hand, let us assume there are food shortages. You will not be as likely to panic and contribute to the problem. The fact that you bought early, will mean that you can even help your neighbor as Jesus said,
"It is more blessed to give than receive" (Acts 20:35).
Remember, if you do not prepare early enough, you will hope that others will help you.
What does any of this have to do with game theory?
Simply this, that even if the probability of an occurrence is low, the consequences of each probability needs to be weighed. Or in the vernacular, it is better to be safe than sorry.
Concluding Comments
Some believe that they know the safest places to flee to or to be in when trouble comes (watch 10 Safest Nations to be in During WWIII), but biblically most are in error.
I should state that I do not believe we in the Western nations will need to flee this year, I do believe that according to scripture, the Great Tribulation cannot begin before 2021. But we now seem to be in the time that Jesus referred to as "the beginning of sorrows" (Matthew 24:4-8), and preparation during this time appears wise. As I wrote much earlier about y2k, I suspected that the y2k rollover would not be the actual test, but perhaps a pretest to see who would prepare.
I would also add, however, that those who believe that they can personally prepare physically to ride-out the Great Tribulation and Day of the Lord are likely deceiving themselves as there will be many problems that they will not have been able to anticipate, nor do I believe that Christians should be so focused on physical protection that they trust in themselves.
Notice also:
25 For whoever desires to save his life will lose it, but whoever loses his life for My sake will find it. 26 For what profit is it to a man if he gains the whole world, and loses his own soul? Or what will a man give in exchange for his soul? 27 For the Son of Man will come in the glory of His Father with His angels, and then He will reward each according to his works. (Matthew 16:25-27)
But there is still value in preparation.
I suspect that because y2k and various storms did not lead to major long-term problems in Western nations, some Christians will not flee when it's time (for a related article, please check out Laodicean Warning for God's People and There is a Place of Safety for the Philadelphians. Why it May Be Petra).
The Bible seems to make it clear that it is prudent for Christians to take a few essentially no-risk preparations. After all, if as Jesus said, "you are of far more value than many sparrows" (Matthew 10:31), shouldn't we prepare at least as much as ants?
While gold and silver (nor guns) will not save anyone for very long, they are likely to outlast the value of the US dollar. And while I do not believe that hardly anyone will survive in places like the USA/UK/Canada, etc. because they hope to have a 3 1/2 year supply of food, I do believe that it is prudent for people to have reasonable amounts of stored food and water so that they can survive for several weeks at least (as well as to possibly be able to help neighbors and others survive).
Therefore, I believe that some physical preparations are wise in these end days, but only with the realization that God is our protector and only He can protect from what is coming (and He has made such a provision, please see There is a Place of Safety for the Philadelphians. Why it May Be Petra).
Thiel B. Physical Preparation Scriptures for Christians. www.cogwriter.com (c) 2000/2005/2006/2008/2009/2010/2011/2012/2013/2014/2015/2016/2017 0520