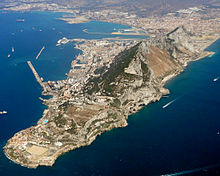 Gibraltar
There was a military incident related to the British controlled territory of Gibraltar:
May 6, 2016

A Royal Navy patrol boat fired a flare to warn off a Spanish customs vessel that got too close to a US submarine as it approached British Gibraltar territorial waters last month. … the Spanish patrol boat belonged to the Servicio de Vigilancia Aduanera…

The incident unfolded in international waters and had been kept secret until now.

The warning flare had the desired effect and the Spanish vessel moved away from the submarine and its Gibraltar-based escort. http://chronicle.gi/2016/05/navy-fired-flare-in-sva-sub-incident/
Spain wants Gibraltar and the UK does not want that to happen. This incident shows that the UK will take military actions to let the Spanish know this.
People who live in Gibraltar are concerned about the possibility of a British vote to exit the European Union (commonly called a Brexit):
May 5, 2016

GIBRALTAR — A referendum in June over Britain's membership in the European Union has generated an intense debate, with recent opinion polls suggesting the outcome is too close to call.

But in Gibraltar, a British territory at the tip of the Iberian Peninsula, nobody seems to question European Union membership. Only a handful of people attended a recent rally by anti-union campaigners visiting from London. The only badge worn by residents here bears a simple and clear message: "I'm in."

If anything, the referendum has helped unite Gibraltar's political parties and 33,000 inhabitants around the fear that this unique place — a British low-tax jurisdiction bordering Spain and within sight of North Africa — could face more uncertainty than the rest of Britain should voters choose to leave the European Union, or "Brexit" as Britain's possible exit has been nicknamed.

Spain has never stopped contesting British sovereignty over Gibraltar. …

José Manuel García-Margallo, Spain's foreign minister, said in March that if Britain left the union, Spain would require "co-sovereignty" with Britain for maintaining Gibraltar's access to the European Union market. In practice that would require flying the Spanish flag on the Rock, the dominant feature of this promontory of 2.6 square miles.

Gibraltar stands as a case where the European Union, for all its shortcomings, has acted as something of a salve for a lingering dispute over territorial sovereignty between two members. Removing it runs the risk of reviving old conflicts. http://www.nytimes.com/2016/05/06/world/europe/gibraltar-brexit-vote.html?_r=0
The people who live is Gibraltar flat-out want to remain part of the UK. They have consistently made that known, but many in Spain still feel that they are entitled to those territories.
Before going further, let us look at how Dictionary.com defines a sea gate (viewed 08/05/2013):
sea gate noun a navigable channel giving access to the sea.
That is part of the definition. But for the purposes of this article, my use of sea gate implies that that some government has the land and thus is able to exert at least some control over the channel that is near that land. Such as, for example, how the UK can control access (to a degree) in and out of the Mediterranean Sea with the peninsula of Gibraltar.
Gibraltar's territory covers 6.843 square kilometers (2.642 sq mi) and it shares a 1.2-kilometer (0.75 mi) land border with Spain.
In 1704, an Anglo-Dutch force captured Gibraltar from the Kingdom of Castile during the War of the Spanish Succession. The territory was subsequently ceded to Britain "in perpetuity" under the Treaty of Utrecht in 1713. And Britain wants to keep it (see David Cameron is concerned about Gibraltar-related tensions, but UK will still lose it).
What might any of this have to do with the Bible?
Notice a prophecy about what was told to the wife of Isaac:
60 "Our sister, may you become The mother of thousands of ten thousands; And may your descendants possess The gates of those who hate them" (Genesis 24:60).
We in the Church of God have been teaching for decades that the United Kingdom and USA would ultimately lose many of their sea gates–we believe they possessed them because of blessings from God and would lose them because of blatant disobedience.
And despite British hopes, this will also ultimately include the loss of Gibraltar. Notice a couple of prophetic warnings that are consistent with that:
24 'Do not defile yourselves with any of these things; for by all these the nations are defiled, which I am casting out before you. 25 For the land is defiled; therefore I visit the punishment of its iniquity upon it, and the land vomits out its inhabitants. 26 You shall therefore keep My statutes and My judgments, and shall not commit any of these abominations, either any of your own nation or any stranger who dwells among you 27 (for all these abominations the men of the land have done, who were before you, and thus the land is defiled), 28 lest the land vomit you out also when you defile it, as it vomited out the nations that were before you. (Leviticus 18:24-29)

23 'And if by these things you are not reformed by Me, but walk contrary to Me, 24 then I also will walk contrary to you, and I will punish you yet seven times for your sins. 25 And I will bring a sword against you that will execute the vengeance of the covenant; when you are gathered together within your cities I will send pestilence among you; and you shall be delivered into the hand of the enemy. (Leviticus 26:23-25)

58 "If you do not carefully observe all the words of this law that are written in this book, that you may fear this glorious and awesome name, THE LORD YOUR GOD, 59 then the Lord will bring upon you and your descendants extraordinary plagues — great and prolonged plagues — and serious and prolonged sicknesses. 60 Moreover He will bring back on you all the diseases of Egypt, of which you were afraid, and they shall cling to you. 61 Also every sickness and every plague, which is not written in this Book of the Law, will the Lord bring upon you until you are destroyed. 62 You shall be left few in number, whereas you were as the stars of heaven in multitude, because you would not obey the voice of the Lord your God. 63 And it shall be, that just as the Lord rejoiced over you to do you good and multiply you, so the Lord will rejoice over you to destroy you and bring you to nothing; and you shall be plucked from off the land which you go to possess. (Deuteronomy 28:58-63)
For many years, the major sea gates of the world were possessed/controlled by the United States (Panama Canal and certain locations in the Pacific ocean) and the British Empire (Straits of Malacca, Singapore, Suez Canal, Bab el Mandeb, Strait of Hormuz, Simon's Town/Cape of Good Hope, etc.). And while that is no longer the case for many of them, they seem to have been prophesied to be taken away for disobedience as well (cf. Deuteronomy 28)—and certainly these nations have disobeyed the God of Abraham, as well as actually  lost many of those gates. Thus, it seems logical to conclude that the remaining "sea gates" that the UK has such as Gibraltar and the Falkland Islands will be separated from UK control. Spain directly, or perhaps, through the EU (or some other European confederation) indirectly, will force out British control over Gibraltar.
The gaining and losses of many of the sea gates of the world by the Anglo-Saxon descended nations show that Bible prophecies have been and are being fulfilled.
The fact of the losses so far of many of the Anglo-Saxon sea gates should show us that various prophesied curses have come to pass and will continue to affect the Anglo-Saxon nations. More will as well until the Anglo-dominated nations (including the USA) will be no more.
The Europeans have a plan for unity that the Brexit vote may affect:
April 26, 2016

A new report has revealed that several members of the European Union (EU) have drawn up plans to create a federal United States of Europe behind Britain's back.

Germany, France, Italy and Luxembourg signed a document last September in the Italian capital, Rome, calling for the creation of "general union of states" in a bid to give Brussels bureaucrats an iron grip over the continent, the Britain's Sunday Times reported on Monday.

The joint declaration says the further integrated union would include a broad spectrum of policies and "should not be limited to the field of economic and fiscal matters, or to the internal market and to agricultural policy."

"It should include all matters pertaining to the European ideal — social and cultural affairs as well as foreign, security and defense policy," it adds.

"We are convinced that new impetus must be given to European integration. We believe that more, not less, Europe is needed to respond to the challenges we face," it says.

"The current moment offers an opportunity to move forward with European political integration, which could lead to a federal union of States."

The British daily said that "concrete proposals" to deepen EU integration will be discussed at a meeting in Luxembourg next month, just a month before the UK holds its In/Out referendum on June 23. http://presstv.ir/Detail/2016/04/25/462410/EU-United-States-of-Europe-deceleration-Britain-EU-Army-German-Dutch/
No matter how the Brexit vote goes, one day Gibraltar will end up under the coming European Beast power. A power that wants to be a United States of Europe.
Some items of possibly related interest may include:
Will the UK Lose Gibraltar and the Falkland Islands? For many years, the major sea gates of the world were possessed/controlled by the United States (Panama Canal and certain locations in the Pacific ocean) and the British Empire (Straits of Malacca, Singapore, Suez Canal, Bab el Mandeb, Strait of Hormuz, Simon's Town/Cape of Good Hope, Malta, etc.), and many are no longer under their control. Spain wants Gibraltar and Argentina wants the Falklands (also known as the Malvinas). UK Prime Minister David Cameron says the UK will defend the Falklands Gibraltar. Does the Bible give clues as to what will happen with those 'sea gates'? Do promises made the Jacob's mother Rebekah play a role? What about Deuteronomy 28? This is a video.
Will the UK Lose Gibraltar and the Falkland Islands? Spain wants Gibraltar and Argentina wants the Falklands (also known as the Malvinas). Does the Bible give clues as to what will happen with these 'sea gates'? A version of the article in the Spanish language would be ¿Perderá el Reino Unido a Gibraltar y las Islas Falkland (Malvinas)?
Mexico, Central America, South America, Brazil, and the Caribbean in Prophecy [Español: México, América central, Suramérica, Brasil y el Caribe en la profecía] [Português: México, América Central, Ámérica do Sul, e Brasil na profecia] What will happen to those of Latin America? Will they have prosperity? Will they cooperate with Europe? Will they suffer in the future? What role might the various Caribbean nations/territories play?
Islands and Bible Prophecy What's ahead for islands? What does the Bible prophesy about them?
Anglo – America in Prophecy & the Lost Tribes of Israel Are the Americans, Canadians, English, Scottish, Welsh, Australians, Anglo-Saxon (non-Dutch) Southern Africans, and New Zealanders descendants of Joseph? Where are the lost ten-tribes of Israel? Who are the lost tribes of Israel? What will happen to Jerusalem and the Jews in Israel? Will God punish the U.S.A., Canada, United Kingdom, and other Anglo-Saxon nations? Why might God allow them to be punished first? Here is a link to the Spanish version of this article: Anglo-América & las Tribus Perdidas de Israel. Information is also in the YouTube sermons titled Where are the Ten Lost Tribes? Why does it matter? and British are the Covenant People. A short YouTube of prophetic interest may be Barack Obama and the State of the Apocalypse.
Will the Anglo-Saxon Nations be Divided and Have People Taken as Slaves? Will the lands of the United States, United Kingdom, Canada, Australia, and New Zealand be divided? What about Jerusalem? What does Bible prophecy teach? Are there non-biblical prophecies that support this idea? Who will divide those lands? Who will end up with the lands and the people? Here is a link to a video titled Will the USA and other Anglo-nations be Divided and Their People Made Slaves? Here is a related item in the Spanish language ¿Serán divididas las naciones anglosajonas?
British are the Covenant People What do 'British' and 'Britain' mean in Hebrew? Are the descendants of the Anglo-Saxons people of the covenant? Does the British royal family connect to the throne of David? What does the Bible teach? What does history show us? Is there any DNA evidence related to British-Israelism? When did Christianity make it to the British Isles? Could Jeremiah have made it to the British Isles? What type of Christians made it to the British Isles? Did the last King of England believe in British Israelism?
Europa, the Beast, and Revelation Where did Europe get its name? What might Europe have to do with the Book of Revelation? What about "the Beast"? Is an emerging European power "the daughter of Babylon"? What is ahead for Europe? Here is a link to a video titled: Can You Prove that the Beast to Come is European?