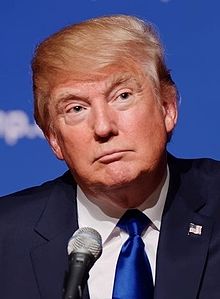 Hillary Clinton and Donald Trump

Iowa's caucuses and information about the two front runners for the US presidential nomination are in the news:
January 31, 2016

Donald Trump has surged past Ted Cruz in Iowa, while Hillary Clinton is holding a three-point lead over Bernie Sanders, according to the final Des Moines Register/Bloomberg Politics poll before the Iowa caucuses.

Trump captures the support of 28 percent of likely caucus-goers, compared to 23 percent for Cruz, 15 percent for Florida Sen. Marco Rubio and 10 percent for former neurosurgeon Ben Carson.

On the Democratic, the data shows Clinton up over Sanders 45 to 42 percent, with just three percent for former Maryland Gov. Martin O'Malley. http://www.nbcnews.com/meet-the-press/trump-surges-past-cruz-clinton-barely-leads-sanders-iowa-poll-n507826

Late January 30, 2016

The Iowa Poll, conducted by The Des Moines Register and Bloomberg Politics and released late Saturday, showed Donald Trump and Hillary Clinton hanging on to their narrow leads in the Hawkeye State.

Trump, the billionaire businessman, came in first with 28 percent, compared with 23 percent for his closest rival, Texas Senator Ted Cruz. Since early January, Trump has risen 6 percentage points in the poll.

On the Democratic side, former Secretary of State Clinton led the way with 45 percent. Her main challenger, Vermont Senator Bernie Sanders, was next with 42 percent. Former Maryland Governor Martin O'Malley secured the support of just 3 percent of likely Democratic voters.

Influential poll

The poll is closely watched by experts and is seen as one of the most accurate indicators of whom voters will choose on Monday in Iowa.

The survey famously predicted that then-U.S. Senator Barack Obama would win Iowa in 2008. He eventually did, defeating Clinton and going on to win the presidency.

However, unlike previous election cycles, the poll this time did not appear to suggest any last-minute surprises, instead revealing too-close-to-call races on both sides.

Final sprint

Candidates from both parties on Saturday made a final sprint in Iowa, holding campaign events across the rural Midwestern state.

Trump returned to Iowa, after having held rallies the previous day in New Hampshire, which holds the nation's next nominating contest on February 9.

"If a lot of people come, Trump wins by a lot. If they don't come, I don't win. And if I don't win, bad things happen," he said.

Sanders offered a similarly blunt assessment of his chances. At a campaign event in Manchester, in the next primary state, he called the primary battle a "tossup."

"We will win the caucus on Monday night if there is a large voter turnout. And we will lose the caucus Monday night if there is a low voter turnout," Sanders said. http://www.voanews.com/content/poll-shows-tight-races-just-ahead-of-iowa-caucuses/3170273.html

Snowstorm coming?

Turnout could be affected by a major snowstorm that forecasters expect to hit Iowa starting late Monday, as the voters are caucusing. Forecasters say the storm could dump nearly 12 inches (30 centimeters) of snow on parts of the state, along with strong winds that could create blizzard-like conditions.

If the bad weather hits, experts say, candidates with better-organized ground campaigns or with more passionate supporters stand a better chance.

January 31, 2016

What are her weaknesses?

Decades in public life have made Clinton decidedly cautious and risk-averse. She is also an entrenched member of the Democratic establishment and represents continuity at a time when many voters — in both parties — are looking for disruption.

Clinton has struggled somewhat to present herself as a forward-looking candidate, largely due to the ongoing problems surrounding her decision to maintain a private email server as secretary of state. Clinton and her team were slow to realize the damage posed to her by the story and to react accordingly. And, as the latest announcement from the State Department has showed, the issue isn't going anywhere anytime soon.

What would it take for her to win the nomination?

The ups and downs of her candidacy notwithstanding, Clinton remains the favorite to be the Democratic nominee. https://www.washingtonpost.com/news/the-fix/wp/2016/01/31/will-hillary-clinton-win-the-democratic-nomination/
As far as snowstorms go, God controls the weather (cf.BBC: '#snowmageddon2016′; Does God use snow? and Weather Blessings and Sorrows) and I suspect that was one of the reasons that Mitt Romney lost against Barack Obama in 2012 (there was a major storm, 'superstorm Sandy' that hit the north-east and that seemed to be the time more polls started to reduce Mitt Romney's chances).  Here is something I posted about that November 10, 2012:
I believe, for example, that God allowed superstorm Sandy which likely affected the election, in the favor of Barack Obama.  Others may disagree, but for the past 2-3 years I felt that something would occur within a week or so of the 2012  US presidential election.  And while superstorm Sandy was still going on, I discussed this with some I work with prior to the election, and mentioned that I felt that the superstorm would affect the election.

The Bible clearly teaches, "the Most High rules in the kingdom of men, and gives it to whomever He chooses" (Daniel 4:25).
We will see if weather, mild or severe, may affect the Iowa caucus vote.
As far as Hillary Clinton goes, her email matter remains in the news:
January 30, 2016

The U.S. State Department, for the first time, is saying that former secretary of State Hillary Clinton's unsecured home computer server contained 22 emails with top secret information and said those emails would not be released to the public.

Spokesman John Kirby said Friday the material includes seven email chains covering 37 pages of messages. He said the emails would not be disclosed, even with blacked-out boxes, as the agency released more of the emails from Clinton's tenure as the country's top diplomat.

Kirby said the documents were not marked classified at the time they were sent, but are being upgraded now at the request of U.S. intelligence officials. State Department officials are checking whether any of the material was actually classified at the time it passed through her server, but Clinton has repeatedly said she did not send or receive any such classified material.

Iowa caucus

The development came three days before Clinton, the leading contender for the 2016 Democratic presidential nomination, competes in the Iowa caucus. It is the first voting in the state-by-state nominating contests to pick Democratic and Republican candidates to square off in next November's national election to replace President Barack Obama when he leaves office in a year.

Clinton has been the national front-runner for the Democratic nomination, but is locked in a tight contest in the rural state of Iowa against Vermont Senator Bernie Sanders, who calls himself an independent Democratic socialist.
Sanders has dismissed the controversy over Clinton's emails, but Republican presidential candidates have regularly attacked Clinton's use of the unsecured email link for official business, with some contending she should be criminally charged for the possible security lapse. http://www.voanews.com/content/us-22-clinton-emails-included-top-secret-material/3169677.html
Hillary Clinton's email issues are helping Bernie Sanders and would also be expected to help the eventual Republican nominee if HIllary Clinton gets the nomination.
As a former member of the US military, and one who worked for two defense contractors decades ago, let me state that it is my personal opinion that the email situation with Hillary Clinton is criminal and if others did something like this (let's say an under-Secretary of State) that person would have been criminally prosecuted. Hillary Clinton's endorsement and promotion of abortion and the LGBT agenda is dear to many in the mainstream media and they seem to wish to act like the emailgate scandal is just political talk, and not indicative that Hillary Clinton should not become the next USA President.
Whether or not certain documents were marked as "top secret" at the time, Mrs. Clinton herself should have been aware that certain information was sufficiently sensitive to be to that level. This, at minimum, shows poor national security judgment on her part.
As far as judgment is concerned, let me reiterate that I do not agree with a lot of comments from Donald Trump and have long questioned his judgment.  A few years ago, I watched several episodes of his television program Celebrity Apprentice.  Some of his decisions, and his declared logic for those decisions, struck me as horribly wrong. He has also made many statements during his presidential campaign which, in my view, point to him possessing a non-biblical view of society. That does NOT mean that his decision making skills are necessarily any worse than the other candidates for the USA presidency, only that several of his were not biblical in my view.
He has also made a variety of public statements, in his campaign and prior, which many believe are not factually accurate.
Donald Trump's direct, but often bombastic style, appeals to many who are concerned about their safety.  He keeps saying he is a man of action as he has repeatedly blasted current US President Barack Obama and others for not taking what he feels are appropriate actions against Islamic terrorism.
Despite what many think, people often will go for a 'strongman' in times of crisis.  Donald Trump has portrayed that better to the Republican party supporters, thus far, than any other candidate. If he wins Iowa, many believe he will win most of the other states that have primaries.
Should he actually become President of the United States, his flamboyance and brashness are bound to offend the Europeans, and ultimately that will not turn out well for the USA (cf. Daniel 11:39).
As many readers are aware, I have a book related to Hillary Clinton titled: Hillary Clinton, Prophecy, and the Destruction of the United States. The subtitle asks "What About Republican Leaders?" which I thought about today because of Donald Trump. Here is some of what my book says about Republicans:
8. Immorality, Republican Leaders, and Prophecy

As a non-partisan it is sometimes difficult to write certain parts of this book as some are bound to believe that I am intentionally taking a partisan stance.  I am not.  I am not a Republican nor a Democrat nor part of any political party.  Nor do I consider myself an independent.  My views would be that of a biblical Christian who holds to original Christian beliefs.

Let me start out here by saying that not everything that Hillary Clinton will do is good, and not all that she will do will be bad. The same goes for Republican, Democratic, and other political leaders.

Sexual and Other Immorality

While a few Republican leaders have taken some steps against it, most are going along with the increased acceptance of sexual immorality, including various aspects of the homosexual agenda.  Some directly approve it and others tacitly do so. …

Conservatives Not Winning the Cultural Wars

Will Republicans fix all these issues?  Notice an observation about the November 4, 2014 election:

Could Republican's win big on Election Day and still be behind the ball in the grand scheme of things? Mark Steyn seems to think so. …

Anyway, Republicans did win big on November 4, 2014, but the moral direction of the U.S.A. is not looking like it has since shifted to a biblical direction. …

Some ways in which some Republican may differ from Hillary Clinton (as well as some other successor to Hillary Clinton) could include the amount of defense spending cuts, the amount of debt, the amount of regulations, and how Europe and the Middle East are treated.  But even if they make the more biblically moral choices, it will be too little, too late.  That will be the case under any U.S.A. leader without real national repentance.

The reality is that a future U.S.A. president will likely, at least partially, offend the Europeans once they are strong enough to support the destruction of the U.S.A.  (even though the Europeans will, for a while, think that this is not their intent or plan per Isaiah 10:5-11). (Thiel B. Hillary Clinton, Prophecy, and the Destruction of the United States. Nazarene Books, pp. 84,88,89,96)
Should Donald Trump actually become President of the USA, look for him to make outrageous comments that will offend certain Europeans. Look for him to take steps that will result in the Europeans better arming themselves. Look for him to make statements related to trade that the Europeans will not like.
Contrary to his campaign slogan, Donald Trump will NOT make "America great again."
America was made great from blessings that God gave to Abraham and his descendants, specifically promises made to Israel's son Joseph's son Manasseh (see Anglo – America in Prophecy & the Lost Tribes of Israel).
Irrespective of who becomes the next president, by virtue of timing, that leader will be in a sense, apocalyptic.  Meaning that steps will be taken that will lead to the end of the USA by the next president.
The presidential candidates do not seem to realize the national identity of the USA according to the Bible (see Anglo – America in Prophecy & the Lost Tribes of Israel), that God has a 6,000 year plan, and that national repentance is needed or the USA is doomed (Habakkuk 2:6-8; Daniel 11:39).
Time is running out for the USA. We are getting closer to the end of the 6,000 years that God is allowing humans to rule themselves, prior to the return of Jesus Christ and the beginning of the millennial reign (see Does God Have a 6,000 Year Plan? What Year Does the 6,000 Years End? and Did The Early Church Teach Millenarianism?). This is something that none of the presidential candidates has discussed publicly as far as I can tell.
And the end of the USA will come (cf. Daniel 11:39) whether they believe it or not.
As far as making America great again, the USA truly needs national repentance, which is something that neither "the Donald" or Hillary Clinton have truly called for.
Pray (1 Timothy 2:1-3).
Some items of possibly related interest may include:
Should a Christian Vote? This article gives some of the Biblical rationale on this subject. Would Jesus vote for president/prime minister? Is voting in the Bible? This is a subject Christians need to understand.
Weather Blessings and Sorrows Are weather problems a warning? What should be done? What does the Bible teach about weather? What about floods, droughts, heat, earthquakes, tornadoes, and solar storms? Here is a related YouTube video Does God Use Weather? A related item in the Spanish language would be Bendiciones y maldiciones del clima.
Abortion, the Bible, and a Woman's Right to Choose Do you know what the Bible teaches on this? Has the Roman Catholic Church allowed abortions? What about the real Church of God? Some may also, or instead, wish to view the YouTube video Abortion, the Bible, and US Debt.
Cross-dressing and other assaults against your children.  What should you do? Is there an agenda to turn your children and/or grandchildren away from biblical morality and towards practices promoted by homosexuals? What does the Bible teach about cross-dressing? What should parents do? If there is an agenda, what has been going on?  There are also two YouTube videos related to this, titled Transgender 'Woe to those who call evil good' and Cross dressing and Other Assaults Against Your Children.
The Bible Condemns Homosexuality "Same-sex marriage" for "gays" and lesbians is becoming more acceptable to many. What does the Bible teach about homosexuality?  Can homosexuals change? A related video sermon is titled: What Does the Bible Really Teach about Homosexuality?
Does God Have a 6,000 Year Plan? What Year Does the 6,000 Years End? Was a 6000 year time allowed for humans to rule followed by a literal thousand year reign of Christ on Earth taught by the early Christians? Does God have 7,000 year plan? What year may the six thousand years of human rule end? When will Jesus return? 2023 or 20xx? There is also a video titled The 6000 Year Plan: Is the end of humanity's reign almost up? Here is a link to the article in Spanish: ¿Tiene Dios un plan de 6,000 años?
When Will the Great Tribulation Begin? 2016, 2017, or 2018? Can the Great Tribulation begin today? What happens before the Great Tribulation in the "beginning of sorrows"? What happens in the Great Tribulation and the Day of the Lord? Is this the time of the Gentiles? When is the earliest that the Great Tribulation can begin? What is the Day of the Lord? Who are the 144,000? Here is a version of the article in the Spanish language: ¿Puede comenzar la Gran Tribulación en 2016 o 2017? ¿Es el Tiempo de los Gentiles? You can also see the English language sermon video: The Great Tribulation from the Mount of Olives. A shorter video is: Can the Great Tribulation Start in 2016?
Just What Do You Mean — Repentance? Do you know what repentance is? Have you truly repented? Repented of what? Herbert W. Armstrong wrote this as a booklet on this important subject.
When You Sin: Do You Really Repent? This is an article by Charles F. Hunting. A related sermon is Confess to God and truly repent.
WTO/TTIP and the Babylonian Beast Will international trade agreements like WTO/TTIP/CETA lead to the fulfillment of end time prophecies concerning the Babylonian Beast power that the Book of Revelation warns against? What does the Bible teach? A related video would be WTO Trade Deal and the Rise of the European Beast Power.
Hillary Clinton in Prophecy Prophecy, Hillary Clinton? Are there prophecies that Hillary Clinton may fulfill? Are there any prophecies that she has already helped fulfill? Could Hillary Clinton be apocalyptic? Could Hillary Clinton be the final Antichrist? A video of related interest is titled Hillary Clinton and Bible Prophecy.
The Gospel of the Kingdom of God was the Emphasis of Jesus and the Early Church Did you know that? Do you even know what the gospel of the kingdom is all about? You can also see a YouTube video sermon The Gospel of the Kingdom.
Women and the New Testament Church What roles did women play in the ministry of Jesus and the apostles? Did Jesus and the Apostle Paul violate Jewish traditions regarding their dealings with women? Do women have any biblical limitations on their role in the Church? Were there female prophets? Do women have any special responsibilities in terms of how they dress? What does the New Testament really teach about women? Here is a related sermon titled: New Testament Women.
Anglo – America in Prophecy & the Lost Tribes of Israel Are the Americans, Canadians, English, Scottish, Welsh, Australians, Anglo-Saxon (non-Dutch) Southern Africans, and New Zealanders descendants of Joseph? Where are the lost ten-tribes of Israel? Who are the lost tribes of Israel? What will happen to Jerusalem and the Jews in Israel? Will God punish the U.S.A., Canada, United Kingdom, and other Anglo-Saxon nations? Why might God allow them to be punished first? Here is a link to the Spanish version of this article: Anglo-América & las Tribus Perdidas de Israel. Information is also in the YouTube sermons titled Where are the Ten Lost Tribes? Why does it matter? and British are the Covenant People. A short YouTube of prophetic interest may be Barack Obama and the State of the Apocalypse.
Will the Anglo-Saxon Nations be Divided and Have People Taken as Slaves? Will the lands of the United States, United Kingdom, Canada, Australia, and New Zealand be divided? What about Jerusalem? What does Bible prophecy teach? Are there non-biblical prophecies that support this idea? Who will divide those lands? Who will end up with the lands and the people? Here is a link to a video titled Will the USA and other Anglo-nations be Divided and Their People Made Slaves? Here is a related item in the Spanish language ¿Serán divididas las naciones anglosajonas?
Hillary Clinton, Prophecy, and the Destruction of the United States This is a 188 page book for people truly interested in prophecies related to Hillary Clinton and the United States, including learning about many that have already been fulfilled and those that will be fulfilled in the future. It also discusses Republicans. The physical book can be purchased at Amazon from the following link: Hillary Clinton, Prophecy, and the Destruction of the United States: Is Hillary Clinton Fulfilling Biblical, Islamic Catholic, Hopi, and other America-Related Prophecies? $11.99.
Hillary Clinton, Prophecy, and the Destruction of the United States-Amazon Kindle edition. This electronic version of the 188 page print edition is available for only US$3.99. And you do not need an actual Kindle device to read it. Why? Amazon will allow you to download it to almost any device: Please click HERE to download one of Amazon s Free Reader Apps. After you go to for your free Kindle reader and then go to Hillary Clinton, Prophecy, and the Destruction of the United States-Amazon Kindle edition.