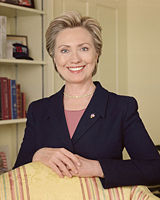 Hillary Rodham Clinton 
Last night, Hillary Clinton won the New Hampshire primary in her bid to become the Democratic Party candidate for president of the United States.  She is the first woman to have ever done that.
Ever since Margaret Thatcher was prime minister of the United Kingdom, I have felt that it is likely that the USA would end up with a female president.
In 2006 (News of The Churches of God) and 2007 (News of The Churches of God) I also commented about a possible Hillary Clinton presidency, and feel that it remains a strong possibility–though not a certainty.
Since those of us in groups like the Living Church of God do not vote in these elections, why am I mentioning the possibility of a woman president?
Because I believe that it will partially fulfill a prophecy in Isaiah 3:12:
As for My people, children are their oppressors, And women rule over them. O My people! Those who lead you cause you to err, And destroy the way of your paths…   
Of course, women are influential in the English-speaking nations and it is not absolutely required that the USA itself have a woman president, but I do feel that if we do get one, that this will be a partial, but significant, fulfillment of that prophecy.
Both biblical and Roman Catholic prophecies indicate the destruction of the English-speaking peoples and I would not be surprised if a major attack by the European Beast power will occur during a female presidency (though if Hillary Clinton is to be USA president beginning in 2009, I tend to believe that this would more likely be in her second term).
Several articles of possibly related interest may include:
Should a Christian Vote? This article gives some of the Biblical rationale on this subject.
Do Catholic Prophecies About Antichrist Warn Against Jesus? Will the final "Anti-Christ" be Jewish, insist on Saturday, be opposed to the trinity, and bring in the millennium? Catholic writings indicate this, but what does the Bible show?
Who is the King of the North? Is there one? Do biblical and Roman Catholic prophecies point to the same leader? Should he be followed? What is prophesied to occur to the USA and its English-speaking allies? Who will be the King of the North discussed in Daniel 11?