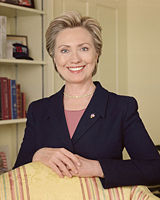 Hillary Rodham Clinton
Women ruling was mentioned in the article Cardinal: Obama Apocalyptic, yesterday.  The following was just announced:
Barack Obama appears all set to name Hillary Clinton Secretary of State
Posted November 21, 2008
By Kenneth R. Bazinet
Daily News Staff Writer
WASHINGTON—President-elect Obama has pulled off a feat of daring and difficult diplomacy – clearing the way to invite ex-rival Hillary Clinton into his cabinet as secretary of state, Democratic sources said Thursday night.
Obama is planning to formally announce his nomination of the New York senator and former First Lady after Thanksgiving, the sources said.
That news came amid word that aides to both sides had resolved complex issues on how to keep former President Bill Clinton's business and charitable activities from posing a conflict…
Some Democrats and government insiders have questioned whether Clinton is too independent and politically ambitious to be an effective secretary of state.
But Obama is said to admire her talents and experience, as do many other Democrats.
Clinton would have to surrender her New York Senate seat, which she has held for eight years, to take the job.
Now that Clinton's nomination is looking more like a done deal, there will likely be an accelerated scramble among New York Democrats clamoring to be named by Gov. Paterson to her Senate seat.
Clinton spokesman Philippe Reines would not comment Thursday night, except to say that any questions about cabinet appointments are for Obama's transition team to address. http://www.usnews.com/articles/news/campaign-2008/2008/11/21/barack-obama-appears-all-set-to-name-hillary-clinton-secretary-of-state.html
Thus, Hillary Clinton will likely be quite influential in the foreign affairs of the USA.
If she takes the job, she may partially fulfill a prophecy in Isaiah 3:12:
As for My people, children are their oppressors, And women rule over them. O My people! Those who lead you cause you to err, And destroy the way of your paths…
Of course, women are influential in the English-speaking nations and it is not absolutely required that the USA itself have another woman as Secretary of State, but I do feel that getting another woman will continue to be a partial fulfillment of that prophecy.
Some articles/news items of possibly related interest may include:
Barack Obama is Not the Antichrist Some have suggested that he may be, but neither he nor John McCain will be.  Find out why they cannot be.
Some Doctrines of Antichrist Are there any doctrines taught outside the Churches of God which can be considered as doctrines of antichrist? This article suggests at least three. It also provides information on 666 and the identity of "the false prophet". Plus it shows that several Catholic writers seem to warn about an ecumenical antipope that will support heresy.
Do Certain Catholic Prophecies About Antichrist Warn Against Jesus? Will the final "Anti-Christ" be Jewish, insist on Saturday, be opposed to the trinity, and bring in the millennium? Catholic writings indicate this, but what does the Bible show?
Two Horned Beast of Revelation and 666 This article explains how the LCG views this, and compares this to Ellen White.
Europa, the Beast, and Revelation Where did Europe get its name? What might Europe have to do with the Book of Revelation? What about "the Beast"?
Barack Obama, Prophecy, and the Destruction of the United States Some claim that Barack Obama is the prophesied "son of Kenya". Might Bible prophecy be fulfilled if he is elected president?