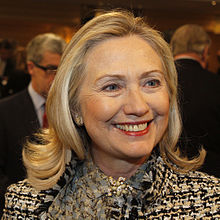 Hillary Rodham Clinton (Kai Moerk 2012)

Barely a week after Barack Obama's inauguration for a second four years, Hillary Clinton is popping up in the news again as someone who may run in 2016:
WASHINGTON, January 28, 2013 — Forget about it, Joe. Move over, Martin. 2016 won't be your year to run for president. It's Hillary time.

After Sunday night's interview on "60 Minutes" with Steve Kroft, the whole country is asking, "Will Hillary run?" Ok, not the whole country, but enough people to ensure she will be the next President of the United States…But why are we even talking about her running for president, just one week after the second inauguration of President Obama? Because that's the nature of the political beast. This is the timetable if she is to run in 2016: Hillary has one year to rest. One year to build her campaign war chest (because running a presidential campaign is political war). Then two years to jump into the grueling process of actual campaigning. http://communities.washingtontimes.com/neighborhood/ad-lib/2013/jan/28/after-60-minutes-will-hillary-run-video/#ixzz2JHXlCL85

January 28, 2013

President Barack Obama and Secretary of State Hillary Clinton produced a bit of tantalizing political theater by doing a joint interview on "60 Minutes," proclaiming their against-the-odds friendship but shedding no light on how either of them plans to approach the questions of her running for president in 2016.  http://blogs.wsj.com/washwire/2013/01/28/seib-wessel-what-were-reading-monday-11/
Hillary may or may not run. We will see.  Back in April 2012, her husband and former US President, Bill Clinton, said he would be happy if she did (Bill Clinton hints of Hillary running for US Presidency).
Ever since Margaret Thatcher was prime minister of the United Kingdom, I have felt that it is likely that the USA would end up with a female president or at least a highly influential woman in a top level federal government job. And Hillary Clinton has been fulfilling the latter for four years (as also have female Supreme Court justices, etc.).
As far back as 2006 (News of The Churches of God) and 2007 (News of The Churches of God) I also commented about a possible Hillary Clinton presidency, and feel that it remains a possibility–though not a certainty.
Since those of us in groups like the Continuing Church of God do not vote in these elections, why am I mentioning the possibility of a woman president?
Because I believe that it will partially fulfill a prophecy in Isaiah 3:12:
As for My people, children are their oppressors, And women rule over them. O My people! Those who lead you cause you to err, And destroy the way of your paths…
Of course, women are influential in the English-speaking nations and it is not absolutely required that the USA itself have a woman president, but I do feel that if we do get one, that this would be a partial, but significant, fulfillment of that prophecy.
In terms of voting, the so-called "gender gap" helped Barack Obama win.  And presumably Hillary Clinton would likely win a plurality of female voters if she gets the nomination from her political party.
Both biblical and Roman Catholic prophecies indicate the destruction of the English-speaking peoples and I would not be surprised if a major attack by the European Beast power will occur during a female presidency (though it could well happen before then).
When  Barack Obama was re-elected I posted that I did not believe that the Great Tribulation would begin until after his second term ended (see Obama Re-Elected, So What is Ahead?).  However, presuming she actually was elected to become US President, the Great Tribulation could be during a Hillary Clinton term.  But we will see first if she if fact does decide to run.
Several articles of possibly related interest may include:
Should a Christian Vote? This article gives some of the Biblical rationale on this subject.
Women and the New Testament Church Were women important in the New Testament Church? Which women and how were they involved?
Do Catholic Prophecies About Antichrist Warn Against Jesus? Will the final "Anti-Christ" be Jewish, insist on Saturday, be opposed to the trinity, and bring in the millennium? Catholic writings indicate this, but what does the Bible show?
Who is the King of the North? Is there one? Do biblical and Roman Catholic prophecies point to the same leader? Should he be followed? What is prophesied to occur to the USA and its English-speaking allies? Who will be the King of the North discussed in Daniel 11?
Does God Have a 6,000 Year Plan? What Year Does the 6,000 Years End? Was a 6000 year time allowed for humans to rule followed by a literal thousand year reign of Christ on Earth taught by the early Christians? Does God have 7,000 year plan? What year may the six thousand years of human rule end? When will Jesus return? 2019 or 202x?
When Will the Great Tribulation Begin? 2013, 2014, or 2015? Can the Great Tribulation begin today? What happens before the Great Tribulation in the "beginning of sorrows"? What happens in the Great Tribulation and the Day of the Lord? Is this the time of the Gentiles? When is the earliest that the Great Tribulation can begin? What is the Day of the Lord? Who are the 144,000?
Barack Obama, Prophecy, and the Destruction of the United States-Second Edition for Second Obama Term This is a 160 page book for people truly interested in prophecies related to Barack Obama and the United States, including learning about many that have already been fulfilled (which the book documents in detail) and those that will be fulfilled in the future. It also has a chapter about a Republican choice. This book is available to order at www.barackobamaprophecy.com. The physical book can also be purchased at Amazon from the following link: Barack Obama, Prophecy, and the Destruction of the United States: Is Barack Obama Fulfilling Biblical, Islamic, Catholic, Kenyan, and other America-Related Prophecies? What About Republican Leaders? Second Edition for Second Obama Term.
Barack Obama, Prophecy, and the Destruction of the United States-Second Term-Amazon Kindle edition. This electronic version is available for only US$2.99. And you do not need an actual Kindle device to read it. Why? Amazon will allow you to download it to almost any device: Please click HERE to download one of Amazon s Free Reader Apps. After you go to for your free Kindle reader and then go to Barack Obama, Prophecy, and the Destruction of the United States-Second Term-Amazon Kindle edition.
Prophecy Obama: Prophecies of Barack Obama? Reasons why Barack Obama is apocalyptic and reasons why Barack Obama is not the Antichrist. This article includes many biblical and non-biblical prophecies, from around the world, that seem to discuss Barack Obama. Did Nostradamus predict Barack Obama dealing with the Antichrist?  Might Barack Obama set the stage for the kings of the North and South as at least one Shiite prophecy suggests?  Read it and decide for yourself if President Obama seems to be fulfilling various prophecies.