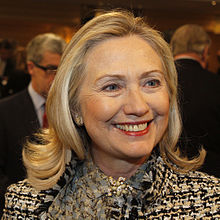 Hillary Rodham Clinton (Kai Moerk 2012)

More seem to be supporting a bid for a possible run by Hillary Clinton for US president in 2016:
26 January 2014

DES MOINES, Iowa — Hillary Rodham Clinton hasn't announced whether she will run for president in 2016. But her supporters in early voting Iowa are organizing anyway.

Top Iowa Democrats gathered Saturday in Des Moines to build support for a potential Clinton White House bid. Craig Smith, a senior adviser to the Ready for Hillary super PAC, says he wants to ensure Iowa support is in place should Clinton run…

Ready for Hillary is building a national network in preparation for a Clinton candidacy. Priorities USA announced Thursday it would back Clinton if she runs, a sign that senior members of Obama's campaign team are lining up behind the former first lady and secretary of state.  http://www.cbsnews.com/news/iowa-supporters-encourage-hillary-clinton-to-run-in-2016/

(CNN) – Political observers are trying to read the tea leaves after the largest super PAC that backed President Barack Obama's re-election campaign is now raising money for a potential Hillary Clinton bid.

The group, Priorities USA Action, also added Obama's top re-election campaign official, Jim Messina, to its roster as co-chairman…

Messina isn't the first former Obama campaign aide to jump into the Hillary Clinton orbit.

Ready for Hillary, a group that raises money and pushes for Clinton to run, said last summer they had partnered with 270 Strategies, a consulting firm run by Mitch Stewart, the director of battleground state strategy for Obama's 2012 campaign, and Jeremy Bird, who was Obama's national field director in last year's contest.  http://politicalticker.blogs.cnn.com/2014/01/24/does-obama-secretly-support-hillary-clinton-for-2016/

Sexism for the win! Could prejudice bring it home for Hillary Clinton in 2016?America's first female president, brought to you by . . . sexism!…

If the misogyny flows as freely in 2016 as it did during Clinton's first presidential run, the Republicans are doomed. They're already in trouble with female voters, and it wouldn't take much to erode that standing further…

The world of gender politics has changed in the past six years. The sexist swipes that were normal then won't fly in a post-"war on women" culture. Feminism has hit a tipping point…

This month, Time featured a story on Clinton's possible 2016 run, with Clinton represented on the magazine's cover as a giant high heel trampling a tiny man. "Can Anyone Stop Hillary?" the headline asked. The image, which played on old stereotypes reducing women to shoes and clothes, elicited some outrage but also much collective eye-rolling, because it felt like a throwback to another era. Slate's Amanda Hess called it "sexist and hacky"; the Huffington Post and Marie Claire also denounced it. Mommy blogs got mad, too. "Why, when we're talking about a professional, powerful woman," Maria Guidoasked on Mommyish.com, "do we oftentimes default to an image of her trampling over men to get to the top? . . . Women read your magazine, you realize this, right?"

Perhaps the biggest change surrounding women's responses to political misogyny comes from the explosion of social media. Women on Twitter and Facebook shared their ire over the Time cover minutes after its release — much as they do every time something truly offensive happens, whether it's objectionable news media coverage, a politician's blunder or a new anti-woman law. But, unlike most Internet outrage, feminist Internet outrage gets results. And it will give the Clinton campaign — and Hillary supporters — a weapon they did not have last time around…

No doubt, there will be a tremendous amount of sexism lobbed at Clinton if she runs for president. It just won't be as explicit or gleeful as in years past. At least, that's what Republicans are hoping. The GOP is so worried about further alienating female voters that it is sending its candidates to classes on how to talk to women — or, more accurately, how not to talk to them. http://www.washingtonpost.com/opinions/sexism-for-the-win-could-prejudice-bring-it-home-for-hillary-clinton-in-2016/2014/01/24/ee61eb00-8450-11e3-bbe5-6a2a3141e3a9_story.html
Many in the Democratic party of the USA are moving to support Hillary Diane Rodham Clinton.  Some have long suggested that many possibly voted for Barack Obama for US President to demonstrate that they were not racist against blacks.  And, so now at least one author seems to think concerns about 'sexism' may assist Hillary Clinton.
Will she run? Might she win?
Back in September 2013, her husband, Former US President Bill Clinton stated that if she did run in 2016 her next campaign "will be better" (see Bill Clinton: Hillary's next campaign 'will be better').
As far back as 2006 (News of The Churches of God) and 2007 (News of The Churches of God) I also commented about a possible Hillary Clinton presidency, and feel that it remains a strong possibility–though not a certainty.
Ever since Margaret Thatcher was prime minister of the United Kingdom, I have felt that it is likely that the USA would end up with a female president or at least a highly influential woman in a top level federal government job. And Hillary Clinton has been fulfilling the latter for many years herself as a US senator then Secretary of State (as have various female Supreme Court justices, senators, etc.).
A female presidency can partially fulfill a prophecy in Isaiah 3:12:
As for My people, children are their oppressors, And women rule over them. O My people! Those who lead you cause you to err, And destroy the way of your paths.
Of course, women are influential in the English-speaking nations and it is not absolutely required that the USA itself have a woman president (the USA is soon to end up with a woman as chairman of the Federal Reserve, and there already have been women on the US Supreme Court), but I do feel that if we do get one, that this would be a partial, but significant, fulfillment of that prophecy. And whether she runs or not, she is causing people to err by her positions on homosexual marriage and abortion.
When Barack Obama was re-elected I posted that I did not believe that the Great Tribulation would begin until after his second term ended (see Obama Re-Elected, So What is Ahead?). However, presuming she actually gets elected to become US President, the Great Tribulation could be during a Hillary Clinton term.
We will see first if she if fact does decide to run. But if she does, no one should expect her to reverse herself and take a lot of biblically-supportable moral positions that disagree with the politics of the day.
Today, I also put together a new article titled Hillary Clinton in Prophecy which has more information about her, her background, and steps she has taken consistent with certain biblical prophecies as well as in violation of various biblical admonitions.
Several items of possibly related interest may include:
Hillary Clinton in Prophecy  Are there prophecies that Hillary Clinton may fulfill?  Are there any prophecies that she has already helped fulfill?  Could Hillary Clinton be apocalyptic?  Could Hillary Clinton be the final Antichrist?
Can you see the 'Handwriting on the Wall'? Thousands of years ago, King Belshazzar saw a hand appear at a big party he was hosting. The hand wrote Mene, Mene, Tekel, Upharsin. Shortly after the Prophet Daniel explained it, his empire was taken over and King Belshazzar died. Is this applicable today? Are there signs right before our eyes that show that the end is coming to the United States and its Anglo-descended allies. Do abortions, sexual immorality, celebrity pornography, and increased debt mean anything? What does the Bible show?
When Will the Great Tribulation Begin? 2014, 2015, or 2016? Can the Great Tribulation begin today? What happens before the Great Tribulation in the "beginning of sorrows"? What happens in the Great Tribulation and the Day of the Lord? Is this the time of the Gentiles? When is the earliest that the Great Tribulation can begin? What is the Day of the Lord? Who are the 144,000? Here is a version of the article in the Spanish language: ¿Puede comenzar la Gran Tribulación en 2013 o 2014? ¿Es el Tiempo de los Gentiles? You can also see the English language video The Great Tribulation Will Not Begin Before 2017.
Should a Christian Vote? This article gives some of the Biblical rationale on this subject.
Women and the New Testament Church Were women important in the New Testament Church? Which women and how were they involved?
Abortion, the Bible, and a Woman's Right to Choose Do you know what the Bible teaches on this? Has the Roman Catholic Church allowed abortions? What about the real Church of God? Some may also, or instead, wish to view the YouTube video Abortion, the Bible, and US Debt.
Cross-dressing and other assaults against your children.  What should you do? Is there an agenda to turn your children and/or grandchildren away from biblical morality and towards practices promoted by homosexuals? What does the Bible teach about cross-dressing? What should parents do? If there is an agenda, what has been going on?  There is also a YouTube video on this, titled Cross dressing and Other Assaults Against Your Children.
The Bible Condemns Homosexuality "Same-sex marriage" for "gays" and lesbians is becoming more acceptable to many. What does the Bible teach about homosexuality?  Can homosexuals change?
Barack Obama, Prophecy, and the Destruction of the United States-Second Edition for Second Obama Term This is a 160 page book for people truly interested in prophecies related to Barack Obama and the United States, including learning about many that have already been fulfilled (which the book documents in detail) and those that will be fulfilled in the future. It also has a chapter about a Republican choice. This book is available to order at www.barackobamaprophecy.com. The physical book can also be purchased at Amazon from the following link: Barack Obama, Prophecy, and the Destruction of the United States: Is Barack Obama Fulfilling Biblical, Islamic, Catholic, Kenyan, and other America-Related Prophecies? What About Republican Leaders? Second Edition for Second Obama Term.
Barack Obama, Prophecy, and the Destruction of the United States-Second Term-Amazon Kindle edition. This electronic version is available for only US$2.99. And you do not need an actual Kindle device to read it. Why? Amazon will allow you to download it to almost any device: Please click HERE to download one of Amazon s Free Reader Apps. After you go to for your free Kindle reader and then go to Barack Obama, Prophecy, and the Destruction of the United States-Second Term-Amazon Kindle edition.