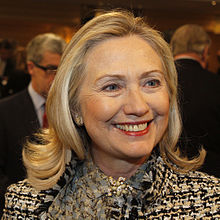 Hillary Rodham Clinton (Kai Moerk 2012)

Hillary Clinton made the news for getting back on the public stage:
April 4, 2013
Hillary Clinton… is edging her way back onto the public stage: Tuesday night she held her first public speaking engagement as a private citizen, headlining a gala for a human rights organization at the Kennedy Center. With high approval ratings, near-universal name-recognition and an address book stuffed with big donors, Clinton would seem to have everything in her favor for a 2016 run…
But let's say Clinton does get the Democratic nomination. Who would be her toughest GOP opponent? Recent early polling shows her beating Senator Marco Rubio by 12 points, Senator Rand Paul by 11, and former Governor Jeb Bush by 16. Her biggest threat is currently New Jersey Governor Chris Christie, only 3 points behind her.  http://tv.msnbc.com/2013/04/04/hillary-clinton-is-back-in-the-public-eye/
April 3, 2013
The former Secretary of State re-emerged from two months of r-and-r Tuesday night at the Vital Voices Global Leadership Awards at Washington, D.C.'s Kennedy Center. While Clinton limited her prepared statements to the  mission of empowering women and girls worldwide, her presence was enough to stoke speculation about another run for the presidency—especially since she shared the stage with Vice President Joe Biden, thought to be her leading rival for the Democratic nomination in 2016.
Clinton's speech, and the rousing ovation that accompanied it—plus supporters with signs reading "Ready for Hillary," a nod to a Super-PAC formed in her name to support any future presidential run—did little to tamp down speculation about a 2016 bid.  http://tv.msnbc.com/2013/04/03/hillary-clinton-back-in-the-spotlight/
April 4, 2013
The Hillary Rodham Clinton book deal is in place.

Simon & Schuster announced Thursday that it will publish the former Secretary of State's memoir next year.

The tentative publication date is June of 2014, and will likely inspire a book tour that will be filed with speculation about whether Clinton will seek the presidency in 2016.  http://www.usatoday.com/story/theoval/2013/04/04/hillary-rodham-clinton-book-deal/2052365/
The fact that there is a Super-PAC called "Ready for Hillary,"combined with public speaking and a new book suggests that the foundational steps for a presidential run again are being laid.
US President Barack Obama put out a book or two before he ran for the US presidency.  Hillary Clinton may not run again, but she certainly has taken steps that seem consistent with the possibility that she will.  And if the media reports I have seen over the past week or so are typical, many in the US media want her to run and win.
As far back as 2006 (News of The Churches of God) and 2007 (News of The Churches of God) I also commented about a possible Hillary Clinton presidency, and feel that it remains a strong possibility–though not a certainty.
Ever since Margaret Thatcher was prime minister of the United Kingdom, I have felt that it is likely that the USA would end up with a female president or at least a highly influential woman in a top level federal government job. And Hillary Clinton has been fulfilling the latter for many years herself as a US senator then Secretary of State (and have various female Supreme Court justices, senators, etc.).
A female presidency can partially fulfill a prophecy in Isaiah 3:12:
As for My people, children are their oppressors, And women rule over them. O My people! Those who lead you cause you to err, And destroy the way of your paths…
Of course, women are influential in the English-speaking nations and it is not absolutely required that the USA itself have a woman president (the USA may end up with a woman as chairman of the Federal Reserve, and there already have been women on the US Supreme Court), but I do feel that if we do get one, that this would be a partial, but significant, fulfillment of that prophecy. And whether she runs or not, she is causing people to err by her position on homosexual marriage and abortion.
When Barack Obama was re-elected I posted that I did not believe that the Great Tribulation would begin until after his second term ended (see Obama Re-Elected, So What is Ahead?). However, presuming she actually gets elected to become US President, the Great Tribulation could be during a Hillary Clinton term.
We will see first if she if fact does decide to run. But if she does, no one should expect her to reverse herself and take a lot of biblically-supportable moral positions that disagree with the politics of the day.
Several articles of possibly related interest may include:
When Will the Great Tribulation Begin? 2013, 2014, or 2015? Can the Great Tribulation begin today? What happens before the Great Tribulation in the "beginning of sorrows"? What happens in the Great Tribulation and the Day of the Lord? Is this the time of the Gentiles? When is the earliest that the Great Tribulation can begin? What is the Day of the Lord? Who are the 144,000?
Should a Christian Vote? This article gives some of the Biblical rationale on this subject.
Women and the New Testament Church Were women important in the New Testament Church? Which women and how were they involved?
Barack Obama, Prophecy, and the Destruction of the United States-Second Edition for Second Obama Term This is a 160 page book for people truly interested in prophecies related to Barack Obama and the United States, including learning about many that have already been fulfilled (which the book documents in detail) and those that will be fulfilled in the future. It also has a chapter about a Republican choice. This book is available to order at www.barackobamaprophecy.com. The physical book can also be purchased at Amazon from the following link: Barack Obama, Prophecy, and the Destruction of the United States: Is Barack Obama Fulfilling Biblical, Islamic, Catholic, Kenyan, and other America-Related Prophecies? What About Republican Leaders? Second Edition for Second Obama Term.
Barack Obama, Prophecy, and the Destruction of the United States-Second Term-Amazon Kindle edition. This electronic version is available for only US$2.99. And you do not need an actual Kindle device to read it. Why? Amazon will allow you to download it to almost any device: Please click HERE to download one of Amazon s Free Reader Apps. After you go to for your free Kindle reader and then go to Barack Obama, Prophecy, and the Destruction of the United States-Second Term-Amazon Kindle edition.