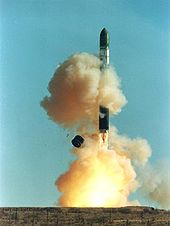 (Photo by ISC Kosmotras)
The US is concerned about more steps North Korea seems to be taking:
VOA News

April 04, 2013

The United States expects North Korea will launch one of its missiles in the coming days.

Defense Department officials told VOA they have been preparing for the possibility of a North Korean missile launch and are taking Pyongyang's threats seriously.

North Korea said Thursday that its military has been given final approval for a nuclear attack against the United States – a threat that most analysts think Pyongyang would be unable to carry out.

South Korea said it has confirmed the North has moved one of its missiles to the country's east coast, and Defense Minister Kim Kwan-Jin said while the missile appears to have "considerable range," it is unlikely it could reach the U.S. mainland.

"Looking at the missile's range, it doesn't look like it will be able to reach the American continent," he said.

South Korea's semi-official news agency quotes officials in Seoul as saying the missile is likely the Musudan (also known as the BM-25), a ground-launched rocket 12-19 meters long that can carry a conventional 1,200-kilogram bomb. It could potentially carry a nuclear warhead, but security analysts think that, too, is beyond North Korea's current capabilities.

The Musudan has a range of about 3,000 kilometers – far enough to hit South Korea or Japan.

U.S. Defense Secretary Chuck Hagel says the Pentagon is treating the threats seriously.  http://www.voanews.com/content/us-braces-for-north-korean-missile-launch/1634818.html
The North Korean politicians have often been playing a dangerous game with their country and their people, and it seems that they wish to escalate their warring rhetoric even more.  But, of course, the USA helped fanned the flames a bit by various moves and statements it made (presumably in the hopes of dissuading North Korea to attack).
If North Korea does take certain steps to sufficiently aggravate the USA, it needs to realize that it likely will no longer exist as it is. At some point in time, I believe that both Koreas will be reunited based upon certain verses in Revelation, yet whether this will be because of a war involving the USA or something else, that is not clear.  But if North Korea does hit the USA when it is not ready, the USA may find that North Korea can hit hard–but only to a degree–but the USA can hit harder.
As Jesus said, "37 And what I say to you, I say to all: Watch!" (Mark 13:37)
Some articles of possibly related interest would include the following:
Korea in Prophecy, Any Witness? Does God have a plan for the Koreans? Is Korea mentioned in any prophecies? Will Koreans be among the first in the Kingdom of God? 한국의 언어로 : 한국 예언, 모든 증인에?
Asia in Prophecy What is Ahead for Asia? Who are the "Kings of the East"? What will happen to nearly all the Chinese, Russians, Indians, Koreans, and others of Asia? China in prophecy, where? Who has the 200,000,000 man army related to Armageddon?
Barack Obama, Prophecy, and the Destruction of the United States-Second Edition for Second Obama Term This is a 160 page book for people truly interested in prophecies related to Barack Obama and the United States, including learning about many that have already been fulfilled (which the book documents in detail) and those that will be fulfilled in the future. It also has a chapter about a Republican choice. This book is available to order at www.barackobamaprophecy.com. The physical book can also be purchased at Amazon from the following link: Barack Obama, Prophecy, and the Destruction of the United States: Is Barack Obama Fulfilling Biblical, Islamic, Catholic, Kenyan, and other America-Related Prophecies? What About Republican Leaders? Second Edition for Second Obama Term.
Barack Obama, Prophecy, and the Destruction of the United States-Second Term-Amazon Kindle edition. This electronic version is available for only US$2.99. And you do not need an actual Kindle device to read it. Why? Amazon will allow you to download it to almost any device: Please click HERE to download one of Amazon s Free Reader Apps. After you go to for your free Kindle reader and then go to Barack Obama, Prophecy, and the Destruction of the United States-Second Term-Amazon Kindle edition.