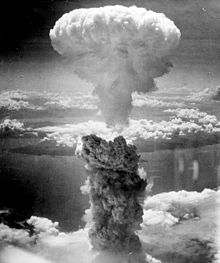 Nagasaki Nuclear Bomb (1945)
In an extremely provocative move today, North Korea threatened the United States of America with the possibility of a preemptive nuclear attack:
March 7, 2013

SEOUL — For the first time, North Korea is threatening to launch a pre-emptive nuclear strike.  This is the latest in an increasing series of bellicose rhetoric from Pyongyang in recent days.

The threat, attributed to a spokesman from North Korea's foreign ministry, was carried by the country's central news agency and also broadcast Thursday.

The ministry spokesman is quoted as saying that because "the United States is about to ignite a nuclear war, our revolutionary armed forces will be exercising our right to pre-emptive nuclear attack against the strongholds of invaders in order to protect our supreme interest."

Earlier in the week, a four-star general went on television to announce North Korea next Monday would abrogate the 1953 armistice, which halted the three-year devastating Korean civil war.  http://www.voanews.com/content/north-korea-threatens-preemptive-nuclear-attack-on-us/1616792.html
The North Korean politicians have often been playing a dangerous game with their country and their people, and it seems that they wish to escalate their warring rhetoric even more.
While North Korea is not prophesied to take over the USA (Europe is per Daniel 11:39, etc.), as I wrote in the past, it certainly is possible that it may decided to actually launch one or more missiles at the USA in the future.
Jesus spoke of a time of wars and sorrows PRIOR to the start of the Great Tribulation.
Notice Mark's account of the beginning of sorrows:
5 And Jesus, answering them, began to say: "Take heed that no one deceives you. 6 For many will come in My name, saying, 'I am He,' and will deceive many. 7 But when you hear of wars and rumors of wars, do not be troubled; for such things must happen, but the end is not yet. 8 For nation will rise against nation, and kingdom against kingdom. And there will be earthquakes in various places, and there will be famines and troubles. These are the beginnings of sorrows (Mark 13:5-8).
A nuclear missile hitting the USA and/or nuclear terrorism would be consistent with this prophesied time of troubles.
Both Iraq's Saddam Hussein and Libya's Muammar Gaddafi thought that they could be brash and defiant successfully. And while they were for some time, they later found out that they were mistaken. The top leadership of North Korea may end up regretting what it has been doing as well.
But that does not mean that the USA itself may not possibly also suffer if North Korea actually carries out its threat.
Some articles of possibly related interest would include the following:
Korea in Prophecy, Any Witness? Does God have a plan for the Koreans? Is Korea mentioned in any prophecies? Will Koreans be among the first in the Kingdom of God? 한국의 언어로 : 한국 예언, 모든 증인에?
Asia in Prophecy What is Ahead for Asia? Who are the "Kings of the East"? What will happen to nearly all the Chinese, Russians, Indians, Koreans, and others of Asia? China in prophecy, where? Who has the 200,000,000 man army related to Armageddon?
Barack Obama, Prophecy, and the Destruction of the United States-Second Edition for Second Obama Term This is a 160 page book for people truly interested in prophecies related to Barack Obama and the United States, including learning about many that have already been fulfilled (which the book documents in detail) and those that will be fulfilled in the future. It also has a chapter about a Republican choice. This book is available to order at www.barackobamaprophecy.com. The physical book can also be purchased at Amazon from the following link: Barack Obama, Prophecy, and the Destruction of the United States: Is Barack Obama Fulfilling Biblical, Islamic, Catholic, Kenyan, and other America-Related Prophecies? What About Republican Leaders? Second Edition for Second Obama Term.
Barack Obama, Prophecy, and the Destruction of the United States-Second Term-Amazon Kindle edition. This electronic version is available for only US$2.99. And you do not need an actual Kindle device to read it. Why? Amazon will allow you to download it to almost any device: Please click HERE to download one of Amazon s Free Reader Apps. After you go to for your free Kindle reader and then go to Barack Obama, Prophecy, and the Destruction of the United States-Second Term-Amazon Kindle edition.