Wednesday, September 30th, 2020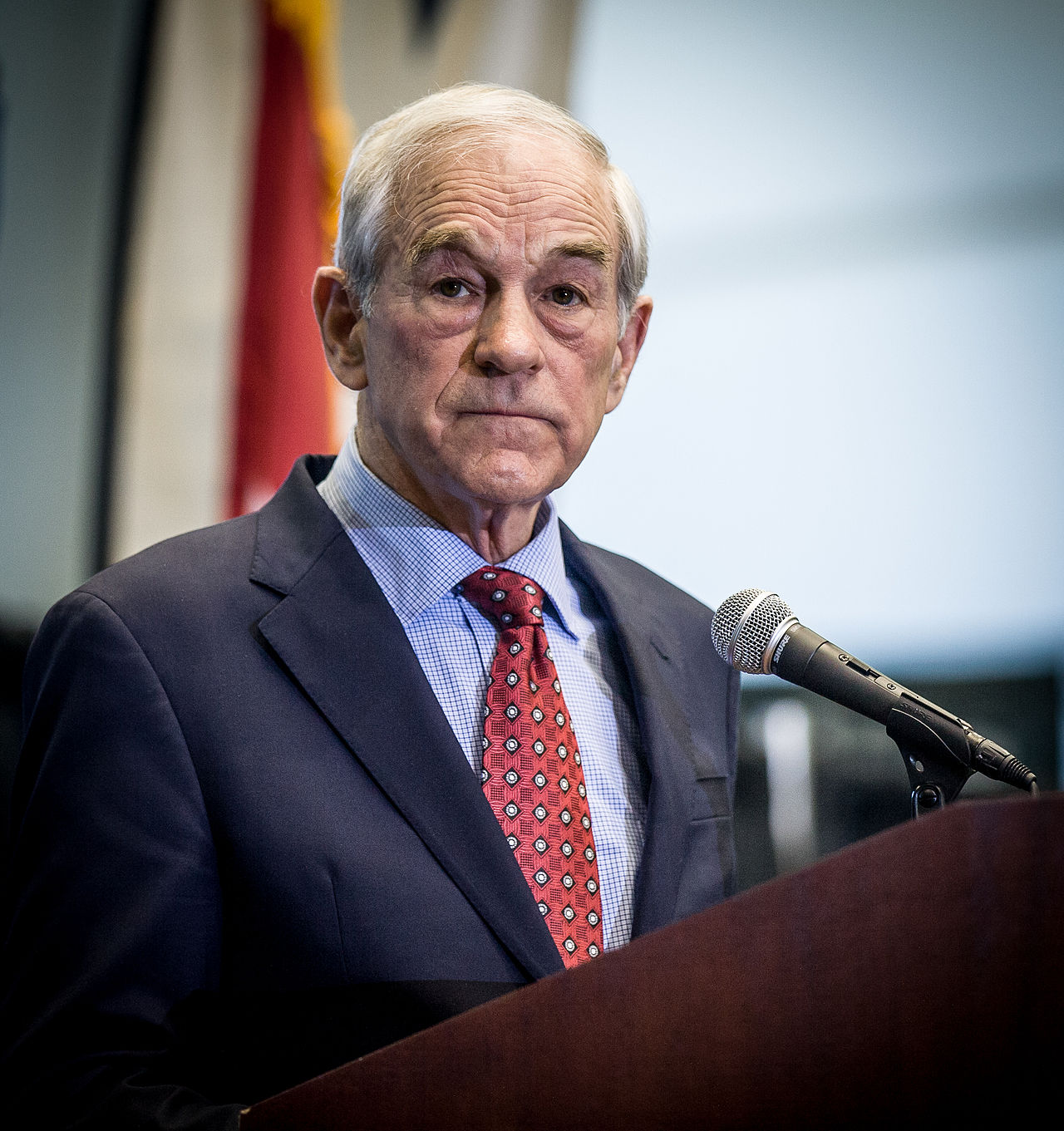 Ron Paul (photo by David Carlyon)

Former US Congressman Ron Paul has called out the use of suppression by non-scientists of information related to COVID-19:
In the Soviet Union it was forbidden to dispute the wisdom of the "party line." That's because Marxian communism was viewed as the scientifically inevitable progression of mankind. For Marx and Lenin, the "science was settled." Therefore anyone speaking out against "the science" of the Soviet system must be acting with malice; must actually want destruction; must want people to die.

Anyone voicing opposition to the "settled science" of Marxism-Leninism soon found their voice silenced. Oftentimes permanently. …

We are being silenced and accused of malicious intent. The Soviet Communists called dissidents like us "wreckers."

Last week on my daily news broadcast, the Ron Paul Liberty Report, we reported on two whistleblowers from inside the CDC and Big Pharma who raised serious and legitimate questions about the prevailing coronavirus narrative. The former Chief Science Officer for the pharmaceutical giant Pfizer, Dr. Mike Yeadon, has stated that from his experience he believes that nearly 90 percent of the current tests for Covid produce false positives. That means that this massive expansion in "cases," used to justify continued attacks on our civil liberties, is simply phony.

As Dr. Yeadon said in a recent interview about the Orwellian UK coronavirus lockdown, "we are basing a government policy, an economic policy, a civil liberties policy, in terms of limiting people to six people in a meeting…all based on, what may well be, completely fake data on this coronavirus?"

Is Dr. Yeadon correct in claiming that based on his scientific observation there is no "second wave"? We don't know. But we do know that his claims that the massive increase in "cases" in Europe used to justify new lockdowns are not in any way being matched with a similar increase in deaths. The EU's own charts prove this. Deaths remain a flat line near zero while "cases" skyrocket to match the massive increase in testing.

Yet when we reported on Dr. Yeadon's findings on the Liberty Report last week we found that for the first time ever, our program was removed by YouTube.

YouTube, owned by Google, which is firmly embedded into the deep state, was vague in explaining just where we violated their "community standards" by simply reporting on qualified scientists who happen to disagree with the mainstream coronavirus narrative. http://ronpaulinstitute.org/archives/featured-articles/2020/september/28/question-the-science-go-to-gulag/
Science is not supposed to be a "mainstream narrative," but we are seeing many aspects of it treated as such. Perhaps it should be pointed out that Ron Paul was trained and worked as a medical doctor, so he it can be concluded that he has some knowledge of human biology as well.
But it is not just YouTube censoring. Earlier this month, Facebook removed a post I made because I had a link to a reference it did not approve of. It accepted the same article with the reference link out (guess they do not like references). Then two weeks ago, Facebook removed a post that was virtually identical to the following one at COGwriter.com: COVID interview: Dr. Fauci takes isolated vitamin D and synthetic vitamin C.
In response, I posted the following at Facebook on September 16, 2020, which (to their credit) they still have left up:
Today, Facebook removed my post about Dr. Fauci, COVID, and synthetic vitamins as its "Community Standards" apparently do not allow scientists to express opinions and provide facts that Facebook does not want known. The fact that I have a Ph.D. in nutrition science and Dr. Fauci does not, seems to have been overlooked. The fact that my papers on why natural vitamins are superior to synthetic ones are published at the NIH's MEDLINE database and Dr. Fauci has no similar published papers, also seems to have been overlooked by the 'fact-checkers.

So, since Facebook has not made any clear way for me to attempt to appeal this, as an alternative to Facebook, my removed article is posted at the following link: https://usa.life/DrThiel For the more religiously inclined, an article with about two more sentences is available at the following link: https://www.cogwriter.com/…/covid-interview-dr-fauci…/
Real advances in science tend to come mainly from those who have looked outside of mainstream opinions. Science is rarely 'completely settled,' yet many act like it is.
Which, not only is that false, in the case of COVID-19 it ignores the novelty of it. The very newness means that the 'science' around it will change.
Others have also pointed out that suppression and/or lack of media coverage on aspects of scientific information keeps happening. Notice the following:
When will hysterical defenders of "science" face up to the destruction the US medical system is causing?

Millions of masked people, who border on hysteria, believe they know COVID science.

On closer examination, these people believe what their television sets tell them. They believe Fauci because he's on television, and he's talking from the White House, and he disagrees with Trump. These elements are not exactly what Galileo had in mind when he challenged the Roman Church on the issue of the Earth revolving around the sun.

Of the millions who believe in Fauci television science, there are many who will say science is "studies." They are quite sure these studies back up what Fauci and Redfield are spouting, and any contradictory studies would be artifacts dreamed up by secret minions of Trump. This sort of argument is not exactly what Galileo had in mind, either.

I recently analyzed COVID-19 from the point of view of false data. …
True data are buried, hidden, and ignored.

What data? Actual numbers of deaths and maiming CAUSED by medical treatment. …

Now here is the analysis. Understand that the vital data in these mainstream reports have been briefly revealed, then hidden.

ONE … Donald Light, who teaches at Rowan University, and was the 2013 recipient of ASA's [American Sociological Association's] Distinguished Career Award for the Practice of Sociology. ..: "Epidemiologically, appropriately prescribed, prescription drugs are the fourth leading cause of death, tied with stroke at about 2,460 deaths each week in the United States. About 330,000 patients die each year from prescription drugs in the United States and Europe. They [the drugs] cause an epidemic of about 20 times more hospitalizations [6.6 million annually], as well as falls, road accidents, and [annually] about 80 million medically minor problems such as pains, discomforts, and dysfunctions that hobble productivity or the ability to care for others. Deaths and adverse effects from overmedication, errors, and self-medication would increase these figures." (ASA publication, "Footnotes," November 2014)

TWO: Journal of the American Medical Association, April 15, 1998: "Incidence of Adverse Drug Reactions in Hospitalized Patients."

The authors, led by Jason Lazarou, culled 39 previous studies on patients in hospitals. These patients, who received drugs in hospitals, or were admitted to hospitals because they were suffering from the drugs doctors had given them, met the following fate:

Every year, in the US, between 76,000 and 137,000 hospitalized patients die as a direct result of the drugs.

Beyond that, every year 2.2 million hospitalized patients experience serious adverse reactions to the drugs. …

THREE: July 26, 2000, Journal of the American Medical Association; author, Dr. Barbara Starfield, revered public health expert at the Johns Hopkins School of Public Health; "Is US health really the best in the world?"

Starfield reported that the US medical system kills 225,000 Americans per year. 106,000 as a result of FDA-approved medical drugs, and 119,000 as a result of mistreatment and errors in hospitals. Extrapolate the numbers to a decade: that's 2.25 million deaths. You might want to read that last number again.

I interviewed Starfield in 2009. I asked her whether she was aware of any overall effort by the US government to eliminate this holocaust. She answered a resounding NO. She also said her estimate of medically caused deaths in America was on the conservative side.

FOUR: BMJ June 7, 2012 (BMJ 2012:344:e3989). Author, Jeanne Lenzer. Lenzer refers to a report by the Institute for Safe Medication Practices: "It [the Institute] calculated that in 2011 prescription drugs were associated with two to four million people in the US experiencing 'serious, disabling, or fatal injuries, including 128,000 deaths.'"

The report called this "one of the most significant perils to humans resulting from human activity." https://blog.nomorefakenews.com/2020/09/28/will-hysterical-science-defenders-face-up-to-destruction-medical-system-is-causing/
Yes, it is true that the medical profession kills and injures many with its mainly pharmacological interventions.
The media, politicians, and medical community often ignores or downplays more natural methods to improve human health.
Now regarding treatments for COVID-19, the following is actually on the Center for Disease Control's website:
Updated April 25, 2020
There are no drugs or other therapeutics presently approved by the U.S. Food and Drug Administration (FDA) to prevent or treat COVID-19. Current clinical management includes infection prevention and control measures and supportive care, including supplemental oxygen and mechanical ventilatory support when indicated. https://www.cdc.gov/coronavirus/2019-ncov/hcp/therapeutic-options.html
Yet, there are doctors all around the world that have successfully treated people with COVID-19 with herbs, vitamin C, hydroxychloroquine, and other methods that do not involved using a patented medicine. Also, many of these items have been used to boost immune systems to reduce the severity of symptoms of some who get exposed to COVID-19.
Instead, I have seen articles from the mainstream opposing each of those treatments. And, while I am not saying that everyone with COVID-19 would necessarily benefit from any of those treatments, the suppression of data, opinions of doctors, and opinions of scientists does not advance science nor help suffering patients.
The fact that the CDC page tab calls it 'Therapeutic Options for COVID-19' and it has NOT been updated since April 25th shows a callous disregard for those who have suffered from COVID-19. There are safe interventions that the US FDA and others should be promoting, but they have failed to do so.
Instead of encouraging scientific debate and sharing of clinical results and concerns, fear related steps have been used and massively promoted. That is something that Ron Paul warned about months ago as well (see Ron Paul on governments promoting fear, totalitarianism, and hypocrisy with COVID-19) as did I.  Watch, the following, for example:
Billions of people are afraid for many reasons, including COVID-19. Are any fears good? Are there mindless fears and phobias? Can autosuggestion be deceptive? Can you deal with mental torment? What are some causes of bad dreams (nightmares)? Does Satan try to exploit fears through his lies? Can the weak become strong? Were Christ's disciples ever fearful? Are there biblical ways to deal with fear? What about spiritual fear and the 'fear of God'? The late evangelists Dr. Herman Hoeh had an article published in 1955 titled 'How to Conquer Your Fears?' What are eight steps from the Apostle Peter? What did Jesus teach about worry? Are most Christians Philadelphian? What did Jesus teach about fear? What is the ultimate biblical fate for cowards? Here a the list of ten steps to help rid yourself of fear: 1. "Whatever things are true, whatever things are noble, whatever things are just, whatever things are pure, whatever things are lovely, whatever things are of good report, if there is any virtue and if there is anything praiseworthy — meditate on these things" (Philippians 4:8). Changing your mental focus will help you push out fear. 2. Develop faith. "Faith comes by hearing, and hearing by the word of God" (Romans 10:17). 3. Add virtue to your faith in the power of God. You cannot hide your sins from God (cf. Psalm 90:8). 4. Add to virtue knowledge. Study the word of God, study CCOG literature, pay attention to sermons (ContinuingCOG YouTube sermon channel) and sermonettes (BibleNewsProphecy YouTube sermonette channel). 5. Add self-control to knowledge. Resist Satan and his hopes that you will walk by sight instead of faith. 6. Add patience to self-control. You may have to go through many tests and trials to build patience, but as you get through the tests and trials you should have the faith to recognize that God got you through them and that you do not need to fear. 7. Add godliness to patience. 8. Add to patience, brotherly kindness. "Let Philadelphia continue" (Hebrews 13:1). 9. Add to brotherly kindness, love. 10. Be courageous. "He who has begun a good work in you will complete it until the day of Jesus Christ" (Philippians 1:6). This is how YOU can conquer your fears and worries! Ask God for help to carry out His ten-fold plan to attain real peace of mind. Then there is also prayer and fasting. Yes, through God's help you can rid yourself of fear. This sermon by Dr. Thiel covers these topics and more.
Here is a link to the sermon: Ten Plus Steps to Rid Yourself of Fear.
Many have been deceived about COVID-19.
As far a deception and suppression, consider the following scriptures:
1 But know this, that in the last days perilous times will come: … 7 always learning and never able to come to the knowledge of the truth. (2 Timothy 3:1,7)

13 But evil men and seducers shall wax worse and worse, deceiving, and being deceived. (2 Timothy 3:13, KJV)

18 For the wrath of God is revealed from heaven against all ungodliness and unrighteousness of men, who suppress the truth in unrighteousness … 22 Professing to be wise, they became fools, (Romans 1:18,22)

20 O Timothy, keep that which is committed to thy trust, avoiding profane and vain babblings, and oppositions of science falsely so called: (1 Timothy 6:20, KJV)
Yes, the Bible warns of lies, suppressions of truth, and false oppositions called science.
We have seen lots of this in regards to theology.
We have seen enough of this related to COVID-19 to cause great harm to the world in 2020.
Yes, there is a major cost for suppression of truth.
This will not end well for the USA (cf. Habakkuk 2:6-8).
Sadly, places like Facebook and YouTube do not seem to understand that.
Some items of possibly related interest may include:
Internet Censorship and Prophecy Are concerns about internet censorship limited to nations such as Russia, China, Iran, and North Korea. But what about the USA, Canada, and Germany? What about the European Union? What about internet media companies such as Facebook, Google, YouTube, or email services like MailChimp? Has the attempt to control information been made by various ones over the centuries? Was the New Testament affected by it? What about the church throughout the centuries? Has the Bible already been partially censored? Which Bible prophecies point to coming Internet censorship? What about the Book of Amos? What about the coming 666 Beast and final Antichrist? Is there anything that can be done about this? Should Philadelphian Christians be working on anything now? Will preaching the Gospel of the Kingdom of God vs. a highly media-supported alternative lead to a 'famine of the word'? More internet censorship is coming as various statements in the Bible support.
Orwell's 1984 by 2024? In 1949, the late George Orwell wrote a disturbing book about a totalitarian government called "nineteen-eighty four." Despite laws that are supposed to protect freedom of speech and religion, we are seeing governments taking steps consistent with those that George Orwell warned against. We are also seeing this in the media, academia, and in private companies like Google, Facebook, and Twitter. With the advent of technology, totalitarianism beyond what Orwell wrote is possible. Does the Bible teach the coming a totalitarian state similar to George Orwell's? What about the Antichrist and 666? Will things get worse? What is the solution? Dr. Thiel answers these questions and more in this video.
Canadian censoring of the Bible In 2017, Lauri Skori of the Battle River School board told a religious school in Alberta, Canada that it could not teach/read certain portions of the Bible. In 2002, a court in Canada ruled against one who referred to certain scriptures that some homosexuals objected to. In 2017, there was "An Act to Amend the Canadian Human Rights Act and Criminal Code" related to those who wish to be considered transgendered. Government officials in Canada and elsewhere have been ruling against the Bible. Is any of this prophesied? Will this get worse? What was the prophet Amos inspired to write? This is a video.
Internet Control, Famine of the Word, and 666 Is the internet going to be used to suppress the teaching of the word of God?
Ten Steps to Rid Yourself of Fear This is a vastly expanded version of a shorter article by the late Dr. Herman Hoeh on getting past fear. Here is a link to a related sermon: Ten Plus Steps to Rid Yourself of Fear.
Christian courage vs. cowardice As you courageous? What biblically is cowardice? Do YOU really understand this? Two sermons related to this article are available and are titled Courage and Cowardice and Cowardice and Overcoming Fear. A Spanish language article is also available: Valor Cristiano vs Cobardía.
Spiritual Samaritans: Old and New Who were the Samaritans? Do the represent true Christianity or something else? Here is a link to a related sermon: USA in Prophecy: Samaria.
Hope of Salvation: How the Continuing Church of God differs from Protestantism How the real Church of God differs from mainstream/traditional Protestants, is perhaps the question I am asked most by those without a Church of God background. As far as some changes affecting Protestantism, watch the video Charismatic Kenneth Copeland and Anglican Tony Palmer: Protestants Beware! [Português: Esperança do salvação: Como a igreja do deus difere da maioria de protestantes]. Several related sermon are also available: Protestant, Baptist, and CCOG History, The First Protestant, God's Command, Grace, & Character, The New Testament, Martin Luther, and the Canon, Eucharist, Passover, and Easter, and How Does the Church of God Differ from Protestantism?
The MYSTERY of GOD's PLAN: Why Did God Create Anything? Why did God make you? This free online book helps answers some of the biggest questions that human have, including the biblical meaning of life. Here is a link to three related sermons: Mysteries of God's Plan, Mysteries of Truth, Sin, Rest, Suffering, and God's Plan, and The Mystery of YOU.
COVID 19 is NOT the End, but could it be TEOTWAWKI? The novel coronavirus called COVID-19 is wreaking havoc around the world. Many states of the USA as well as countries in Europe are on lockdown with shelter in place /shelter in residence requirements. In France, a form is required when you are not at your house. In Spain, drones are being used to warn people who are outside to got back to their homes–does that bring up feelings of 'Big Brother'? Italy, France, and other areas are using police and/or military force to encourage people to stay inside. According to the Bible could this be the end? If not, what has to happen first? Have the second and third of the four horsemen of the Apocalypse started their ride? Could COVID-19 be the fourth horseman? Why or why not? Could we be seeing The End of the World as We Know It (TEOTWAWKI) like the R.E.M.'s 1987 single song discussed? Do Christians need to fear? What did Jesus teach? What did the Psalmist teach? This is a video. Here is a link to a version in the Spanish language: Corona 19 no es el final PERO es el TEOTWAWKI.
COVID-19 Leading to 666? The novel coronavirus of Wuhan, China fame, is now called COVID-19. It has also been called the 'Coronapocalypse.' Does COVID-19 have any prophetic ramifications? What did Jesus teach about pestilences and sorrows in the Olivet prophecy in Matthew 24? Could COVID-19 be the ride of the fourth horseman of the Apocalypse? Why was this type of disease expected according to the O. Here is a link to a version in the Spanish language: ld Testament prophecies in Deuteronomy and Leviticus? What has the US Centers for Disease Control warned about? What has the CDC reported about the flu? Were there lessons about fear and infections in the 2011 movie 'Contagion'? Because of COVID-19, the World Health Organization (WHO), nation of Iran, and certain French locations are telling people not to use cash, but instead electronic forms of payment. The US Federal Reserve is now quarantining money repatriated from Asia to reduce the potential spread of the coronavirus on US currency bills. Is COVID-19 worse than we have been told or could this all be a 'false flag' event to encourage people to move towards a cashless society? If the thousands of deaths associated with COVID-19 are pushing parts of the world towards cashlessness, how much more likely will the ride of the fourth horseman and over a billion human deaths motivate people to move to making electronic payments that can be monitored? The Bible tells of a soon coming society that controls buying and selling to force allegiance to a coming European Beast power, known as 666 (Revelation 13:16-18). Does the 'great tribulation' begin before ride of the fourth horseman or with the opening of the fifth seal of Revelation 6? Do the words of Jesus helps us better understand the sequence of the four horsemen of the Apocalypse and the start of the Great Tribulation? Will the ride of the fourth horseman help lead to the rise of 666? Is that ride very close? Dr. Thiel addresses these issues and more in this video. Here is a link to a version in the Spanish language: El COVID-19 ¿Conduce al 666?When Will the Great Tribulation Begin? 2020, 2021, or 2022? Can the Great Tribulation begin today? What happens before the Great Tribulation in the "beginning of sorrows"? What happens in the Great Tribulation and the Day of the Lord? Is this the time of the Gentiles? When is the earliest that the Great Tribulation can begin? What is the Day of the Lord? Who are the 144,000? Here is a version of the article in the Spanish language: ¿Puede la Gran Tribulación comenzar en el 2020 o 2021? ¿Es el Tiempo de los Gentiles? You can also see the English language sermon videos: The Great Tribulation from the Mount of Olives and Can the Great Tribulation begin before 2020? A shorter and newer video is: Could the Great Tribulation Begin in 2020?