Friday, September 30th, 2016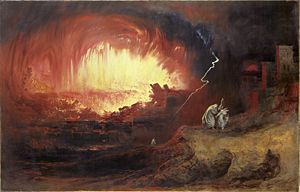 Depiction of the destruction of Sodom and Gomorrah

Alabama's Ray Moore has now just effectively been permanently suspended for attempting to stand for state's rights related to marriage:
September 30, 2016
MONTGOMERY, Ala. — Alabama Chief Justice Roy Moore's defiance of federal court rulings on same-sex marriage violated judicial ethics, a disciplinary court ruled on Friday before suspending him for the rest of his term.

The punishment effectively removes Moore from office without the nine-member Alabama Court of the Judiciary officially ousting him. Given his age, he will not be able to run for chief justice again under state law.

Moore was found to have encouraged probate judges to deny marriage licenses to gay couples six months after the U.S. Supreme Court ruled that everyone has a fundamental right to marry in all 50 states.

Moore vehemently denied that his administrative order was an act of defiance and said his personal beliefs had nothing to do with it.

The same panel removed the outspoken Republican in 2003 because he refused to remove a Ten Commandments monument from the state judicial building. Voters later re-elected him as chief justice after he lost a race for governor. …

Moore testified that his personal beliefs had nothing to do with it, and that his January order merely provided judges with a status report on a technical aspect of the law.

Moore, 69, had already been suspended from the bench since May, when the state's Judicial Inquiry Commission accused him of violating judicial ethics. By the end of his term in 2019, he'll be beyond the age limit of 70 for judges, unless voters raise the limit in November. http://www.cbsnews.com/news/alabama-chief-justice-roy-moore-suspended-defying-feds-same-sex-marriage/
Supposedly this decision was not related to homosexuality, but judicial guidelines:
September 30, 2016

The Alabama Court of the Judiciary (COJ) issued the order Friday suspending Moore from the bench for the remainder of his term after an unanimous vote of the nine-member court.Moore is filing an appeal to the Alabama Supreme Court, his attorney said. …

In its order, the COJ wanted to make sure people understood what Moore's case was and was not about.

"At the outset, this court emphasizes that this case is concerned only with alleged violations of the Canons of Judicial Ethics," the COJ states. "This case is not about whether same-sex marriage should be permitted: indeed, we recognize that a majority of voters in Alabama adopted a constitutional amendment in 2006 banning same-sex marriage, as did a majority of states over the last 15 years."

The COJ also stated it is also not a case to review or to editorialize about the United States Supreme Court's 5-4 split decision in June 2015 to declare same-sex marriage legal nationwide in the case of Obergefell v. Hodges. http://www.al.com/news/birmingham/index.ssf/2016/09/alabama_supreme_court_chief_ju.html
But that is nonsense. The Chief Justice of the Supreme Court is not considered guilty of judicial ethics violations because he has a different interpretation of the law.  Yet, that is what he was supposedly just 'convicted' of.
The COJ is being used to push the LGBT agenda.
Notice also the following:
September 30, 2016

Judicial officials in Alabama have chosen to "ignore the law and the rules" by imposing a term-long unpaid suspension on state Supreme Court Chief Justice Roy Moore, his lawyers are charging.

The banishment until the end of Moore's term was imposed by a Court of the Judiciary panel led by J. Michael Joiner, a criminal appeals judge, after the Judicial Inquiry Commission, at the behest of the Southern Poverty Law Center, claimed Moore essentially told probate judges to disobey the law.

Joiner was unresponsive to a WND inquiry seeking a comment. An aide transferred a WND call to Joiner's extension, where someone in the chambers picked up the phone and immediately hung up.

The case was developed with the help of a former SPLC official who was hired by the JIC for the case.

Moore's legal representatives at Liberty Counsel were outraged, arguing the COJ didn't even follow the law in its decision.

"To suspend Chief Justice Moore for the rest of his term is the same as removal," said Liberty Counsel Chairman Mat Staver. "The COJ lacked the unanimous votes to remove the chief, so the majority instead chose to ignore the law and the rules."

He blasted the organization as biased. http://www.wnd.com/2016/09/traditional-marriage-hero-roy-moore-removed-from-office/#3rKB5HFzmQtXttEZ.99
Yes, I believe that the COJ was biased. This appears to be another political lynching of Judge Moore.
Here is something I wrote about Judge Moore's efforts against the homosexual agenda earlier this year:
Judge Roy Moore should be commended for taking a morally proper stand. Although in this age, he will likely eventually lose on this issue, biblically he is on the right side of history. God does not sanction homosexual unions and neither should any human. (Thiel B. Alabama's Chief Justice stops non-biblical marriages. January 6, 2016).
In the past, Judge Moore defended public displaying of the Ten Commandments. And he was also chastised for that.
Some want to force homosexual marriage everywhere. Yet, biblically, there are no such things as 'same-sex marriages.' And historically, cultures have not allowed it. But, sadly, many have chosen a different direction in the 21st century.
Contrary to the views of certain advocates, homosexual acts are clearly prohibited in the Bible:
22 You shall not lie with a male as with a woman. It is an abomination. (Leviticus 18:22)

13 If a man lies with a male as he lies with a woman, both of them have committed an abomination. (Leviticus 20:13)
Much associated with the homosexual agenda is an abomination to God (watch also Transgender 'Woe to those who call evil good' and What Does the Bible Really Teach about Homosexuality?).
Homosexuality (gay and lesbian) and effeminism (transgenderism) are condemned in the New Testament:
9 Know ye not that the unrighteous shall not inherit the kingdom of God? Be not deceived: neither fornicators, nor idolaters, nor adulterers, nor effeminate, nor abusers of themselves with mankind, 10 Nor thieves, nor covetous, nor drunkards, nor revilers, nor extortioners, shall inherit the kingdom of God. (1 Corinthians 6:9-10, KJV)

22 Professing to be wise, they became fools, 23 and changed the glory of the incorruptible God into an image made like corruptible man — and birds and four-footed animals and creeping things.

24 Therefore God also gave them up to uncleanness, in the lusts of their hearts, to dishonor their bodies among themselves, 25 who exchanged the truth of God for the lie, and worshiped and served the creature rather than the Creator, who is blessed forever. Amen.

26 For this reason God gave them up to vile passions. For even their women exchanged the natural use for what is against nature. 27 Likewise also the men, leaving the natural use of the woman, burned in their lust for one another, men with men committing what is shameful, and receiving in themselves the penalty of their error which was due.

28 And even as they did not like to retain God in their knowledge, God gave them over to a debased mind, to do those things which are not fitting; 29 being filled with all unrighteousness, sexual immorality, wickedness, covetousness, maliciousness; full of envy, murder, strife, deceit, evil-mindedness; they are whisperers, 30 backbiters, haters of God, violent, proud, boasters, inventors of evil things, disobedient to parents, 31 undiscerning, untrustworthy, unloving, unforgiving, unmerciful; 32 who, knowing the righteous judgment of God, that those who practice such things are deserving of death, not only do the same but also approve of those who practice them. (Romans 1:22-32)
Notice that the Bible condemns not only gay, bisexual, and lesbian relations, but those who approve of them.
Notice also:
20 Woe to those who call evil good, and good evil; Who put darkness for light, and light for darkness; Who put bitter for sweet, and sweet for bitter! (Isaiah 5:20)
The reality is that the Ten Commandments reflect love, and breaking them is evil.
Yet despite biblical warnings, many modern leaders, are pushing so-called homosexual "rights" and "same-sex marriage." That includes people like Barack Obama and Hillary Clinton. And there are people like Donald Trump who, while not pushing it as hard, seemingly are fine with it. Gregory T. Angelo, the president of the Log Cabin Republicans (a pro-LGBT organization), described Trump as "one of the best, if not the best, pro-gay Republican candidates to ever run for the presidency."
The Bible, however, warns about such leaders:
12…Those who lead you cause you to err, And destroy the way of your paths. (Isaiah 3:12)

16 For the leaders of this people cause them to err, And those who are led by them are destroyed (Isaiah 9:16).
So, leaders that ignore what the Bible teaches are leading others toward destruction.
The Bible tells of an early event that occurred in the towns of Sodom and Gomorrah between three thousand and four thousand years ago:
24 Then the Lord rained brimstone and fire on Sodom and Gomorrah, from the Lord out of the heavens. 25 So He overthrew those cities, all the plain, all the inhabitants of the cities, and what grew on the ground. (Genesis 19:24-25)
And why did it happen?
7 as Sodom and Gomorrah, and the cities around them in a similar manner to these, having given themselves over to sexual immorality and gone after strange flesh, are set forth as an example, suffering the vengeance of eternal fire. (Jude 7)
Homosexuality is a form of sexual immorality that involves going after "strange flesh."
Why mention this in the 21st century?
Because God turned:
6…the cities of Sodom and Gomorrah into ashes, condemned them to destruction, making them an example to those who afterward would live ungodly (2 Peter 2:6)
The USA is heading towards destruction. Can you see the 'handwriting on the wall'?
Notice also the following:
9 The look on their countenance witnesses against them, And they declare their sin as Sodom; They do not hide it. Woe to their soul! For they have brought evil upon themselves. (Isaiah 3:9)

13 The fear of the Lord is to hate evil; Pride and arrogance and the evil way And the perverse mouth I hate. (Proverbs 8:13)

18 Pride goes before destruction, And a haughty spirit before a fall. (Proverbs 16:18)

49 Look, this was the iniquity of your sister Sodom: She and her daughter had pride, fullness of food, and abundance of idleness; neither did she strengthen the hand of the poor and needy. 50 And they were haughty and committed abomination before Me; therefore I took them away as I saw fit. (Ezekiel 16:49-50)
So the Bible shows that Sodom was destroyed for many things including its pride and the committing of abominations. Homosexuality is an abomination and a sin. It is NOT something to be publicly promoted and honored!
Yet, in modern times there are "gay pride" parades, and now a call for a homosexual monument in the USA. God still does not approve of pride or homosexual abominations. Various ones in the USA and elsewhere "declare their sin as Sodom."
The Bible teaches:
1 Cry aloud, spare not; Lift up your voice like a trumpet; Tell My people their transgression, And the house of Jacob their sins. (Isaiah 58:1)
Religious and government leaders should not teach against biblical standards of morality.
It is sad that Chief Justice Moore once again is having difficulties for standing against some of the errors that various leaders in the USA are promoting. I do not believe that the COJ suspension was unrelated to the politics of the LGBT agenda.
Various ones can pretend that promoting "homosexual rights" is acceptable, but the Bible teaches otherwise. This will not end well for the USA.
Some items of possibly related interest may include:
The Bible Condemns Homosexuality "Same-sex marriage" for "gays" and lesbians is becoming more acceptable to many. What does the Bible teach about homosexuality? Can homosexuals change? A related video sermon is titled What Does the Bible Really Teach about Homosexuality?
Cross-dressing and other assaults against your children. What should you do? Is there an agenda to turn your children and/or grandchildren away from biblical morality and towards practices promoted by homosexuals? What does the Bible teach about cross-dressing? What should parents do? If there is an agenda, what has been going on? There are also two YouTube videos related to this, titled Transgender 'Woe to those who call evil good' and Cross dressing and Other Assaults Against Your Children.
The Ten Commandments Reflect Love, Breaking them is Evil Some feel that the ten commandments are a burden. Is that what Jesus, Paul, Peter, James, and John taught? For a more detailed discussion of the first four commandments, please see the video The Ten Commandments: Loving God. For a more detailed discussion of the last six commandments, please see: The Ten Commandments: Loving Your Neighbor. Here is a link to a related article in Mandarin Chinese 十条诫命显示爱,违反诫命的就是邪恶的
Was the Commandment to Love the Only Command? Some have stated that John's writings teach this, but is that what the Bible really says?
The Ten Commandments and the Early Church Did Jesus and the Early Church keep the ten commandments? What order were they in? Here are quotes from the Bible and early writings. A related sermon is titled: Christians and the Ten Commandments.
Prophecies of Barack Obama? Reasons why Barack Obama is apocalyptic and reasons why Barack Obama is not the Antichrist. This article includes many biblical and non-biblical prophecies, from around the world, that seem to discuss Barack Obama. Did Nostradamus predict Barack Obama dealing with the Antichrist? Might Barack Obama set the stage for the kings of the North and South as at least one Shiite prophecy suggests? Read it and decide for yourself if President Obama seems to be fulfilling various prophecies. Watch also the YouTube Barack Obama and the State of the Apocalypse.
Donald Trump in Prophecy Prophecy, Donald Trump? Are there prophecies that Donald Trump may fulfill?  Are there any prophecies that he has already helped fulfill?  Could a Donald Trump presidency be apocalyptic?  A related video is titled Could Donald Trump be Apocalyptic? Another video is 10 Reasons Not to Vote for Donald Trump or Hillary Clinton.
Hillary Clinton in Prophecy  Prophecy, Hillary Clinton? Are there prophecies that Hillary Clinton may fulfill?  Are there any prophecies that she has already helped fulfill?  Could Hillary Clinton be apocalyptic?  Could Hillary Clinton be the final Antichrist? A video of related interest is titled Hillary Clinton and Bible Prophecy. Another video is 10 Reasons Not to Vote for Donald Trump or Hillary Clinton.
Preparing for the 'Short Work' and The Famine of the Word What is the 'short work' of Romans 9:28? Who is preparing for it? Here is a link to a related video sermon titled: The Short Work.
Love, Marriage, and Sex It is important to get them in the right order.
God Created Marriage Some falsely claim that God did not create marriage and that fornication is fine. What does the Bible really teach? Here is a version in Mandarin Chinese 神创造婚姻.
Making Your Marriage Work Marriage is not always easy, but it pictures a divine relationship. How can you make your marriage work? Here is a link to the video sermon: You Can Make YOUR Marriage Work.
Pornography: A scourge on society Is pornography harmless fun? Does the Bible teach anything about it? What are the views of some involved with it? Here is a link to a YouTube video Pornography: Harmless Fun or a Scourge on Society?
British and American Moral Decay Public nudity is becoming more prevalent in the Anglo-Saxon lands. What are some of the consequences?
Can those in the USA/UK see the Handwriting on the Wall? Is everything fine in the USA/UK or is it like the days of Noah? Can we learn from the handwriting that appeared on a wall thousands of years ago? Here is a link to a related YouTube video Can you see the 'Handwriting on the Wall'?
Anglo – America in Prophecy & the Lost Tribes of Israel Are the Americans, Canadians, English, Scottish, Welsh, Australians, Anglo-Saxon (non-Dutch) Southern Africans, and New Zealanders descendants of Joseph? Where are the lost ten-tribes of Israel? Who are the lost tribes of Israel? What will happen to Jerusalem and the Jews in Israel? Will God punish the U.S.A., Canada, United Kingdom, and other Anglo-Saxon nations? Why might God allow them to be punished first? Here is a link to the Spanish version of this article: Anglo-América & las Tribus Perdidas de Israel. Information is also in the YouTube sermons titled Where are the Ten Lost Tribes? Why does it matter? and British are the Covenant People. A short YouTube of prophetic interest may be Barack Obama and the State of the Apocalypse.
Will the Anglo-Saxon Nations be Divided and Have People Taken as Slaves? Will the lands of the United States, United Kingdom, Canada, Australia, and New Zealand be divided? What about Jerusalem? What does Bible prophecy teach? Are there non-biblical prophecies that support this idea? Who will divide those lands? Who will end up with the lands and the people? Here is a link to a video titled Will the USA and other Anglo-nations be Divided and Their People Made Slaves? Here is a related item in the Spanish language ¿Serán divididas las naciones anglosajonas?
British are the Covenant People What do 'British' and 'Britain' mean in Hebrew? Are the descendants of the Anglo-Saxons people of the covenant? Does the British royal family connect to the throne of David? What does the Bible teach? What does history show us? Is there any DNA evidence related to British-Israelism? When did Christianity make it to the British Isles? Could Jeremiah have made it to the British Isles? What type of Christians made it to the British Isles? Did the last King of England believe in British Israelism?
When Will the Great Tribulation Begin? 2016, 2017, or 2018? Can the Great Tribulation begin today? What happens before the Great Tribulation in the "beginning of sorrows"? What happens in the Great Tribulation and the Day of the Lord? Is this the time of the Gentiles? When is the earliest that the Great Tribulation can begin? What is the Day of the Lord? Who are the 144,000? Here is a version of the article in the Spanish language: ¿Puede comenzar la Gran Tribulación en 2016 o 2017? ¿Es el Tiempo de los Gentiles? You can also see the English language sermon video: The Great Tribulation from the Mount of Olives. A shorter video is: Can the Great Tribulation Start in 2016?