Sunday, October 31st, 2021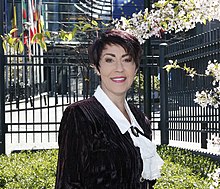 Christine Anderson (photo by Monoceros Prudentis)
A German Member of Parliament (MEP) made some interesting comments ZeroHeadge reported via Off-Guardian.org:
MEPs Protest "Oppressive" Vaccine Passports, Question Why "Political Elites Push This Agenda This Hard"

October 31, 2021

In the latest editions of This Week in the New Normal, we mentioned a group of Members of the European Parliament who held a press conference where they opposed mandatory vaccination and the "Green Pass".

On the 28th five of those same MEPs held another press conference, and while the whole thing is worth watching (embedded above), the highlight is definitely German MEP Christine Anderson who speaks for two of the truest minutes in the EU's history:

Full Transcript (emphasis ours):

All through Europe, governments have gone to great length to get people vaccinated. We were promised the vaccinations will be a "game changer", and it will restore our freedom…turns out none of that was true. It does not render you immune, you can still contract the virus and you can still be infectious.

The only thing this vaccine did for sure was to spill billions and billions of dollars in the pockets of pharmaceutical companies.

I voted against the digital green certificate back in April, unfortunately it was adopted nonetheless, and this just goes to show there is only a minority of MEPs who truly stand for European values. The majority of MEPs, for whatever reasons unbeknown to me, obviously support oppression of the people while claiming – shamelessly – to do it for the people's own good.

But it is not the goal that renders a system oppressive it is always the methods by which the goal is pursued. Whenever a government claims to have the people's interest at heart, you need to think again.

In the entire history of mankind there has never been a political elite sincerely concerned about the well-being of regular people. What makes any of us think that it is different now? If the age of enlightenment has brought forth anything then, certainly this: never take anything any government tells you at face value

Always question everything any government does or does not do. Always look for ulterior motives. And always ask cui bono?, who benefits?

Whenever a political elite pushes an agenda this hard, and resort to extortion and manipulation to get their way, you can almost always be sure your benefit is definitely not what they had at heart.

As far as I'm concerned, I will not be vaccinated with anything that has not been properly vetted and tested and has shown no sound scientific evidence that the benefits outweigh the disease itself in possible long-term side effects, which to this day we don't know anything about.

I will not be reduced to a mere guinea pig by getting vaccinated with an experimental drug, and I will most assuredly not get vaccinated because my government tells me to and promises, in return, I will be granted freedom.

Let's be clear about one thing: No one grants me freedom for I am a free person.

So, I dare the European Commission and the German government: Throw me in jail, lock me up and throw away the key for all I care. But you will never be able to coerce me into being vaccinated if I, the free citizen that I am, choose not to be vaccinated.

https://www.zerohedge.com/political/watch-meps-protest-oppressive-vaccine-passports-question-why-political-elites-push-agenda
Irrespective of where one stands on vaccines (see also CCOG on vaccines), the reality is that governments have imposed restrictions on freedoms in a scale not seen before on such a global scale.
As far as Christine Anderson's comment about being jailed and locked up, that type of thing will happen on a massive scale in the future (cf. 13th chapter of Revelation).
Notice the following warning about losing rights from three years ago:
It Can Happen Here

June 27, 2018

Liberal democracy has enjoyed much better days. … In light of recent turns toward authoritarianism in Turkey, Poland, Hungary, and the Philippines, there is widespread talk of a "democratic recession." In the United States, President Donald Trump may not be sufficiently committed to constitutional principles of democratic government.

In such a time, we might be tempted to try to learn something from earlier turns toward authoritarianism, particularly the triumphant rise of the Nazis in Germany in the 1930s. The problem is that Nazism was so horrifying and so barbaric that for many people in nations where authoritarianism is now achieving a foothold, it is hard to see parallels between Hitler's regime and their own governments. Many accounts of the Nazi period depict a barely imaginable series of events, a nation gone mad. That makes it easy to take comfort in the thought that it can't happen again.

But some depictions of Hitler's rise are more intimate and personal. They focus less on well-known leaders, significant events, state propaganda, murders, and war, and more on the details of individual lives. They help explain how people can not only participate in dreadful things but also stand by quietly and live fairly ordinary days in the midst of them. They offer lessons for people who now live with genuine horrors, and also for those to whom horrors may never come but who live in nations where democratic practices and norms are under severe pressure.

Milton Mayer's 1955 classic They Thought They Were Free, recently republished with an afterword by the Cambridge historian Richard J. Evans, was one of the first accounts of ordinary life under Nazism. …In They Thought They Were Free, Mayer decided to focus on ten people, different in many respects but with one characteristic in common: they had all been members of the Nazi Party. Eventually they agreed to talk, accepting his explanation that he hoped to enable the people of his nation to have a better understanding of Germany. …

Mayer's most stunning conclusion is that with one partial exception (the teacher), none of his subjects "saw Nazism as we—you and I—saw it in any respect." Where most of us understand Nazism as a form of tyranny, Mayer's subjects "did not know before 1933 that Nazism was evil. They did not know between 1933 and 1945 that it was evil. And they do not know it now." Seven years after the war, they looked back on the period from 1933 to 1939 as the best time of their lives.

Mayer suggests that even when tyrannical governments do horrific things, outsiders tend to exaggerate their effects on the actual experiences of most citizens, who focus on their own lives and "the sights which meet them in their daily rounds." Nazism made things better for the people Mayer interviewed, not (as many think) because it restored some lost national pride but because it improved daily life. Germans had jobs and better housing. They were able to vacation in Norway or Spain through the "Strength Through Joy" program. Fewer people were hungry or cold, and the sick were more likely to receive treatment. The blessings of the New Order, as it was called, seemed to be enjoyed by "everybody." https://getpocket.com/explore/item/it-can-happen-here?utm_source=pocket-newtab accessed 06/15/20
Many in the 21st century do not fully grasp how desperate and dejected the average German was in the early 1930s.
Adolf Hitler promised a German utopia, the third reich. And essentially proclaimed it would last a thousand years.
The German economy improved. People began to have hope. Militarily, Germany regained territories it had lost in WWI.
The 'benefits' of totalitarianism were shared by most Germans, as long as they were not Jews, gypsies, etc.
The policies that many nations have been doing related to COVID-19 in 2020 and 2021 have been substantial. Totalitarian actions have been taken by places not considered to be dictatorships as their elected leaders have closed businesses, impacted shopping, hurt education, restricted travel, etc.
Unlike Adolf Hitler's time, the Bible tells of a false prophet who will support and promote (Revelation 13:11-18) the rise of a totalitarian dictator (Revelation 13:1-10) called the beast.
After the fourth horseman of death and disease begins his ride, and many die, people around the world will be desperate and dejected.
They will be interested in the swan song of a strong leader to lift them up, protect them, and help them prosper.
The Bible says this will happen (cf. Revelation chapters 17 and 18).
The Continuing Church of God put out the following sermon on its ContinuingCOG channel:
The 6th chapter of the Book of Revelation tells of the ride of the Four Horsemen of the Apocalypse. What do each represent? Is the novel coronavirus, also known as COVID-19, part of the fourth horseman? Does the Bible point to around 2 billion people dying from hunger, war, and the beasts of the earth? Was the ancient Roman Empire impacted by pestilences? What about the black death, also known as the Bubonic plague? Are disease epidemics part of the beginning of sorrow and troubles that Jesus spoke about in Matthew 24 and Mark 13? Does the pale green horseman represent Islam? Could genetically modified organisms (GMOs) or synthetic biology cause or contribute to coming pandemics? Is chemical and biological warfare (CBW) a real threat to humanity? What about a doomsday bug or antibiotic resistant superbugs? Is fear a contagion that will help people move away from democracy? Will scientists be able to stop what is coming? Is the good news that the Kingdom of God will? Could COVID-19 be setting the stage for the rise of the 'prince,' who will become the totalitarian Beast of the Sea (also known as 666 and the King of the North)? Is this leader similar to the Great Monarch of Greco-Roman Catholic prophecies? When is the Great Monarch supposed to arise according to the Eastern Orthodox? Why might Europe be less affected by the ride of the third horseman that the US, Canada, and the UK? Are governments taking steps now, consistent with the words of Adolf Hitler? What seal represents the start of the Great Tribulation? Which Christians did Jesus promise to protect from the coming "hour of trial"?
Now, some have felt that the COVID crisis would break European unity. But ultimately, it will help lead to a more united and totalitarian Europe. Related to that, the Continuing Church of God (CCOG) put together the following video for our Bible News Prophecy program:
Following statements from various political leaders, Luxembourg Cardinal Jean-Claude Hollerich voiced concerns that COVID-19 could lead to the end of the European Union as nationalism is pushing out European solidarity. Could the EU break apart? Could the Euro collapse? Does the Bible tell of unity problems for Europe in Daniel 2? Does the Bible teach that Europe will reorganize and give its power to a totalitarian dictator called the Beast from the sea? How will the prophesied European unity come about? What did Austrian researcher Tamara Ehs warn related to European democracy and authoritarianism? Was the late Herbert W. Armstrong correct about his apocalyptic 20th century warnings related to fear and religion uniting Europe? Will the 'beast from the earth' be the final Antichrist and a type of antipope? Does the Book of Revelation support the view he will betray the Vatican and/or the Church of Rome? Could European ideals include differences with the USA on the World Health Organization, differences on climate change, and fears about the the USA's military be factors in the prophesied unity under the Beast? Could economic problems and fear from pestilences be a factor in dictatorial change coming to Europe?
Here is a link to the video: Cardinal: Coronavirus could be the end of the European Union.
When people are afraid and when they are desperate, they are more likely to accept a dictatorial leader. And people are getting more and more tolerant of being in a surveillance state.
The Bible teaches that Europe will reorganize and turn power over to a dictator:
12 The ten horns which you saw are ten kings who have received no kingdom as yet, but they receive authority for one hour as kings with the beast. 13 These are of one mind, and they will give their power and authority to the beast. (Revelation 17:12-13)
Yes, Europe will reorganize and ten dictators will turn power over to one called the Beast (see also Must the Ten Kings of Revelation 17:12 Rule over Ten Currently Existing Nations?).
The late Herbert W. Armstrong taught:
there is a beast … with ten dictators and in the territory of the ancient Roman Empire, Europe and around the Mediterranean. (Armstrong HW. Outline of Prophecy 13 – Russia's Coming Attack On Europe! Radio broadcast, 20th century)

Suddenly the world will behold a UNITED STATES OF EUROPE! Some of the Balkan nations which have been under Russia's boot will be members of it! TEN dictators in Europe will unite, in a gigantic European COMBINE, turning their united military power and resources over to the new LEADER of Europe! (Armstrong HW. The Hydrogen Bomb Shifts Trend. Plain Truth, 1950, p. 5)

TEN DICTATORS, receiving power "as Kings"-yet not being kings in the sense of inheriting thrones as continuous dynasties-will give their military and economic power co this coming Strong·Man political leader, called "the BEAST" in prophecy. You will read of what is soon coming … in the 17th chapter of Revelation … (Armstrong HW. Why DeGaulle Blackballed Britain. Plain Truth, 1963, pp. 4,32)
Yes, dictators will be put in place in Europe and will give their power to an even more totalitarian dictator.
That being said, some have claimed COVID-19 as an excuse for a 'great reset' which will not end well.
We will see the rise of a dictator and people's fears about disease and economic issues will be a factor.
For the world in general, yes, "It Can Happen Here." We have seen steps, blamed on COVID, for the past 20 or so months that show that governments are willing to impose totalitarian restrictions.
Leaders like Christine Anderson may take different stands, but more totalitarianism is coming to Europe.
Some items of possibly related interest may include:
Fourth Horseman of the Apocalypse What is the pale horse of death and pestilences? What will it bring and when? Here is a link to a related sermon: Fourth Horseman, COVID, and the Rise of the Beast of Revelation. Some shorter related videos may include Amphibian Apocalypse: Threat to Humans? and Zombie Deer Disease is Here! Are the 10 Plagues on Egypt Coming? Here is a version of the article in Spanish: El cuarto jinete de Apocalipsis, el caballo pálido de muerte y pestilencia.
CCOG on vaccines Pestilences are coming. Is it ever appropriate for Christians to get vaccinated?
COVID 19 is NOT the End, but could it be TEOTWAWKI? The novel coronavirus called COVID-19 is wreaking havoc around the world. Many states of the USA as well as countries in Europe are on lockdown with shelter in place /shelter in residence requirements. In France, a form is required when you are not at your house. In Spain, drones are being used to warn people who are outside to got back to their homes–does that bring up feelings of 'Big Brother'? Italy, France, and other areas are using police and/or military force to encourage people to stay inside. According to the Bible could this be the end? If not, what has to happen first? Have the second and third of the four horsemen of the Apocalypse started their ride? Could COVID-19 be the fourth horseman? Why or why not? Could we be seeing The End of the World as We Know It (TEOTWAWKI) like the R.E.M.'s 1987 single song discussed? Do Christians need to fear? What did Jesus teach? What did the Psalmist teach? This is a video. Here is a link to a version in the Spanish language: Corona 19 no es el final PERO es el TEOTWAWKI.
COVID-19 Leading to 666? The novel coronavirus of Wuhan, China fame, is now called COVID-19. It has also been called the 'Coronapocalypse.' Does COVID-19 have any prophetic ramifications? What did Jesus teach about pestilences and sorrows in the Olivet prophecy in Matthew 24? Could COVID-19 be the ride of the fourth horseman of the Apocalypse? Why was this type of disease expected according to the O. Here is a link to a version in the Spanish language: ld Testament prophecies in Deuteronomy and Leviticus? What has the US Centers for Disease Control warned about? What has the CDC reported about the flu? Were there lessons about fear and infections in the 2011 movie 'Contagion'? Because of COVID-19, the World Health Organization (WHO), nation of Iran, and certain French locations are telling people not to use cash, but instead electronic forms of payment. The US Federal Reserve is now quarantining money repatriated from Asia to reduce the potential spread of the coronavirus on US currency bills. Is COVID-19 worse than we have been told or could this all be a 'false flag' event to encourage people to move towards a cashless society? If the thousands of deaths associated with COVID-19 are pushing parts of the world towards cashlessness, how much more likely will the ride of the fourth horseman and over a billion human deaths motivate people to move to making electronic payments that can be monitored? The Bible tells of a soon coming society that controls buying and selling to force allegiance to a coming European Beast power, known as 666 (Revelation 13:16-18). Does the 'great tribulation' begin before ride of the fourth horseman or with the opening of the fifth seal of Revelation 6? Do the words of Jesus helps us better understand the sequence of the four horsemen of the Apocalypse and the start of the Great Tribulation? Will the ride of the fourth horseman help lead to the rise of 666? Is that ride very close? Dr. Thiel addresses these issues and more in this video. Here is a link to a version in the Spanish language: El COVID-19 ¿Conduce al 666?
Biological Warfare and Prophecy Is biological warfare possible? Was it prophesied? Scientists have long warned that pathogenic organisms like the coronavirus could be weaponized. Furthermore, back in 2017, there were concerns that the biological research facility being constructed in Wuhan, China was risky and that a coronavirus from it could be released. On January 25, 2020, China's President Xi Jinping publicly stated that the situation with the Wuhan-related strain of the coronavirus was grave. Did Church of God writers like the late evangelist Raymond McNair warn that engineered viruses (the "Doomsday bug") were consistent with prophecies from Jesus? Did a warning from CCOG leader Bob Thiel warn about risks of genetically-modified (GMO) mosquitoes come to pass? Could human research and/or the consumption of biblically-unclean animals such as bats and snakes be a factor in current outbreaks or coming future pestilences? What about famines? How devastating have pestilences been? How devastating are the prophesied ones going to be? Dr. Thiel addresses these issues and more in this video.
Physical Preparation Scriptures for Christians. We all know the Bible prophecies famines. Should we do something? Here is a version in the Spanish language Escrituras sobre Preparación física para los Cristianos. Here is a link to a related sermon: Physical preparedness for Christians.
The Eurasian Union, the Kings of the East, and Bible Prophecy Is there a Eurasian union that will be formed? Is one being formed right now? Are any leaders working on that in the 21st century? Does the Bible teach that there will be a Eurasian union? If some type of Eurasian union is formed, who might it benefit and who will it destroy? A related video would be Is The Eurasian Union Rising?
Must the Ten Kings of Revelation 17:12 Rule over Ten Currently Existing Nations? Some claim that these passages refer to a gathering of 10 currently existing nations together, while one group teaches that this is referring to 11 nations getting together. Is that what Revelation 17:12-13 refers to? The ramifications of misunderstanding this are enormous. A related sermon is titled Ten Kings of Revelation and the Great Tribulation.
Might German Baron Karl-Theodor zu Guttenberg become the King of the North? Is the former German Defense Minister (who is also the former German Minister for Economics and Technology) one to watch? What do Catholic, Byzantine, and biblical prophecies suggest? A video of related interest would be: Karl-Theodor zu Guttenberg and Europe's Future.
Germany's Assyrian Roots Throughout History Are the Germanic peoples descended from Asshur of the Bible? Have there been real Christians in Germanic history? What about the "Holy Roman Empire"? There is also a You-Tube video sermon on this titled Germany's Biblical Origins.
Germany in Biblical and Catholic Prophecy Does Assyria in the Bible equate to an end time power inhabiting the area of the old Roman Empire? What does prophecy say Germany will do and what does it say will happen to most of the German people? Here is a version of the article in the Spanish language: Alemania en la profecía bíblic. Here are links to two English language sermon videos Germany in Bible Prophecy and The Rise of the Germanic Beast Power of Prophecy.
Europa, the Beast, and Revelation Where did Europe get its name? What might Europe have to do with the Book of Revelation? What about "the Beast"? Is an emerging European power "the daughter of Babylon"? What is ahead for Europe? Here is a link to a video titled: Can You Prove that the Beast to Come is European?
European Technology and the Beast of Revelation Will the coming European Beast power would use and develop technology that will result in the taking over of the USA and its Anglo-Saxon allies? Is this possible? What does the Bible teach? Here is a related YouTube video: Military Technology and the Beast of Revelation.
Spiritual Samaritans: Old and New Who were the Samaritans? Do the represent true Christianity or something else? Here is a link to a related sermon: USA in Prophecy: Samaria.Who is the King of the North? Is there one? Do biblical and Roman Catholic prophecies for the Great Monarch point to the same leader? Should he be followed? Who will be the King of the North discussed in Daniel 11? Is a nuclear attack prophesied to happen to the English-speaking peoples of the United States, Great Britain, Canada, Australia, and New Zealand? When do the 1335 days, 1290 days, and 1260 days (the time, times, and half a time) of Daniel 12 begin? When does the Bible show that economic collapse will affect the United States? In the Spanish language check out ¿Quién es el Rey del Norte? Here is a link to a video titled: The Future King of the North.
USA in Prophecy: The Strongest Fortresses Can you point to scriptures, like Daniel 11:39, that point to the USA in the 21st century? This article does. Two related sermon are available: Identifying the USA and its Destruction in Prophecy and Do these 7 prophesies point to the end of the USA?
Who is the King of the West? Why is there no Final End-Time King of the West in Bible Prophecy? Is the United States the King of the West? Here is a version in the Spanish language: ¿Quién es el Rey del Occidente? ¿Por qué no hay un Rey del Occidente en la profecía del tiempo del fin? A related sermon is also available: The Bible, the USA, and the King of the West.
Who is the King of the North? Is there one? Do biblical and Roman Catholic prophecies for the Great Monarch point to the same leader? Should he be followed? Who will be the King of the North discussed in Daniel 11? Is a nuclear attack prophesied to happen to the English-speaking peoples of the United States, Great Britain, Canada, Australia, and New Zealand? When do the 1335 days, 1290 days, and 1260 days (the time, times, and half a time) of Daniel 12 begin? When does the Bible show that economic collapse will affect the United States? In the Spanish language check out ¿Quién es el Rey del Norte? Here are links to two related videos: The King of the North is Alive: What to Look Out For and The Future King of the North.
The Great Monarch: Biblical and Catholic Prophecies Is the 'Great Monarch' of Catholic prophecies endorsed or condemned by the Bible? Two sermons of related interest are also available: Great Monarch: Messiah or False Christ? and Great Monarch in 50+ Beast Prophecies.
Satan's Plan Does Satan have a plan? What is it? Has it already been successful? Will it be successful in the future? Here are links to a two-part sermon series: What are Some of the Parts of Satan's Plan? and Satan's Plan is More Dramatic than Many Realize.
Will the Anglo-Saxon-Celtic Nations be Divided and Have People Taken as Slaves? Will the lands of the United States, United Kingdom, Canada, Australia, and New Zealand be divided? What about Jerusalem? What does Bible prophecy teach? Are there non-biblical prophecies that support this idea? Who will divide those lands? Who will end up with the lands and the people? Here is a link to a video titled Will the USA and other Anglo-nations be Divided and Their People Made Slaves? Here is a related item in the Spanish language ¿Serán divididas las naciones anglosajonas?
British are the Covenant People What do 'British' and 'Britain' mean in Hebrew? Are the descendants of the Anglo-Saxons people of the covenant? Does the British royal family connect to the throne of David? What does the Bible teach? What does history show us? Is there any DNA evidence related to British-Israelism? When did Christianity make it to the British Isles? Could Jeremiah have made it to the British Isles? What type of Christians made it to the British Isles? Did the last King of England believe in British Israelism?
Canada in Prophecy: What Does Bible Prophecy, Catholic Prophecy, and other Predictions Suggest About the Future of Canada? There are prophecies that suggest involvement with Canada. And many are not positive about its future. A sermon of related interest is also available: Canada in Prophecy.
Australia and New Zealand in Prophecy Do biblical prophecies help explain the wealth blessings for Australia and New Zealand? Might cursings from disobedience come in the 21st century? Here is a link to a related sermon: Australia and New Zealand: Origins and Prophecy.
The 'Lost Tribe' of Reuben: France in Prophecy? What is the origin of this in France? What is prophesied to happen to them? A two-part sermon related to history and prophecy is available online: The 'Lost Tribe' of Reuben and France and Prophecy.
Ten clues tying Belgium and Luxembourg with the tribe of Asher Who did some in Belgium and Luxembourg descend from?
Ten clues tying Zebulun with the Dutch Who did some in the Netherlands descend from?
Ten Prophetic Clues Concerning Naphtali – Sweden Do the Swedes have any ties to the biblical tribe of Naphtali? Some think so.
'Ten Prophetic Clues Concerning Dan – the Irish' Not part of the '144,000' Could the Irish and Danes have descent from the tribe of Dan?
Could Switzerland by descended from Gad? Is it really prepared for what is prophecied? This article has clues.
Does God Have a 6,000 Year Plan? What Year Does the 6,000 Years End? Was a 6000 year time allowed for humans to rule followed by a literal thousand year reign of Christ on Earth taught by the early Christians? Does God have 7,000 year plan? What year may the six thousand years of human rule end? When will Jesus return? 2029 or or 2031 or 20xx? There is also a video titled 6000 Years: When will God's Kingdom Come? Here is a link to the article in Spanish: ¿Tiene Dios un plan de 6,000 años?
Might the U.S.A. Be Gone by 2028? Are there prophetic reasons to believe that the USA will not last two complete presidential terms? Yes. There is a tradition attributed to the Hebrew prophet Elijah that humanity had 6,000 years to live before being replaced by God's Kingdom. There are scriptures, writings in the Talmud, early Christian teachings that support this. Also, even certain Hindu writings support it. Here is a link to a related video: Is the USA prophesied to be destroyed by 2028? In Spanish: Seran los Estados Unidos Destruidos en el 2028?
The Great Tribulation: What Happens First? What events have happened? What are some events that are now happening? And what events need to happen for the Great Tribulation to start? Here is a link to a related sermon video: Counting Down to the Great Tribulation. Here is a video in the Spanish language: Contando los eventos y el inicio de la Gran Tribulación.
When Will the Great Tribulation Begin? 2021, 2022, or 2023? Can the Great Tribulation begin today? What happens before the Great Tribulation in the "beginning of sorrows"? What happens in the Great Tribulation and the Day of the Lord? Is this the time of the Gentiles? When is the earliest that the Great Tribulation can begin? What is the Day of the Lord? Who are the 144,000? Here is a version of the article in the Spanish language: ¿Puede la Gran Tribulación comenzar en el 2020 o 2021? ¿Es el Tiempo de los Gentiles? A related video is: Great Tribulation: 2026 or 2027? Here is a video in the Spanish language: Es El 2021 el año  de La Gran Tribulación o el Grande Reseteo Financiero.
Is a Great Reset Coming? Klaus Schwab of the World Economic Forum has proposed a societal change that has been basically endorsed by the Vatican and many world leaders. Does the Bible prophesy a major reset? Here is a link to a related video: Will there be a "Great Reset"?