Thursday, April 30th, 2009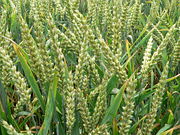 Wheat
Earlier this year, I reported about wheat crop problems in China (Drought, Wheat, & China) and Argentina (Argentina, Drought, & Wheat).  Here is a report related to the United States:
Grain Outlook: Who Saw This Coming?

Cattle Network – April 28, 2009   excerpt…

Drought in Texas and Oklahoma, plus two hard freezes hurt wheat badly.




The USDA Crop Progress report released April 27th, showed 73 percent of the Texas wheat crop rated as poor or very poor.




Only 11 percent of the Texas crop was considered good or excellent. Sixty-four percent of the Oklahoma winter wheat crop rated poor or very poor. Nine percent was good and none of the wheat in Oklahoma was rated as excellent.

The full extent of the freeze damage to Oklahoma wheat will not be known until the wheat has headed out. By comparison, the Kansas hard red wheat crop rated 48 percent good or excellent. Only 15 percent was poor or very poor. Some wheat in the southern tier of Central Kansas counties was hurt by the freezes, but at this time it is thought impact on final yields will be minimal.

Soggy fields in the Eastern Corn Belt and Upper Great Plains spring wheat areas have delayed corn planting, raising questions about the number of acres that will be planted to corn and spring wheat this year; and the acreage that may be shifted into soybeans. Aside from bidding a premium into the Minneapolis spring wheat price, traders seem to be ignoring the potential impacts of the situation.

The second cold, wet spring in a row has corn planting running behind normal, although planting progress picked up considerably in the Western Corn Belt during the fourth week of April. In the 18 major corn states, as of April 26th, 22 percent of the corn had been planted compared to the average 28 percent. However Eastern Corn Belt states were still running far behind normal. Two examples: Only four percent of the corn in Illinois had been planted versus a normal 43 percent and Indiana was only two percent planted versus the normal of 25 percent. Corn planting in the Mid-south didn't keep up this week, especially in Kentucky and Tennessee.

Corn Belt corn producers like to have corn seed in the ground by May 1st. Big planting rigs can plant lots of corn in a hurry, but they have to be able to get into fields without sinking in up to the wheel hubs. In many areas, that will not be possible until later in the month.

The next important date is May 10th. That is the date past which yield potential for corn starts to decline dramatically. Corn yields held up last year, even with late planting, because near ideal, but rare, late summer and early fall growing conditions allowed the corn to mature. If corn price is high enough to give good returns even with lower yields, producers might decide to go ahead with corn. But many will switch to planting soybeans. http://www.cattlenetwork.com/Content.asp?ContentID=310415
Disruptions of the grain production in food exporting nations can cause serious famines and even starvation in various places.
Famines are one of the events that Jesus referred to as part of the beginning of sorrows:
6 And you will hear of wars and rumors of wars. See that you are not troubled; for all these things must come to pass, but the end is not yet. 7 For nation will rise against nation, and kingdom against kingdom. And there will be famines, pestilences, and earthquakes in various places. 8 All these are the beginning of sorrows (Matthew 24:6-8).
Without repentance, even bigger food shortages are expected.
Some articles of possibly related interest may include:
Physical Preparation Scriptures for Christians. We all know the Bible prophecies famines. Should we do something?
Anglo – America in Prophecy & the Lost Tribes of Israel Are the Americans, Canadians, British, Scottish, Welsh, Australians, Anglo-Southern Africans, and New Zealanders descendants of Joseph? Where are the lost ten-tribes of Israel? Who are the lost tribes of Israel? Will God punish the U.S.A., Canada, United Kingdom, and other Anglo nations? Why might God allow them to be punished first?
Prophecies of Barack Obama? Are there biblical and non-biblical prophecies about Barack Obama. Did Nostradamus predict Barack Obama dealing with the Antichrist?  Might Barack Obama set the stage for the kings of the North and South as his timing and at least one Shiite prophecy suggests?  This is the longest and most detailed of the articles here at COGwriter related to prophecy and Barack Obama.
Barack Obama, Prophecy, and the Destruction of the United States Some claim that Barack Obama is the prophesied "son of Kenya". Might Bible prophecy be fulfilled since he is to be the USA president?
Can the Great Tribulation Begin in 2009, 2010, or 2011? Can the Great Tribulation begin today? What is the "beginning of sorrows"?  When is the earliest that the Great Tribulation can begin? What is the Day of the Lord?