Friday, November 30th, 2007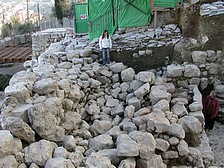 Remnants of Nehemiah's Wall per The Jerusalem Post
The following related news item was of interest:
Associated Press – Nov 29, 2007
JERUSALEM – A biblical wall that has eluded archaeologists for years has finally been found, according to an Israeli scholar. A team of archaeologists in Jerusalem has uncovered what they believe to be part of a wall mentioned in the Bible's Book of Nehemiah.
The discovery, made in Jerusalem's ancient City of David, came as a result of a rescue attempt on a tower which was in danger of collapse, said Eilat Mazar, head of the Institute of Archaeology at the Shalem Center, a Jerusalem-based research and educational institute, and leader of the dig.
Artifacts including pottery shards and arrowheads found under the tower suggested that both the tower and the nearby wall are from the 5th century B.C., the time of Nehemiah, according to Mazar. Scholars previously thought the wall dated to the Hasmonean period (142-37 B.C.).
The findings suggest that the wall is actually part of the same city wall the Bible says Nehemiah rebuilt, Mazar said. The Book of Nehemiah (chapters 3-6) gives a detailed description of construction of the walls, destroyed earlier by the Babylonians.  http://www.msnbc.msn.com/id/22031220/ 
Comments by COGwriter 
I have long been a fan, so to speak, of Nehemiah.  He heard of a problem, prayed to God, and was used of God to do an important work in spite of severe opposition.
He was persecuted, frustrated, but continued to pray and to rely on God and did the work his "era" was supposed to accomplish.  Despite his flaws, he understood the priority that the work of God was supposed to have.
The following may be of related interest:
Nehemiah A four minute, sometimes silly, Lego-animation related to Nehemiah and rebuilding the walls of Jerusalem.
Persecutions by Church and StateThis article documents some that have occurred against those associated with the COGs and some prophesied to occur.
Should the Church Still Try to Place its Top Priority on Proclaiming the Gospel or Did Herbert W. Armstrong Change that Priority for the Work? Some say the Church should mainly feed the flock now as that is what Herbert W. Armstrong reportedly said. Is that what he said? Is that what the Bible says? What did Paul and Herbert W. Armstrong expect from evangelists?