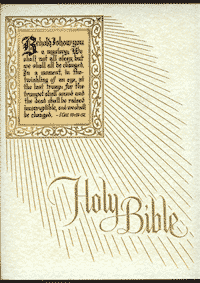 CBCG's Fred Coutler announced:
IT IS DONE! We have completed all the final editing and compiling of the new Bible—The Holy Bible In Its Original Order. Thursday, November 15, John and Hiedi Vogele shipped, via UPS Air International Express, the complete hard copy of the Bible text, commentaries and appendices—1416 pages total, plus two CDs—off to the printer. Additional "backup" copies of the CDs—which contain all the formatted pages of the entire Bible—were sent in a separate air express package. The manufacturer, LithoPak, Inc. of Hong Kong, China, will immediately begin the process of printing and binding this beautiful new Bible. It will be approximately 60 days until we receive them through the port of Oakland, California, and begin mailing them to you.
You will be pleasantly surprised, delighted and enthusiastic when you see the beautiful artwork on the front and back of the presentation box, and the gold-stamped, handcrafted lambskin cover. The paper is a special high-quality French Bible paper with gold-gilded edges and two marker ribbons—one black and one gold. It will be triple bound—Smythe stitched, spine stitched and glued. The scriptural text pages have wide margins for study notes and center column references with scriptural studies and additional explanations of critical words. And, although it is composed of 1416 pages, it is only 1-3/8 inches thick.
Beyond its physical appearance, the most important aspect of this new Bible is that it is the first Bible—with the Old and New Testaments together—ever printed in the original God-inspired manuscript order.
CBCG has been working on this project for close to a decade.  They came out with the New Testament translation several years ago, and a second revised edition of it three years ago.  It is interesting to me that they have it made in China.
I have read, and sometimes cited their NT version, which they call FV-A Faithful Version.  While all translations have errors and I do not agree with how some passages have been translated, I do believe that FV can be helpful, and I do cite from it in many articles.
We in the COGs have long been aware that the order that the books of the Bible normlly appear in is not the same as what appears to have been the original order.
A few articles of possibly related interest may include:
The Bible: Fact or Fiction? This is a booklet written by Douglas Winnail that answers if the Bible is just a collection of myths and legends or the inspired word of God.
Read the Bible Christians should read the Bible. This article gives some rationale for regular bible reading.
What is the Appropriate Form of Biblical Interpretation? Should the Bible be literally understood? What do the writings of the Bible, Origen, Herbert W. Armstrong, and Augustine show?
Bible and Historical Resources on the Internet Electronic bibles, Two Babylons, early Christian literature, photos, and even links to old Herbert W. Armstrong materials.
Christian Biblical Church of God and its Teachings Fred Coulter's group–they also tend to explain conspiracies, calendar issues, and have an interesting "sea of glass" teaching.  Plus they produce books on various subjects.