,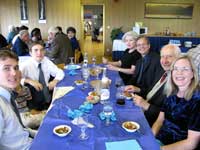 The late Dibar Apartian shown sitting between COGwriter and my wife Joyce (his wife Shirley is to my right) in France
The latest World Ahead Weekly Update for the Living Church of God had the following:
French Update: New French Website Launched!

Our new French website is now online! And the first comments we have received are very positive. This is the third version of www.MondeDemain.org and it uses a similar design to the new English-language website, www.TomorrowsWorld.org. In addition to the new design, the new French website is optimized for "organic" search. A new content section, News and Prophecy (Nouvelles et Prophéties), is also featured, as well as an optional display in large font for our visually-impaired visitors. The launching of this 2011 version is also accompanied by new Facebook and Twitter pages. The use of these social networks will help us improve the positioning of our website (on popular search engines) and reach more people.

With this 2011 version, the online Bible Study Course is now hosted on a separate site, www.coursdebible.org, which also benefits from a new design and is more user-friendly. Through the pages of the Bible Study Course, we are also able to offer various online Bible translations in French that are copyright free (Louis Segond, Darby, Ostervald and Martin).

More developments to our websites are planned for the next few months, such as newsletters, RSS and podcast feeds.—VG Lardé
In addition to those living in France, Belgium, Quebec, Haiti, Martinique, French-speaking Africa and elsewhere, within USA Living Church of God leaders such as Mario Hernandez, Dr. Wilner Pierre, Ray Clore, and others also support the work of God in the French language.
A couple of articles of possibly related interest may include:
Getting the Gospel Out is More than a Local Job Discusses Biblical rationale for doing an international, and not just a local, work.
Should the Church Still Try to Place its Top Priority on Proclaiming the Gospel or Did Herbert W. Armstrong Change that Priority for the Work? Some say the Church should mainly feed the flock now as that is what Herbert W. Armstrong reportedly said. Is that what he said? Is that what the Bible says? What did Paul and Herbert W. Armstrong expect from evangelists?