Saturday, February 29th, 2020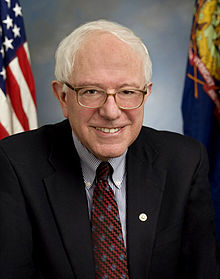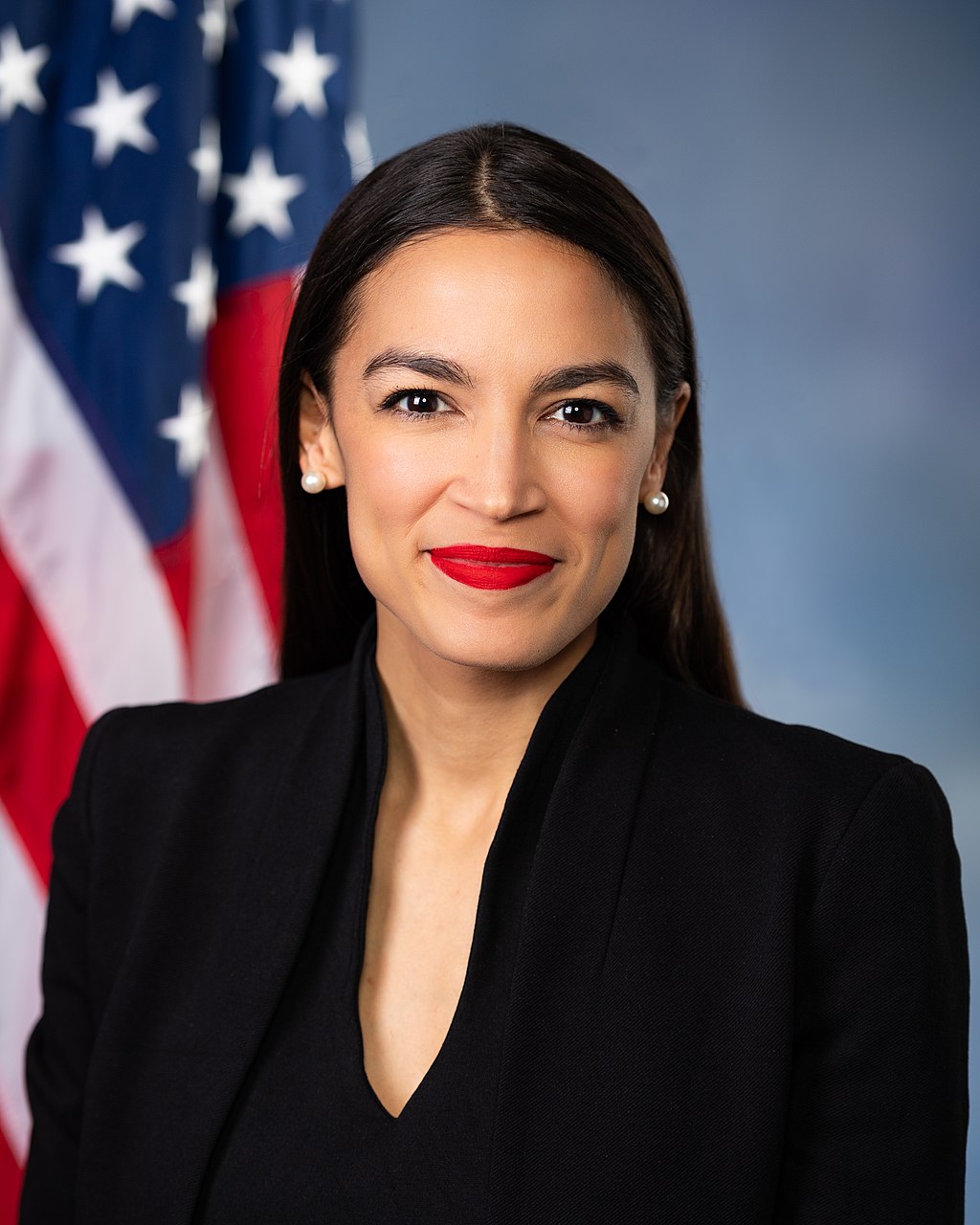 Bernie Sanders and Alexandria Ocasio-Cortez

Notice articles about two 'Democratic socialists.' Here is information about one of them:
Democrats Starting to Split Over Bernie – Is the End of the USA Near?

Socialism Violates the Ten Commandments

You shall not covet your neighbor's house. You shall not covet your neighbor's wife, or his manservant or maidservant, or his ox or donkey, or anything that belongs to your neighbor. Exodus 20:17
February 28, 2020

One of the biggest donors behind the Democrats is Bernard Schwartz who is the CEO of BLS Investments. Schwartz has been trying to plead with Pelosi to support someone in hopes of stopping Bernie Sanders. The Democrats are in turmoil. This is what you get with the socialist agenda that boils down to publicly bribing people to vote for them for the free stuff they intend to rob with a pen from other people.

We really need a class action to be filed and taken to the Supreme Court against socialism. It is an affront to everything else the Constitution stands for. You cannot have Equal Protection of the Law if you are allowed to discriminate based on what someone earns. If it is illegal to discriminate against gender, race, or religion, then why is it suddenly OK to hate someone because they have more than you?

If the Ten Commandments prohibits socialism, then this not only violates the Equal Protection of the Law, but it violates the First Amendment and the foundation of Judaeo-Christian beliefs. …

If we do not outlaw this dangerous dialog, we will see the destruction of the United States, as was the case with Russia. There will be blood in the streets, and the future of our children utterly destroyed! https://www.armstrongeconomics.com/international-news/politics/democrats-starting-to-split-over-bernie-is-the-end-of-the-usa-near/
Yes, destruction is coming to the USA. And yes, part of the reason will be turning away from "Judaeo-Christian beliefs" (though I do NOT believe that outlawing "dangerous dialog" will prevent this).
The Continuing Church of God recently put out the following sermon on its ContinuingCOG channel:

1:06:46

Various religious leaders have wondered if, and where, the United States of America may be identified in the Bible. Some claim Daniel 7, some say in Revelation 13, and some say it is gone because of destruction or a pre-tribulation 'rapture.' Could the terms in the Hebrew scriptures such as Joseph, Manasseh, Israel, and/or Samaria help identify the USA? Is the USA the power with the strongest fortresses that gets defeated in Daniel

11:39

? Could this be World War 3 (WWIII) and the start of the Great Tribulation? Did Barack Obama and Donald Trump claim that the USA has the world's strongest military? How can the strongest military be defeated? Why will this defeat come? Who defeats the USA, a European King of the North or could it be an Islamic power that the Bible identifies as the King of the South? What about Germany? What about Russia, China, the Turks, or the Arabs? Where did the Catholic saint Jerome say Asshur/Assyria ended up? Did the United States fulfill the prophecy given to Manasseh in Genesis 48? Does the USA have a fraternal, brotherly, or sibling relationship with the United Kingdom or Canada? Does the Continuing Church of God agree with Irvin Baxter, Walid Shoebat, Greg Laurie, Ed Mlynar, or 'Time' on any points related to the fate of the USA? Do biblical references to eagles need to be referring to the USA? What can we see in Isaiah, Jeremiah, Daniel, Habakkuk, Hosea, Amos, Zephaniah, and Revelation? Dr. Thiel goes over scriptures, writings, and historical evidence to address these matters.
Here is a link to the sermon video: Identifying the USA and its Destruction in Prophecy.
As far as "Judaeo-Christian beliefs" go, notice the following related to another "Democratic socialist":
Ocasio-Cortez unleashes on Christians

February 28, 2020

Far-left Rep. Alexandria Ocasio-Cortez, D-N.Y., has accused Christians of "weaponizing" the Bible to support "bigotry."

At a Democratic-led House Oversight Committee hearing Thursday about Trump's "religious liberty assault on LGBTQ rights," said Christians who justified slavery in the 19th century did the same, the Washington Examiner reported.

"It's very difficult to sit here and listen to arguments in the long history of this country of using Scripture and weaponizing and using Scripture to justify bigotry," she said. …

"I am tired of communities of faith being weaponized and being mischaracterized because the only time religious freedom is invoked is in the name of bigotry and discrimination," she said. …

The Trump administration has argued against LGBTQ activists using the law to force Christians to violate their faith in several cases. https://www.wnd.com/2020/02/ocasio-cortez-unleashes-christians/
Let me state that three the reasons that Alexandria Ocasio-Cortez only hears "religious freedom is invoked is in the name of bigotry and discrimination" is because 1) she tunes out other messages, 2) she is promoting an anti-biblical agenda, and 3) "communities of faith" feel that they must speak out when their members are being forced by some government agency to violate their faith.
As far as "weaponizing" scriptures, notice some statements from the Bible that people like Alexandria Ocasio-Cortez  do not want publicly quoted:
7 as Sodom and Gomorrah, and the cities around them in a similar manner to these, having given themselves over to sexual immorality and gone after strange flesh, are set forth as an example, suffering the vengeance of eternal fire. (Jude 7)

6…the cities of Sodom and Gomorrah into ashes, condemned them to destruction, making them an example to those who afterward would live ungodly (2 Peter 2:6)

22 You shall not lie with a male as with a woman. It is an abomination.  (Leviticus 18:22)

13 If a man lies with a male as he lies with a woman, both of them have committed an abomination. (Leviticus 20:13)

5 A woman shall not wear anything that pertains to a man, nor shall a man put on a woman's garment, for all who do so are an abomination to the Lord your God. (Deuteronomy 22:5)

9 Do you not know that the unrighteous will not inherit the kingdom of God? Do not be deceived. Neither fornicators, nor idolaters, nor adulterers, nor homosexuals, nor sodomites, 10 nor thieves, nor covetous, nor drunkards, nor revilers, nor extortioners will inherit the kingdom of God. (1 Corinthians 6:9-10)

22 Professing to be wise, they became fools, 23 and changed the glory of the incorruptible God into an image made like corruptible man — and birds and four-footed animals and creeping things.

24 Therefore God also gave them up to uncleanness, in the lusts of their hearts, to dishonor their bodies among themselves, 25 who exchanged the truth of God for the lie, and worshiped and served the creature rather than the Creator, who is blessed forever. Amen.

26 For this reason God gave them up to vile passions. For even their women exchanged the natural use for what is against nature. 27 Likewise also the men, leaving the natural use of the woman, burned in their lust for one another, men with men committing what is shameful, and receiving in themselves the penalty of their error which was due.

28 And even as they did not like to retain God in their knowledge, God gave them over to a debased mind, to do those things which are not fitting; 29 being filled with all unrighteousness, sexual immorality, wickedness, covetousness, maliciousness; full of envy, murder, strife, deceit, evil-mindedness; they are whisperers, 30 backbiters, haters of God, violent, proud, boasters, inventors of evil things, disobedient to parents, 31 undiscerning, untrustworthy, unloving, unforgiving, unmerciful; 32 who, knowing the righteous judgment of God, that those who practice such things are deserving of death, not only do the same but also approve of those who practice them. (Romans 1:22-32)
As far as Bernie Sanders and Alexandria Ocasio-Cortez go, they tend to be highly supportive of each other. Notice them together in front of a billboard: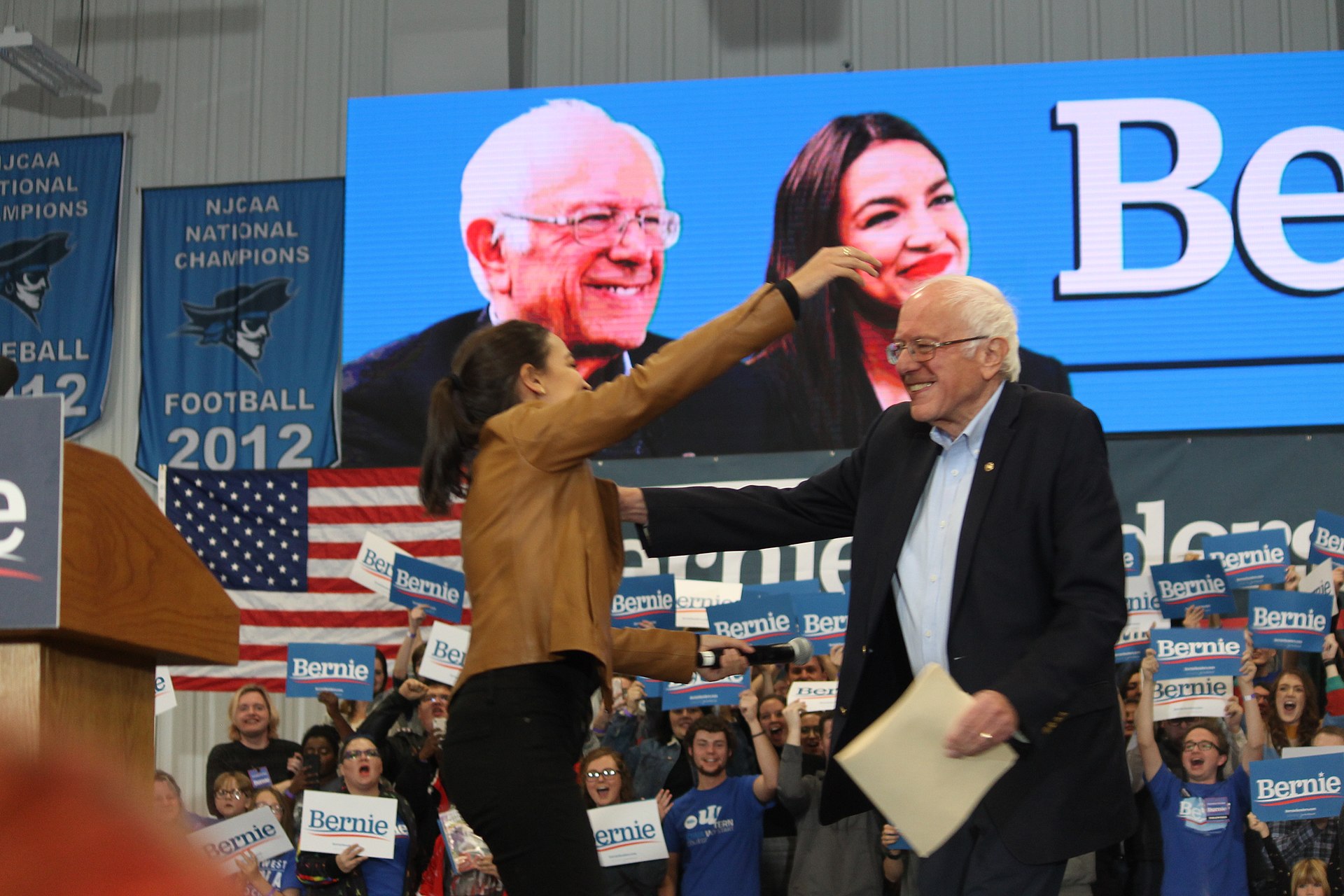 Alexandria Ocasio-Cortez and Bernie Sanders
(photo by Matt Johnson)
Anyway, yes, I feel that "Judaeo-Christian beliefs" are under assault in the USA and all around the world.
Having watched parts of many of the Democratic presidential candidate political debates this year, the candidates who claimed they are not socialists have assaulted them as well.
These assaults will NOT end well for the USA (cf. Daniel 11:39) and will lead to its destruction (cf. Romans 1:18-32; 2 Peter 2:6)
As far as the US presidential situation goes, none of the announced candidates for the US presidency (from any political party) will fix the moral problems of that nation.
The 2020 presidential election cycle is clearly featuring people who are against many aspects of biblical morality.
The Bible itself warns that if the children of Israel sinned and did not repent, the following would happen:
12 As for My people … Those who lead you cause you to err, And destroy the way of your paths. (Isaiah 3:12)
16 For the leaders of this people cause them to err, And those who are led by them are destroyed. (Isaiah 9:16)
It seems like all who are potentially major candidates for the 2020 presidential election advocate and promote several positions which are not biblically good.
The Apostle Paul warned:
1 But know this, that in the last days perilous times will come: 2 For men will be lovers of themselves, lovers of money, boasters, proud, blasphemers, disobedient to parents, unthankful, unholy, 3 unloving, unforgiving, slanderers, without self-control, brutal, despisers of good, 4 traitors, headstrong, haughty, lovers of pleasure rather than lovers of God, 5 having a form of godliness but denying its power. And from such people turn away! (2 Timothy 3:1-5)
Many of those statements apply to those who wish to win the 2020 US Presidential election (from whatever political party).
The Continuing Church of God (CCOG) put together the following video on our Bible News Prophecy YouTube channel:
Various politicians have announced their intentions to run for the office of the President of the United States in 2020. 'Politico' ran an article about the 'sorry state' of various candidates. Some candidates have felt the need to apologize for previous statements in support of biblical marriage and the need to endorse items of the LGBTQ agenda. Many also support abortion and other anti-biblical actions. Are these 'American values'? Should the English language be changed to eliminate male/female and singular pronouns? Does the Bible warn about female leaders? Does the Bible warn about leaders that lead people to err? What about condoning sexual immortality? Do the presidential contenders fit prophecies warned about in 2 Timothy 3:1-5? These are some of the subjects that Dr. Thiel addresses.
Here is a link to the sermonette video: Sorry state of the 2020 presidential campaign.
The USA needs national repentance, otherwise it is doomed. It is almost impossible to believe that the next USA president would call for meaningful repentance before the USA is hit with more massive problems. The USA needs the return of Jesus Christ and the Kingdom of God.
Since national repentance is not expected, yes the USA is doomed to destruction.
But, you do not have to be. You can repent and accept Jesus (Acts 2:38), and then strive to live as a Philadelphian Christian (Revelation 3:7-13) as Jesus has a plan to protect His Philadelphians "from the hour of trial which shall come upon the whole world, to test those who dwell on the earth" (Revelation 3:10; see also There is a Place of Safety for the Philadelphians. Why it May Be Near Petra ).
Several items of possibly related interest may include:
Is God Calling You? This booklet discusses topics including calling, election, and selection. If God is calling you, how will you respond? Here is a link to a related sermon: Could God be Calling You? A short animation is also available: Is God Calling You?
Christian Repentance Do you know what repentance is? Is it really necessary for salvation? A related sermon is also available titled: Real Christian Repentance.
Just What Do You Mean — Repentance? Do you know what repentance is? Have you truly repented? Repented of what? Herbert W. Armstrong wrote this as a booklet on this important subject.
When You Sin: Do You Really Repent? This is an article by Charles F. Hunting. A related sermon is Confess to God and truly repent.
Should a Christian Vote? This article gives some of the Biblical rationale on this subject. Would Jesus vote for president/prime minister? Is voting in the Bible? This is a subject Christians need to understand. A video of related interest is available titled: Should Christians Vote? Another video is Sorry state of the 2020 presidential campaign.
Cross-dressing and other assaults against your children.  What should you do? Is there an agenda to turn your children and/or grandchildren away from biblical morality and towards practices promoted by homosexuals? What does the Bible teach about cross-dressing? What should parents do? If there is an agenda, what has been going on?  There are also three YouTube videos related to this, titled Transgender 'Woe to those who call evil good' and Cross dressing and Other Assaults Against Your Children and USA pushing gender confusion.
The Bible Condemns Homosexuality "Same-sex marriage" for "gays" and lesbians is becoming more acceptable to many. What does the Bible teach about homosexuality and the LGBTQ agenda?  Can homosexuals change? A related video sermon is titled: What Does the Bible Really Teach about Homosexuality? A short video is available titled: Gay Gene? Born That Way?
Pornography: A scourge on society Is pornography harmless fun? Does the Bible teach anything about it? What are the views of some involved with it? A related sermons is titled: Pornography, False Comfort, and False Religion. Here a shorter YouTube video Pornography: Harmless Fun or a Scourge on Society?
USA in Prophecy: The Strongest Fortresses Can you point to scriptures, like Daniel 11:39, that point to the USA in the 21st century? This article does. Two related sermon are available: Identifying the USA and its Destruction in Prophecy and Do these 7 prophesies point to the end of the USA?
Who is the King of the West? Why is there no Final End-Time King of the West in Bible Prophecy? Is the United States the King of the West? Here is a version in the Spanish language: ¿Quién es el Rey del Occidente? ¿Por qué no hay un Rey del Occidente en la profecía del tiempo del fin? A related sermon is also available: The Bible, the USA, and the King of the West.
Anglo – America in Prophecy & the Lost Tribes of Israel Are the Americans, Canadians, English, Scottish, Welsh, Australians, Anglo-Saxon (non-Dutch) Southern Africans, and New Zealanders descendants of Joseph? Where are the lost ten-tribes of Israel? Who are the lost tribes of Israel? What will happen to Jerusalem and the Jews in Israel? Will God punish the U.S.A., Canada, United Kingdom, and other Anglo-Saxon nations? Why might God allow them to be punished first? Here is a link to the Spanish version of this article: Anglo-América & las Tribus Perdidas de Israel. Information is also in the YouTube sermons titled Where are the Ten Lost Tribes? Why does it matter? and British are the Covenant People. A short YouTube of prophetic interest may be: Are Chinese threats against Australia for real?
Will the Anglo-Saxon-Celtic Nations be Divided and Have People Taken as Slaves? Will the lands of the United States, United Kingdom, Canada, Australia, and New Zealand be divided? What about Jerusalem? What does Bible prophecy teach? Are there non-biblical prophecies that support this idea? Who will divide those lands? Who will end up with the lands and the people? Here is a link to a video titled Will the USA and other Anglo-nations be Divided and Their People Made Slaves? Here is a related item in the Spanish language ¿Serán divididas las naciones anglosajonas?
British are the Covenant People What do 'British' and 'Britain' mean in Hebrew? Are the descendants of the Anglo-Saxons people of the covenant? Does the British royal family connect to the throne of David? What does the Bible teach? What does history show us? Is there any DNA evidence related to British-Israelism? When did Christianity make it to the British Isles? Could Jeremiah have made it to the British Isles? What type of Christians made it to the British Isles? Did the last King of England believe in British Israelism?
Canada in Prophecy: What Does Bible Prophecy, Catholic Prophecy, and other Predictions Suggest About the Future of Canada? There are prophecies that suggest involvement with Canada. And many are not positive about its future. A sermon of related interest is also available: Canada in Prophecy.
Australia and New Zealand in Prophecy Do biblical prophecies help explain the wealth blessings for Australia and New Zealand? Might cursings from disobedience come in the 21st century? Here is a link to a related sermon: Australia and New Zealand: Origins and Prophecy.
World War III: Steps in Progress Are there surprising actions going on now that are leading to WWIII? Might a nuclear attack be expected? Does the Bible promise protection to all or only some Christians? How can you be part of those that will be protected? A related video would be Is World War III About to Begin? Can You Escape?
Physical Preparation Scriptures for Christians. We all know the Bible prophecies famines. Should we do something? Here is a version in the Spanish language Escrituras sobre Preparación física para los Cristianos. Here is a link to a related sermon: Physical preparedness for Christians.
There is a Place of Safety for the Philadelphians. Why it May Be Near Petra This article discusses a biblical 'place of safety' and includes quotes from the Bible and Herbert W. Armstrong on this subject–thus, there is a biblically supported alternative to the rapture theory. There is also a video on the subject: Might Petra be the Place of Safety? Here is something related in the Spanish language: Hay un lugar de seguridad para los Filadelfinos. ¿Puede ser Petra?
This is PETRA! This is a 1962 Good News article by the late Dr. Hoeh.
Does God Have a 6,000 Year Plan? What Year Does the 6,000 Years End? Was a 6000 year time allowed for humans to rule followed by a literal thousand year reign of Christ on Earth taught by the early Christians? Does God have 7,000 year plan? What year may the six thousand years of human rule end? When will Jesus return? 2027 or 20xx? There is also a video titled 6000 Years: When will God's Kingdom Come? Here is a link to the article in Spanish: ¿Tiene Dios un plan de 6,000 años?
When Will the Great Tribulation Begin? 2020, 2021, or 2022? Can the Great Tribulation begin today? What happens before the Great Tribulation in the "beginning of sorrows"? What happens in the Great Tribulation and the Day of the Lord? Is this the time of the Gentiles? When is the earliest that the Great Tribulation can begin? What is the Day of the Lord? Who are the 144,000? Here is a version of the article in the Spanish language: ¿Puede la Gran Tribulación comenzar en el 2020 o 2021? ¿Es el Tiempo de los Gentiles? You can also see the English language sermon videos: The Great Tribulation from the Mount of Olives and Can the Great Tribulation begin before 2020? A shorter and newer video is: Could the Great Tribulation Begin in 2020?
Spiritual Samaritans: Old and New Who were the Samaritans? Do the represent true Christianity or something else? Here is a link to a related sermon: USA in Prophecy: Samaria.
Donald Trump in Prophecy Prophecy, Donald Trump? Are there prophecies that Donald Trump may fulfill? Are there any prophecies that he has already helped fulfill? Is a Donald Trump presidency proving to be apocalyptic? Two related videos are available: Donald: 'Trump of God' or Apocalyptic? and Donald Trump's Prophetic Presidency.
Trump Presidency Magic 8 Ball or Bible Prophecy? BBC reported that one might as well use a 'Magic Eight-Ball' to try to predict what will happen in the remaining time of Donald Trump's presidency. What is a 'Magic Eight-Ball'? Dr. Thiel not only explains that, but also briefly goes over 10 biblically-based warnings he wrote would happen if Donald Trump were elected that have already began to come to pass. He also goes over something he wrote back in 2008 that the Trump presidency is also helping lead to fulfillment. Should you trust Bible prophecy or not? Dr. Thiel says that Bible prophecy can be trusted, despite the view of skeptics and others that either overlook or despise the Bible. This is a video.
Christians: Ambassadors for the Kingdom of God, Biblical instructions on living as a Christian This is a scripture-filled booklet for those wishing to live as a real Christian. A related sermon is also available: Christians are Ambassadors for the Kingdom of God.
The Ten Commandments: The Decalogue, Christianity, and the Beast This is a free pdf book explaining the what the Ten Commandments are, where they came from, how early professors of Christ viewed them, and how various ones, including the Beast of Revelation, will oppose them. A related sermon is titled: The Ten Commandments and the Beast of Revelation.
The Gospel of the Kingdom of God This free online pdf booklet has answers many questions people have about the Gospel of the Kingdom of God and explains why it is the solution to the issues the world is facing. Here are links to three related sermons: The World's False Gospel, The Gospel of the Kingdom: From the New and Old Testaments, and The Kingdom of God is the Solution.
The Philadelphia Church Era was predominant circa 1933 A.D. to 1986 A.D. The old Radio Church of God and old Worldwide Church of God, now the remnant of that era is basically the most faithful in the Church of God, like who hold to the beliefs and practices of the Continuing Church of God.