Monday, August 31st, 2009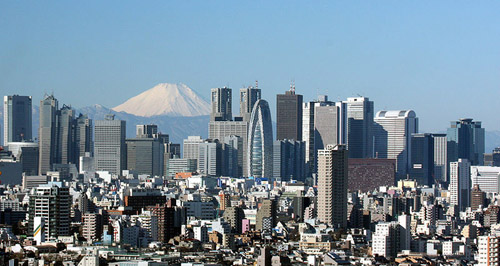 Tokyo, Japan
As reported here earlier (see Japan to Change Goverment), the Japanese have voted to change their government:
Japan Democrats take power, tough challenges loom

Reuters – Aug 30, 2009  by Linda Sieg

TOKYO (Reuters) – Japan's next leader Yukio Hatoyama, fresh from a historic election win, faced the task on Monday of forming a government to tackle challenges such as reviving the economy and steering a new course with close ally Washington.

Sunday's victory by the Democratic Party of Japan (DPJ) ends a half-century of almost unbroken rule by the Liberal Democratic Party (LDP) and breaks a deadlock in parliament, ushering in a government that has promised to focus spending on consumers, cut wasteful budget outlays and reduce the power of bureaucrats.

But the untested Democrats, which will face an upper house election in less than a year, will have to move quickly to keep support among voters worried about a record jobless rate and a rapidly aging society that is inflating social security costs.

"Everything begins now. Everything depends on how we can modestly create politics which considers the people," Hatoyama, the wealthy grandson of a former prime minister, told a news conference early on Monday.

Official figures have not yet been released, but media forecasts show the Democrats with about 307 seats in the 480-seat lower house, compared with only 119 for the LDP.

Hatoyama was expected to quickly set up a transition team to prepare to take power but said he would not name his cabinet until the new parliament voted him in as prime minister…

"(Hatoyama) is basically articulating the idea that the U.S.-led Pax Americana era has come to an end," said Sheila Smith at the Council on Foreign Relations in New York.

"My sense of the DPJ is that they have wanted a little distance between Tokyo and Washington."

Budgetary matters will claim much of the government's attention in its early days. Party leaders have said they might freeze or redirect some of the 14 trillion yen ($149.5 billion) in stimulus spending planned for the year to March 31, 2010.

They may have to craft an extra budget for the current fiscal year to cover an expected tax revenue shortfall, and Japanese media said the party wants to have an outline of the budget for 2010/2011 by sometime in October.

(Additional reporting by Yoko Kubota and Yoko Nishikawa in Tokyo and Paul Eckert in Washington, Editing by Dean Yates and Chris Gallagher)

http://www.reuters.com/article/worldNews/idUSTRE57R01R20090830
Overall, based upon various prophecies, a lot of change is expected in Japan and the rest of Asia.  But not all of it will be the type of change that the Japanese voters really will want.  Nor, will apparently the Americans as changes between Tokyo and Washington are likely.
Some articles of possibly related interest may include:
Japan, Its Biblical Past and Future, Part 1: Any Witness? This is a brief article about Japan. Have they had any witness?
Japan, Its Biblical Past and Future, Part 2: Prophecy Japan in prophecy. What is prophesied for Japan? Will God save the Japanese?
Asia in Prophecy What is Ahead for Asia? Who are the "Kings of the East"? What will happen to nearly all the Chinese, Russians, Indians, Japanese, and others of Asia? China in prophecy, where? Who has the 200,000,000 man army related to Armageddon?