Friday, February 28th, 2014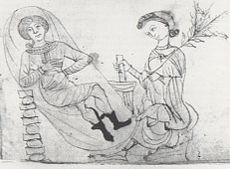 Medieval Abortion Drug Being Given

In a move that is sadly not surprising, the head of Planned Parenthood considers when human life begins irrelevant:
February 28, 2014

The president of the country's largest abortion provider said she didn't think the matter of when life begins is pertinent to the issue.

"It is not something that I feel is really part of this conversation," Cecile Richards of Planned Parenthood told Fusion's Jorge Ramos on Thursday. "I don't know if it's really relevant to the conversation."

When pressed, Richards said that in her view life began for her three children when she delivered them.
The ploy to say that it will long be debated is evading the matter.  The reality is that human life does begin at conception, as there is not a new human until then, and all naturally impregnated human ovum are human.
All honest biologists know this, it is just because of political and related considerations, they all do not wish to come out and flatly state that.
Notice something that God hates:
So you shall put away the guilt of innocent blood from among you when you do what is right in the sight of the LORD (Deuteronomy 21:9).

These six things the LORD hates, Yes, seven are an abomination to Him: A proud look, A lying tongue, Hands that shed innocent blood, A heart that devises wicked plans, Feet that are swift in running to evil, A false witness who speaks lies, And one who sows discord among brethren (Proverbs 6:16-19).

Their feet run to evil, And they make haste to shed innocent blood; Their thoughts are thoughts of iniquity; Wasting and destruction are in their paths. The way of peace they have not known, And there is no justice in their ways; They have made themselves crooked paths; Whoever takes that way shall not know peace (Isaiah 59:7-8).

Thus says the LORD: "Execute judgment and righteousness, and deliver the plundered out of the hand of the oppressor. Do no wrong and do no violence to the stranger, the fatherless, or the widow, nor shed innocent blood in this place (Jeremiah 22:3).

"Yet your eyes and your heart are for nothing but your covetousness, For shedding innocent blood, And practicing oppression and violence" (Jeremiah 22:17).
Babies are innocent. Killing them is the shedding of innocent blood.
There are terrible consequences for sin, and instead of properly discouraging sexual immorality, abortion increases the tendency towards sin. This does not bode well for the United States.
While Europe, China, and certain other areas also have abortion and other issues, the reality is that the Bible shows that, for a time, they will do much better than the USA. So much so, because the time is coming when the USA will be no more.
Some items of possibly related interest may include:
Abortion, the Bible, and a Woman's Right to Choose Do you know what the Bible teaches on this? Has the Roman Catholic Church allowed abortions? What about the real Church of God? Some may also, or instead, wish to view the YouTube video Abortion, the Bible, and US Debt.
The Ten Commandments Reflect Love, Breaking them is Evil Some feel that the ten commandments are a burden. Is that what Jesus, Paul, Peter, James, and John taught?
Why Were You Born? Why did God make you? Herbert W. Armstrong wrote this as a booklet on this important subject. You may also wish to read the article What is Your Destiny? or watch the video, also titled What is Your Destiny?
What is the Meaning of Life? Who does God say is happy? What is your ultimate destiny? Do you really know? Does God actually have a plan for YOU personally? There is also a video titled What is the meaning of your life?
Just What Do You Mean — Repentance? Do you know what repentance is? Have you truly repented? Repented of what? Herbert W. Armstrong wrote this as a booklet on this important subject.
When You Sin: Do You Really Repent? This is an article by Charles F. Hunting. A related sermon is Confess to God and truly repent.
Prophecies of Barack Obama? Reasons why Barack Obama is apocalyptic and reasons why Barack Obama is not the Antichrist. This article includes many biblical and non-biblical prophecies, from around the world, that seem to discuss Barack Obama. Did Nostradamus predict Barack Obama dealing with the Antichrist?  Might Barack Obama set the stage for the kings of the North and South as at least one Shiite prophecy suggests?  Read it and decide for yourself if President Obama seems to be fulfilling various prophecies. Watch also the YouTube Barack Obama and the State of the Apocalypse.