Tuesday, August 31st, 2010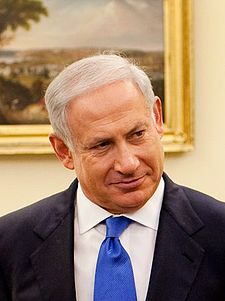 Israeli Prime Minister Benjamin Netanyahu
Peace talks between Israeli Prime Minister Benjamin Netanyahu and Palestinian President Mahmoud Abbas are about to resume:
JERUSALEM, Aug. 31 (Xinhua) — Israeli Prime Minister Benjamin Netanyahu on Tuesday morning left for Washington to attend an U.S.- proposed peace summit, which would be the first direct negotiation between Israel and the Palestinians since late 2008.  http://news.xinhuanet.com/english2010/world/2010-08/31/c_13471930.htm
Yet, all is not good:
JERUSALEM — The Israeli military says a Palestinian gunman has killed four Israelis in an attack in the West Bank.

The shooting comes just a day ahead of a White House summit relaunching Mideast peace talks…

Palestinian President Mahmoud Abbas said Tuesday the success of talks aimed at forging a peace deal with Israel within a year will depend on how hard U.S. mediators push to break any deadlocks…

President Barack Obama is hosting Abbas and Netanyahu at the White House on Wednesday, followed a day later by a first negotiating session, to be headed by U.S. Secretary of State Hillary Rodham Clinton.

Obama hopes to see a peace deal within a year. Expectations are low, given that Abbas and Netanyahu are far apart on key issues and face internal opposition.  http://www.google.com/hostednews/ap/article/ALeqM5iDqGHEOAOLoXtaPxa6q_YKsfdyxAD9HUJATO0
A near term peace deal seems slim.  2011, for many reasons, may better fit with end time prophecy than 2010.  And a deal simply between the Israelis and Palestinians may not be enough to fulfill Daniel 9:27–though a timed one (one with a term, like seven years) might.
There may be more violence and wars before there is the prophesied peace deal.
If the red horseman rises up (Revelation 6:3-4) and one or more wars break out on or shortly after the Day of Atonement this year, we may seem warfare in places like Iran, the Middle East and even South America.   Africa & Asia (many places there including Afghanistan, Korea, and elsewhere) have some potential; as does civil unrest in Europe and North America.
It may take one or more wars in the Middle East to end up with the peace deal that the Bible seems to be referring to in Daniel 9:27.  But that deal may happen as soon as 2011 or 2012.
Some items of possibly related interest may include:
Does God Have a 6,000 Year Plan? What Year Does the 6,000 Years End? Was a 6000 year time allowed for humans to rule followed by a literal thousand year reign of Christ on Earth taught by the early Christians? What year may the six thousand years of human rule end? When will Jesus return? 2018 or 2019?
Can the Great Tribulation Begin in 2010, 2011, or 2012? Can the Great Tribulation begin today? What happens before the Great Tribulation in the "beginning of sorrows"? What happens in the Great Tribulation and the Day of the Lord? When is the earliest that the Great Tribulation can begin? What is the Day of the Lord?
2012 and the Rise of the Secret Sect This is a link related to a book by Bob Thiel (COGwriter). This also has YouTube videos. This book documents and explains hundreds of prophecies. And since it was published, many have already started to come to pass.
2012 y el surgimiento de la secta secreta Nuevo libro del Dr. Thiel en Español.
2012 und das Auftreten der geheimen Sekte (German Edition) 2012 Buch von Dr. Thiel in deutscher Sprache.