Monday, August 31st, 2015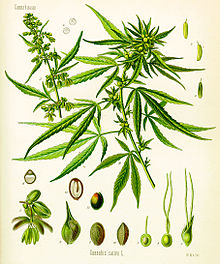 Marijuana, Cannibis sativa
With increased acceptance of marijuana in the USA, more states seem :
These could be the next states to legalize marijuana

August 31, 2015

The likely candidates are those states where medical marijuana is legal and possession of a small amount of marijuana does not carry a prison sentence. There are 11 states that currently meet that criteria: California, Connecticut, Delaware, Maine, Maryland, Massachusetts, Minnesota, Nevada, New York, Rhode Island, and Vermont.

In most of those states, 24/7 Wall St.reports, polls have shown that more than half of the residents support a form of legalization. They also already use it: nine of these states over-index for marijuana users, with a rate that is higher than the national average, which is 12.3% of Americans aged 12 and older.

If those 11 states were to legalize, it would bring the total count to 15, plus our nation's capital. For many Americans, that high total would sow the seeds of real momentum indeed.  http://fortune.com/2015/08/19/marijuana-legal-next-11-states/
Now, as it turns out, marijuana use is illegal in the entire USA.  However, the Obama Administration has chosen not to enforce federal law on this, thus allowing individual states to make marijuana use legal there.
Barack Obama, himself, was a moderate to heavy marijuana user in his  younger days. Depending upon how much he may have possessed back then and/or what he did with it, he could have been guilty of one or more felonies.  But he was not arrested for what he did, for if he had been, and was found guilty of a felony, he would not have become a US senator and then president.
Once the Obama Administration changed the rules to allow banks to handle money related to marijuana sales (see Obama Administration relaxes financial restrictions for marijuana sellers), I wrote "This move is a step in the direction of legalizing marijuana."
As far as the wisdom of marijuana use goes, notice the following from last year related to California Governor Jerry Brown:
Gov. Jerry Brown said he wants to wait to see how experiments with marijuana legalization play out in Colorado and Washington before expanding access to pot in California.

"How many people can get stoned and still have a great state or a great nation?" Brown asked, expressing some skepticism about legalization. "The world's pretty dangerous, very competitive. I think we need to stay alert, if not 24 hours a day, more than some of the potheads might be able to put together. "

Brown made his comments during an interview on NBC's "Meet the Press" that aired Sunday morning. http://www.latimes.com/local/political/la-me-pc-jerry-brown-worries-about-potheads-on-meet-the-press-20140302,0,1470635.story#ixzz2upKCFKPB
And he is right to be concerned. But he still might be inclined to support legalization.
The Bible repeatedly condemns drunkenness and activities associated with it:
18 And do not be drunk with wine, in which is dissipation; but be filled with the Spirit (Ephesians 5:18)

21 For the drunkard and the glutton will come to poverty (Proverbs 23:21)

11 But now I have written to you not to keep company with anyone named a brother, who is sexually immoral, or covetous, or an idolater, or a reviler, or a drunkard, or an extortioner — not even to eat with such a person. (1 Corinthians 5:11)

9 Do you not know that the unrighteous will not inherit the kingdom of God? Do not be deceived. Neither fornicators, nor idolaters, nor adulterers, nor homosexuals, nor sodomites, 10 nor thieves, nor covetous, nor drunkards, nor revilers, nor extortioners will inherit the kingdom of God. 11 And such were some of you. But you were washed, but you were sanctified, but you were justified in the name of the Lord Jesus and by the Spirit of our God. (1 Corinthians 6:9-11)

13 Let us walk properly, as in the day, not in revelry and drunkenness, not in lewdness and lust, not in strife and envy. 14 But put on the Lord Jesus Christ, and make no provision for the flesh, to fulfill its lusts. (Romans 13:13-14)
Becoming intoxicated by marijuana is sinful and not something that Christians should do.
The Bible warns of disaster coming upon a nation that is in debt and a nation that is drunk. Marijuana essentially makes one drunk. Notice:
2 Then the Lord answered me and said:
"Write the vision And make it plain on tablets, That he may run who reads it. 3 For the vision is yet for an appointed time; But at the end it will speak, and it will not lie. Though it tarries, wait for it; Because it will surely come, It will not tarry.
4 "Behold the proud, His soul is not upright in him; But the just shall live by his faith.
5 "Indeed, because he transgresses by wine, He is a proud man, And he does not stay at home. Because he enlarges his desire as hell, And he is like death, and cannot be satisfied, He gathers to himself all nations And heaps up for himself all peoples.
6 "Will not all these take up a proverb against him,And a taunting riddle against him, and say,'Woe to him who increases What is not his — how long? And to him who loads himself with many pledges'? 7 Will not your creditors rise up suddenly? Will they not awaken who oppress you? And you will become their booty. 8 Because you have plundered many nations, All the remnant of the people shall plunder you, Because of men's blood And the violence of the land and the city, And of all who dwell in it. (Habakkuk 2:2-8)

15 "Woe to him who gives drink to his neighbor,
Pressing him to your bottle,
Even to make him drunk,
That you may look on his nakedness!
16 You are filled with shame instead of glory.
You also — drink!
And be exposed as uncircumcised!
The cup of the Lord's right hand will be turned against you,
And utter shame will be on your glory. (Habakkuk 2:15-16)
The above will come to pass. A people that 'party' and increase debt will be eliminated. No nation in history has been as indebted as the USA. Expect increased partying and drunkenness as marijuana gets more legal and more public acceptance in the USA.
The USA needs repentance, not marijuana, to deal with its problems.
Getting high on marijuana is not good for Christians nor any nation. But its use is getting increasingly accepted. even though it is known to be harmful and addictive. This legalization movement is not good for the USA as it seems that it will encourage more to get high on marijuana more often.
Some items of possibly related interest include:
Marijuana: Should a Christian Get High? There is increasing acceptance of the use of marijuana. How should Christians view this? Here is a related video titled How Should a Christian View Marijuana?
Should Christians Smoke? Is smoking a sin? What does the Bible teach? What have COG leaders written? Can smokers change? What about marijuana?
Just What Do You Mean — Repentance? Do you know what repentance is? Have you truly repented? Repented of what? Herbert W. Armstrong wrote this as a booklet on this important subject.
When You Sin: Do You Really Repent? This is an article by Charles F. Hunting. A related sermon is Confess to God and truly repent.
Living as a Christian: How and Why? In what ways do Christians live differently than others. What about praying, fasting, tithing, holy days, and the world? There is also a YouTube video related to that also called: Living as a Christian: How and Why?
Who Was Herbert W. Armstrong? How is He Viewed Today? Includes quotes from the 1973 edition of The Autobiography of Herbert W. Armstrong and explains how he is and should be viewed today.
Overcoming Sin What is sin? How are Christians suppose to overcome it? Here is also a link to a video titled How to Overcome Sin.
How to Prevent Sin This is an article by Herbert W. Armstrong.
Just What Do You Mean Conversion? Many think that they are converted Christians. But are they? Would you like to know more about conversion. Herbert W. Armstrong wrote this as a booklet on this important subject.
Anglo – America in Prophecy & the Lost Tribes of Israel Are the Americans, Canadians, English, Scottish, Welsh, Australians, Anglo-Saxon (non-Dutch) Southern Africans, and New Zealanders descendants of Joseph? Where are the lost ten-tribes of Israel? Who are the lost tribes of Israel? What will happen to Jerusalem and the Jews in Israel? Will God punish the U.S.A., Canada, United Kingdom, and other Anglo-Saxon nations? Why might God allow them to be punished first? Here is a link to the Spanish version of this article: Anglo-América & las Tribus Perdidas de Israel. Information is also in the YouTube sermons titled Where are the Ten Lost Tribes? Why does it matter? and British are the Covenant People. A short YouTube of prophetic interest may be Barack Obama and the State of the Apocalypse.
Will the Anglo-Saxon Nations be Divided and Have People Taken as Slaves? Will the lands of the United States, United Kingdom, Canada, Australia, and New Zealand be divided? What about Jerusalem? What does Bible prophecy teach? Are there non-biblical prophecies that support this idea? Who will divide those lands? Who will end up with the lands and the people? Here is a link to a video titled Will the USA and other Anglo-nations be Divided and Their People Made Slaves? Here is a related item in the Spanish language ¿Serán divididas las naciones anglosajonas?
Barack Obama, Prophecy, and the Destruction of the United States-Second Edition for Second Obama Term This is a 160 page book for people truly interested in prophecies related to Barack Obama and the United States, including learning about many that have already been fulfilled (which the book documents in detail) and those that will be fulfilled in the future. It also has a chapter about a Republican choice. This book is available to order at www.barackobamaprophecy.com. The physical book can also be purchased at Amazon from the following link: Barack Obama, Prophecy, and the Destruction of the United States: Is Barack Obama Fulfilling Biblical, Islamic Catholic, Kenyan, and other America-Related Prophecies? What About Republican Leaders? Second Edition for Second Obama Term.
Barack Obama, Prophecy, and the Destruction of the United States-Second Term-Amazon Kindle edition. This electronic version is available for only US$2.99. And you do not need an actual Kindle device to read it. Why? Amazon will allow you to download it to almost any device: Please click HERE to download one of Amazon s Free Reader Apps. After you go to for your free Kindle reader and then go to Barack Obama, Prophecy, and the Destruction of the United States-Second Term-Amazon Kindle edition.