World War III: Steps in Progress

Nuclear Explosion
By COGwriter
Some believe that we are at the start of World War III (WWIII). Is a third world war coming? If so, are there steps that are taking place that show this? Which steps?
And if WWIII comes, is there anything that you can do about it? Is there protection for any Christians?
There is also a related video: Is World War III About to Begin? Can You Escape?
Wars and Rumors of War; WWIII once claimed in 2014 and 2022?
Some believe WWIII is in its beginning stages. Several years back, the interim Ukrainian Prime Minister in Kiev stated:
April 25, 2014

"The world has not yet forgotten World War Two, but Russia already wants to start World War Three," Prime Minister Arseny Yatsenyuk told lawmakers on Friday in remarks broadcast around the country. Russia and Ukraine reached an agreement in Geneva last week calling on all parties in the country to lay down arms and vacate public buildings, but neither side moved to abide by the agreement's terms.  http://www.cbsnews.com/news/russia-accuses-west-of-trying-to-seize-ukraine/
In March of 2014, a study found that over one in five Germans believed that Russia's intervention in Crimea could start WWIII (see Russian nuclear threat against USA, Crimea, EU, and WWIII).
In 2021, some still believe that the situation between Russia and Ukraine related to Crimea could be the start (see MS: As Russian Tanks Move Toward Ukraine, The Globe Braces For The Possibility That World War 3 Could Soon Erupt).
Notice the following by Larry Edelson of Money and Markets that also says that WWIII has already started:
July 7, 2014

World War III has ALREADY started.

It is going to be unlike any previous wars in history.

Make a list of every possible type of war you can imagine, and check them all off. They are all very likely to be a part of WWIII. That includes:

 International military conflict. Between China and Japan. Between Russia and Europe. Check.

 Civil war. In many different parts of the world. Check.

 In the Middle East, in Africa. Even in Europe, as the European Union disintegrates and the northern, richer countries of Europe are pit against the indebted southern countries and the periphery of the Union (Greece, Bulgaria, Spain).

 Financial warfare via currency devaluations. Check.

 Government confiscation of assets and rising taxation against the people. Check.

 Increased terrorism and jihadist movements as well as domestic terrorism. Check.

 North Korea increasingly rattling its saber against South Korea. Japan. The United States. Check…

Look, I've been studying the Cycles of War for nearly 36 years, and WWIII, I said, is just beginning.

I had originally presented my results at the Weiss Wealth Symposium in January 2013 and shocked nearly everyone in the audience…

I've been writing about the rising tide of war ever since, pounding my fists on the table.

And I warned that the Cycles of War will turn up massively in 2014.

The list of wars, conflicts, civil uprisings, rebellions and soaring international tensions is now going off the charts. In almost every nook and cranny around the globe, there is evidence of rising unrest.  http://www.moneyandmarkets.com/july-4-weekend-yet-wwiii-already-underway-62835
Because of wars and rumors of wars, various ones felt in 2014 that World War III was beginning or about to begin.
Furthermore, some said something similar because of the situation between Russia and Ukraine in 2022 (see WWIII over Ukraine? Is there a place of escape?).
Now, notice something I postedon February 8, 2022:
While elements of WWIII are in progress, and Russia is influencing events that will lead to that, Russia is not the power that will actually start WWIII. Instead, their actions are influencing the actions of others, and ultimately that will start what could be called WWIII. …

The current situation with Russia and Ukraine is speeding up the type of unity that the European Beast power will have, as well as getting the Europeans to decide they need to more military power more quickly. (Thiel B. WWIII over Ukraine? Is there a place of escape? COGwriter, February 8, 2022)
This is happening.
Furthermore, notice something I posted the morning of February 26, 2022–which was BEFORE the announcement from Chancellor Scholz on  February 27, 2022:
This invasion is turning ordinary citizens into soldiers, and is scaring many nations in Europe.

Scaring them enough that they will be more willing to spend more and cooperate more militarily.

In addition to the humanitarian issues with the war in Ukraine, this is functioning as a wakeup call for Europe to arm. (Thiel B. War, Food Prices, and Taking Away the Peace in Ukraine and Europe. COGwriter, February 26, 2022)
Notice what happened on February 27, 2022:
February 27, 2022

German Chancellor Olaf Scholz said Sunday that Germany is committing 100 billion euros ($113 billion) to a special fund for its armed forces, raising its defense spending above 2 percent of GDP.

"It's clear we need to invest significantly more in the security of our country, in order to protect our freedom and our democracy," Scholz told a special session of the Bundestag in Berlin Sunday morning. …

Scholz's announcement, which came during a special session of Germany's Bundestag Sunday morning, was the latest in a series of major shifts in German defense and security policy this weekend in response to Russia's invasion of Ukraine. https://www.newsmax.com/newsfront/ukraine-invasion-global-reaction/2022/02/27/id/1058694/
Related to that, I posted:
I have been warning that the situation between Russia and Ukraine would push Europe to take military steps–and this is a major publicly announced one. ...

The proposal from its Chancellor is consistent with that as Germany looks to expect to have the largest military budget in all of Europe. A budget much larger than that of Russia itself.

Olaf Scholz's announcement is a BIG DEAL! This is a step towards World War Three and the start of the Great Tribulation! (Thiel B. 'Germany commits 100 billion euros to new armed forces fund'. COGwriter, February 27, 2022)
Many in Europe are scared because of Russia's military invasion into Ukraine and this is pushing more in Europe to arm.
Jesus taught:
6 And you will hear of wars and rumors of wars. See that you are not troubled; for all these things must come to pass, but the end is not yet. 7 For nation will rise against nation, and kingdom against kingdom. And there will be famines, pestilences, and earthquakes in various places. 8 All these are the beginning of sorrows. (Matthew 24:6-8, NKJV throughout, unless otherwise noted)

Notice Jesus said that the end is not yet. Wars, and the preparations for them, were part of the sorrows. Watch also the video 2021: The Great Tribulation or the Great Reset?
Continuing, Jesus foretold of persecutions to the faithful and betrayal:
9 "Then they will deliver you up to tribulation and kill you, and you will be hated by all nations for My name's sake. 10 And then many will be offended, will betray one another, and will hate one another. 11 Then many false prophets will rise up and deceive many. 12 And because lawlessness will abound, the love of many will grow cold. 13 But he who endures to the end shall be saved. 14 And this gospel of the kingdom will be preached in all the world as a witness to all the nations, and then the end will come. (Matthew 24:9-14)
This parallels a lot of what Daniel 11:30-35 teaches.
Jesus also then foretold of the time a European leader, spoken of by Daniel would rise up (Matthew 24:15). And then He taught His faithful people should flee (Matthew 24:15-20) and then the Great Tribulation (Matthew 24:21; see also When Will the Great Tribulation Begin?) would start.
Time of Jacob's Trouble
The Bible talks about a time that the Israelite-descended nations would have problems:
7 Alas! For that day is great,
So that none is like it;
And it is the time of Jacob's trouble, (Jeremiah 30:7)
NKJV

This is the time that many in the USA and its Anglo-Saxon dominated allies would tend to call WWIII.
The late Herbert W. Armstrong wrote of it:
World War 3 brings with it THE GREAT TRIBULATION. That is now next in order. But Jesus, in foretelling this chain of world events, said the GREAT TRIBULATION would be preceded by the world-wide proclaiming of HIS Gospel. "The GOSPEL must first be published among all nations," said Jesus (Mark 13:10), or, as recorded by Matthew (24:14): "This Gospel OF THE KINGDOM shall be preached in all the world for a witness unto ALL NATIONS; and THEN shall the END (of the world) come." (Armstrong HW. Brethren and Co-Worker Letter, May 22, 1953)

Matthew 24:15...That will be a time when the UNITED Europe shall appear--the revival of the medieval "Holy Roman Empire." We shall then be warned, and readied to be taken to a place of refuge and safety from the Great Tribulation. Forty-five days later "the beasts armies" will surround Jerusalem. Thirty days later the Great Tribulation will probably start with a nuclear attack on London and Britain--and possibly the same day or immediately after, on the United States and Canadian cities. The GREAT TRIBULATION, we shall fully then realize, is the time of "Jacob's Trouble," spoken of in Jeremiah 30:7. And Jacob's name was named on Joseph's sons, Ephraim and Manasseh (Gen. 48:16). ... We have reached the time just before a "United States of Europe" restores the "Holy Roman Empire," under the papacy, in a union of church and state. (Armstrong HW. The Time We Are In, Now. Pastor General's Report-Vol 1, No. 15, November 20, 1979, Page 2).
So, what are the steps which began that are leading to WWIII?
Well, first of all Europe has to decide that it wants to be a militaristic empire that is not dependent upon the USA. And its leaders have already done so (e.g. see Donald Trump lashes out against Europe defending itself–Europeans pushing for an empire and Donald Trump blasts France's Macron, then says he wants 'a very strong Europe').
Consider also that Europe has the ability to launch a massive nuclear attack against the UK, USA, and Canada:
Is Italy capable of delivering a thermonuclear strike? Could the Belgians and the Dutch drop hydrogen bombs on enemy targets? And what about Germany — a country where fear of atomkraft is so great that the last government opposed all civilian nuclear power? Germany's air force couldn't possibly be training to deliver bombs 13 times more powerful than the one that destroyed Hiroshima, could it? It is Europe's dirty secret that the list of nuclear-capable countries extends beyond those that have built their own weapons — Britain, France and Russia. The truth is that Belgium, Germany, Italy and the Netherlands store nuclear bombs on their air-force bases and have planes capable of delivering them. There are an estimated 200 B-61 thermonuclear-gravity bombs scattered across these four countries. Under a NATO agreement struck during the Cold War, the bombs, which are owned by the U.S., can be transferred to the control of a host nation's air force in time of conflict. Twenty years after the fall of the Berlin Wall, Dutch, Belgian, Italian and German pilots remain ready to engage in nuclear war. (Harrall E. What to Do About Europe's Secret Nukes . Time, January 4, 2010. http://content.time.com/time/world/article/0,8599,1943799,00.html, viewed 05/09/14)

The US has supplied some 480 B61 thermonuclear bombs to five so-called "non-nuclear states", including Belgium, Germany, Italy, the Netherlands and Turkey. Casually disregarded by the Vienna based UN Nuclear Watchdog (IAEA), the US has actively contributed to the proliferation of nuclear weapons in Western Europe... Among the five "undeclared nuclear states", "Germany remains the most heavily nuclearized country with three nuclear bases (two of which are fully operational) and may store as many as 150 [B61 bunker buster ] bombs" (Ibid). In accordance with "NATO strike plans" (mentioned above) these tactical nuclear weapons are also targeted at the Middle East. While Germany is not categorized officially as a nuclear power, it produces nuclear warheads for the French Navy. It stockpiles nuclear warheads (made in America) and it has the capabilities of delivering nuclear weapons. Moreover, The European Aeronautic Defense and Space Company – EADS , a Franco-German-Spanish joint venture, controlled by Deutsche Aerospace and the powerful Daimler Group is Europe's second largest military producer, supplying France's M51 nuclear missile. Germany imports and deploys nuclear weapons from the US. It also produces nuclear warheads which are exported to France. Yet it is classified as a non-nuclear state. (Chassudovsky M. Belgium or Iran, Where's The Nuclear Threat? Europe's Five "Undeclared Nuclear Weapons States" Are Turkey, Germany, Belgium, The Netherlands and Italy Nuclear Powers? Global Research, February 12, 2010, updated March 21, 2013. http://www.globalresearch.ca/europe-s-five-undeclared-nuclear-weapons-states/17550 viewed 05/11/14)
The reality is that if Europe chooses to turn against the USA, it has the nuclear ability to do so pretty much any time. In addition to nuclear weapons of the USA, Europe's upcoming Galileo satellite system will give Germany and the Europeans the ability to interfere with the USA's ability to respond to an attack.
Related to the USA and its Anglo-Saxon allies of the UK, Canada, Australia, and New Zealand, we have seen an acceptance of immorality. Romans 1:18-32 states that not only those " those who practice such things are deserving of death, not only do the same but also approve of those who practice them" (Romans 1:32).
The Bible also has an end time prophecy:
2 Then the Lord answered me and said:

"Write the vision
And make it plain on tablets,
That he may run who reads it.
3 For the vision is yet for an appointed time;
But at the end it will speak, and it will not lie. (Habakkuk 2:2-3)
What is this end time prophecy about that should cause people to run? Notice that it is a prophecy about debt accumulation:

6 "Will not all these take up a proverb against him,
And a taunting riddle against him, and say,
'Woe to him who increases
What is not his — how long?
And to him who loads himself with many pledges'?
7 Will not your creditors rise up suddenly?
Will they not awaken who oppress you?
And you will become their booty.
8 Because you have plundered many nations,
All the remnant of the people shall plunder you (Habakkuk 2:6-8)
The USA is the most indebted nation of all time. And on a per capita basis, the UK is one of the most indebted nations on earth.
Europe Is Increasing its Military
The Bible tells of the rise of the final European (Daniel 9:26-27) Beast power. This power will be unexpected by most.
4 So they worshiped the dragon who gave authority to the beast; and they worshiped the beast, saying, "Who is like the beast? Who is able to make war with him?" (Revelation 13:4)
Notice that the land of the strongest fortresses will be destroyed:
39 Thus he shall act against the strongest fortresses with a foreign god, which he shall acknowledge, and advance its glory; and he shall cause them to rule over many, and divide the land for gain. (Daniel 11:39)
The 'he' above is the European King of the North as verse 40 tells us. Is not that land the USA, and to a lessor degree its Anglo-Saxon allies, in the 21st century? See also USA in Prophecy: The Strongest Fortresses.
But the world will marvel because they did not believe that the USA could be taken over. I believe that Europe will decide to heavily rely on technology in order to do that.
Notice also the following from a Roman Catholic source:
The 1854 Prophecy of World War III

In the prophecy of Zachary — the Armenian Jew who converted to the Catholic Faith — published in 1854 was the edited text of the prophecy of the revelations that he received from God. A Father Fattecelli compiled the prophecies and published them in a book called Day of Anger: The Hand of God Upon an Empire. ... the empire that will use great guile and deception ...

And then there would be the war that the prophecy refers to as "the struggle of the strong against the strong". This empire of the north ... will go to war against North America. And this Nineteenth Century text says they will fire their missiles on North America and North America will fall and be conquered and brought into bondage. The next phrase is the most frightful thing of all. It is then that Zachary says in this text published in 1854, "and then the whole world fell under the dominion of the first-born of hell." (Originally by Priest Fattecelli, Day of Anger: The Hand of God Upon an Empire, 1854, as paraphrased by Priest P. Kramer, What are the missing contents of the third secret? Fatima Crusader, 95, Summer 2010, pp. 45-46)
The 'empire of the north' sounds like the European King of the North of Daniel 11 to me (P. Kramer felt otherwise). The Bible clearly shows its leader will use deception (Daniel 8:19,23-26; 11:21-24) to gain power. And that leader will start what could be called WWIII.
Already, Europe has space programs, laser programs, super colliders, and a new satellite system, called Galileo. One of the steps that likely will lead to WWIII is that the USA has already declared that it will rely on Europe's Galileo system for part of its military GPS needs in the future. This step will give the Europeans a unique ability to not only attack the USA and/or its Anglo-Saxon allies suddenly (1 Thessalonians 5:3), but also interfere with the USA's ability to launch a counter strike. See also European Technology and the Beast of Revelation.
Additionally, because the USA eliminated having tanks in Germany in 2013 (see There are no longer USA tanks in Germany: Do Americans understand this is a serious risk?), the USA will have little ability to mount a ground response to an attack. All of these steps, which can be considered as prepatory to WWIII have been happening.
Furthermore, the actions by Russia have been scaring the Europeans into action (e.g. 'Germany commits 100 billion euros to new armed forces fund').
The Bible is clear that the time of Jacobs' trouble (Jeremiah 30:7, the great tribulation is coming (Matthew 24:21; see also When Will the Great Tribulation Begin?). Europe is taking steps.
It also is likely that Europe will actually make deals with Russia to give it more leeway when it (Europe) starts WWIII.
Germany has made progress in its development of fusion power:
December 11, 2015

A German nuclear fusion experiment has produced a special super-hot gas which scientists hope will eventually lead to clean, cheap energy.

The helium plasma - a cloud of loose, charged particles - lasted just a tenth of a second and was about one million degrees Celsius.

It was hailed as a breakthrough for the Max Planck Institute's stellarator - a chamber whose design differs from the tokamak fusion devices used elsewhere.

The Sun's energy is created by fusion.

Physicists are in a worldwide race to create stable fusion devices that could not only mimic the Sun but release abundant energy, without the volumes of toxic waste generated by nuclear fission - the splitting of the atom. ...

The stellarator's plasma was created on Thursday using a microwave laser, a complex combination of magnets and just 10mg of helium. The Max Planck Institute calls its machine Wendelstein 7-X.

The project began nine years ago and has cost 1bn euros (£720m; $1.1bn) so far.

The EU's main nuclear fusion project is called Iter, at Cadarache, in the south of France. But it will not be fired up until the 2020s. It is controversial, having already cost more than €10bn.

Iter will be a tokamak device - the word comes from Russian, meaning a ring-shaped magnetic chamber.

Scientists have been working on nuclear fusion for more than 50 years but the extreme temperatures involved and the difficulty of controlling plasmas mean progress is slow. http://www.bbc.com/news/world-europe-35074848
This project could greatly assist Europe and reduce its dependency of Islamic sources for fuel. It also has massive military potential.
Germany used deuterium in WWII when it was trying to develop its own atomic weapons. The USA, with the help of German-born scientists, was able to do this first. But for WWIII, the Germans seem to be ahead.
Europe is already stronger militarily than many realize.
Notice something that was sent to me in Spanish, with a machine-translation into English below it:
19 Mayo 2016

La Unión Europea (UE) sería "la segunda potencia militar" del mundo si los Veintiocho uniesen sus capacidades de defensa, afirma el codirector del Instituto de Estudios sobre Conflictos y Acción Humanitaria (IECAH), Jesús Núñez, quien lamentó la actual "cortedad de miras inquietante" de los líderes europeos.

"Si sumamos las capacidades que ahora mismo tiene la Unión Europea en defensa automáticamente pasaríamos a ser la segunda potencia militar de la Tierra, y si no lo somos es porque no hay voluntad política, porque cada gobierno nacional sigue pensando en clave de que es mejor ser cabeza de ratón que cola de león", aseguró este comandante en la reserva, experto en conflictos.

Hemos llegado a un punto en el que los Veintiocho tendrán que decidir, según Núñez, si "seguir siendo el eterno adolescente que los fines de semana pide la paga a sus padres porque no quiere vivir de manera autónoma y ser responsable de sus actos, y en ese caso seguir bajo el paraguas de Estados Unidos en el marco de la OTAN", o bien asumir que ya "somos una criatura adulta, dueña de su propio destino y tenemos que apostar por una Europa de la Defensa".

El problema es que la Defensa es una de las pocas políticas de peso que los Estados europeos aún no han transferido a Bruselas, añadió, para explicar las "resistencias" a la integración en esta materia, en la que identificó tres posturas muy diferenciadas. http://euroefe.euractiv.es/5861_protagonistas/3823109_la-ue-seria-la-segunda-potencia-militar-del-mundo-si-uniese-las-capacidades-de-sus-miembros-segun-jesus-nunez.html#

The European Union (EU) would be "the second military power" in the world if Veintiocho unite their defense capabilities, says the co-director of the Institute of Studies on Conflicts and Humanitarian Action (IECAH), Jesus Nunez, who lamented the current "shortsightedness disturbing view "of European leaders.

"If we add the capabilities that now has the European Union in defense automatically we would become the second military power on earth, and if we are not is because there is no political will, because each national government is considering key that is better be head mouse lion's tail, "said the commander in the reserve, an expert in conflict.

We have reached a point where Veintiocho will have to decide, according to Nunez, if "remain the eternal teenager weekend calls pay their parents because they want to live independently and be accountable for their actions, and in that case remain under the umbrella of the United States in the framework of NATO ", or assume that because" we are an adult creature, master of its own destiny and we have to bet on a European defense ".

The problem is that the defense is one of the few policies weight that European states have not yet been transferred to Brussels, he added, to explain the "resistance" to integration in this area, which identified three very different positions.
So, at least one analyst already believes that Europe (including the UK which plans to leave the Brussels-based European Union) is essentially the second military power in the world, if it transferred its power to a central authority.  And that is before it would increase its military spending as the USA has encouraged and pressed it to.
Let's look at the Book of Revelation:
12 "The ten horns which you saw are ten kings who have received no kingdom as yet, but they receive authority for one hour as kings with the beast. 13 These are of one mind, and they will give their power and authority to the beast. (Revelation 17:12-13)
The above shows two future reorganizations in Europe (see also Must the Ten Kings of Revelation 17:12 Rule over Ten Currently Existing Nations?). Notice that the power and authority are given to one central leader in verse 13.
Is this a warring leader? Well yes, since the Bible says that the world will marvel over the military success of this leader:
3 And I saw one of his heads as if it had been mortally wounded, and his deadly wound was healed. And all the world marveled and followed the beast. 4 So they worshiped the dragon who gave authority to the beast; and they worshiped the beast, saying, "Who is like the beast? Who is able to make war with him?" (Revelation 13:3-4)
For decades, the late Herbert W. Armstrong taught:
John also pictures this BEAST, not as a church, or as an individual man, but as a powerful GOVERNMENT having a great ARMY. For they worshiped the beast by saying: "WHO IS ABLE TO MAKE WAR WITH HIM?" (Rev. 13:4). (Armstrong HW. Who is the Beast?, booklet, 1960)

John also pictures this beast, not as a church or as an individual man, but as a powerful government having a great army. For they worshiped the beast by saying, "Who is able to make war with him?" (Revelation 13:4). (Armstrong HW. Who or What Is the Prophetic Beast? - Part 1. Good News, 1985)
The Book of Daniel specifically shows that this European Beast power will have a great army:
25 He shall stir up his power and his courage against the king of the South with a great army. (Daniel 11:25)
Various ones in Europe have called for a European army (e.g. More leaders calling for a European army and Express: EU army fears: Germany 'willing to give up national military' for powerful Brussels force). One will form, and is in the process of forming (see With PESCO, EU entering a 'New Era': An era that will NOT end well for the USA, Canada, or the UK).
The Book of Daniel also shows that this armed European Beast power will destroy the USA (the land with the 'strongest fortresses') and a confederation of nations that are predominantly Muslim:
39 He will attack the mightiest fortresses with the help of a foreign god and will greatly honor those who acknowledge him. He will make them rulers over many people and will distribute the land at a price. 40"At the time of the end the king of the South will engage him in battle, and the king of the North will storm out against him with chariots and cavalry and a great fleet of ships. He will invade many countries and sweep through them like a flood. 41 He will also invade the Beautiful Land. Many countries will fall, but Edom, Moab and the leaders of Ammon will be delivered from his hand. 42 He will extend his power over many countries; Egypt will not escape. 43 He will gain control of the treasures of gold and silver and all the riches of Egypt, with the Libyans and Cushitesin submission. (Daniel 11:39-43, NIV)
Several USA presidents have encouraged the Europeans to arm. It is not likely that he understands the end time prophetic ramifications of that–the end of the USA is coming. See also USA in Prophecy: The Strongest Fortresses.
Pope Francis Points to a Current Piecemeal WWIII and Seems to Propose an Interfaith/Ecumenical Solution
Although he does not seem to understand the biblical prophecies related to it, Pope Francis has claimed that WWIII may already be being fought in piecemeal:
September 13, 2014

A "piecemeal" World War III may have already begun with the current spate of crimes, massacres and destruction, Pope Francis has warned. … "War is madness," the Pope said…

"Even today, after the second failure of another world war, perhaps one can speak of a third war, one fought piecemeal, with crimes, massacres, destruction," he said. http://www.bbc.com/news/world-europe-29190890
A severe WWIII will come and it will involve at least the USA, its Anglo-Saxon descended allies, and Europe (the Middle East and North Africa will likely be directly involved and Asia at least indirectly involved).
Pope Francis made some other comments in 2015:
June 6, 2015

Pope Francis has celebrated Mass in front of tens of thousands of Catholics at a stadium in Bosnia-Herzegovina.

The pontiff's visit to the capital, Sarajevo, is aimed at promoting peace and reconciliation across the country.

The Pope is also meeting members of the Muslim, Orthodox Christian and Jewish communities during his one-day trip.

Bosnia remains divided along religious and ethnic lines, 20 years after its civil war which depleted the Catholic population.

"War never again!" Pope Francis urged in his homily before 65,000 worshippers at Sarajevo's Kosevo stadium.

"War means children, women and the elderly in refugee camps; it means forced displacement, destroyed houses, streets and factories. Above all countless shattered lives," he said.

"You know this well having experienced it here," he added in reference to the 1992-95 Bosnian conflict, which left some 100,000 dead and two million displaced.

The Pontiff also warned that the world faced "a kind of third world war being fought piecemeal and, in the context of global communications, we sense an atmosphere of war". …

Speaking to reporters on his flight to Sarajevo, he described Sarajevo as the "Jerusalem of the West".

"It is a city of very different ethnic and religious cultures. It is even a city that has suffered much during its history. Now it is on a beautiful path of peace. I am making this trip to talk about this, as a sign of peace and a prayer for peace."  http://www.bbc.com/news/world-europe-33033866

June 6, 2015

Pope Francis has arrived in Sarajevo for a one-day visit to encourage the dwindling number of Catholics to stay and help forge a peaceful future with Bosnia's Muslims and Orthodox Christians following a devastating three-way war. …

The pontiff said Sarajevo is "a city that has suffered so much in history. But now it is walking along the path to peace," Francis told reporters en route from Rome. "I'm making this trip as a sign of peace, and as a prayer for peace." …

"I encourage you Catholics to stand beside your countrymen as witnesses to your faith and God's love, working for a society that walks toward peace, coexistence and collaboration," Francis said in a video message this week. …

Francis will also host a meeting with Muslim, Orthodox and Jewish leaders, and preside over a rally for young people before returning to Rome in the evening. http://www.theguardian.com/world/2015/jun/06/pope-heads-to-sarajevo-to-encourage-post-war-reconciliation

June 6, 2015

Vatican officials say Francis believes he can have a positive impact by promoting interfaith communication.

In a message to the residents of Sarajevo earlier this week, he wrote: "I come amongst you… to express my support for ecumenical and interfaith dialogue, and above all to encourage peaceful cohabitation in your country."

Sarajevo, once a multicultural hub, is also now largely split along ethnic lines.
While I do believe in peaceful relations between those of different religions, I cannot endorse the type of ecumenical and interfaith dialogue that Pope Francis calls for as what he really seems to want is condemned in the Bible (cf. Revelation 17 & 18).  I believe Pope Francis is basically telling people that if they want to avoid a major World War III, that they need to heed his ecumenical and interfaith agenda.  An agenda that is shared by the United Nations and others these days (see also United Nations: Humankind's Last Hope or New World Order?).
Notice something else the Bible warns about:
11 Then I saw another beast coming up out of the earth, and he had two horns like a lamb and spoke like a dragon. 12 And he exercises all the authority of the first beast in his presence, and causes the earth and those who dwell in it to worship the first beast, whose deadly wound was healed. (Revelation 13:11-12)
Much of the mainstream media acts like Pope Francis looks like a lamb, yet the message he is giving is consistent with that of the dragon of old called Satan (Revelation 12:9, 20:2; see also Satan's Plan).
The ecumenical and interfaith movements will have a certain success according to Bible prophecy (Revelation 13:4,8), but they will not end well (Revelation 18).  Remember also that the Apostle Paul was inspired to write:
3 For when they say, "Peace and safety!" then sudden destruction comes upon them, as labor pains upon a pregnant woman. And they shall not escape. 4 But you, brethren, are not in darkness, so that this Day should overtake you as a thief. 5 You are all sons of light and sons of the day. We are not of the night nor of darkness. 6 Therefore let us not sleep, as others do, but let us watch and be sober. (1 Thessalonians 5:3-6)
While Pope Francis hints that he is trying to stop WWIII, the reality is that he is helping to set the stage for it. WWIII will devastate the USA, UK, Canada, Australia, and New Zealand (see also Anglo – America in Prophecy & the Lost Tribes of Israel).
Blitzkrieg Should Be Expected
In World War II, the Germans utilized a strategy known as blitzkrieg.
Here is some information about it:
Blitzkrieg means "lightning war". It was an innovative military technique first used by the Germans in World War Two and was a tactic based on speed and surprise. Blitzkrieg relied on a military force be based around light tank units supported by planes and infantry (foot soldiers). The tactic was based on Alfred von Schlieffen's 'Schlieffen Plan' – this was a doctrine formed during WWI that focused on quick miliatry victory. It was later developed in Germany by an army officer called Heinz Guderian who looked at new technologies, namely dive bombers and light tanks, to improve the German army's manoeuvrability. …

Blitzkrieg was based on speed, co-ordination and movement; the major science of this approach was the ability to get large mobile forces through weak points in the enemies defences and then cause damage when behind his static lines. …

The Blitzkrieg was fundamentally about moving away from the tried and tested methods of modern warfare and creating a new, more effective doctrine. To that end, Hitler had given his full backing to Guderian. Ironically, he had got his idea for Blitzkrieg from two officers – one from France and one from Britain and he had copied and broadened what they had put on paper. …In 1940, Britain and France still had a World War One mentality. http://www.historylearningsite.co.uk/blitzkrieg.htm

It is interesting to me that Germany got the blitzkrieg ideas from France and the UK.  In other words, Germany got tactics and information from nations it was later going to invade.  I expect the same in the future.  It should be noted that the USA still has the 'cold war' mentality about the Germans and acts like they will always be USA allies.  I read something today in the Wall Street Journal where the writer could not fathom that Germans could consider that the USA is a threat.  Many do not understand the mentality of the Germans and where all of this will lead (cf. Isaiah 10:5-11).
As far as blitzkrieg goes, consider the following biblical prophecy:
3 For when they say, "Peace and safety!" then sudden destruction comes upon them (1 Thessalonians 5:3)
In WWIII, I expect that the Germans will lead a type of blitzkrieg against the USA, the UK, and other Anglo-Saxon descended nations.  It will be based upon technology, coordination, intelligence, and deception.  I believe that because of the espionage incidents with the USA, that the USA will feel that it will have to kowtow to German requests for military technologies, trade agreements, political arrangements, and espionage information, which will put Germany and much of the rest of Europe in a position that to rise up and become the successful military power that the Bible prophesies it will become in Revelation 13:1-4 and Daniel 11:39-43.
Bizarrely, the USA announced that the US Army in Europe has to report to a German general (see US Army in Europe to report to a German general!). This is yet another way that the USA will be impeded once attacked if such a command structure stays in place. The USA even announced on June 23, 2015, that it will provide more military equipment to Europe.
The USA has been pushing a policy of appeasement since the Snowden leaks (see also The Snowden Leaks are Leading to the Destruction of the USA). As the world learned related to Nevil Chamberlain's pre-WWIII appeasement policies with Germany, appeasesment does not work. Appeasement boldens potential enemies, and now prior to WWIII, will be a factor in getting the Europeans to be ready to start and win WWIII.
USA Pushing Germany and Europe to Start WWIII?
Believe it or not, since Barack Obama became USA president, the USA has taken numerous steps to push the Germans and other Europeans to be able to start WIII. And so has Donald Trump, and then Joe Biden.
Back in the Summer of 2009, I had a book published that warned:
Barack Obama has pledged increased cooperation with the Europeans.  And while cooperation is normally a good thing, this particular cooperation is likely to lead to the rise of the prophesied King of the North, who is to be the final leader of the Beast of Revelation (Revelation 13:1).  Unlike previous U.S. administrations, President Obama's administration has declared that it will encourage and support increases in Europe's own military, far beyond what Presidents Bush or Clinton were willing to consider. (Thiel B. 2012 and the Rise of the Secret Sect. Nazarene Books, 2009, pp. 131-132, 147)
Has that been happening?
Here is a list of ten steps that the Obama Administration had taken that pushed towards the rise of the Beast of the sea, the final King of the North of Bible prophecy:
Encouraged the Final Approval of the Lisbon Treaty. On October 15, 2009 it was reported that Czech President Vaclav Klaus was the lone EU leader still opposed to the Lisbon Treaty (Waterfield B. Czech President Vaclav Klaus 'to continue' lone resistance to Lisbon Treaty.  Telegraph, October 15, 2009.  http://www.telegraph.co.uk/news/worldnews/europe/czechrepublic/6329690/Czech-President-Vaclav-Klaus-to-continue-lone-resistance-to-Lisbon-Treaty.html).

The Obama administration worked to get the Lisbon Treaty approved as President Obama "wants a strong and united Europe" (Source: Baldwin T, Reid T., Coates S. Obama Administration worried about Cameron effect in Europe.  The Times, October 21, 2009. http://www.timesonline.co.uk/tol/news/politics/article6883075.ece#cid=OTC-RSS&attr=797093).

On October 23, 2009, the USA sent Vice President Joseph Biden to the Czech Republic in order to apply provide secutiry assurances as well as to apply pressure to the Czech government to sign the agreement for a European empire to form (U.S. foreign policy aware of threats – Havel after meeting Biden.  CTK, October 23, 2009. http://www.ceskenoviny.cz/news/zpravy/u-s-foreign-policy-aware-of-threats-havel-after-meeting-biden/404375).  This could have had some limited influence on some of the Czech leadership.

Once its then President Klaus signed it, he announced with disappointment that he had just signed away the sovereignty of the Czech Republic. The Czech Republic was the only hold-out for the agreement and if the Czech Republic had not then signed it, the agreement would have expired. Instead the USA applied pressure to form a more complete European government that will ultimately change and become the Beast power of Revelation 13:1-10 and will take over the USA as prophesied in Daniel 11:39.

On November 3, 2009, Agence France Presse (AFP) reported that USA President Barack Obama publicly expressed his support for the Czech President's signing of the Lisbon Treaty and for now having a  'strengthened' EU (Obama welcomes 'strengthened' EU. AFP, November 3, 2009.  http://www.google.com/hostednews/afp/article/ALeqM5hJ8OzJSh0xfKow8z47RGCYQu1nsg).

The European nations became part of the new empire called for the European Union on December 1, 2009 with Herman Von Rompuy as its "first permanent president" (EU Constitution Comes into Force.  Voice of America,  December 1, 2009. http://www1.voanews.com/english/news/europe/EU-Constitution-78224062-01DEC09-.html).  

Encouraged German Funding of Greece. When the new agreement was a risk of falling apart because of problems with Greece. The New York Times reported that on May 10, 2010, President Obama called German Chancellor Merkel and told her that Europe needed an overwhelming financial rescue for the sake of its unity, and she apparently heeded that suggestion. (Erlanger S, Benhold K, Sanger D. Debt Aid Package for Europe Took Nudge From Washington. The New York Times, May 10, 2010.   (http://www.nytimes.com/2010/05/11/business/global/11reconstruct.html). This kept the union of Europeans, dominated by Germany, together.

On November 10, 2010, EU President Herman van Rompuy declared that in Europe the "time of the homogeneous nation state is over" (Johnson D. The end of Britain as a nation state? Not on your life, Mr Van Rompuy.  Daily Mail, November 11, 2010. http://www.dailymail.co.uk/debate/article-1328579/Herman-Van-Rompuy-The-end-Britain-nation-state.html).  Full political union is expected in the next decade by many leaders (Willis A.  Germany predicts EU 'political union' in 10 years.  EU Observer, December 13, 2010.  http://euobserver.com/9/31485) and some want it much  sooner (Czuczka T. Parker B.  Merkel Risks EU Clash Over Political Union Push.  Blommberg, November 14, 2011.  http://www.bloomberg.com/news/2011-11-14/merkel-risks-eu-clash-over-political-union-push-to-end-europe-debt-crisis.html).  It has been reported that the "EU is an empire" (Baudet T.  The EU is an empire, and empires mean war. NRC Handelsblad, Press Europ, July 9, 2012.  http://www.presseurop.eu/en/content/article/2300601-eu-empire-and-empires-mean-war).

This is an empire the Barack Obama has been supporting.

In December 2010, it was announced USA made "an extra commitment of money" to support the EU and it was also reported that the "United States, has committed 250 billion euros to the EFSF" (European Financial Stability Facility) to support the euro and economic structure of the European Union (US Ready to Back Bigger EU Stability Fund: Official.  Reuters, December 1, 2010.  http://www.reuters.com/article/2010/12/01/eu-us-efsf-idUSLDE6B023Z20101201).  "US believes it's time Germany stepped up and started acting like a regional and even a global leader" and Barack Obama publicly stated, "The world today does not fear a strong Germany"  (DJW.  Media roundup: Barack gives Angie a push.  The Local, June 8, 2011 http://www.thelocal.de/opinion/20110608-35537.html).

To Rely on Europe's GPS for Defense. Back in 2009, I warned that the USA was having problems with its GPS system and may decide it needed to rely on Europe's upcoming Galileo system for its own military defense:

"the Europeans are planning on having their own global positioning system (GPS), called Galileo, available for military applications. This will allow the Europeans to track the world and attack others without relying on the U.S.A.'s GPS. This will be the first time in the 21st century that Europeans will be able to have that type of independent military capability. Furthermore, according to a 2009 report from the U.S. government, the U.S. Air Force may have to start relying on the European Galileo system (at least to a degree) beginning in 2013, as the U.S. GPS capabilities are expected to deteriorate by then (other problems are also appearing in the newer U.S. satellites). Because the Europeans will be able to control Galileo, they will also likely be capable of derailing certain sophisticated U.S. military applications.  This will give the Europeans a unique defensive (as well as offensive) capability that no others on the planet will have.  (Thiel B. 2012 and the Rise of the Secret Sect. Nazarene Books, 2009, p. 85)

Because of concerns about China, Reuters reported on February 4, 2010, "The U.S. Defense Department is linking its Global Positioning System with Europe's Galileo, another space-based global navigation satellite system. GPS will feature a new military signal called M-code to boost anti-jamming, facilitate secure access and increase the local signal strength." (Wolf J. US, wary of China, mulls satellite substitutes.  Reuters, February 4, 2010. http://www.reuters.com/article/idUSN0411054720100205).

This linking will essentially guarantee that the USA will have a portion of their military response ability controlled by the Europeans.  Galileo initially had critics as there were "early objections from the Americans who thought a rival system to GPS might be used to attack its armed forces" (Amos J. EU awards Galileo satellite-navigation contracts.  BBC, Jan 7, 2010. http://news.bbc.co.uk/2/hi /science/nature/8442090.stm). 

The "brain" of the Galileo satellite system was shipped to Rome on April 26, 2010 (First EU Navigation Satellite Payload Shipped.  Red Orbit, 26 April 2010. http://www.redorbit.com/news/space/1855166/first_eu_ navigation_satellite_payload_shipped/ /science/nature/8442090.stm).  On July 31, 2010, it was announced that the USA would, indeed, do this (see USA GPS and EU Galileo linking was expected ). This is all the more astounding because the USA was initially opposed to Europe developing Galileo because it felt this could be used against the USA. Now, the USA is partially-dependent upon it, and in the event of war with Europe, the USA will not be able to effectively communicate or counter-strike because of this.

Pivoting Away from Defending Europe. The 'pivot' that the USA and its ally Canada have been doing towards defending Asia as it has been called since at least 2012 (see Canadian and USA Shifting Military Power to Asia), has resulted in a pivot away from Europe. The Germans and others in Europe are realizing that the USA is not intending to defend them as before, hence the USA is pushing them to arm themselves.

Pushing the Europeans to Develop Their Military. In 2012, US Defense Secretary Panetta made public calls for the Europeans to increase their military strength and spending (Carmichael L. Europe Needs To Invest In Defense, Too: U.S..  Defense News, February 4, 2012. http://www.defensenews.com/article/20120204/DEFREG02/302040001/Europe-Needs-Invest-Defense-Too-U-S-?odyssey=mod|newswell|text|FRONTPAGE|p).  In the Spring of 2014, the Obama Administration again called for Europe (meaning to a great degree Germany) to increase their military spending (see Obama tries to provide assurances to Europe while pushing for increased European military spending). Increasing military spending will turn out to be the destructive to the USA (cf. Daniel 11:39). This is very dangerous.

Removal of Tanks from Germany. In 2013, the USA removed the last of its tanks from Germany (see There are no longer USA tanks in Germany: Do Americans understand this is a serious risk?). By having no tanks on the ground, this means that the USA will not have the ground-force power to fight against Germany in the event of a war against the USA, should some elements of the US Army attempt to do that.

Agreement to Share Espionage and Techniques. Because of the Snowden leaks in 2013, US President Barack Obama promised to turn over to Germany all of its espionage techiques etc., as well as to reduce espionage against Germany (see Germany most upset by USA espionage). This will give the Germans a major advantage over the USA. If you know how your enemy spies and what it spies on, you can take steps to protect secrets.

Cessation of Chancellor Merkel's Cellular Telephone Conversations. Barack Obama agreed to no longer allow listening in on the cell phone of German Chancellor Angela Merkel after she complained (Merkel angered by USA allegedly listening in on her cell phone and EU summit to discuss USA spying), and presumably will not do this for her replacement (s). This will reduce the ability of the USA to understand what is going on when Germany is coordinating an attack in the future. While this may not seem to be important, it could prove disastrous.

Allowing the Loss of Crimea. While Barack Obama did make stronger statements than some European leaders related to Crimea (e.g. Russia controls Crimea; Obama talks to Putin–Putin defiant; Obama dissed by many), the reality is that they did not stop Russia. Although Barack Obama and Germany's Angela Merkel called the annexation "unacceptable" (Merkel, Obama call Crimea grab 'unacceptable'

Agence France-Presse

, March 18, 2014. http://www.globalpost.com/dispatch/news/afp/140318/merkel-obama-call-crimea-grab-unacceptable) it is clear to the Germans that the USA has accepted it (Germany still wants Crimea back). Europe and the Germans are concluding that they will need their own military deterrents to Russia to stop further incursions into territories that they want to be part of the European Union. The Europeans are moving ahead with military technology (see European Technology and the Beast of Revelation ), and this will give them further motivation.

Giving Europeans Control Over More of the USA Military. As far as control of the military, the first non-American, French General  Stéphane Abrial became the "Commander of the Allied Command Transformation" of NATO in Europe in September, 2009 (French General Takes Over Key NATO Command In U.S.  RTT News, September 10, 2009.http://www.rttnews.com/ArticleView. aspx?Id=1062869; http://www.nato.int/cps/
en/natolive/topics_50114.htm). He was replaced by another French General, Jean-Paul Paloméros. So, this is another part of the military no longer under USA control.In the Summer of 2014, the Obama Administration placed a German general over the entire US Army in Europe (see German general now commands the US Army in Europe).

In August 2014, the Obama Administration placed a German general, Brig. Gen. Markus Laubenthal (formerly commander of the 12th Armored Brigade in Amberg and chief of staff for the international security assistance force regional command north in Afghanistan), the chief of staff for U.S. Army Europe. This means that the Europeans will have much more control over the military over the USA than most have imagined.
And the above are steps that are publicly known; watch also the video 10 Steps Obama Has Taken Leading to the Rise of the Beast. These steps will help Europe when it finally decides to start WWIII. There may also be other steps that have not been publicly revealed. This will not end well for the USA.
The Europeans in general, and Germans in particular, have not been pleased with the USA in many areas, including the espionage (see also Karl Guttenberg on USA espionage and damage to US-German relations; He calls Obama the 'most detached President' in decades).
But the problems did not end with the Obama Administration.
Donald Trump stated that the USA needs to decrease funding to NATO and that the Europeans need to spend more on their militaries (http://www.cnn.com/2016/03/21/politics/elections-2016-final-five-highlights/index.html).Joe Biden has also pushed the Europeans to spend more on their miltiary.
The increase in military spending is now happening (see 'Germany commits 100 billion euros to new armed forces fund').
The Europeans themselves want more separation from the USA.
Consider that Europe has been looking seriously at developing its own nuclear arsenal--and likely beyond what France has:
9 December 2016

The issue is so secret that it isn't even listed on any daily agenda at NATO headquarters. ... The discussion surrounds nuclear deterrent. ...

In European capitals, officials have been contemplating the possibility of a European nuclear deterrent since Trump's election. The hurdles -- military, political and international law -- are massive and there are no concrete intentions or plans. Still, French diplomats in Brussels have already been discussing the issue with their counterparts from other member states ...

"It's good that this is finally being discussed," says Jan Techau, director of the Holbrooke Forum at the American Academy in Berlin. "The question of Europe's future nuclear defense is the elephant in the room in the European security debate. If the United States' nuclear security guarantee disappears, then it will be important to clarify who will protect us in the future. And how do we prevent ourselves from becoming blackmailable over the nuclear issue in the future?"

An essay in the November issue of Foreign Affairs argues that if Trump seriously questions the American guarantees, Berlin will have to consider establishing a European nuclear deterrent on the basis of the French and British capabilities. Germany's respected Frankfurter Allgemeine Zeitung newspaper, meanwhile, even contemplated the "unthinkable" in an editorial: a German bomb. ...

 In an interview that gained attention internationally in mid-November, Roderich Kiesewetter, the chairman for the conservative Christian Democrats on the Foreign Policy Committee in German parliament proposed a French-British nuclear shield in the event Trump calls into question American protection for Europe. "The US nuclear shield and nuclear security guarantees are imperative for Europe," he told Reuters. "If the United States no longer wants to provide this guarantee, Europe still needs nuclear protection for deterrent purposes." ...

Wolfgang Mischnick, parliamentary floor leader of the Free Democratic Party, which shared power with Kohl's Christian Democrats at the time, publicly clarified what that meant during a session of the Bundestag on February 20, 1974: "It is still possible to develop a European nuclear power," he said.

Forty years later the issue is actually now being raised for the first time. http://www.spiegel.de/international/world/europe-responds-to-trump-win-with-nuclear-deterrent-debate-a-1125186.html#ref=nl-international
The Bible tells of a military power that will takeover the USA (Daniel 11:39).
Under both the Trump and Biden Administrations there have been trade tensions with Europe.
Many believe that errors in trade policy were the major factor in the Japanese attacking the USA and getting it involved in World War II.

The Bible tells of a powerful trade empire arising in the last days in Europe, called "Babylon the Great" (Revelation 18). It has long been my view that problems with trade and/or trade agreements will be a factor that will further turn Europe against the USA, and be a factor in the start of WWIII (see also WTO Trade Deal and the Rise of the European Beast Power).
In Europe, many are trying to make that happen. In 2016, Pope Francis received the Charlemagne prize for promoting European unity (see Pope Francis given 'Charlemagne Prize;' EU leaders worried about EU's future). Furthermore in 2017, Pope Francis called for Europe to adopt a "federal structure" (see G20 concludes with increased tension with the USA; Pope Francis pushes for federal Europe). Pope Francis wants a united Europe, and that is truly apocalyptic. France's President Macron called for a type of reorganization in Europe ((see France's Macron wants European treaty changed and hosts the Trumps), and the Bible shows that one more dramatic than he proposed will happen just prior to the start of WWIII (Revelation 17:12-13).
The Bible says that the Beast of the Sea power will rise up and the USA and various ones in Europe have taken many steps that are leading to it. The Bible also teaches that this is a power that borders the Mediterranean Sea (Joshua 9:1; 23:4; Ezekiel 47:13-16; cf. Daniel 7:2-8). There is a related video Can You Prove that the Beast to Come is European?, as well as an article Europa, the Beast, and the Book of Revelation with more details.
As it turns out, there are Roman and Eastern Orthodox Catholic prophecies about a leader they call the Great Monarch. While there are dozens of reasons to show he is warned AGAINST in the Bible (see The Great Monarch: Biblical and Catholic Prophecies), some look forward to him. Some believe he will lead WWIII and Europe to victory.
Here is Dr. Otto's Septuagint translation and interpretation of Romans 15:12 (LXX):
LXX: And in that day the Lord Jesus Christ (the root of Jesse) will be made manifest and His anointed one (the Great Monarch) will be the leader of nations (during WWIII) and on him (the human messiah-anointed one the nations will place their hopes, namely the Christian nations that will fight under his banner. ...

Romans 15:12: It will be the Lord Jesus Christ Himself (Who will lead the armies in battle miraculously, through the instrumentalities of the Great Monarch ...) the one who arose; upon whom the nations will place their hope (for victory). (Tzima Otto H. They'll have no King but Caesar: King Henry of the Cross, p. 109)
Now, it is TRUE that nations will place their hope on the Beast of Revelation, the King of the North, to win what can be called WWIII--the war against the USA led by Europe (see World War III: Steps in Progress)--and Europe will win (Daniel 11:39). But that is not something actual Christians would place their hope in.
For more details and prophecies on this leader, check out The Great Monarch: Biblical and Catholic Prophecies.
Some are seeing the ramifications of calls by France's Emmanuel Macron and Germany's Angela Merkel for a true and genuine European army:
THIRD TIME THE CHARM? After Starting Both World Wars I and II, Germany Now Calls For The Creation Of A Massive European Army

November 13, 2018

In her speech, which was about the future of the EU, Merkel said: 'What is really important, if we look at the developments of the past year, is that we have to work on a vision of one day creating a real, true European army. She said the new army would work in conjunction with NATO, but added that 'only a stronger Europe is going to defend Europe.'  'Europe must take our fate into our own hands if we want to protect our community,' she said. The remark drew widespread applause and a smattering of boos from watching lawmakers.  …

If history is any guide to future events, Germany will indeed be the driving force behind the start of WWIII whenever that finally begins. There is just something about the mindset of the German people in Europe that leads them towards dreams of world domination. They came pretty close in WWI, they came frighteningly close in WWII, and one might well imagine the third time just may be the charm.

In 2018, Germany is the de facto leader of the European Union, they have the strongest economy, and now they want to lead an effort to create an European Army to defend themselves from 'Russia, China and the US'. …

Hmm…does anyone else find that interesting?

Merkel calls for creation of a 'real, true' European army in rebuke to Trump …

Macron made the same suggestion last week in an interview with TV station Europe 1 when he spoke about Russian aggression and Trump's decision to withdraw from a key Cold War missile pact.

He said: 'I believe in the project of a sovereign Europe. We won't protect Europe if we don't decide to have a true European army.

'We have to have a Europe that can defend itself alone – and without only relying on the United States in a more sovereign manner.

'We should protect ourselves when it comes to China, Russia and even the United States of America.'

That last remark angered Trump, who met with Macron on Friday last week and tweeted before the meeting: 'President Macron of France has just suggested that Europe build its own military in order to protect itself from the US, China and Russia.

'Very insulting, but perhaps Europe should first pay its fair share of NATO, which the US subsidizes greatly!'

The French government insists that Macron meant Europe needs to protect itself from decisions the US makes – such as withdrawing from the missile treaty – and not from an invasion, though Trump seems to have interpreted it differently. READ MORE

11/13/18 http://www.nowtheendbegins.com/third-time-the-charm-after-starting-both-world-wars-i-and-ii-germany-now-calls-for-the-creation-of-a-massive-european-army/
It is not just Donald Trump that has issues with an EU army:
Farage Blasts Merkel's EU Army: "European Project Set Up To Halt German Domination"

Nigel Farage began his epic tirade by thanking Mrs. Merkel for her immigration policies, "without you, we've never had made it over the line with Brexit," adding that many of the euroskeptic parties from the left, right, and center across Europe will be back in the European Parliament "directly as a result of your [Merkel's] asylum policy."

"It's a European Union that is now to become an empire – a militarized European Union… 100 years on from the Armistice, we should be genuinely worried – the idea that this new militarized union is somehow a recipe for peace means you should all re-read history…"

"The European project was set up to stop German domination. What you've seen today is a naked takeover bid! Brexit becomes a necessity after this." https://www.zerohedge.com/news/2018-11-14/farage-blasts-merkels-eu-army-european-project-set-halt-german-domination
European leaders are openly calling for a European army and a European empire (see Donald Trump lashes out against Europe defending itself–Europeans pushing for an empire). Leaders in the UK and USA have opposed this.
Notice, also, the following from Ireland:
Poppies, PESCO, and the increasing militarisation of the EU

15 November 2018

Are we heading towards an EU army? MEP Luke Ming Flanagan was holding a public meeting to highlight the dangers of Irish people fighting in foreign lands for the EU super-state. Last December, PESCO – Permanent European Security/military Cooperation – was rushed through the Dáil by Fine Gael and Fianna Fail to become Government policy.

What is PESCO?

In a nutshell, PESCO, and the recently-proposed Defence Union, involves a permanent EU army established by 2020 through the harmonisation and standardisation of European armed forces, all leading to the EU's ability to launch military missions, (aka "autonomous action" ) separate from NATO, as part of the EU's global strategy to become a 'global actor'.

This will come at a serious financial cost. … PESCO will increase our military expenditure to an unbelievable €6 billion a year, or half the total health budget. The cost did not worry Leo Varadkar when he lined out with other EU leaders on December 14 2017, flanked by soldiers in combat dress, to inaugurate the PESCO pact, which EU Council president Donald Tusk said was "bad news for our enemies" – clearly anticipating combat operations. http://www.advertiser.ie/galway/article/104212/poppies-pesco-and-the-increasing-militarisation-of-the-eu
Watch also the following BNP video:

15:25
Here is a link to that video: PESCO and a Great European Army.
The idea that WWIII will be led by a German-dominated Europe is not a new one.
Notice something from January 1963 from the old Radio Church of God:
Germany and World War III

… Germany is … going to spark World War III! Notice the prophecies! "O Asshur, the rod of Mine anger," declares God. Here is a prophecy concerning Germany — the descendants of Asshur today! "The staff," says God, "in their hand is Mine indignation. I will send him against an hypocritical nation (that is, Israel — America and Britain today), and… I will give him a charge to take the spoil, and to take the prey, and to tread them down like the mire of the streets" (Isaiah 10:5-6). Our sins are mounting to heaven itself. And God is going to punish us by the very nation whom we have tried to buy for an ally! It is God who is going to permit the revival of Germany — this time in a gigantic union of 10 European powers united with a great religious power — to punish us in World War III. We won two major wars against Germany in one generation. But the third time God is going to punish us as we have never been punished before! The sword of war is going to strike us "the third time" (Ezekiel 21:14), and we are going to be led away captive to Assyria and to all nations (Isaiah 11:10-12). (Hoeh H. GERMANY in Prophecy! – Part 2. Plain Truth, January 1963).
We are seeing steps in Europe to prepare to lead WW3. More on Germany can be found in the article Germany in Biblical and Catholic Prophecy.
The Biden-Harris Administration has NOT changed the minds of the Europeans: Notice the following from the first few months of the Biden-Harris Administration:
The USA will be destroyed in WWIII (cf. Daniel 11:39).
Mexico?
Consider something that I warned about in 2008:
In the spirit of accommodation and personal interest, many of the "standards" of the European Union will be adopted by the USA, Canada and Mexico, as well as by nearly all of the countries of the world. The Arab nations will most likely agree with many of the standards as they seem to be destined to form a brief end-time alliance with the Europeans (The Arab World In the Bible, History, and Prophecy).

However, over time, it will become increasingly clear that the British will be in more agreement with the Canadians and Americans and that the European Union in more agreement with the Mexicans than the EU will have with the English-speaking nations.

Trade wars and/or serious trade disputes will most likely arise.

The Brits will ultimately decide that they are more supportive of the Americans and Canadians. They will be so much more supportive that they will end up in a trading agreement with them (with the Australians and New Zealanders probably also becoming part of that agreement).

The EU will decide that Mexico and the rest of Latin America are in more agreement with it and thus make some type of serious trading agreement with most (or all) of Latin America. The Vatican will also have influence here as Latin America is highly Roman Catholic.

The Europeans and Americans, however, will continue to have military agreements, though many will be tense about them.

Eventually, the Europeans (possibly under the cover of pretending that they are involved in a "NATO-like" exercise in North America) will eventually launch a surprise attack against the United States in fulfillment of both biblical and Catholic prophecies. The Mexicans will most likely be allied with the Europeans for this to happen. (Thiel B. A Combined EU & North American Trade Block Coming? COGwriter.com, March 3, 2008)
In April 2018, Mexico did make a trade deal with the Europeans (see EU and Mexico making a trade deal, partially to send Donald Trump a message).
Europe is trying to move to fill in areas where Donald Trump has indicated he wants to change trade terms. This is giving Europe an opportunity that it would not otherwise have. (We have a BNP video related to Europe and trade: Trade Wars: Are COG warnings coming to pass?)
Mexico hopes that it can trade more with Europe and not be subject to the whims of the USA and its current president.
As it turns out, various ones in Mexico have long considered that the USA is an enemy nation.
Many in Mexico believe that in the 19th century, the USA improperly took lands ranging from Texas to California and points in-between. They believe that they are entitled to receive that land back. It has been called the "reconquista" ("re-conquering" in English). Interestingly, the Bible teaches that the European King of the North power will takeover the USA and divide its land for gain (Daniel 11:39; see also Will the Anglo-Saxon Nations be Divided and Have People Taken as Slaves?)–Mexico will likely end up with at least some of its claimed lands back this century. And yes, I believe that Mexican troops will one day align with Europe.
I expect that Mexico will end up with at least some of its claimed lands back this century.
Mexico will get at least some of those lands back after the start of World War III.
Sound preposterous?
First notice what someone put together about what Mexico would look like if it got its old lands back: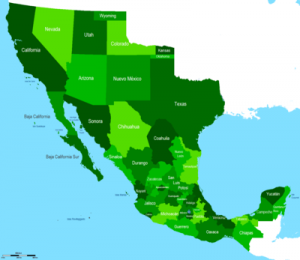 Now, notice the Hispanic population in the USA as put together by Yerevanci with the red line showing old Mexican territories: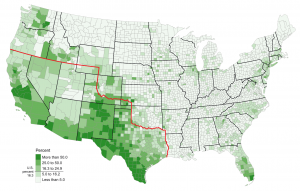 Don't the two look similar?
As far as war goes, consider something that happened a century ago:
April 6, 2017

One hundred years ago today, the United States officially declared war on Germany and entered World War I. Days before the declaration of war, President Woodrow Wilson urged a special joint session of Congress to "formally accept the status of belligerent which has thus been thrust upon it."

Wilson had not wanted to do this. Indeed, he'd won reelection the previous fall as the antiwar candidate, running on the popular slogans "He kept us out of war" and "America First"—appeals to voters who wanted to stay out of a major European war and avoid a simmering conflict with Mexico.

But two events would change everything, and force Americans to accept that they could no longer avoid what had become a global conflict. The first was Germany's resumption of unrestricted submarine warfare on passenger and merchant ships. The second was the "Zimmerman telegraph," which revealed Germany's attempt to forge a secret alliance with Mexico against the United States, promising to help Mexico recover territory it had ceded to the United States following the Mexican-American War in 1848.

Both of these developments, like much of World War I, seem exotic and unimaginable today. A major military power attacking passenger ships with submarines? Mexico invading Texas? It's easy to think we'll never face such scenarios again, and we probably won't face those particular scenarios. But as distant and strange as the First World War seems to us today, the reasons Wilson changed course and declared war hold vital relevance to our national life in the twenty-first century, and we ignore or misunderstand those reasons to our peril. https://thefederalist.com/2017/04/06/americas-reasons-entering-wwi-resonate-today/
I do believe that Mexico will be willing to cooperate with a German-dominated power in Europe to invade the USA. Do not think it cannot happen. Mexico is pivoting towards Europe, while the USA has been pivoting away from both Europe and Mexico.
While in the short-run, the USA can take steps to seriously harm Mexico, it should be clear to all that the USA is seriously risking turning Mexico from an ally into an enemy.
Decades ago, I concluded that Mexico would one-day help the Europeans against the USA.
Statements by US President Trump and reactions from Mexican officials show that day is getting closer.
Yes. Mexico is expected to be part of WWIII against the USA!
Trade
Trade issues are upsetting many around the world. And yes, I believe that trade issues will be a factor in triggering WWIII.
The an issue of CCOG's Bible News Prophecy magazine (Bible News Prophecy January-March 2018: Trade Wars) has the following:
The Church of God has warned about trade issues for decades. And in the past year, we have seen many developments that align with what we have been saying that Bible prophecy foretells.

Back in 1971, the late Pastor General of the old Worldwide Church of God Herbert W. Armstrong wrote the following:

Trade War Looming to Trigger World War III?

Either we start raising high tariff barriers against other countries, starting a TRADE WAR which in time will trigger the nuclear war that will DESTROY US – or, American workers are going to have to MEET the competition of the workers in other countries , by lowering living standards. Obviously American workers are not going to choose to do the latter. And if they don't – well, THE HANDWRITING IS ON OUR NATIONAL WALL. (Armstrong HW. Trade War Looming to Trigger World War III? Plain Truth, March 1971)

And while his basic impression of timing was off it is correct that trade issues will  be a factor that will trigger WWIII. A war that will be against the USA, Canada, and UK by a power that will reorganize (Revelation 17:12-13). A Europe that is angry at the UK for Brexit and one that is mad at the USA for a host of reasons (including decisions of its President Donald Trump and its Congress).
What about the the second item, the Petro-Yuan? The petro-yuan is one more straw to attempt to break the back of the US dollar as the world's primary reserve currency (watch also US Dollar being challenged by Gold-Petro-Yuan). The Europeans also want to dethrone the US dollar. International efforts will one day dethrone the USA dollar. The dethroning of the USA dollar will be highly inflationary and greatly impact the economy and standard of living in the USA.
The third item was the expulsion of Russia diplomats. Of itself, that is not of major significance. However, what it will essentially end up doing is to get the Russians to communicate more with the Europeans than the USA or UK. Between the two of them, the USA and UK expelled more Russian diplomats for this than all other nations combined according to a report I saw today. In time, I expect cooperation between the Russians and Europeans that will lead to WWIII (see also World War III: Steps in Progress).
The fourth item will help lead to WWIII, but not in the manner reported. The USA is mainly focused on Russia and China as far as strategic nations that could result in WWIII. This focus is biblically in the wrong direction as the Bible shows that it will be a European leader (called the King of the North (Daniel 11:40) who will takeover the UK, Canada, and the USA (Daniel 11:39) in what could be called World War III. While Russia, China, and others will likely cooperate (and that will not end well for Australia and New Zealand), WWIII is NOT mainly an Asian vs. America war. WWIII is mainly a European vs. Anglo-America war.
So, while biblically I must disagree with some parts of the points in the 3 Recent Events That Could Send The US Hurtling Toward World War III article, I do agree that events are leading to it.
Furthermore, consider that the Europeans are very upset with the USA because of actions from its President Trump in 2018.
Notice the following (bolding, except the headline, mine):
The US and Europe to Go Separate Ways Pursuing Divergent Goals

French Finance Minister Bruno Le Maire stated that European powers should not be Washington's "vassals."

On May 11, the German chancellor discussed the situation with the Russian president in a phone conversation. There'll be more talks on May 18 when Angela Merkel visits the Russian resort city of Sochi. In defiance of the US, Germany became the first EU country to begin the construction of its portion of the Nord Stream 2 gas project on May 3. ...

The US-European relationship has been clouded by Washington's plans to introduce tariffs on steel and aluminium imports from the EU. ...

A trade war is just around the corner. Can security interests coincide when economic ones differ so much? Not a chance.

The German chancellor believes that US global influence is on the wane and the time is ripe for Europe to stop relying on America's military protection. Instead, it should "take its destiny into its own hands." ...

Last month, Paris launched an initiative to set up a European intervention force in June that would operate independently of the EU's current efforts. ...

The US openly humiliated Europe by making a unilateral decision on such an important security issue as the Iran deal and threatening its closest allies with trade sanctions. Europeans are being told which energy projects are best for them. And prior to that, Washington made a unilateral decision to withdraw from the Paris climate agreement.

Sooner or later anyone's patience wears thin.  Today Europe is being pushed toward countering the "America First" message with a "Europe First" policy. ... Despite all the nice words about common values and so on, these two entities are gradually diverging to go their separate ways. https://www.strategic-culture.org/news/2018/05/15/the-us-europe-go-separate-ways-pursuing-divergent-goals.html
Europe WILL GO a separate way from the USA.

While most writers are not looking at biblical prophecies, more and more are seeing issues between the USA and Europe.
Notice the following from then EU Council President Donald Tusk:
WOW! The Europeans are being told the time to rely on the USA is up! Europe will take steps.
Notice also something from European Commission President Jean-Claude Juncker:
15 May 2018

As many voiced their concerns over Donald Trump's move, President of the European Commission Jean-Claude Juncker did not remain on the sidelines either, slamming Washington for "no longer"  willing to "cooperate with other parts of the world."

"At this point, we have to replace the United States, which as an international actor has lost vigor, and because of it, in the long term, influence," the EU chief said, suggesting that Europe should take over the US' role as global leader. https://sputniknews.com/europe/201805101064314245-juncker-eu-replace-us-iran-deal/
The top European leaders have it with the USA and are even publicly telling everyone that. Things will not remain as they have been.
The Apostle Peter was inspired to write:
3 knowing this first: that scoffers will come in the last days, walking according to their own lusts, 4 and saying, "Where is the promise of His coming? For since the fathers fell asleep, all things continue as they were from the beginning of creation." (2 Peter 3:3-4)

What is going on between the USA and Europe shows that things ARE changing and this will not end well for the USA! 
COVID Steps Show Totalitarianism Has Government Backing
Since early 2020, we have seen a variety of totalitarian type policies blamed on COVID-19.
Here is something from Wayne Alllyn Root related to having to supply 'papers,' 1938, and where it led to:
Welcome to 1938: First, they came for the unvaccinated

August 9, 2021

This is the most important commentary I've ever written.

It's time for alarm bells. It's time for me to play the part of Paul Revere: "The communist tyrants and dictators are coming! The communist tyrants and dictators are coming!" They're coming first for unvaccinated Americans.

This is 1938. I'm a Jew. I now understand just a little of what it felt like to be a Jew in 1938. No, it's not the Holocaust. …

But 1938 was not the Holocaust. It was the pre-Holocaust. It was the time before the nightmare, when the foundation was being laid to destroy the freedom, free speech, businesses and lives of millions of Jews.

Everything happening today to the American people … to the U.S. Constitution … to freedom … and particularly to unvaccinated Americans reminds me of 1938. This is only the beginning. It gets much worse from here. …

First, "the papers." Vaccine mandates and vaccine passports are just like 1938, when the Gestapo demanded papers from every German. …
Now Democrats want American citizens, not illegal aliens, not criminals, but patriots born in this country, to produce papers 24/7. We'll need papers to enter restaurants, bars, nightclubs, concerts, casinos, conventions and hotels and to board a train, plane or bus. We'll need papers to enter a supermarket, or we'll starve to death. All for the crime of being unvaccinated against … wait for it …

The flu.

All for the crime of being unwilling to inject an untested, rushed to production, experimental, "for emergency use only" shot into our bodies.

What happened to the war cry of Democrats: "My body, my choice"? It only applies to murdering babies, but it doesn't apply to dangerous experimental shots we don't want injected into our bodies.

Weren't Jews injected with experimental drugs by the depraved Nazi government? Wasn't that a key part of the Nuremberg trials? That no government could ever again inject experimental shots into the bodies of unwilling citizens? Isn't that a basic human right? …

By the way, this isn't about vaccines. If you want the vaccine, take it. … This is about vaccine mandates – forcibly injecting Americans who don't want it. That's 1938.

But there's much more in common with 1938. Mask mandates. … Mandates are about forcing individuals to lose their freedom, choice, individuality and human rights. That's 1938.

Lockdowns are a match with the Warsaw Ghetto. Jews were locked down. Jews couldn't work. Jews couldn't travel. Jewish businesses were labeled "nonessential."

If government can force us to close our businesses, to kill our jobs, to decide who is nonessential, then this is 1938. …

Stars on clothing. It's coming. The vaccinated get into restaurants, bars, concerts, supermarkets, planes and trains. They keep their jobs. The rest of us are marked as "subhuman" for life. That's the star. That's 1938.

Media and social media as the public-relations wing of the government. That's called propaganda. Remind you of 1938? Back then, the Jews' books were burned. Today, it's those of conservatives, patriots and specifically the unvaccinated. We are silenced. Our facts are labeled "misleading." Only the facts that agree with big government's agenda count. That's 1938.

Door-to-door intimidation and making lists of those who disagree with "government knows best." Trust me, that army of door-to-door vaccine brainwashers will soon be turned into a Gestapo of gun-grabbers. 1938 was the year Nazis banned Jews from owning guns. They took them door to door. That's 1938.

Only days ago, a former Department of Homeland Security official said the unvaccinated should be on the federal no-fly list. That's exactly how Nazis attacked the Jews and others who disagreed with their agenda. It was always lists. …

First, they came for the unvaccinated. Trust me: Next, they're coming for you. https://www.wnd.com/2021/08/welcome-1938-first-came-unvaccinated/
Yes, there are parallels between 1938 and what we have seen in the past couple of years.
It is not just COVID, but matters related to teaching biblical morality.
We are seeing censorship and 'lists' being put together.
While Big Tech calls them 'algorithms,' they are a way Google, YouTube, and others are using to stop people from seeing information they would be most interested to see related to certain matters of biblical teachings and certain areas of politics.
What will happen will be worse than the Holocaust according to Jesus:
21 For then there will be great tribulation, such as has not been since the beginning of the world until this time, no, nor ever shall be. 22 And unless those days were shortened, no flesh would be saved; but for the elect's sake those days will be shortened. (Matthew 24:21-22)
And yes, it will affect you if you live into the time of the Great Tribulation (and, at least to a degree, even if you do not). And that will not be because of vaccination status.
Jesus taught that the 'beginning of sorrows' (Matthew 24:4-8) would proceed the Great Tribulation.
1938 restrictions proceeded the Holocaust and World War II.
The current sorrows will proceed World War III. We are not too many years away (watch Great Tribulation: 2026 or 2027?).
National repentance is the only way to prevent it, and that does not look likely:
5…But the Assyrian shall be his king, Because they refused to repent. 6 And the sword shall slash in his cities, Devour his districts, And consume them, Because of their own counsels. 7 My people are bent on backsliding from Me. Though they call to the Most High, None at all exalt Him. (Hosea 11:5b-7)
This will not end well for the USA (cf. Isaiah 10:5-12; see also Germany in Biblical and Catholic Prophecy) nor its British-descended allies.
But you can repent and even have physical protection (see There is a Place of Safety for the Philadelphians. Why it May Be Near Petra).
Do you see what is happening?
If so, will YOU properly respond?
A Way of Escape is Promised
Is there any way to escape from what will come?
Notice one secular view:
December 8, 2015

The 10 safest countries if World War Three breaks out

Following a string of terror attacks and violence, we take a look at the safest places if another world war broke out

1. Fiji:

The remote island nation of Fiji lies within the vast expanse of the Pacific Ocean.

It keeps Fiji isolated from potential invaders.

It's small in population, neutral in foreign affairs and does not have any resources to justify invasion.

2. Ireland …

3. Malta …

4. Denmark …

5. Iceland …

6. Chile …

7. Bhutan …

8. New Zealand …

9. Tuvalu …

10. Switzerland … http://pulse.com.gh/travel/revealed-the-10-safest-countries-if-world-war-three-breaks-out-id4438918.html
The above list is interesting as some of those lands and islands initially would not be impacted by World War III, but ultimately they would get affected.
Why?
Well, for one, the Bible warns that islands will end up with problems, so that eliminates or at least reduces the safety factors for many on that list.  Consider that the Bible teaches the following:
17 Then the seventh angel poured out his bowl into the air, and a loud voice came out of the temple of heaven, from the throne, saying, "It is done!" 18 And there were noises and thunderings and lightnings; and there was a great earthquake, such a mighty and great earthquake as had not occurred since men were on the earth. 19 Now the great city was divided into three parts, and the cities of the nations fell. And great Babylon was remembered before God, to give her the cup of the wine of the fierceness of His wrath. 20 Then every island fled away, and the mountains were not found. (Revelation 16:17-20)
It will not only be the islands that are affected by these events, as even inland areas apparently will have flooding too (the Netherlands, a very low lying country, comes to mind as does the Florida Everglades). Chile, Bhutan, and Switzerland are mountainous and thus subject to being leveled.  Iceland is sort of like a large mountainous island, so it is also at real biblical risk.
Because Denmark, Switzerland, and Ireland have many descendants of Israel, they are prophesied to be negatively affected, and will face issues with from the coming Beast of the Sea of Revelation 13 (see Ezekiel 5:4 and the article Anglo – America in Prophecy & the Lost Tribes of Israel).
New Zealand, being inhabited by descendants of Ephraim, will be among the earlier casualties of World War III (see also Anglo – America in Prophecy & the Lost Tribes of Israel).  It will NOT be a place of safety.
None of the 'top ten' safest countries will be safe for the duration of the Great Tribulation and Day of the Lord, which will include WWIII.
Actually, the descriptions in the Bible of a place of safety will refer to a rocky place in the wilderness in a location like part of southern Jordan (see There is a Place of Safety for the Philadelphians. Why it May Be Petra).
Of course, certain Protestants believe that they will be 'raptured' away from the earth prior to the start of the Great Tribulation.  While that is their professed hope, the idea is NOT supported by the Bible and is in error (for many biblical details, check out the article Is There A Secret Rapture for the Church? When and Where is the Church Protected?).
It should probably be noted that although many in the COGs believe that they will either be protected where they are at, this is NOT what the Bible teaches (cf. Revelation 12:14-16).  Most in the COGs will NOT be protected at all (Daniel 7:25b; Revelation 12:17)–only the remaining Philadelphian remnant will be (Revelation 3:10; see also There is a Place of Safety for the Philadelphians. Why it May Be Petra).
Christians do need to pray to be accounted worthy of the end time protection according to Jesus:
35 For it will come as a snare on all those who dwell on the face of the whole earth.  36 Watch therefore, and pray always that you may be counted worthy to escape all these things that will come to pass, and to stand before the Son of Man. (Luke 21:35-36)
Jesus rebuked most of the Christians in the second and third chapters of the Book of Revelation.   And notice the following which clearly shows that not all Christians will be protected in the end:
17 And the dragon was enraged with the woman, and he went to make war with the rest of her offspring, who keep the commandments of God and have the testimony of Jesus Christ. (Revelation 12:17)
Sadly, even most Christians will not do what they should in the end.  That is why Jesus rebuked the Laodiceans and told them to change (Revelation 3:14-21).  Laodicea is basically composed of two words which mean "people decide" and in these end times, most Christian people have decided not to support proper biblical church governance (see The Bible, Peter, Paul, John, Polycarp, Herbert W. Armstrong, Roderick C. Meredith, and Bob Thiel on Church Government) and doing the work of God in truth (Psalms 33:4; see also The Final Phase of the Work).
WWIII is not here yet, but when it comes, most Christians will not be protected (Revelation 12:14-17; see also There is a Place of Safety for the Philadelphians. Why it May Be Petra).
The top ten list will not provide real safety between the start of the Great Tribulation and the return of Jesus.
Because of a coming peace deal (see Daniel 9:27 and also The 'Peace Deal' of Daniel 9:27), it is likely that more Christians will become complacent and not believe that the end will be near, when in fact it will be the closest it has ever been and will be imminent.
Those without a COG background, as well as some of those with one, may find the following from the late Dr. Herman Hoeh of interest:
IF WORLD WAR III COMES – There Is a Way of Escape

You need to be prepared. ...

Jesus' Amazing Prophecy

Let's notice Jesus' prophecy of the "times of the Gentiles" in Luke 21:24.

When speaking of the Jews, Jesus told His disciples that "they shall fall by the edge of the sword, and shall be led away captive into all nations, and Jerusalem shall be trodden down of the Gentiles until the times of the Gentiles be fulfilled."


This prophecy is not speaking of a period of peace, but of war. It is a message for our day — a time when the Gentiles are conquering and destroying, when they are ruling themselves contrary to the way of God who is Creator and RULER. ...

Remember what Jesus said in Luke 21:24? That Jerusalem would be trodden down of the Gentiles until the very completion of the times of the Gentiles!

Since Zechariah 14:1-3 shows that Jesus Christ will return in order to deliver Jerusalem from the Gentiles, it is plain that THE SECOND COMING OF CHRIST WILL PUT AN END TO THE TIMES OF PUNISHMENT ON THE GENTILE BABYLONISH SYSTEM! (Isaiah 27:13; I Cor. 15:52.) Then God will send His Son to rule the world!
As Christ said, of the second coming, "But of that day and hour, knoweth no man!" But ... world-occurrences warn us that ... it is very near! ...
Way of Escape

But in this end-time of turmoil there is a place of safety-if you heed-until Christ does bring us peace.

It's a vital part of the gospel of the soon-coming Kingdom of God! Jesus said, " ... except those days were SHORTENED, there should no flesh be saved!" (Mat. 24:22.) But He went on to say that God would supernaturally cut short the days, for the sake of the ELECT!

That is our only real hope for survival!

The intervention of God! Jesus Christ promised protection to His own elect! He PROMISED they would survive the prophesied holocaust to strike this unsuspecting world!

WHO are the Elect?

He said, "FEAR NOT, little flock, for it is your Father's good pleasure to give you the kingdom" (Luke 12: 32).

He promised that somewhere on this earth, right now, there would be His own WORK! That work would be faith· fully performed, He promised, by His own true followers, who KNOW HIS VOICE, who would be preaching..."the Gospel of the Kingdom" as a WITNESS TO the WHOLE WORLD!

They would be preaching it, chapter- by-chapter, verse-by-verse, word-by-word, just exactly as it really IS, not as they might interpret it to be, or any man, woman, or organization of men or women would like to have it preached!

You NEED TO FIND WHERE THAT WORK IS BEING CARRIED ON! Why? Because it is ONLY THOSE who have an absolute guarantee of safety! The very elect are those who are the called and chosen, who have truly RE-PENTED of their own carnal ways, and have accepted the Holy ways of God! They are the ones who have been made members of the very BODY of Jesus Christ (1 Cor. 12:13) performing HIS WORK! Jesus speaks of these faithful ones, in the Book of Revelation.

"And to the angel of the church in Philadelphia [the prophesied end-time Church of God, doing the work of God) write: ... 'I know thy works , behold, I have set before thee an open door II (Rev, 3:7-8).

The Apostle Paul spoke of a door flung open before him to PREACH THE GOSPEL (II Cor. 2:12). Remember, Jesus promised, "This Gospel of the Kingdom SHALL be preached in all the world . .. " (Mat. 24:14), and promised to make a way for that message of hope and good news to go-by flinging open the massive DOORS of radio, the printing press, television, and personal evangelism. He promised those doors would remain , .... and no man can shut it, for thou has a little strength, and hast kept my word, and hast not denied my name" (Rev, 3:8), Yes, the very elect would NEVER become corrupted by false doctrines, or be muzzled by boards of men-it would not deny the name of Jesus Christ, or His true doctrine! (Hoeh H. If World War III Comes--There is a Way of Escape. Plain Truth, June 1963)
Let me interject here that the Continuing Church of God is now getting that gospel out over the printing press, radio, YouTube 'television' videos, personal evangelism, and the internet. We represent the remnant of the Philadelphia portion of the Church of God that Dr. Hoeh mentions below:
Later, Jesus gave the exhilarating GOOD NEWS to those faithful ones who put the WORK of God far above their own personal considerations. He said "Because thou hast KEPT the word of my patience, I ALSO WILL KEEP THEE FROM THE HOUR OF TEMPTATION [TRIBULATION) WHICH SHALL COME UPON ALL THE WORLD, TO TRY THEM THAT DWELL ON THE EARTH!" (Rev. 3:10) . Yes , Jesus promised SAFETY. He promises supernatural PROTECTION to His own elect.

On the Wings of an Eagle

Eagle God brought the ancient Israelites out of Egypt on symbolic "eagles' wings." This symbolizes the loving care and protection of God for His own children. Notice, now, an amazing prophecy. It is about the same Church of God addressed in the promise of protection we have just read in Revelation 3.

"And to the woman [the Church) were given two wings of a great eagle, that she might fly into the wilderness, into her place, where she is nourished for a time, and times, and half a time from the face of the serpent" (Rev. 12:14), In this end-time prophecy, John writes of the last, end-time REMNANT Church which is to ESCAPE the terrible WAR and tribulation that will soon strike our heedless people, They are, just as the ancient Israelites, carried to a place of SAFETY ... in the wilderness by the supernatural power of Almighty God, their Banner, their Shield, their Prorector!

Where Will They GO?

Now notice another amazing prophecy. Daniel was inspired to write of this impending nuclear war, and its immediate aftermath. He describes the rising BEAST power in Europe, a coming resurrection of the ancient ROMAN EMPIRE, symbolized as the "King of the North." But the European power crushes and occupies these poorly equipped up-start countries.

"And at the time of the end [NOT back during the days of the Seleucidae of Syria)... the king of the north shall come... like a whirlwind, with chariots, and with horsemen, and with many ships, and he shall enter into the countries, and shall overflow and pass over.


"He shall enter also into the glorious land [Palestine], and many countries shall be overthrown, but these shall escape out of his hand, even Edam and Moab and the chief of the children of Ammon" (Dan. 11:40-41).


Why are these areas spared?


For a very special reason!

A PLACE of Protection

God promises His people will be flourished, provided for, in the "wilderness"! He will supernaturally protect them, carrying them safely there on symbolic "eagles' wings. " They may be taken by air, sea or land-the Bible doesn't sayBut where is this "wilderness" place God is readying?

Many Bible statements indicate it is in the areas anciently occupied by the Edomites, Moabites, and Ammonites, southeast of Jerusalem, in the rugged, barren mountains beyond the Dead Sea — the modern country of Transjordan (Dan. 11:41 and Isaiah 16:4-5).


Regardless of WHERE the "place" is that God's Church is nourished and protected during these perilous times described in so many dozens of prophecies — the way to make sure you are going there is clear!


To those who will truly repent of wanting their own way, and who will come to God through Jesus Christ and His sacrifice, He promises spiritual, supernatural, MIRACULOUS shelter!


Does this sound fantastic? Does it sound incredible? Have we strayed so far from our RULER and our SAVIOUR that we think Him UNABLE to save us? Is it ridiculous to most today to really believe in God above and His supernatural protection — His divine INTERVENTION in our own personal lives?


Of course not!


He is our Fortress! He is our Rock! He is our GOD! He will supernaturally bring His people to a place of safety! (Hoeh H. If World War III Comes--There is a Way of Escape. Plain Truth, June 1963)
More on this place of protection can be found in the article There is a Place of Safety for the Philadelphians. Why it May Be Petra; there is also a video on the subject: Might Petra be the Place of Safety?  Here is something related in the Spanish language: Hay un lugar de seguridad para los Filadelfinos. ¿Puede ser Petra?
There will be a place of physical protection during the Great Tribulation and the Day of the Lord for the Philadelphian remnant of Christians, but it will not seem to be in any of the top ten nations that some believe would be safest.
The Bible shows that not all Christians will be protected:
17 And the dragon was enraged with the woman, and he went to make war with the rest of her offspring, who keep the commandments of God and have the testimony of Jesus Christ. (Revelation 12:17)
The Bible teaches that if you wish to be protected, you need to "gather together":
1 Gather yourselves together, yes, gather together,
O undesirable nation,
2 Before the decree is issued,
Or the day passes like chaff,
Before the Lord's fierce anger comes upon you,
Before the day of the Lord's anger comes upon you!
3 Seek the Lord, all you meek of the earth,
Who have upheld His justice.
Seek righteousness, seek humility.
It may be that you will be hidden
In the day of the Lord's anger. (Zephaniah 2:1-3)
You need to gather together early--before it is too late! Support the true work of God and the final phase of the work. Peter calls Christians a "peculiar people" (1 Peter 2:9, KJV).
Jesus only promised the Philadelphian portion of the Church of Godt protection in the end. He did not make that promise to those associated with the other six churches discussed in Revelation 2 & 3. The time to support the Philadelphian work as being led by the Continuing Church of God is now.
What About WWIV?
In the past, some have claimed that Russia's actions in Ukraine have been intended to start WWIII (see Kiev PM asserts 'Russia…wants to start World War Three;' Russia's FM claims 'West wants…to seize control of Ukraine').  Some have feared that if Israel attacks Iran, that will start a world war (see Iran, Armageddon, Israel, and WWIII). Although some correctly feel that Iran is mentioned in Ezekiel 38 (see Ezekiel 38: For Russia & Iran in Our Day?), that battle is much later and is NOT WWIII (see also World War III: Steps in Progress).
In July 2014, Money and Markets' Larry Edelson claimed WWIII had started (see M&M: 'World War III has ALREADY started').
In September 2014 and June 2015, Pope Francis  stated that a 'piecemeal' WWIII may have begun (see Pope Francis objecting to current 'piecemeal' World War III; Vatican radio reports bishops blasting Russia for blood in Ukraine and Pope Francis refers to World War III in his ecumenical appeal in Sarajevo).
While elements of WWIII are in progress, and Russia and terrorism are influencing events that will lead to that, neither Russia nor the Islamic State are the powers that will actually start WWIII.  Instead, their actions are influencing the actions of others, and ultimately that will start what could be called WWIII.
Many believe that WWIII will entail massive conflict with Russia and/or China and/or Iran and/or is mainly an Islamic war.  Those views are in error.  WWIII basically will be the risen European power and its allies (Germany and its allies began WWI and WWII) attacking and beating the USA, UK, and their Anglo-Saxon allies (cf. Daniel 11:39; Isaiah 10:5-11; see also Germany in Biblical and Catholic Prophecy).
Terrorism will be part of that and will likely involve an alliance with Europe of many nations in the Middle East and North Africa that are currently Islamic (see Psalm 83; see also Is the Future King of the South Rising Up? and Germany in Biblical and Catholic Prophecy and Germany's Assyrian Roots Throughout History). But then Europe will eliminate them as a threat (Daniel 11:40-43) after the USA is eliminated (Daniel 11:39).
What perhaps could be called World War Four (WWIV) would be an attack against the European Beast power by Russia, China, and their confederated allies.  This will also tie in with the gathering of the armies at Armageddon (Revelation 16:12-16). For more details, see also Russia and Ukraine: Their Origins and Prophesied Future and Asia in Prophecy. As far as Armageddon goes, please see the video shot from there simply titled Armageddon.
The fact is that the 6000 years God gave humankind to rule itself is about to come to an end (see Does God Have a 6,000 Year Plan? What Year Does the 6,000 Years End?), which means we are nearer to the start of the Great Tribulation, WWIII, and even WWIV.
Because of the proximity to the end of 6000 years for humanity to rule itself mainly cut off from God, we are to expect wars, rumors of wars, and various sorrows (Matthew 24:4-8). And then the end of the nations of USA and its Anglo-Saxon allies once the time of Jacob's trouble (Jeremiah 30:7), the great tribulation (Matthew 24:21) begins.
The current situation with Russia and Ukraine is speeding up the type of unity that the European Beast power will have, as well as getting the Europeans to decide they need to more military power more quickly.
WWIII will not come until about 3 1/2 years after a 'peace deal' has been confirmed by a 'prince' (Daniel 9:26-27) who later will become the final King of the North (Daniel 11:31-44).  This leader will be European, and eventually destroy the nation with the strongest fortresses (Daniel 11:39), which in the 21st century would be the USA.  He will proclaim peace and safety:
25 And through his policy also he shall cause craft to prosper in his hand; and he shall magnify himself in his heart, and by peace shall destroy many: he shall also stand up against the Prince of princes; but he shall be broken without hand. (Daniel 8:25, KJV).
This leader will encourage proclamations of peace, yet sudden destruction will come (cf. 1 Thessalonians 5:3).  After destroying the USA, etc., he will turn against a power in the Middle East and North Africa (Daniel 11:40-43): this could be called WWIV or perhaps will be considered as a second part of WWIII.
A battle involving Russia and its allies against the final Beast power will come over three years later and could be called WWIV (or WWV if the elimination of the confederation in the Middle East and North Africa would be called WWIV).  Russia and its allies are in preparation for that now, though none probably think that they are as they are not particularly attuned to the details of biblical prophecy.
The reality is that steps are in progress for world war:
3 When He opened the second seal, I heard the second living creature saying, "Come and see."  4 Another horse, fiery red, went out. And it was granted to the one who sat on it to take peace from the earth, and that people should kill one another; and there was given to him a great sword. (Revelation 6:3-4)
To a degree not seen since WWII, peace has been taken from the earth. But things will get much, much worse.
People are not as safe as most seem to think that they are. WWIII is not yet here, but steps are in progress.
Because of the proximity to the end of 6000 years for humanity to rule itself mainly cut off from God (see Does God Have a 6,000 Year Plan? What Year Does the 6,000 Years End?), we are to expect wars, rumors of wars, and various sorrows (Matthew 24:4-8). And then the end of the nations of USA and its Anglo-Saxon allies once the time of Jacob's trouble (Jeremiah 30:7), the great tribulation (Matthew 24:21) begins.
Ultimately of course, there is good news as ultimately, Jesus will return, God's kingdom will come, and those issues will be gone (Revelation 7:16).
WIII Steps Are In Progress
While WWIII per se is not about to begin (it cannot start before 2025; see also When Will the Great Tribulation Begin?), steps are in place for this to happen.
In 2022, Germany annpunced it is planning on spending more on its military than Russia (see 'Germany commits 100 billion euros to new armed forces fund').
Europe wants options other than relying on the USA (see Clashes in Afghanistan as Europe looks to be more militarily independent from the USA).
The moral decline of the USA and its Anglo-Saxon-Celtic allies is happening--this will lead to destruction. Because of their hypocrisy (Isaiah 10:6, KJV), they will be dealt with first in the Great Tribulation. Others will be impacted later.
The Bible clearly teaches that the highly indebted will be taken over. The USA and UK qualify.
The Bible tells of a coming totalitarian time and we have seen many steps in that direction in the past couple of years.
The Bible says that Europe will rise up, be ruled by a totalitarian, and surprise the world militarily. Steps are being taken for this to happen now. PESCO is only part of it.
However, God does promise to protect His Philadelphians. Steps are being taken for WWIII. Do not wait until it is too late.
Thiel B. World War III: Steps in Progress. http://www.cogwriter.com/wwiii.htm 2014/201/2016/2017/2018/2020 /2021 /2022 0227
A related YouTube video is available: Is World War III About to Begin? Can You Escape?
Some items of possibly related interest may include:
There is a Place of Safety for the Philadelphians. Why it May Be Petra This article discusses a biblical 'place of safety' and includes quotes from the Bible and Herbert W. Armstrong on this subject--thus, there is a biblically supported alternative to the rapture theory. There is also a video on the subject: Might Petra be the Place of Safety?  Here is something related in the Spanish language: Hay un lugar de seguridad para los Filadelfinos. ¿Puede ser Petra?
Four Horsemen of the Apocalypse What do each of the four horseman of the Apocalypse represent? Have they began their ride? Did Jesus discuss the any of this? Might their rides coincide with the "beginning of sorrows? Do they start their ride prior to the Great Tribulation? Did Nostradamus or any other 'private prophets' write predictions that may mislead people so that they may not understand the truth of one or more of the four horseman? There is also a related YouTube video titled Sorrows and the Four Horsemen of the Apocalypse.
Does God Have a 6,000 Year Plan? What Year Does the 6,000 Years End? Was a 6000 year time allowed for humans to rule followed by a literal thousand year reign of Christ on Earth taught by the early Christians? Does God have 7,000 year plan? What year may the six thousand years of human rule end? When will Jesus return? 2028 or or 2031 or 20xx? There is also a video titled 6000 Years: When will God's Kingdom Come? Here is a link to the article in Spanish: ¿Tiene Dios un plan de 6,000 años?
Might the U.S.A. Be Gone by 2028? Are there prophetic reasons to believe that the USA will not last two complete presidential terms? Yes. There is a tradition attributed to the Hebrew prophet Elijah that humanity had 6,000 years to live before being replaced by God's Kingdom. There are scriptures, writings in the Talmud, early Christian teachings that support this. Also, even certain Hindu writings support it. Here is a link to a related video: Is the USA prophesied to be destroyed by 2028? In Spanish: Seran los Estados Unidos Destruidos en el 2028?
The Great Tribulation: What Happens First? What events have happened? What are some events that are now happening? And what events need to happen for the Great Tribulation to start? Here is a link to a related sermon video: Counting Down to the Great Tribulation. Here is a video in the Spanish language: Contando los eventos y el inicio de la Gran Tribulación.
When Will the Great Tribulation Begin? 2022, 2023, or 2024? Can the Great Tribulation begin today? What happens before the Great Tribulation in the "beginning of sorrows"? What happens in the Great Tribulation and the Day of the Lord? Is this the time of the Gentiles? When is the earliest that the Great Tribulation can begin? What is the Day of the Lord? Who are the 144,000? Here is a version of the article in the Spanish language: ¿Puede la Gran Tribulación comenzar en el 2020 o 2021? ¿Es el Tiempo de los Gentiles? A related video is: Great Tribulation: 2026 or 2027? A shorter video is: Can the Great Tribulation start in 2022 or 2023? Here is a video in the Spanish language: Es El 2021 el año  de La Gran Tribulación o el Grande Reseteo Financiero.
Is a Great Reset Coming? Klaus Schwab of the World Economic Forum has proposed a societal change that has been basically endorsed by the Vatican and many world leaders. Does the Bible prophesy a major reset? Here is a link to a related video: Will there be a "Great Reset"?
The Times of the Gentiles Has there been more than one time of the Gentiles? Are we in it now or in the time of Anglo-America? What will the final time of the Gentiles be like? A related sermon is available and is titled: The Times of the Gentiles.
Independent Members of the COG: Herbert W. Armstrong Comments, Plus Questions and Answers What did Herbert W. Armstrong teach about being independent of the organized Church? Should independents who claim to accept Herbert W. Armstrong's teachings support the end time Philadelphian work?
The Philadelphia Church Era was predominant circa 1933 A.D. to 1986 A.D. The old Radio Church of God and old Worldwide Church of God, now basically the most faithful in the Church of God, like who hold to the beliefs and practices of the Continuing Church of God.
Should the Church Still Try to Place its Top Priority on Proclaiming the Gospel or Did Herbert W. Armstrong Change that Priority for the Work? Some say the Church should mainly feed the flock now as that is what Herbert W. Armstrong reportedly said. Is that what he said? Is that what the Bible says? What did Paul and Herbert W. Armstrong expect from lower level leaders?
Preparing for the 'Short Work' and The Famine of the Word What is the 'short work' of Romans 9:28? Who is preparing for it? Here is a link to a related video sermon titled: The Short Work.
The Final Phase of the Work What is the final phase of the work? Who will lead it? Do you have the courage to support it? Here is a related YouTube video titled The Final Phase of the Work. The written article has been translated into Spanish La Fase Final de la Obra.
Leading the Final Phase of the Work Matthew 24:14 teaches "And this gospel of the kingdom will be preached in all the world as a witness to all the nations, and then the end will come " will be fulfilled and RCG is not the group doing this. Who is leading the final phase of the work? What did Herbert Armstrong and the old WCG teach about that and about prophets? Does Bob Thiel meet the criteria that the Bible and the old WCG set? What is the proof? What has the Continuing Church of God been doing?  This is a sermonette length video.