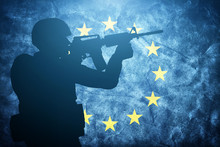 (Public Domain Picture)

A reader sent me a link to the following:
EU army fears: Germany 'willing to give up national military' for powerful Brussels force

Updated 31 March 2021

Last week, Brussels rubberstamped a £4.3billion defence project which has been tipped to pave the way for the long-proposed EU army. French President Emmanuel Macron and Germany Chancellor Angela Merkel have both reportedly expressed interest in such a move, particularly after the US pulled out of the Intermediate-Range Nuclear Forces Treaty in 2018. … during an interview with Welt in Germany, Bundestag President and CDU politician Wolfgang Schäuble was asked whether a "closely interlinked Franco-German defence community would fail because both states have a contradicting basic understanding of the deployment of the army?"

The newspaper also asked: "To put it another way: as long as Germany is committed to the principle of the parliamentary army, there can be no common army."

Mr Schäuble replied: "The Bundeswehr is not a real parliamentary army, otherwise, as President of the Bundestag,  I would be the Commander-in-Chief. …

I could have imagined a regulation where members of a joint chamber of the French National Assembly and the Bundestag decide on an operation if the two governments consider it right.

"If we could achieve that, the Franco-German brigade could finally be awakened from their sleep."

When asked if he had a timeframe in mind, the Bundestag President said any such move would unlikely come before the upcoming federal elections and French presidential elections in May 2022, but warned time is running out. …

"We don't have much time. We live in a dangerous world in which Europe needs an operational, modern army.

"The Germans would be up for it. They would immediately be willing to give up a national army. As for France, I am more sceptical."

France's former Defence Minister Sylvie Goulard, who was also taking part in the same interview with Die Welt, also suggested her country would be willing to form a "common army with the Germans".

She said: "Most of the French would not have any reservations about forming a common army with the Germans.

"It would only have to be debated beforehand what purpose this army should have. What resources do we want to make available to it?" https://www.express.co.uk/news/world/1417102/eu-army-news-germany-france-angela-merkel-emmanuel-macron-defence-review-latest
Yes, many in Europe believe it has been "asleep" militarily–and that it needs to wake up. Yes, leaders in France and Germany want a European army.
One will rise up according to the Bible:
16 … the king of the north … 25 … shall stir up his power and his courage … with a great army. (Daniel 11:16, 25)
The Joe Biden presidency will not stop that.
Note that the final King of the North is a European leader (see Who is the King of the North? and watch also Can You Prove that the Beast to Come is European?).
In January, another reader sent me a link to the following:
Have no doubts–Europe is developing its own military. The Bible says it will have a "great army" (Daniel 11:25) and will become the aggressor against the USA in the future per Daniel 11:39.
Europe already has PESCO, its Permanent Structured Cooperation–which it formed within a year of Donald Trump becoming President of the United States–his position was used as a reason, in my view, to accelerate the move towards a stronger EU military.
The Europeans are concluding that they want greater military capability as they have concerns about the USA.