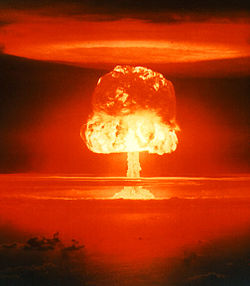 The Prime Minister of the interim Ukrainian government in Kiev sent out a warning today about Russia and the start of WWIII:
Ukrainian Prime Minister Arseniy Yatsenyuk is accusing Russia of wanting to occupy Ukraine "militarily and politically," as both Kyiv and Moscow mass troops close to their mutual border.

Yatsenyuk warned Friday that Russia's actions could lead to a wider military conflict in Europe. He told an interim Cabinet meeting that Moscow "wants to start World War III."

US reaction

U.S. President Barack Obama also criticized what he called Russia's "further meddling" in eastern Ukraine, where armed, pro-Russian separatists have occupied government buildings.

His comments echoed that of U.S. Secretary of State John Kerry, who said Thursday that Moscow is making "an expensive mistake" by failing to restrain the separatists.

S&P downgrades Russia's credit rating

Underscoring the threat to Moscow's economy, credit agency Standard and Poor's cut Russia's credit rating to BBB- . The agency said it is concerned about increased capital outflows from Russia, and said the rating could be cut further if sanctions are tightened.

Both Obama and Kerry have accused Russia of failing to uphold the four-party deal it signed last week calling for all parties in Ukraine to lay down their weapons and vacate public buildings. Kerry said Moscow has not taken "a single step" to de-escalate tensions since the deal was signed in Geneva.

Lavrov blames West

Russian Foreign Minister Sergei Lavrov on Friday blamed the West for raising tensions, saying the Pro-Russian militants would only lay down their weapons if the Ukrainian government first clears out its own protesters in the capital.

Lavrov also denounced Kyiv's security operation to clear the pro-Russian militants, calling it a "bloody crime." Ukrainian officials on Thursday said the crackdown killed up to five people.

Ukraine's Interior Minister Arsen Avakov is vowing the operation will continue. On his Facebook page, Avakov said "terrorists should be on guard 24 hours a day," but that civilians have nothing to fear.

The flurry of diplomatic exchanges come amid rising tensions along the Ukraine-Russian border, where a huge Russian military force is gathered. A Ukrainian diplomat at the United Nations told VOA that Moscow has doubled its military presence on the border to about 80,000 troops.  http://www.voanews.com/content/ukraine-pm-russia-wants-to-start-world-war-three/1900920.html
Russia's Foreign Minister claims that the West is trying to seize control of Ukraine:
April 25, 2014

Russia's Foreign Minister Sergey Lavrov accused the West on Friday of plotting to control Ukraine and said the pro-Russian insurgents in the southeast would lay down their arms only if the Ukrainian government clears out the Maidan protest camp in the capital Kiev.

"The West wants — and this is how it all began — to seize control of Ukraine because of their own political ambitions, not in the interests of the Ukrainian people," Lavrov said on Friday.

Ukraine's leader, meanwhile, accused Russia of trying to start "World War Three" by attempting to occupy his nation "militarily and politically."

"The world has not yet forgotten World War Two, but Russia already wants to start World War Three," Prime Minister Arseny Yatsenyuk told lawmakers on Friday in remarks broadcast around the country. Russia and Ukraine reached an agreement in Geneva last week calling on all parties in the country to lay down arms and vacate public buildings, but neither side moved to abide by the agreement's terms.  http://www.cbsnews.com/news/russia-accuses-west-of-trying-to-seize-ukraine/
There is a water shortage now in Crimea:
April 25, 2014

Russian officials say a water shortage in Crimea is threatening to become acute as Ukraine has reduced the supply via a key canal…

Crimea's harvest of grapes, rice, maize and soya will be ruined if it does not get more water soon, officials say…

The North Crimea Canal delivers water to Crimea from the River Dnieper, in Ukraine's southern Kherson region. The canal accounts for 80% of Crimea's water.

The current water shortage is threatening 120,000 hectares (296,000 acres) of Crimea's crops, which rely on irrigation, Russian Agriculture Minister Nikolai Fedorov said…

The water supply to Crimea has diminished from 50 cu m (1,765 cu ft) per second to about 16 cu m per second, Crimea's new pro-Russian authorities say.

To deal with the shortage, new wells could be dug or water could be brought in from Russia, but such options are expensive, officials warn.  http://www.bbc.com/news/world-europe-27155885
Might Russia intervene militarily because of this?  It certainly may.  Wars have been fought over water in the past.
The situation in Ukraine is tense and difficult.  However, what is going on in Ukraine is NOT the start of WWIII as some, including various Protestants (who tend to point to certain prophecies in Ezekiel 38), have suggested (at least not the way they seem to intend those statements).
Now Russia's military has many problems that the USA's does not.  Yet the reality is that Russia does have enough nuclear weapons to destroy the USA. Although this will not happen according to biblical prophecy, since USA politicians do not normally rely on the Bible, some may decide to at least partially consider the threat from Russia and take additional militaristic steps.
As far as prophecy goes, notice something from the late Hebert Armstrong decades ago, during the time of the old Soviet Union, titled Why Russia Will Not Attack the United States:
For decades now, the prospect of war between Russia and the United States has continually heightened and lessened.

Many who claim to be authorities on prophecy assure people a war involving Russia and the United States, Canada and England is prophesied in Ezekiel 38.

The United States, Britain and other democracies of north-western Europe, they recognize, are nations descended from the lost Ten Tribes. Therefore, they conclude, the prophecy of Ezekiel 38 foretells a military invasion of the North American continent from the Soviet Union. But this is not what prophecy says…

But this very fact – that this invasion will not come until after the Second Coming of Christ – will seem preposterous to many, at first thought. (Armstrong HW. Why Russia Will Not Attack the United States, article. 1980).
Now, while there is not about to be a WWIII with Russia and the USA, it is true that the Ukrainian situation will help start WWIII in another way.
How?
Basically by showing the Europeans that they need to more quickly increase their military power.  Notice a news item from April 16, 2014:
Military chiefs have said the Ukraine crisis is a "wake-up call" for EU countries' defence spending, as the US backed Ukraine's use of force in eastern regions…

Maciej Popowski, said: "We've had 70 years of peace now [in Europe], but we see that power politics is back with a vengeance, so it's a wake-up call and now we need to get serious about defence."

He noted that "this was the feeling around the table" at the Luxembourg event.

He added that EU foreign relations chief Catherine Ashton told the ministers: "If Ukraine is not a trigger to get serious about spending, about pooling and sharing, about smart defence, then what more do we need to get real?"  http://euobserver.com/defence/123868
Ukraine is getting Europe to consider how it should prepare to fight World War III.
As the USA is in debt, cannot afford to fight all the wars, has been reducing its presence in Europe, has become more focused on Asia, and has also told the Europeans that they must step-up and handle more of their defense, Europe is realizing that it cannot count on the USA for all of its military wants.  Europe has also been deciding to focus more on its military technology in order to do that.
And the situation between Ukraine and Russia is serving as an additional wake-up call for Europe's military. And that will lead to WWIII. According to the Bible, for a time, the final European Beast power will be successful (Revelation 13:4) against the USA (Daniel 11:39) and a coming Arabic-Turkish confederation (Daniel 11:40-43), but not Russia and its allies (Daniel 11:44-45; Jeremiah 50:41-43; 51:11-32).
While it was not likely Russia's intent, the seeds for WWIII are now being sown.
Some items of possibly related interest may include:
Russia in the Bible and in Prophecy Is Russia mentioned in the Bible? It it is where is it? Is there any evidence of a people moving to the land that the Russians now occupy? What do Catholic and other prophecies say about Russia? What does the Bible teach? How are Protestants often in error on this? Is there more in biblical prophecy for Russia than war? Does God have a plan to save Russia and her allies? Does Russia have a history involving Sabbath keepers? Does scripture tie Russia in with Armageddon? Will Russia help defeat the end time Babylonian power? What did the Apostle John, and the prophets Isaiah, Jeremiah, and Daniel, write about Russia?  This is a sermon-length video.
World War III: Steps in Progress Are there surprising actions going on now that are leading to WWIII? Might a nuclear attack be expected? Does the Bible promise protection to all or only some Christians? How can you be part of those that will be protected?
Wars, rumors of wars, and the Apocalypse Jesus foretold a time before the end where there would be wars and rumors of wars. The Apocalypse (the Book of Revelation) warns of the red horseman of war. Now, even secular writers, like Larry Edelson, are worried that wars and rumors of war are the most menacing problem that now haunts the earth? Are they right? What is the solution?  This is a sermonette-length video.
Russia and Ukraine: Origins and Prophesied Future Where do the Russians come from? What about those in the Ukraine? What is prophesied for Russia and its allies? What will they do to the Europeans that supported the Beast in the end? You can also watch the new video Ukraine in Prophecy?
Is Russia the King of the North? Some claim it is. But what does the Bible teach? Here is a link to a video, also titled Is Russia the King of the North?
The Eurasian Union, the Kings of the East, and Bible Prophecy Is there a Eurasian union that will be formed? Is one being formed right now? Are any leaders working on that in the 21st century? Does the Bible teach that there will be a Eurasian union? If some type of Eurasian union is formed, who might it benefit and who will it destroy? A related video would be Is The Eurasian Union Rising?
Europa, the Beast, and Revelation Where did Europe get its name? What might Europe have to do with the Book of Revelation? What about "the Beast"? Is an emerging European power "the daughter of Babylon"? What is ahead for Europe? Here is a link to a video titled: Can You Prove that the Beast to Come is European?
European Technology and the Beast of Revelation Will the coming European Beast power would use and develop technology that will result in the taking over of the USA and its Anglo-Saxon allies? Is this possible? What does the Bible teach?
Military Technology and the Beast of Revelation Will the coming Beast power use technology to fulfill passages in Revelation 13? What will this mean for the USA, its Anglo-Saxon allies, as well as a coming Arabic-Turkish confederation? What will Russia, China, and others do about this? Who is developing 'Beast' military technology now? What might Galileo, ELI, and supercolliders have to do with this?
Who is the King of the North? Is there one? Do biblical and Roman Catholic prophecies for the Great Monarch point to the same leader? Should he be followed? Who will be the King of the North discussed in Daniel 11? Is a nuclear attack prophesied to happen to the English-speaking peoples of the United States, Great Britain, Canada, Australia, and New Zealand? When do the 1335 days, 1290 days, and 1260 days (the time, times, and half a time) of Daniel 12 begin? When does the Bible show that economic collapse will affect the United States? In the Spanish language check out ¿Quién es el Rey del Norte? Here is a link to a video titled: The Future King of the North.
Barack Obama, Prophecy, and the Destruction of the United States-Second Edition for Second Obama Term This is a 160 page book for people truly interested in prophecies related to Barack Obama and the United States, including learning about many that have already been fulfilled (which the book documents in detail) and those that will be fulfilled in the future. It also has a chapter about a Republican choice. This book is available to order at www.barackobamaprophecy.com. The physical book can also be purchased at Amazon from the following link: Barack Obama, Prophecy, and the Destruction of the United States: Is Barack Obama Fulfilling Biblical, Islamic Catholic, Kenyan, and other America-Related Prophecies? What About Republican Leaders? Second Edition for Second Obama Term.
Barack Obama, Prophecy, and the Destruction of the United States-Second Term-Amazon Kindle edition. This electronic version is available for only US$2.99. And you do not need an actual Kindle device to read it. Why? Amazon will allow you to download it to almost any device: Please click HERE to download one of Amazon s Free Reader Apps. After you go to for your free Kindle reader and then go to Barack Obama, Prophecy, and the Destruction of the United States-Second Term-Amazon Kindle edition.