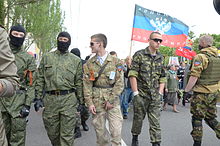 Separatist Troops in Donetsk (Andrew Butko.)
The Ukrainian government in Kiev has rejected eastern separatists' proposal for a cease-fire:
August 10, 2014
A Ukrainian military spokesman rejected a pro-Russian separatist call for a cease-fire, as fighting continues unabated in eastern Ukraine.

Ukrainian troops have surrounded Donetsk in a "tight ring" and the only thing for rebels left to do is surrender, said Andriy Lysenko, the Ukrainian National Security and Defense Council spokesperson, on Sunday.

Lysenko said the rebels announced late on Saturday that they were ready to agree to a cease-fire to prevent a "humanitarian catastrophe."

However, Lysenko said, "There has only been a statement" but no practical steps by the rebels to prove that they were ready for a cease-fire.

Donetsk fighting

Fighting raged around the Ukrainian city of Donetsk Sunday morning.

In Kievsky district, 6 kilometers west of the city center, black smoke was rising above headquarters of Ukrainian telecommunication company "Ukrtelecom."

A nearby apartment  block was damaged as well, with many windows shattered and balconies destroyed.

Elsewhere, Russian Foreign Minister Sergei Lavrov said on Sunday Moscow was in talks with Kyiv, the International Committee of the Red Cross and the United Nations on sending humanitarian aid to eastern Ukraine.

"We think it is a priority now to reach an agreement with the Ukrainian side, International Committee of the Red Cross and the international U.N. humanitarian agencies on the necessity to send emergency humanitarian aid to the (eastern Ukrainian provinces) of Luhansk and Donetsk," Lavrov told reporters.

The rebel leader's motive for offering a cease-fire was not clear, but his comments could be aimed at increasing the pressure on Ukraine to allow in a Russian aid mission.

Russia, which the Ukrainian government in Kyiv and Western countries allege is supporting the rebels, has called repeatedly for a humanitarian mission into eastern Ukraine.

But Kiev and the West suggest that could be just a pretext to send Russian forces into the region – and say about 20,000 of them have gathered just across the border.  http://www.voanews.com/content/ukraine-demands-rebels-surrender-as-fighting-rages-in-donetsk/2408790.html
The situation for many in eastern Ukraine is getting more difficult.  Russia may very well intervene.  Notice also the following:
Pro-Russian rebels offered a truce on humanitarian grounds that Ukraine's military dismissed as lacking in substance, pushing ahead with a campaign to put down the uprising in the country's east.

Ukraine is waiting for insurgents to take "practical steps" before any cease-fire can take hold, Andriy Lysenko, a spokesman for the country's military, said today. A rebel leader broached the possibility of a truce yesterday, saying in a statement that militants will continue fighting if the military doesn't end its offensive. The Defense Ministry in Kiev said the army continued to tighten its encirclement around Donetsk, the biggest city in the conflict zone.

"If there is an initiative, it should be implemented by practical means, not only with words — by raising white flags and putting down weapons," Lysenko told reporters in Kiev.

Russian President Vladimir Putin has said that the fighting is creating a humanitarian disaster in the separatist strongholds of Donetsk and Luhansk, and has offered to provide aid. Luhansk hasn't had power, water or phone service for eight days while Donetsk came under bombardment from heavy weapons at about 4 a.m. after volleys of gunfire and artillery sounded through the night, according to local authorities.  http://www.bloomberg.com/news/2014-08-09/ukraine-rebels-open-to-truce-with-strongolds-under-siege.html
Russia still wants Ukraine and is trying to figure out the best way to get it.
Vladimir Putin wants as much of Ukraine in his coming Eurasian Union as he can get. He will use force, and/or the threat of it, to do so if he feels that the cost to Russia is not that high. I believe he authorized the separatists to plead for a cease-fire.
If he believes he can portray his intervention as a rescue mission, he may well authorize an invasion.
Various ones in Russia and Ukraine are descended from the ancient Medes.  At some point in time, the Bible teaches that "the kings of the Medes" will unify for military action (Jeremiah 51:11-32).  Steps being taken now will ultimately lead to that result.
Some items of possibly related interest may include:
Russia and Ukraine: Origins and Prophesied Future Where do the Russians come from? What about those in the Ukraine? What is prophesied for Russia and its allies? What will they do to the Europeans that supported the Beast in the end? You can also watch the short video Ukraine in Prophecy?
Russia in the Bible and in Prophecy Is Russia mentioned in the Bible? It it is where is it? Is there any evidence of a people moving to the land that the Russians now occupy? What do Catholic and other prophecies say about Russia? What does the Bible teach? How are Protestants often in error on this? Is there more in biblical prophecy for Russia than war? Does God have a plan to save Russia and her allies? Does Russia have a history involving Sabbath keepers? Does scripture tie Russia in with Armageddon? Will Russia help defeat the end time Babylonian power? What did the Apostle John, and the prophets Isaiah, Jeremiah, and Daniel, write about Russia? This is a sermon-length video.
Ezekiel 38: For Russia & Iran in Our Day? Is Ezekiel 38 about to be fufilled? A related video is available titled Ezekiel 38: For Russia, Ukraine, & Iran Now?
Bible News Prophecy July-Sept. 2014: The Coming Eurasian Union Here is the latest magazine from the Continuing Church of God. The cover of which shows Vladimir Putin and features an article about the coming Eurasian Union.
World War III: Steps in Progress Are there surprising actions going on now that are leading to WWIII? Might a nuclear attack be expected? Does the Bible promise protection to all or only some Christians? How can you be part of those that will be protected? A related video would be Is World War III About to Begin? Can You Escape?
Wars, rumors of wars, and the Apocalypse Jesus foretold a time before the end where there would be wars and rumors of wars. The Apocalypse (the Book of Revelation) warns of the red horseman of war. Now, even secular writers, like Larry Edelson, are worried that wars and rumors of war are the most menacing problem that now haunts the earth? Are they right? What is the solution? This is a sermonette-length video.
Is Russia the King of the North? Some claim it is. But what does the Bible teach? Here is a link to a video, also titled Is Russia the King of the North?
The Eurasian Union, the Kings of the East, and Bible Prophecy Is there a Eurasian union that will be formed? Is one being formed right now? Are any leaders working on that in the 21st century? Does the Bible teach that there will be a Eurasian union? If some type of Eurasian union is formed, who might it benefit and who will it destroy? A related video would be Is The Eurasian Union Rising?
Who is the King of the North? Is there one? Do biblical and Roman Catholic prophecies for the Great Monarch point to the same leader? Should he be followed? Who will be the King of the North discussed in Daniel 11? Is a nuclear attack prophesied to happen to the English-speaking peoples of the United States, Great Britain, Canada, Australia, and New Zealand? When do the 1335 days, 1290 days, and 1260 days (the time, times, and half a time) of Daniel 12 begin? When does the Bible show that economic collapse will affect the United States? In the Spanish language check out ¿Quién es el Rey del Norte? Here is a link to a video titled: The Future King of the North.
Barack Obama, Prophecy, and the Destruction of the United States-Second Edition for Second Obama Term This is a 160 page book for people truly interested in prophecies related to Barack Obama and the United States, including learning about many that have already been fulfilled (which the book documents in detail) and those that will be fulfilled in the future. It also has a chapter about a Republican choice. This book is available to order at www.barackobamaprophecy.com. The physical book can also be purchased at Amazon from the following link: Barack Obama, Prophecy, and the Destruction of the United States: Is Barack Obama Fulfilling Biblical, Islamic Catholic, Kenyan, and other America-Related Prophecies? What About Republican Leaders? Second Edition for Second Obama Term.
Barack Obama, Prophecy, and the Destruction of the United States-Second Term-Amazon Kindle edition. This electronic version is available for only US$2.99. And you do not need an actual Kindle device to read it. Why? Amazon will allow you to download it to almost any device: Please click HERE to download one of Amazon s Free Reader Apps. After you go to for your free Kindle reader and then go to Barack Obama, Prophecy, and the Destruction of the United States-Second Term-Amazon Kindle edition.